Patrick Nnaemeka Okorie "Patoranking" is at present not married but is believed to have been married to singer Yemi Alade in 2021 in a traditional setting.
The 33-year-old musician has over the years been linked to several women in Nigeria, Ghana, and Germany as girlfriends. In addition, Patoranking, a Nigerian singer with hits like Alubarika and Abule to his name, and The Headies Awards as recognition, has a child through a baby mama. Whatever the case is, here's what to know about his supposed marriage and all his girlfriends.
Is Patoranking Married to Yemi Alade?
Patoranking reportedly became married to the light-skinned Yemi Eberechi Alade who is famous as Yemi Alade in 2021. The traditional wedding ceremony turned out to be true only as a music video of Patoranking's song with Flavour titled Mon Bebe and not in reality.
The news of Yemi "Mama Africa" and Patoranking started spreading after a video and images went viral, giving a hint of a wedding celebration. The Instagram image by Patoranking with the caption "Mon Bebe" showed both celebrities wearing what looked like wedding rings. Another image of Yemi shared by Patoranking had the caption "her eye though".
At the time, some fans thought it was just a PR stunt while others focused on a probability that Patoranking and the multi-award-winning Nigerian singer Yemi could have become married in a private ceremony and did not want to involve the public at the initial stage of their relationship.
In any case, the No Kissing Baby singer may be in a romantic relationship with 34-year-old Yemi Alade. While there is no certainty on the exact date that the affair may have started, the Ebonyi State native promoted the Abia State-born Yemi's album Empress in 2020.
On January 15, 2021, Patoranking graced his Instagram page with a picture of Alade with another "Mon Bebe" caption while she responded with "Papi". The same image was shared on his Twitter and it became the first time a rumor about them was stirred.
10 days later, on 25 January 2021, the supposed wedding picture surfaced. Other images and the music video of Mon Bebe also surfaced afterward.
All The Women Patoranking Has Dated and Has Been Linked to
Apparently, Yemi Alade is not the only lady who has been linked to the Nigerian musician. The God Over Everything singer has dated some beautiful women and has also been rumored to have hooked up with a few more.
He Dated Leila Stone, a Mixed Race Nigerian Business Owner
Patoranking dated the 27-year-old businesswoman, Leila Stone. Based on popular speculation, the relationship was before the singer made it big as a music star with numerous songs and awards to his name.
Regardless, there is barely any information about Leila aside from the claim that she may be residing in Italy and has moved on to be in another relationship. In another claim, Leila allegedly had a child with Patoranking – a claim that remains unconfirmed.
Patoranking and Jocelyn Dumas
Jocelyn Dumas is a Ghanaian actress and TV host that reportedly dated the Abule singer. The rumor started in 2015 after he posted a picture of her with the caption "#MWME #Whayasay!!! #MWME stands for My Woman My Everything (title of his song with Wande Coal).
There's barely any information about the relationship but the law graduate, Dumas was divorced from her American-based ex-husband after welcoming a daughter named Senia Canfor-Dumas.
Patoranking's alleged ex, Dumas has also been romantically linked to Ghanian actor John Dumelo. They reportedly dated for 2 years and after it did not work out, Dumelo married Gifty Mawunya Nkornu.
In addition, the actress was believed to have dated Nigerian singer Lynxxx after she was seen with him and following her being the vixen of his Fine Lady Ft. Wizkid. According to her, they were only friends and also had a professional relationship at the time they shot the video in 2012.
Patoranking Purportedly Dated Seyi Shay in 2014
Patoranking matched up with British-Nigerian singer Seyi Shay on Murda in 2014. The song contributed to skyrocketing Seyi into fame. It would also lead to the allegation that she and Patoranking were an item.
Many believed that their chemistry in the video was more than ordinary. Regardless, representatives from both singers claimed that there was no affair whatsoever. It didn't stop the rumor though. Rather, it led to a conclusion that they may be keeping it on the low.
Before the rumor, Seyi, 37, was also reported to have dated video director Clarence Peters. After the said secret love life with Patoranking, she became engaged in 2019 but it didn't work out. In January 2022, it was revealed that the supposed ex of Patoranking was engaged, will soon be married, and pregnant.
Patoranking and Edma Ohemaa Lawer
Edma, also famous as Ohemaa Ghana is a French entertainer of Ghanian descent who presumably dated Patoranking. While there is no certainty to this claim, the TV host and graduate of Oil and Gas Management was featured in the Nigerian singer's music video, My Woman My Everything in 2015.
Amaka is Said to Have Started Dating Patoranking in 2016
The Heal the World singer made waves with a rumored relationship with a lady named Amaka who is based in Germany. According to some claims, they have been together since 2016 and have continued to the time of this writing.
This would leave questions as regards his relationship with Yemi Alade since the news broke in 2021. Could it be that he cheated on Amaka with Yemi or either of the relationship gossips was false?
In any case, there is further news that Amaka welcomed a second child with him sometime in 2020 but kept it a secret until after 14 months in January 2022. The hearsay was promoted by Cutie-Juls on a now-deleted Instagram post and later reported by several other outlets.
Patoranking's Children From His Relationships
He may not be married yet but Patoranking is already of father, thanks to his previous relationships.
Meet Patoranking's Daughter, Wilmer Okorie
Wilmer Okorie was born on August 20, 2019. There are many suggestions that her mother is Amaka even though the singer barely gives an insight into the family.
Upon her birth, the singer released a 12-track album of the same name as his daughter – Wilmer! The album's top songs include Confirm Ft. Davido, Wilmer, and Nakupenda Ft. Nyashinki.
Raphael "Raphoranking" is Also His Rumored Child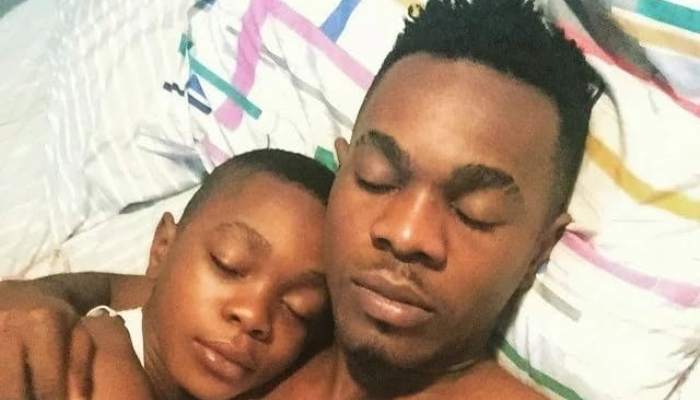 It was in 2015 when an image of Patoranking with a then-9-year-old boy surfaced on the internet. While many believed he was birthed by the artist, it was later revealed that Raphael is his younger brother.
Welda
So the story goes, Patoranking had a child with Amaka sometime in the fall of 2020 but made it to the public in the ushering of 2022. It is believed that Welda is the younger sister of Wilmer. However, there is no fact to this report.
In whatever case, the only child on Patoranking's Instagram at the time of this writing is Wilmer.