To check the Glo number on your mobile phone, simply dial the USSD code 777*#, and your number will automatically appear on your phone screen. You can also check your number with *135*8# or call 1244.
Getting a Glo line is quite easy as it is with other networks in Nigeria. However, most people are unable to recall or memorize their phone numbers. In Business, your phone number is part of your branding. Local numbers, for example, tell potential customers where a business is based. So whether it's a business or private line, knowing your phone number and having it handy is essential. If you forgot your Glo number, here are various steps to guide you to recover it.
How to check My Glo Number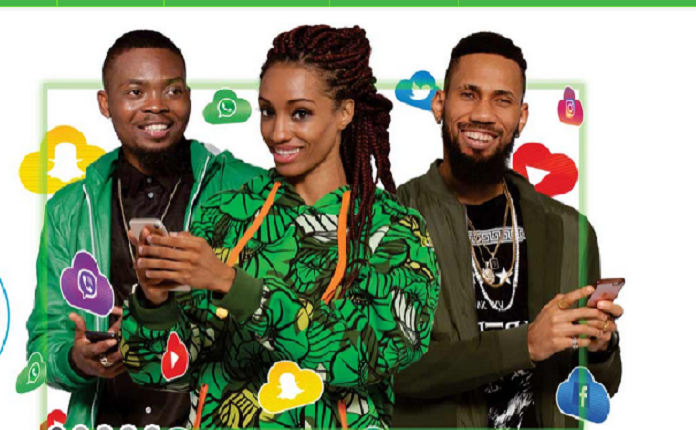 After buying a Glo SIM card, your 11-digit number will be located somewhere in a very noticeable area on the SIM pack. However, since it is impossible to go around with your SIM pack, many find it quite challenging to remember their numbers.
Luckily for Glo subscribers, the network has provided much easier methods you can use to check your number whenever you need it. So, whenever you need your Glo number and you can not recall the number or can't find your Glo Sim pack anywhere near you, you can find the number in the following ways:
By dialing 1244
The USSD code
Call a friend with the same Sim card
Visit the Glo self-care portal
Send an SMS to someone close by with the Sim card
Call the customer service
How to Check Glo Number via SMS
Sending an SMS to another number is another easy procedure to check your Glo number.
All you need to do is send a short SMS to another number near you. This could be your second line which could be a Glo sim or any other network.
Once the message is sent, you can go ahead and check the SMS, which will bear the phone number of the sender.
You can copy down the phone number and save it on your phone.
How to Check your Glo Number by Dialing another Number
This is similar to the guideline for SMS as discussed above. To do this, make sure you inserted the Glo Sim card on your phone and ensure you have at least N1 on it to make the call possible.
Ask for the phone number of anybody close to you. You a call on your second line, if you have one.
Once it goes through, hang the call and check the person's phone log.
Copy down the first Glo number on the person's call log and carefully save it on your phone for future use.
Code to Check my Glo number in Nigeria
USSD code is another great method you can use to check or recover your Glo number. It is also the easiest method so far and one you can be sure to respond to faster.  To use this procedure to check your Glo number, simply follow the guidelines below:
Dial *777# on the same Sim;
Press 4 for My Tariff Plan;
Press 3 for My Number.
Once you press option 3, your Glo number will immediately appear. Copy it out and carefully save it somewhere for your subsequent use.
How To View Your Glo Number By Dialing 1244
Placing a call on the Glo number 1244 is one of the easiest ways to retrieve your Glo phone number. You can give this a try by following the guidelines below:
On the mobile phone where the Glo sim which you wish to recall its number is installed, dial 1244
Wait till the network calls out your number out loud.
You'll hear a robotic voice reading out your phone number audibly.
If you didn't get it all while jotting down the number, you can call the number again.
Note: This is a toll-free number for all Globalcom sim cards, so you won't be charged for calling the line. Once you receive the automated phone call, you are advised to write the numbers down for your future use.
How to Check Glo Number Online through the Glo self-care portal
Using the Glo self-care portal to check or retrieve your number is another working method. The only basic need here is data to allow you to connect to the internet.
Glo portal requires you are connected to the network's internet. So, if you are already on any Glo data plan and you are connected to the internet, you will be able to see your number displayed at the top of the hsi.glo.com self-care portal. All you have to do is visit the official website of Glo using http://hsi.glo.com.
As soon as the website loads, scroll down, and you'll see your Glo phone number displayed visibly in the format Welcome, 080*******.
Note: As earlier explained, the Glo Bolt features a unique self-care portal, and this website can only be accessed on the Glo network. Hence, you must access the website with your Glo SIM as the data connection source.
How to Hide Number on Glo
By default, when you call a mobile number, the call recipient will automatically see your number on their screen as the incoming call. This will identify you as the caller, and the receiver can decide whether they want to speak with you at the moment or not.
However, there are instances where the caller does not want the receiver to know who was calling. Thus, hiding their number will make that possible, but it will also not allow the receiver to record the incoming call number on their phone.
There are two major ways to hide your Glo number. They include:
Through USSD Code,
Phone Setting method
How to Hide your Glo Number using the USSD Code
For Glo subscribers, hiding one's caller ID is as simple as dialing the code #31# before the numbers you plan to call. For instance, if your call recipient's ID is 0902898989, you can dial #31#0902898989 on your phone to hide your number from the call recipient.
Note: this is a per-call method, meaning that you will have to dial the #31# prefix anytime you need to hide your ID from your call recipient.
If you choose to hide your number from all your call recipients, you can also use the #31# to do so.
Simply dial #31#  and send.
You will receive a pop-up notification alerting you that you have successfully disabled your caller ID.
To revert your action and make your cal ID visible again, dial *31# and send. You will receive notification that your call ID has been enabled