Ebele Okaro (born 19 January 1964) is a London-born Nigerian actress, film producer and CEO of Flat Feet Productions Limited. She is known for her many motherly roles in Nollywood movies.
Ebele Okaro is praised as one of Nollywood's best and much-sought-after actresses. Her diversity and flexibility for fitting into movie characters perfectly with minimum fuss is the reason she has kept on being at the top of her game for years. More so, the talented, amiable, and calm actress is seen by many upcoming and already-made actresses as an acting mentor and role model.
Ebele Okaro's Profile Summary
Full Name: Ebele Okaro Onyiuke
Date of birth:

19th January 1964

Place of birth: 

London, United Kingdom

Home Town: Ogidi
State of Origin: Anambra State
Education: 

University of Calabar, Calabar

Occupation: Actress
Spouse: Mr Onyiuke
She was born in the United Kingdom but Schooled in Nigeria
Many simply know her as Ebele Okaro, but adding her husband's last name, she goes by the name Ebele Okaro Onyiuke. She is famously known for being an actress but it would interest you to know that Ebele is also a producer in the movie industry. Outside the movie scenes, the star performer is an entrepreneur, investor, and philanthropist.
Ebele Okaro is Brit by birth. She was born in the United Kingdom to Nigerian parents. The actress who is currently 59 years old was born on January 19, 1964, in London, the capital city of England. Although she was born in the UK, Ebele is a Nigerian because of the identity of her parents and she hails from Ogidi, Idemmili North Local Government in Anambra State.
Shortly after she was born, her parents returned to Nigeria and she has all her schooling in the West African country. She began her education in Santa Maria Primary School located in her hometown. After obtaining her first school leaving certificate, Okaro moved to Queen of the Holy Rosary Secondary School where she wrote her Senior Secondary Certificate of Education (SSCE).
After completing her secondary school education, she applied to study theatre arts at the University of Calabar. She got accepted into the university but was not offered her course of choice to study. She then began studying education at the University of Calabar but later switched to theatre arts, her dream course of study. Ebele later graduated with a Bachelor of Arts degree in Theatre Arts.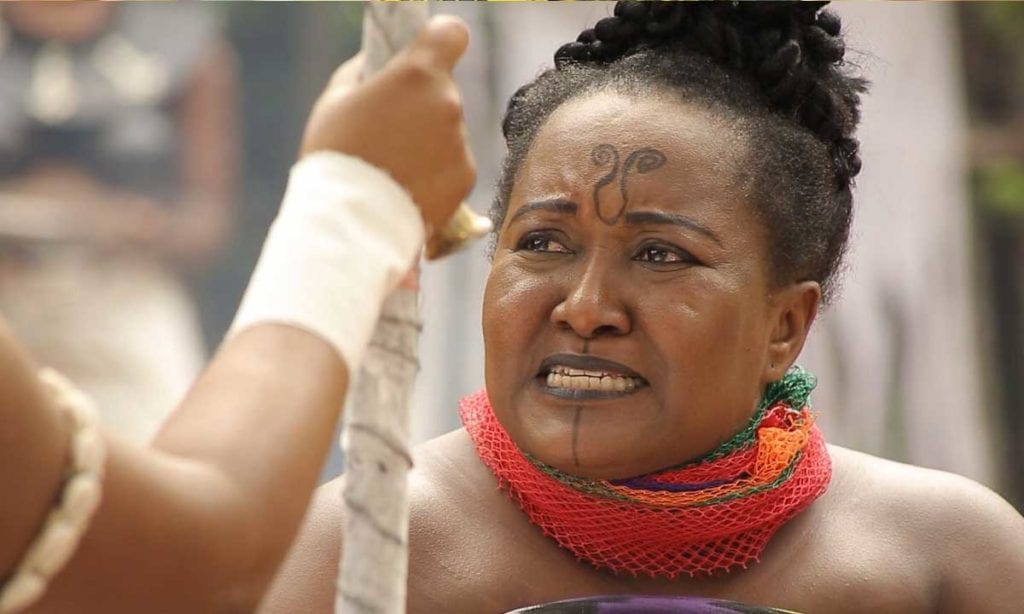 How Ebele Okaro's Acting Career Began
Prior to going pro, Ebele knew she wanted to become an actress, that was why switching from education to theatre arts back in her university days wasn't a hard decision for her to make. Even in her secondary school days, she took part in her school's elementary drama groups.
After graduating from the University of Calabar, she went on the compulsory National Youth Service during which she was posted to the Nigerian Television Authority. It was at NTA that she made her first couple of TV appearances. However, the state she served in is not yet known.
Ebele did leave acting for a short time though, it was a time when there was a huge decline in the Nigeria movie industry and it led her to look elsewhere to earn a living, but for a while. During that period, she worked at an embassy in Lagos. She also took up a banking job at the time but when things got a little better in the film industry, she returned and has since then, dedicated herself to entertaining people with her acting skills. During the course of her very productive career, Ebele Okaro starred in loads of blockbuster Nigerian films, some of which are listed below:
Hostages (1996)
30 days (2006)
Bambitious (2014)
Chetanna (2014)
Musical Whisper (2014)
The Powerful Babies (2015)
Road to Yesterday (2015)
4-1-Love (2016)
Karma (2017)
Black Rose (2018)
Living in Bondage: Breaking Free (2019)
Smach(2019)
Why is She Called Mama of Nollywood?
It is a common phenomenon for fans to identify their best actors for the roles they play in their favorite films. For Ebele Okaro, her case seems to be somehow unique as her constant motherly roles in films have earned her the name "Mama Nollywood". This, however, is not the only name she is fondly called among her fans. She is also called "Mama Akwa" following how easily she becomes emotional and teary while playing her role. No doubt, she is one actress who brings passion and commitment into her roles.
 Has She Produced Any Film Yet?
Ebele is not only an actress, she is also a well-known film producer who has proven her expertise by producing a couple of top-ranking films in the industry. In 2014, she produced and featured in Musical Whispers, a movie that advocates for loving care for children with autism. Other prominent Nigerian actors and actresses that featured in the movie include Chioma Chukwuka and Kalu Ikeagwu.
A Peak into Ebele Okaro's Family
Even as much as no much information is known about her family, it is no secret that Ebele Okaro was brought up in a devoted Catholic home. She was born into a family of 6 which include her father, mother, and her 3 siblings. Ebele Okaro is a very private person and she does not give out much information about her family.
Ebele's mother used to be a television producer and her father was an engineer but he also had an interest in literature and arts. Her father's likeness for arts combined with her mother's job in the media possibly fueled Ebele's love and passion for theatre art.
Who is Ebele's Husband and do they have Children? 
We know Ebele Okaro is happily married with kids but the identity of her immediate family (husband and children) are still a mystery. Just like her parents and siblings, Ebele is not at the moment looking forward to revealing details of her private life with the press. She might be keeping the identity of her husband and children a secret but we do know that she married from the famous Onyiuke family and she is still married to her husband to date.
Is Zubby Michael Ebele Okaro's Son?
For a while now, there have been speculations of actress Ebele Okaro being the mother of the famous Nigerian actor Zubby Michael. These speculations were fueled as a result of Ebele referring to Zubby as her son in one of her posts on social media. The Instagram post got people asking if really Zubby is the son of the veteran actress owing to the fact that the identities of her kids are not known.
We can confirm that there is no truth to such rumors and that Ebele referring to Zubby as her son was taking out of context. Ebele Okaro is a symbolic mother figure of many younger actors and actresses in the Nigerian movie industry, and one of whom is Zubby Michael. In fact, she is not the only one who has referred to the actor as her son. On his birthday, veteran actress Ngozi Ezeonu also referred to him as her "golden son" in her congratulatory message to him. Zubby Michael's real parents are Mr. and Mrs. Egwu and he has 5 siblings of which he is the second child of his parents.