Charles Awurum (born 23rd December 1964; Age: 58 years old) is a popular Nollywood actor, comedian, producer, director, and television personality best known for the comic roles he plays in Nigerian movies. He has a net worth estimated at $1.5 million.
He is one of the most talented comic actors in the Nigerian movie industry. From his entrance into the movie industry, Charles has successfully starred in movies alongside other comic actors like Chiwetalu Agu, Late Sam Loco Efe, John Okafor (Mr. Ibu), Chinedu Ikedieze (Aki), Osita Iheme (Paw Paw), Charles Inojie, and many others. Not much is known about this actor, but we will find out all there is to know about him and his family.
Summary of Charles Awurum's Bio 
Full name: Charles Awurum
Gender: Male
Date of birth: 23rd December 1964
Charles Awurum's Age: 53 years old
Ethnicity: Igbo
Nationality: Nigerian
Zodiac Sign: Capricorn
Sexual Orientation: Straight
Religion: Christianity
Marital Status: Married (m. 2005)
Charles Awurum's Wife: Ifeyinwa Linda Awurum
Charles Awurum's Children: Three
Charles Awurum's Parents: Mr. and Mrs. Awurum
Siblings: Seven
Charles Awurum's Net worth: $1.5 Million
Famous for: Acting and comedy
Charles Awurum's Instagram: @charlesndawurum
Twitter: @charlesndawurum
Facebook: @Charles Awurum
Charles Awurum Is From Imo State, Nigeria
The Nollywood actor is from the southeastern part of Nigeria, Imo State, to be precise. However, he was born and brought up in Lagos State, Nigeria; you can call him a Lagos boy. He was born on 23rd December 1964. The 58-year-old actor spent part of his childhood in Lagos State and then left for Calabar for his university education.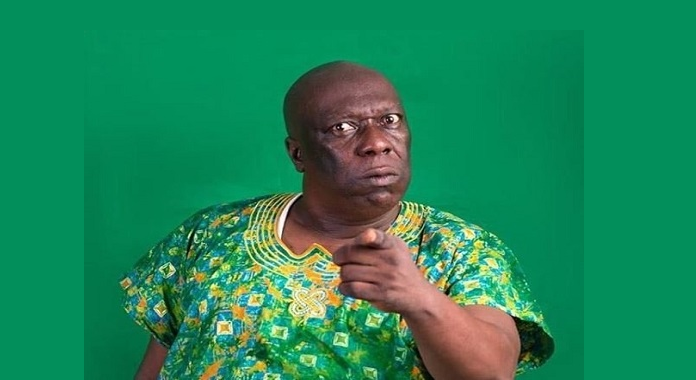 Awurum grew up in a family of seven children; although they were supposed to be 10, three died. His father worked at the Nigerian Ports Authority (NPA) while he was alive, and he gave his children a good life. Until his death, he ensured that all his children were in school as he loved and valued education and put it before anything else.
When his father died, Charles was just 25 years old and was still at the university. The same goes for his other siblings, except one who was undergoing his one-year compulsory NYSC service. They tried to manage and see themselves through school. A once high middle-class family became a struggling one, but they weathered it all.
He is an Alumnus of the University of Calabar
Actor Awurum had his early and secondary school education in Lagos State. For his university education, he proceeded to the University of Calabar, where he studied Theatre Arts. He graduated with a Bachelor's degree in Theatre Arts. While in the university, the star never hesitated to partake in any drama show organized in the school.
He took his love for acting to the next level by studying it at the university. This prepared him well for his chosen career and exposed him to the rudiments of movie making and acting. This gave him an edge over so many actors and producers today.
Awurum Started His Acting Career in Church Dramas
The veteran actor developed a love and passion for acting as a child. He didn't just like acting; he made efforts towards partaking in a movie set. Charles watched television programs like the Village Headmaster, Langbodo, and FESTAC performances and wanted to star in one of these.
To show how zealous and passionate he is about acting, he wrote to NTA declaring his intentions to star in Village Headmaster. The letter returned with a positive response, but he was still young, and there was no role for him then. His father also discouraged him from acting at a young age and advised him to concentrate on his education first.
He could not feature in the television program, but he joined the drama group in the Catholic Church at FESTAC. Charles Awurum joined the Nigerian movie industry (Nollywood) in 1994. Although the first movie he featured in Obiora did not see the light of the day, he didn't give up.
He later starred in many other movies, which brought him to the limelight and sold him in the industry. Some of these movies are The Game Fools Play, Wisdom and Riches I and II, World Apart, etc. At first, Awurum did not like comic roles because of his looks but later came to love and settle for them.
List of Charles Awurum Movies
Since he joined the Nigerian movie industry, the star has successfully starred in over 50 movies, most of which are comic. Some of these movies include the following.
The Three Egungun Brothers
A Million Madness (2004)
Away Match (2007)
Away Match II (2007)
Battle Line (2002)
Battle Line II (2002)
Fools On The Run (2007)
Four Forty (2006)
Four Forty II (2006)
Friends & Lovers (2005)
Friends & Lovers II (2005)
Game Fools Play (2007) 
Game Fools Play II (2007) 
Gold Dust Ikenga (2015) 
I Need A Man (2005)
I Need A Man II (2005)
Ifeonye Metalu (2002)
Jack & Jill (2011) 
Jack & Jill II (2011) 
JohnBull & Rosekate (2007)
Lost In The Jungle (2007) 
Lost In The Jungle II (2007) 
Love & Marriage (2004)
Marcus D Millionaire (2008)
Marcus D Millionaire II (2008)
Most Wanted Kidnappers (2010) 
Most Wanted Kidnappers II (2010) 
No Way Out (2005)
No Way Out II (2005)
Nothing For Nothing (2005)
Nothing For Nothing II (2005)
Nothing For Nothing III (2005)
Silence Of The Gods (2006)
Silence Of The Gods II (2006)
Store Keeper (2006)
Store Keeper II (2006)
Sweet Banana (2003)
Sweet Banana II (2003)
The Barrister (2006) 
The Barrister II (2006) 
The Journalist (2006)
The Journalist II (2006)
Toronto Connection (2007)
Toronto Connection II (2007)
Trusted Enemy (2016) 
Trusted Enemy II (2016)
Under Fire (2003)
Wisdom & Riches (2002)
Wisdom & Riches II (2002)
World Apart (2004)
World Apart II (2004)
Yahooze Prophets (2009)
Yahooze Prophets II (2009)
Has He Retired from Acting?
No. The Nollywood comic star affirmed in an interview with Punch.ng that he has not retired from acting. Although he doesn't star in movies like he is used to, he is still in the business and never plans on retiring. He may not be acting much, but he is involved in the direction and production of many movies we have today.
Apart from Acting, Charles Awurum Has a Career in Movie Production
Being a graduate of Theatre arts and having acted for many years, Charles knows the rudiments and art of movie production. He is a movie director and producer and one that believes in the production of good movies.
Like there are half-baked actors out there, there are also half-baked producers, but Charles isn't one of them; he stands against them. As a director and producer, Awurum believes in producing quality movies no matter the challenges the producer may face in making the movie.
Meet Charles Awurum's Wife and Kids
Charles Awurum got married to his wife, Ifeyinwa Linda Awurum, in 2005, and their marriage is blessed with three kids, all boys. He got married at the age of 41 to a much younger woman. Charles met his wife at the church on New Year's day, after which they got acquainted and became friends.
Linda, his wife, is also from his village and the last child of her parents. They got married without wasting time, there was no long courtship, and the marriage is still waxing strong. The Nollywood star has been married for 17 years, and there haven't been any infidelity scandals.
This is because he hates break-ups and doesn't want anything to break his happy home. He also believes that children are the ones who suffer most in broken homes, and he doesn't want that kind of life for his children.
Awurum is the kind of father who would support his children's decisions on any choice of career they choose for themselves because he believes that careers built on passion are better than imposed ones. He also mentioned that he would not force any of his children to choose any career path and would support any of them that decides to be an actor just like him.
The actor also affirms in an interview that he has a happy home and is married to a good wife, which is why he always runs straight home once he is done with his movie sets. His role in movies has not only made his fans happy but also his family, as he is fond of putting back smiles on the faces of people who lack one.