Ronke Odusanya (born 3rd May 1973), popularly known as Flakky Ididiwo, is a Nigerian actress and stage performer who hit the limelight with her debut appearance in the 2001 Yoruba film Baba Ologba.
She has been a consistent figure in the Nigerian film industry and although she features in both English and Yoruba movies, the 50-year-old Ronke is most famous for her roles in Yoruba films.
Over the course of her career, the beautiful and voluptuous actress has earned many alliances, such as Flakky Ididowo, Ronke AKO (Awada Kerikeri Organisation), and Becky. Thus, the story about how she made it to the stage and rose to stardom is apparently worth reading.
Biography and Profile Summary of Ronke Odusanya
Full name: Ronke Odusanya
Date of Birth: 3rd May 1973
Age: 50 Years Old
Place of Birth: Ogun State
Ethnicity: Yoruba
Nationality: Nigerian
Education: Olabisi Onabanjo University
Occupation: Actress
Marital Status: Separated
Children: a daughter (Fife)
Years Active: 2001- present
50-Year-Old Ronke is a Graduate of Mass Communication
Ronke Odunsanya was born on 3rd May 1973 in Ogun State, her hometown. She was born into a strict Christian family, and it is unknown if she has any siblings. Though her parents separated when she was still a teenager, Ronke said her growing up was quite fun as she still holds lots of her childhood pleasant memories.
She had her primary and secondary education at St. Benedict Nursery & Primary School and Federal Government Girls College, Akure. For her university education, she obtained a degree in Mass Communication from the prestigious Olabisi Onabanjo University, Ogun state. While she was still an undergraduate, Ronke developed an interest in acting, which made her join the drama club in her school and participated in several stage plays.
Her Family Did Not Support Her Acting Career At The Onset
Ronke had difficult times at the initial stages of her acting career. She encountered series of hurdles from her family, especially on her father's side, who was never in support of her acting career.
Ronke's father became irritated the moment he found out her daughter is already making headway as an actress. According to the actress, her family would love for her to get a more professional career path like Medicine, Engineering, and Law.
Along with her stepmother, Ronke's father tried all he could to ensure that she did not continue as an actress, but all the efforts proved abortive. However, she only found solace in her mother, who was separated from her father at that time.
Even though her mother was not happy with the career path she has chosen, she took her in when her father asked her to leave his house if she had finally made up her mind to be an actress. Ronke's mother subsequently gave her all the support and encouragement she needed.
She Started Acting Professionally At The Age of 28
Flakky Ididowo joined Nollywood in 2000 and started with minor roles in a few English movies in pursuit of her passion. She joined Adebayo Salami, popularly known as Oga Bello, in his Awada Kerikeri Theatre Group, and that was where she sharpened her acting skills. However, she kick-started her professional acting career in 2001, making her debut screen appearance in the Yoruba movie Baba Ologba.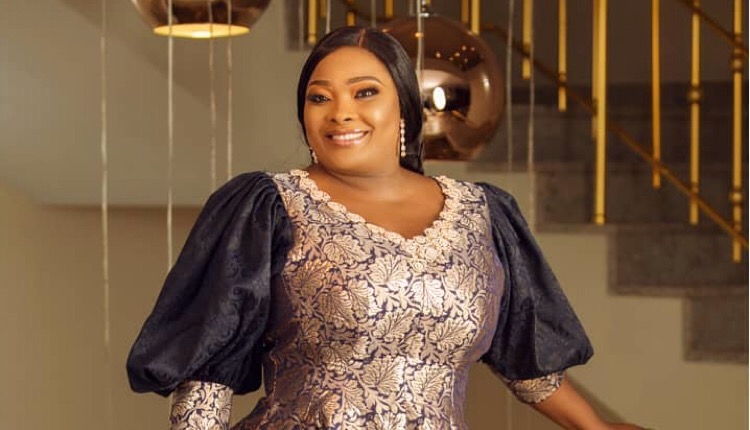 The next few years saw her play minor roles in several movies alongside top Nigerian actors, Femi Adeboye, Adebayo Salami, aka Oga Bello, etc. In 2006, she earned the nickname Flakky Ididowo after she was featured in a movie produced by Fathia Balogun.
Since then, Ronke has been consistently growing in the industry and has featured in many  English and Yoruba movies. She takes diverse characters and brings out her brilliance and excellent skills in interpreting her assigned roles.
Funke Akindele's Jenifa Consolidated Her Relevance in the Film Industry
Ronke Odusanya actually started acting in 2001, but the truth remains that many people were seeing her on their screen for the first time in the 2008 popular Jenifa. The movie, Jenifa, is a 2008 Nigerian comedy-drama produced by Funke Akindele and Edmond Enaebe.
Even though Ronke played a supporting role as Becky in the comedy-drama, the film brought her name to the lips of many who had not known about her earlier. Jenifa became the first part of a popular franchise in Nigeria and had its sequel released in 2011.
The story revolves around a female character, Suliyat, with a rural background, who, through the quest for civilization and education, moves to the city and is entrenched in negative vises on campus such as immorality, greed, false identity, violence, and deceit. The plot was characterized by diverse genres, of which comedy, action, and drama were elaborated. Hence, the movie is a mix of fiction and a glimpse of reality.
Jenifa launched Ronke Odusanya to a new level of fame she had not attained before that time, having been exposed before the limelight provided by millions of Jenifa fans. The film is quite successful as it garnered as many as four nominations at the Africa Movie Academy Award. Ronke's acting was well commended by critics, and she subsequently gained quite a large following.
She Also Starred in The Eve and Other Popular Movies
As expected, following her roles in Jenifa, Ronke began landing prominent roles in other blockbusters. In 2018, she played the role of Aunty Keh in The Eve. The 2018 romantic film tells the story of a planned wedding that did not later happen. At an epic bachelor's Eve party thrown by his friends, Funsho, the groom-to-be met his ex, who made him rethink his wedding that would hold in less than 24 hours.
This movie was quite popular and highly acclaimed. The Eve boasts spectacular star-studded actors such as John Okafor, popularly known as Mr. Ibu, Beverly Naya, Ronke Odusanya, Meg Otanwa, and others. Besides The Eve, another movie that brought Ronke more fame is A Girl's Note.
A Girl's Note was released in 2016, and the actress featured as one of the lead characters and caught fans' attention with her powerful interpretation of her role as 'Mother.' Beyond that, Ronke Odusanya has featured in other movies and does not show any signs of slowing down yet.
Other popular movies Ronke has featured in include:
Twisted (2007)
Láròdá òjò (2008)
Eekan soso (2009)
Emi Nire Kan (2009)
Astray (Isina) (2016)
A Girl's Note (2016)
Asake Oni Bread (2016)
The Stunt (2017)
Ayomide (2017)
Obsession (2017)
Ailatunse (2017)
Olorire (2018)
Owo Agbara (2018)
Tokunbo (2021)
Following her exceptional role in Ailatunse, the actress was nominated for Best Actress in a Leading Role at the 2017 Best of Nollywood Awards.