The marriage of Ronke Odusanya, the popular Yoruba actress also known as Flakky Ididowo, and her baby daddy, Olanrewaju Saheed, also known as Jago, has turned sour and degenerated into a series of court sessions. There were different allegations labeled against the Yoruba actress, which led to the current state of the marriage, hence the reason for the endless court drama.
Ronke and Olanrewaju's Problems Started After Their Marriage
Reports had it that the couple tied the knot almost immediately after their only fruit turned one year old. However, there weren't concrete details of how they met or how long they dated. Ronke, who was exceptionally happy about tying the knot with her baby daddy, noted that she was elated he hadn't been married before, let alone divorce, but that he only has a child who is five years old.
No one can categorically state when the issues began or what led to the question of infidelity. However, the rumor mill has it that there was trouble in paradise when Jago could no longer afford to foot the bill of his wife's luxury lifestyle. It was also alleged that Jago had accused his wife of being unfaithful in December 2020.
Ronke Odusanya's High-handedness Might have Caused Her Marital Problems with Olanrewaju Saheed
Jago didn't stop at just accusing his wife, and he further made it known via his Instagram post that the wife had destroyed him financially by making him sell his assets to foot her lifestyle. Rumors have it that it was his mother's intervention that prevented him from selling a house worth a fortune to build Ronke a state-of-the-art studio. Saheed's inability to provide money for the studio degenerated into several other marital issues, which led to Ronke going to court to claim sole custody of their child.
In response to the allegation leveled against her by Olanrewaju Saheed, the movie producer (who has been well-to-do ever since her debut appearance in the movie titled Baba Ologba in 2001) said in an Instagram post that the rumors were all lies. Still, she had chosen to be calm because the truth will reveal itself.
Also, according to her, keeping quiet about the allegation will prevent the daughter from reading some fact-less and irritating information when she grows up, as she puts it. The actress further asserted that the social media court is a myopic and manipulative one. She revealed that bank statements could prove who has been sending and receiving money and for what reason. In her words, no one made her; hence, no one can destroy her.
Olanrewaju Saheed Doubted if He is the Biological Father of Ronke Odusanya's Daughter
Over the course of resolving the couple's marital issues, Jago, who had earlier accused his wife of infidelity in December 2020, noted that he wanted a DNA test carried out on their daughter, who was apparently his carbon copy. He mentioned this to his lawyer, who in turn made his request known to the court. After due consideration, the Magistrate court at Court 8, Samuel Ilori Court House, Ogba, Ikeja Magisterial District Lagos, headed by the magistrate, M.O Tanimola, ordered a DNA test to be carried out on the beautiful daughter of the couple.
However, according to Premium Times, the actress gave her terms that Jago will foot the bills involved in the test, which the court and Jago agreed to. The court further stated that the DNA test would be court-supervised, and the result will be forwarded directly to the court. A hospital in Lagos Island was discreetly chosen, and the case was adjourned for further hearing until March 31, 2021.
However, since then, nothing has been reported about the outcome of the DNA test or even their marital squabbles. No one knows if the couple met secretly and settled amicably to prevent their child from being dragged further into their marital problems. We don't know if the DNA result was in Ronke's favor, and Jago realizes his mistakes and apologized.
Dissecting Ronke Odusanya's Past Relationships
It appears Ronke Odusanya has always had a thing for controversial marriages and relationships. She has even been accused of breaking a 12-year-old marriage in the past.
Ronke Odusanya and Pasuma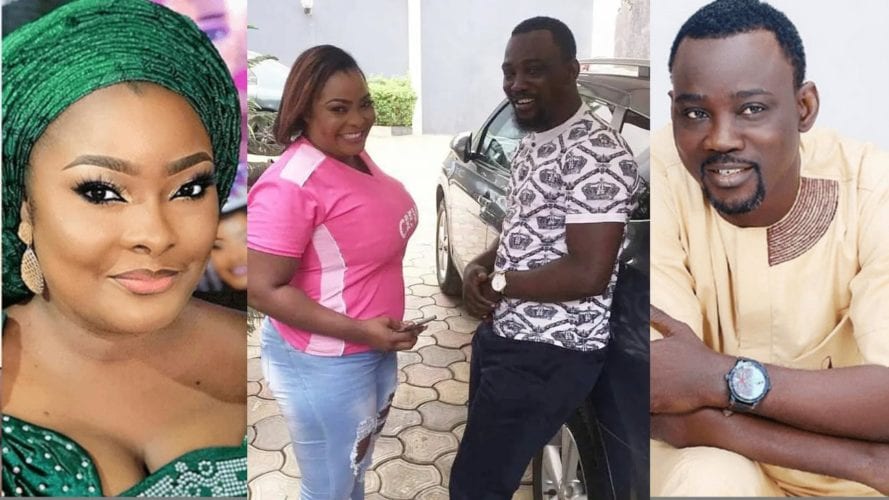 The actress is known to have a thing for Fuji singers. She had particularly dated the popular Fuji singer, Alabi Wasiu Pasuma. They dated for a while but never married as a result of their ish. In an interview, the actress revealed that not all relationships are meant to lead to marriage. She further referred to happenings in the marriages of persons in the entertainment industry and said that their celebrity status would make it difficult to be married to Pasuma.
Ronke and Femi Anibaba
Before Pasuma and Jago, Ronke was said to have been involved in a relationship with one US-based Femi Anibaba. She was further alleged to have secretly married the man in 2014, bearing in mind that the man in question was already married to a certain Folape Sokoya. Folape disclosed Ronke's sordid affair with her husband in an email she sent to a media house wishing her husband and Ronke well in their endeavors.
She recounted how she had contacted Ronke via Facebook to plead with her to stay away from her man and her 12 years old marriage because, according to her, she was the source of the problem between herself and her husband, but her pleas fell on deaf ears. Folape further talked about how she had to book different sessions with their pastor to pray for their family. She also recounted inviting a counselor to talk to them, but her husband never showed interest in their marriage any longer.
In her defense, Ronke denied the allegation of breaking anybody's home or scattering any marriage but never denied making contact with Mr. Femi Anibaba, whom she claimed to have met in 2008 through a friend. While the news of Folape's disclosure went wild, the story quietly died down, and nothing again was heard of Ronke's alleged relationship with the said man or even the man's wife.