Georgina Ibeh (Chinenye) (Born on May 29, 1990; Age: 33 years old) is a Nigerian actress, movie producer, and entrepreneur best known for her role in her self-produced movie "Dinma". Georgina Ibeh is not married and does not have a husband.
In addition to being one of the most beautiful ladies in the industry, Georgina Ibeh is also among the most talented and gifted in the business of acting. Even as a fast-rising Nigerian actress, and filmmaker has successfully won her way to the hearts of many Nollywood film lovers. Luckily, her career has earned her meaningful awards, including The Next Rated award at Enugu Icons Awards.  Here are some facts about Georgina Ibeh that you should know.
Summary of Georgina Ibe's Biography
Full name: Georgina Ibeh Chinenye
Nickname: Gina
Gender: Female
Date of birth: May 29,1990
Georgina Ibe's Age: 33 years old
Ethnicity: Igbo
Nationality: Nigerian
Sexual Orientation: Straight
Religion: Christianity
Marital Status: Single
Georgina Ibe's Parents: Mr. Ogaraku Charles Amobi Ibeh and Nkem Geogiline Ibeh
Georgina Ibe's Height in Inches:  5″4
Georgina Ibe's Weight: 75.5kg
Georgina Ibe's Net worth:  $300,000
Famous for: Nollywood film "Dinma"
Georgina Ibe's Instagram: @georginaibeh
Georgina Hails from Owerri, in Imo State
The plus-size Nigerian actress was born in Ngor Okpuala community located in Owerri, the state capital of Imo state, South eastern part of Nigeria. She was born into the family of late Mr. Ogaraku Charles Amobi Ibeh and his wife, Nkem Geogiline Ibeh. The 33-year-old actress has two siblings, an elder sister and a younger brotherH who may not be as popular as she is but are doing quite well in their various careers.
Growing up in her home state, Georgina attended Penny international college after which gained admission to Federal Polytechnic in Owerri where she studied Public Administration. She began acting shortly after graduation.
How Georgina Began her 17-Year-Old Acting Career
Georgina began acting in 2006 when the industry was experiencing a wave of modern movie theatre that showcased professional production values, talented Nigerian actors, and complex stories. She started off starring in several TV series including popular ones like Wale Adenuga's Super Story and This Life, and The Benjamin. In Super Story, she is featured in the Episode titled "Blast from the past.
Georgina's easy access to the top ladder in the industry is largely associated with her ability to effortlessly interpret any script that comes her way. The beautiful lady had her first feature film in the TV series The Patriot". The series, which was directed by Charles Inojie and Ernest Obi had Georgina playing the role of Joke Silva's daughter.
Georgina also had a role she played in Uche Mbunabo's "God of Shiloh". During her one-year compulsory service under the National Youth Service Corps (NYSC) program, the beautiful actress was privileged to feature in three additional movies –  "Sinful Soul", "Malaysia Money", and "The Brotherhood".
Acting as a professional career for Georgina began in 2016 after completing her NYSC program. She has since appeared in tons of Nollywood movies and has even produced some through her production company known as GI films Production company. Her acting talent has given her the opportunity to work with other notable names in the Nollywood film industry, including the likes of Destiny Etiko, Onny Michael, Ebele Okaro, and Ray Emodi.
her first produced film is Dinma, which was released in 2020. In 2021, she also produced the movie "Beautiful".
Georgina Ibe's Movies and TV Shows
Heart Beat Of Love
The Arrangement
Not My Course
Throne Of Anger
Blackberry Babes
My Father's Wish
Family Frame
Good Girl Gone Bad
Afflictive Wives
My Sugar Girl
12 Years
The Mysterious Royal Bed
Romantically Motivated
Awaiting Prince
Our Catholic Mother
Adopted Child
The Prince's Future Wife
Her Awards And Nominations
Money and fame are not all that celebrated stars like Georgina Ibe have received as rewards for leading a successful career in the Nigerian film industry. Over the years, the curvy actress has equally won some notable awards. Two of the known awards she has so far received are
The Next Rated award at Enugu Icons Awards.
The City People Award for Best Upcoming Actress of the year (English)
Gina's Weight Loss Journey, Has She Gone Under the Knife?
Georgina Ibe is no doubt one of the curviest plus-size ladies you can find in the entertainment industry. The beautiful actress, who is about 5″4 feet tall, recently underwent a journey to lose weight that saw her reduce from 98.9kg to 75.6 kg.
Gina began her weight loss journey in 2017 and against all speculations about her doing so to please the men around her, the actress revealed during an interview that she lost weight for three basic reasons –  to boost her confidence, for health reasons and to fit into more movie roles. "When I was bigger (in size), I had fewer movie roles. But because I'm now slimmer, I can fit into more roles. It was for my own gain," she said.
Her weight loss journey included a rigorous workout routine and a change of diet plan. On questions about her going through surgeries to get her desired body shape the actress debunked the rumor, insisting that her current looks were all natural.
Aside from speaking about the challenges she faced as a plus-sized woman, Georgina also spoke about her challenges in finding the right size of brassiere, especially ones that can perfectly fit her large bust. Though she could not present her exact size of bra, the fair-skinned Nollywood actress confessed that shopping for her size has always been a big task for her.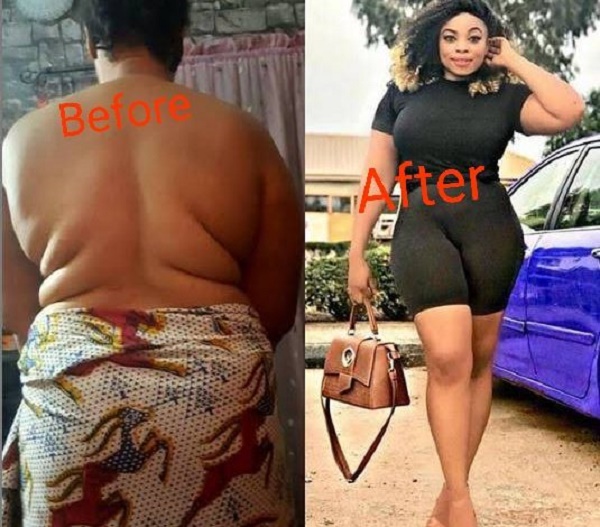 Since she lost weight, Gina has continued to flaunt her curvy-shaped body on various social media platforms, especially on Instagram where she has over 1 million followers. Her new status has earned her some endorsement deals with some top company brands. She is definitely not shy of showing off her body curves.
Is Georgina Ibeh Married or Single?
Following the numerous wifely roles Gina has taken over the course of her acting career, many have made speculations about her being a married woman. But on the contrary the actress says she is still single and patiently waiting for her own man to find her.  She further disclosed that as a private person that she is, she desires to have a man who has family at heart.
Among the physical traits she looks out for in her ideal man are that he must be tall, dark-skinned, and must smell nice. He should also be down-to-earth, sincere and above all, very supportive of her acting career. "He becomes more attractive to me when I get to know his understanding about life in general," she was noted as saying in an interview.
When asked if she has ever considered getting married to a colleague or to anyone in the entertainment industry, the Nollywood star simply said she was yet to consider getting hooked up with an entertainer.