Eniola Ajao is a Nigerian Yoruba actress, producer, and screenwriter who started her career in 2004 and is currently in her late 30s to early 40s. She celebrates her birthday every 21st of January but her exact age is unknown.
With her acting talent, Eniola has risen to prominence and has a total count of more than 70 movies. She plays her role mostly in Yoruba movies and has spent 19 years in the industry. She is most famous for her roles in The Vendor, and Olokiki Oru: The Midnight Sensation.
Eniola Ajao's Bio
AGE: late 30s to early 40s
BIRTHDAY: 21st January
BIRTHPLACE: Eti-Osa Local Government in Lagos
BIRTH SIGN: Aquarius
ETHNICITY: Yoruba
FATHER: Mr. Ajao (a teacher)
MOTHER: Mrs. Ajao
SIBLINGS: 5, including a twin sister (Lolade Busari)
What is Eniola Ajao's Age?
The exact age of the actress remains sketchy since she has not disclosed it. However, she has a 21 year-old son named Ayomide and by this, it could be that she could be in her late 30s and early 40s. Likewise, she celebrates her birthday every January 21st.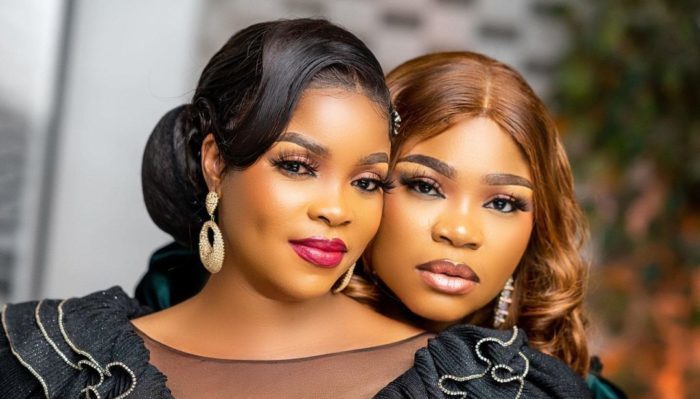 Eniola Taiwo Florence Ajao was born as a twin with Lolade Busari in Eti-Osa Local Government in Lagos State as the last of 6 siblings. Her father was a teacher and she lists him as her number one role model.
Growing up, Eniola was not famous but looked forward to becoming an actress. Among the members of her family, she is the only one who has walked the path of fame. Regardless, her twin who keeps a low profile lives a private life but reaches the media through the shadows of her sister.
Before she gained fame and while she was still younger, Eniola attended St. Michael Angelican Primary before heading to Army Secondary Boarding School in Epe Local Government Area of Lagos.
For her tertiary education, she went to Yaba College of Technology before proceeding to the University of Lagos to obtain an OND and degree in Accounting respectively.
Eniola Ajao Started Acting on Stage and Has Professionally Been in the Entertainment Industry for 19 Years
While she was in secondary school, Eniola Ajao was the leader of a drama group. Nonetheless, it was in 2004 that she began her professional acting career with a movie role in a Yoruba film, Igba Aimo. The movie also stars Deji Adenuga and Peju Ogunmola. This career came after she had met Adesanya Adeshina who had helped in putting her through.
Subsequently, she took a hiatus from her career to complete her degree. She later made a comeback in 2010 after graduation. Her initial roles led to another and at present, she has appeared in more than 70 projects. Rather than living her life only as an actress, she has opened her doors to sampling other things in the entertainment industry such as writing and filmmaking.
List of Eniola Ajao's Movies
The Vendor (2018)
Yele Ara (2018)
Olokiki Oru: The Midnight Sensation (2019)
Wasila Reloaded (2022)
Jagbajantis  (2021)
Wetin Women Want (2018)
Blackout (2021)
Ajibade (2021)
Omoge Carwash (2022)
List of Her Awards
City People Award for Her remarkable contribution to the movie industry under the Special Recognition Awards (2021)
Best Supporting Actress of the Year (Yoruba) (2018)
Her Longterm Relationship with Actor Odunlade Adekola Has Generated Controversies
After her return to the movie industry in 2010, Eniola Ajao found the help of Odunlade Adekola, one of the biggest names in the Yoruba movie scene. The 2 actors have grown to become close in their private as well as professional cycles. This would lead to the allegations that she may be having an affair with Adekola.
The rumor of their love affair had further been fueled after the internet graced some of their images that suggest closeness as those of a couple that is married or to be married. As it turned out, it was only images that were taken from a scene in a movie.
Ajao has further educated the public on her relationship with Adekola. It has been strictly that of a boss and an apprentice and further claimed that she belonged to his caucus. Their agelong relationship although may have been questioned, Eniola sees the Yoruba veteran actor as a role model. Moreover, he is married to Ruth Adekola.
Eniola Ajao Had Her 21 Year Old Son at a Young Age 
Eniola Ajao is the mother of a young adult son, Ayomide Okikiola Daniel. He was born on May 17, 2002, before the actress took a step as a professional actress in 2004.
Even though details of Ayo are under wraps, it is believed that she had him while she was a lot younger. Since her exact age remains a mystery, all there is to the public is the speculation that since Ayo is 21 years old, she may have had him while she was a teenager or probably at the time that she was in her early 20s.
On answering the question of who the father of Eniola Ajao's son is, the actress would rather keep it on the low. What is known regardless, is that she is not married at the time of this writing but has opened up through an interview that she has a serious relationship with a man who is not in the movie industry.
Eniola Ajao's Height, Weight, and Other Body Measurements
The exact height of the Epe native is sketchy but judging based on what the eyes meet, she is above 5 feet tall. Her average body weight and her curvy hourglass body have turned heads and won her admiration and comments from fans, especially on social media.
For many social media users and other media outlets, the actress does not shy from flaunting her curves and neither does the public put a permanent full stop to talk about it.
When asked in an interview if her bust causes her any embarrassment, the gap-toothed actress opened up that she had never been embarrassed by them, and this may be because she does not expose her body. She accords her "decency" to how she was raised by her parents who instilled in her the virtue that she has not been able to depart from.