Tobechukwu Victor Okoh professionally known as Peruzzi is a man with several talents. The prolific Nigerian musician earned himself a spot in the Nigerian music industry after he was featured on a song titled 'Amaka' by Africa's music legend 2Baba. Peruzzi is also known as one of Davido's right-hand man and an active member of 30BG. Although the artist is expressive, there are untold stories of him; stories of how he started out and was able to get recognized in the saturated Nigerian music industry.
Summary Of Peruzzi's Profile
Full Name: Tobechukwu Victor Okoh
State of Origin: Imo State
Ethnicity: Igbo
Place of Birth: Lagos
Date of Birth: 5th December 1989
Age: 33 Years Old
Profession: Musician and Song Writer
Net Worth: $1,000, 000
Marital Status: Single
Peruzzi Hails From Imo State But Grew Up In Lagos State
Peruzzi was born into a Christian home, he is the only son and last child of three children. He was raised in Lagos but he is of Igbo descent and hails from Imo State. The singer who describes his style of music as UrbanAfro Vibe attended Lerato Primary School Egbeda where he obtained his First School Leaving Certificate (FSLC) and proceeded to Command Secondary School Ikeja, Lagos where he got his West African Senior Secondary Certificate Examination (WASSCE).
Peruzzi has been able to shield his family away from the prying eyes of the media who want to know any and everything about him. But it is known that he has two elder sisters, however, nothing more is known about them. Little is known about his parents too, they are well educated but they are not known by name but it was gathered that his father is an engineer while his mother is a practicing nurse.
His Transition From A Chorister To Secular Musician While In College
Although Peruzzi was born into an academically inclined family, his family members also love music even though it's the Christian genre. As a child, he showed exceptional musical talent while he was in the church choir. Consequently, at age 7 his father bought him a music keyboard so he could practice and enhance his music skills. This influenced him greatly as he improved in the choir; he even composed and sang a gospel song himself.
With both parents being well-educated, young Peruzzi was under a lot of pressure as he was expected to follow in their footsteps. He actually began studying medicine and surgery at Odessa State National University Ukraine, however, music remained a huge part of his life having had this dream since he was 7. As expected it took precedence over his studies. Everyone around him quickly recognized he was lacking commitment and didn't seem to have a passion for becoming a doctor.
It all started when one of his friends who fully aware of his talent and love for music, set him up on Valentine's day show in 2008 to perform. Though this was impromptu, the performance surpassed the expectations of his audience and as expected, he earned his first public recognition as a musician and this consolidated the spirit of music in him.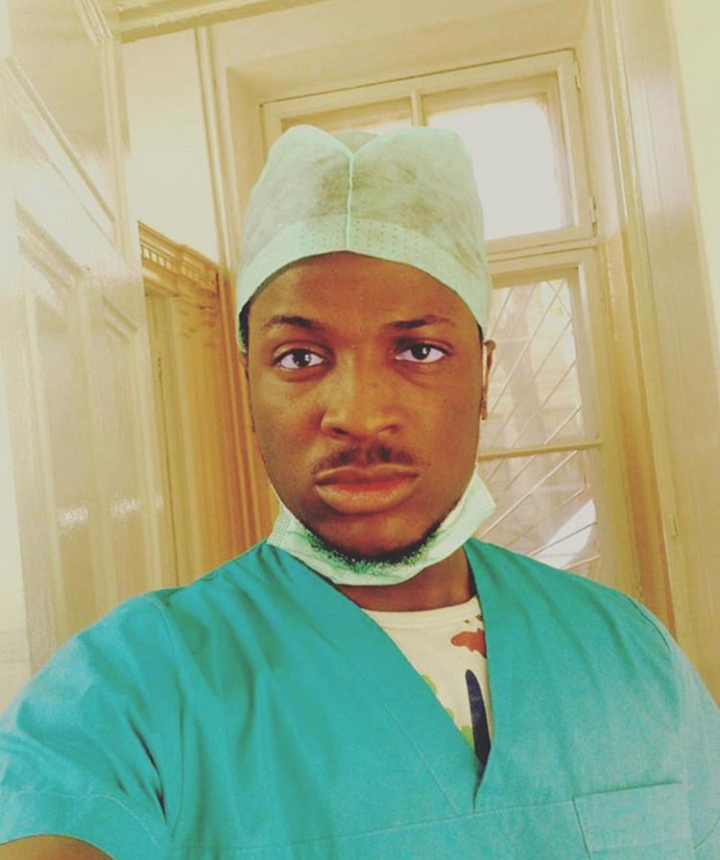 The Singer Had To Drop Out Of Medical School
After some time and having made a decision to quit medical school, Peruzzi returned to Nigeria and gave himself some time to focus on his musical career. His dream has come to pass as he is now an award-winning artist signed under one of the biggest music record labels in Nigeria; Davido's DMW.
Initially, his parents (especially his father) were not pleased to learn that their child who had gone abroad to study medicine and surgery left school and instead decided to pursue a career in music. However, after several consultations and meetings with family members, Peruzzi's parents were convinced to let him continue in his music career.
2017 Was Peruzzi's Breakthrough Year As A Musician
There are many people who claim that they have a passion for music but to transform this passion into a career is where it becomes tough. However, Peruzzi has been able to do this, achieving some level of success in his musical career without much stress despite the fact that he is relatively new in the industry and as such is still on the path of becoming one of the most celebrated Nigerian musicians.
His musical journey started professionally in 2007 when he had his first studio recording. In 2016, after getting back to Nigeria and sealing a deal with Golden Boys Entertainment, he subsequently released a song titled For your pocket in 2017. The song was directed by Speroach and was the catalyst that catapulted him to the limelight. Peruzzi's performance caught the attention of award-winning Davido who eventually signed him to the Davido Music World (DMW) in November 2017.
Davido Music World is home to the 30Billion Gang (30BG) who has signed artists like Idowest, Mayorkun, and a host of others. Peruzzi hit the jackpot with his hit track Amaka in collaboration with music legend 2Face Idibia. While many think he does well with feature songs, Peruzzi has recorded several hit singles like
Mata (2018)
AJE (2018)
Mind (2018)
Majesty (2018)
Did You (2018)
Dina (2018)
Run am (2018)
Champion lover (2018)
Bleed (2019)
Only One (2019)
His talent has also attracted a number of notable Nigerian artists to work with him. Some of the A-list artists he has worked with include; Duncan Mighty, Ice Prince, Davido, and of course 2Baba. As his fame continues to grow, it is hoped that the artist will continue to compose songs that will delight his teeming fans.
Which Awards Has He Won So Far?
Peruzzi has had big moments since starting out his musical career and among such moments are the times he received awards for his hard work. Not just awards, even being nominated for possible awards has also earned him recognition since emerging in the industry. For now, some of the awards he has won include:
The 2018 City People Music Award for Rookie of the year
Best Collaboration with A list Artiste at the Top Naija Music Award 2018.
The 2018 Headies Award for Rookie of the Year.