To check WAEC results online or by phone, simply visit www.waecdirect.org and enter your 10-digit Examination number, Serial Number, Examination year, and click on Check my WAEC Result.
Getting good grades in your West African Examination Council (WAEC) result has remained one of the major requirements needed for entry into any higher educational institution across Nigeria and other West African countries. This is why students want to get excellent grades and as such, many are often nervous, yet eager when it comes to checking their WAEC results.
Thus, the examination conducting authority saw the need to diversify the methods of checking WAEC results to make it easy for candidates. You can now check your WAEC results in so many ways, including through the internet and feature phones. Keep scrolling to find out all of the details on how to check your WAEC result via phone SMS, online, and the official WAEC result checker portal.
When Do WAEC Results Usually Come Out?
It is interesting to know that the era of waiting for WAEC results for a long time is now a thing of the past. Unlike the past situation, where candidates are made to wait for as long as 90 days (three months) before they can check their results, the story is different now as candidates can easily assess their results within only 45 days (6 weeks).
What's more, the result could be out even before the specified period. On this note, candidates are advised to check their results immediately it is 45 days from the end of the entire WAEC examinations.
Requirements For Checking WAEC Results
There are some general requirements for checking your WAEC result. Regardless of the method used in the result checking, the requirements are the same. They include:
WAEC Scratch card pin or e-Pin
WAEC examination number
Examination serial number
Examination year
Type of examination
Is There An Official WAEC Result Checking Portal?
In the past decades, the major way of checking WAEC results is often through the official online WAEC portal or going to the school where you took the exam, even though some changes have often been made in the process from time to suit the growing technological trends. But with the introduction of the phone method of checking the results, most students are confused about whether the official WAEC checking portal still exists. If you are still wondering whether the official online WAEC checking portal is still functional, of course, the answer is yes you can easily check your WAEC using the official WAEC checker portal simply visit here.
On the other hand, checking your WAEC result through the official WAEC checker portal is free of charge and it is regarded as the best method for the advantages it has over the SMS method. Through the WAEC portal, you can print your result for proper documentation, and it is also free of charge, provided you have adequate internet data.
Ways To Check Your Waec Result
Thanks to technological advancements, you can check your WAEC results through various means that suit your resources.
How To Check WAEC Results Using Phone
Before now, many candidates often wish for easier and less stressful ways of checking their WAEC results. Interestingly, with the advancement in technology today, that has been made possible as WAEC authorities have developed a system of checking WAEC results using mobile phones. With the introduction of the phone SMS method, you can check your results from the comfort of your home. With this method, all you are required to do is simply send an SMS.
Below is the step-by-step procedure for checking WAEC results through the phone method.
Step 1: Open your text message app on your phone
Step 2: Type WAEC*Examination No*PIN*Examination Year
Step 3: Enter the official short-code 32327 (that's for MTN, Airtel & Glo subscribers)
Step 4: press send
In other words, you are to send the SMS in this format: WAEC*3245657832*114434367984*2022 to 32327.
Ensure you don't add any space while typing the text message as that may result in an error. As soon as the SMS is successfully sent, your WAEC result will pop up on your phone. This method is compatible with any phone, including Android or any normal mobile phone. However, sending the SMS attracts a charge of N30, which would be deducted from your airtime. This means that checking your WAEC result using SMS is not free.
How To Check Result Through The WAEC Checker Portal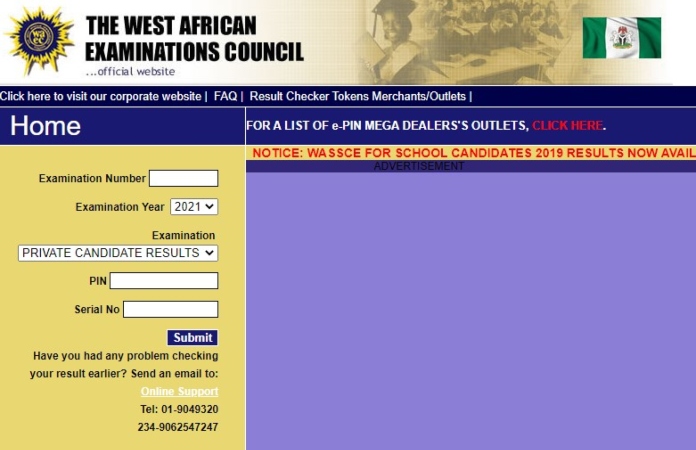 As earlier mentioned, another method of checking results is through the result checking portal on the website. This is an online method and requires an internet-enabled phone or computer. Here is a step-by-step approach to checking WAEC results online using the official WAEC checker portal:
Step 1: Open your browser
Step 2: Visit the official WAEC result checker portal on the site
Step 3. Enter your 10-digit WAEC Examination Number. (This comprises of the 7-digit center number and the 3-digit candidate number without any space)
Step 4: Select the Examination Year
 Step 5. Select the Type of Examination
Step 6. Enter the e-PIN Voucher Number (scratch card)
Step 7. Enter the PIN on your e-PIN (scratch card pin)
Step 7. Click Submit
After you clicked on submit, your result will instantly be displayed on the screen and you can print it out on paper.
How To Check WAEC Result Without a Scratch Card
In the wake of the introduction of the SMS method of checking WAEC results, there have been lingering questions in the minds of many candidates about the possibility of checking a WAEC result without the use of the scratch card.
Prior to this moment, it may seem technically impossible to check your WAEC result without purchasing a scratch card. But today, you can check your WAEC result without a physically printed scratch card by making a bank deposit to buy a generated pin which will be sent directly to your mobile phone.
Here are the simple steps to follow in checking your WAEC result without a scratch card:
Step 1: Visit the nearest Guaranty Trust Bank
Step 2: Request for a teller
Step 3: Fill in details such as:
The Account name
Account number
Amount to be deposited both in words and figures
Name of depositor (this should be your WAEC Examination number)
Submit the teller with the required amount
Step 4: An SMS containing your e-Pin (e-PIN stands for Electronic Personal Identification Number) number and serial number will be sent to your phone
Step 5: Use the e-Pin to check your WAEC result by either using SMS or the online WAEC checker portal, you can use the e-Pin only five times to check your result before it will expire.
Note that this method attracts some bank charges. The normal price for the WAEC e-Pin is  N2000 and it would be paid directly through a bank deposit.
Another way to check your WAEC result with a scratch card is by purchasing an e-Pin. There are several legitimate sites that sell the WAEC e-Pin, you can visit any of those sites to get your e-Pin, however, this attracts a charge of N2000.
Here are the steps for purchasing the WAEC e-Pin:
Visit the website
Select Buy WAEC Scratch Card
Choose the payment method that suits you
Select the quantity you wish to purchase
Put the amount e.g N2000
Confirm your transaction
Click on the send button
After clicking send, your unique WAEC e-Pin will be sent to your phone as a text message or via your email
The WAEC e-Pin usually contains 10 or 12 digits
Note: You can use your e-Pin up to five times to check your WAEC result through the online WAEC checker, or through the phone and SMS method.