Duncan Mighty (born 26th October 1983) is a Nigerian musician, singer, and music producer best known for a number of his songs such as "Scatter My Dada", "Ako Na Uche", "Obianuju", and "Port Harcourt son" among others.
Credited as one Nigerian hit maker whose songs are usually influenced by the culture and sound of his people, Duncan Mighty is a Nigerian singer/record producer/musician who has won many hearts with his sensational songs. He has five successful studio albums and a slew of high-profile collaborations with popular artists such as Jamaican DJ/singer Shaggy, Mr. Raw Nwanne, Sandaz Black, Timaya, Young Stunna, Erigga, and many more.

Duncan Mighty Bio and Profile at a Glance
Full Name: Duncan Wene Mighty Okechukwu
Known as: Duncan Mighty
Date of Birth: 26th October 1983
Age: 39 years old
State of Origin: Rivers State
Local Govt. Area: Obio-Akpor LGA
Education: University of Port Harcourt
Occupation: Singer, Music producer
Active Years: 2006 to date
Marital Status: Separated (Vivien Okechukwu)
The 39-year-old Singer was Born and Raised in Rivers State
The popular Nigerian musician was welcomed into the world on October 28, 1983, in Port Harcourt, a South-South city in Nigeria. He was named Duncan Wene Mighty Okechukwu at birth by his parents, but the singer decided to take up Duncan Mighty as his stage name.
Growing up in Port Harcourt, he attended Federal Government College Port Harcourt, after which he went on to study at the University of Port Harcourt, where he obtained a degree in engineering.
Okechukwu is the last child of his parents, but we do not know how many older siblings he has. However, a story once broke the internet about a lady who was caught stealing from a mall, and she was identified as the older sister of the singer. Addressing the rumor, he said that the lady in question was his sister, but she had just run out of the mental facility where she was being looked after. According to him, the lady developed a mental condition that led to the closing down of her businesses, but she would get better with the help of God. She is the only Duncan Mighty sibling we know about.
Also, Duncan Mighty once revealed that his reason for not having any younger siblings is because his mother bled for eighteen years after giving birth to him. She had been pregnant with him for eleven months and was in labor for two weeks. From his description of her, his mother is a disciplinarian and a multi-trader. She worked hard even with the pains she went through at the time. She also made him help her out with sales, thereby training him to be the industrious young man that he is today. Further details about his childhood, early life, and parents are currently unavailable on the internet. Still, we gathered that the musician cum engineer lost his father in 2007 and that his hometown is Obio-Akpor.
He studied Audio Engineering and made good of His Music Talent
Like most musicians, Duncan Mighty started as a church drummer and choir director. After developing a strong interest in music in his youth, the singer decided to take it professionally by studying Audio engineering at the university. Upon his graduation, he was mobilized for the compulsory National Youth Service, during which he worked as a sound trainer. Duncan Mighty also worked in a Lagos-based music studio called Dolphin Studios. He worked at the studio while on IT at Muson Centre, a popular performance hall in Lagos.
Shortly after his stint at the Lagos music firm, Duncan began to work on his singing career as he began recording songs and later made good the efforts he had put in after a short period of intense hard work and commitment. Wene Mighty eventually relocated to Port Harcourt in 2006 and was hired to work as a staff at 360 Records and later at D Large Records. He would cross paths with Chris Aire (a popular Nigerian jeweler), and together, the pair formed a recording label called AireMighty Records.
His Debut Studio Album was an Instant Hit
Duncan Mighty took the world by surprise in 2008 when he released his debut studio album titled: Koliwater, which came with twenty-one hit songs, including Ako na Uche, Dance For Me, Ijeoma, and Scatter My Dada. 
Following an impressive and successful first album outing, the singer moved on to release his second album in the second quarter of 2010. Ahamefuna (meaning Legacy) was released with no featured artists or guest appearances, as Duncan Mighty produced the entire album himself.
Not long after, the musician dropped a lead single titled I Don't Give A Shot, which was followed by another studio album titled: Footprints in September 2012. The latter featured notable Nigerian rappers such as Otuu Sax, Lagos-born singer Wande Coal, Plantain Boy crooner Timaya, and Sandaz Black.
Wene Mighty's fourth studio album titled: Grace & Talent, was released in 2014 through his own record label called Young Wealth Records and boasts of contributions from notable stars like Tick Lips, Phyno, J Flex, Young Stunna, and more.  The record producer dropped his last album in 2016, and it was titled: The Certificate. However, he has shown that he is still in the business of making good music after he dropped two singles, Boma and Off My Feet in 2020 and a recent one, Nibolowa, featuring Burna Boy in 2021. Some of his songs and albums include the following;
Singles
Low Waist
Package
Blow Am
Ikebe Gyrate
Pepe
Genevieve
Sweet Love
Wicked
Omila
Dirty Water
Albums
Koliwater (2008)
Ahamefuna (2010)
Footprints (2012)
Grace and Talent (2014)
The Certificate (2016)
Awards He has Won
The singer was honored at the 4th annual Odudu Music Award.
He was awarded the Indigenous Artist of the Year at the Nigeria Entertainment Awards, 2011.
He was awarded the South-South Musician of the Year at the City People Music Awards, 2018.
Duncan Mighty won the Nigerian Entertainment Award for Trailblazer in 2018
Duncan Mighty was Married to Vivien Okechukwu for Five Years Before they Fell Apart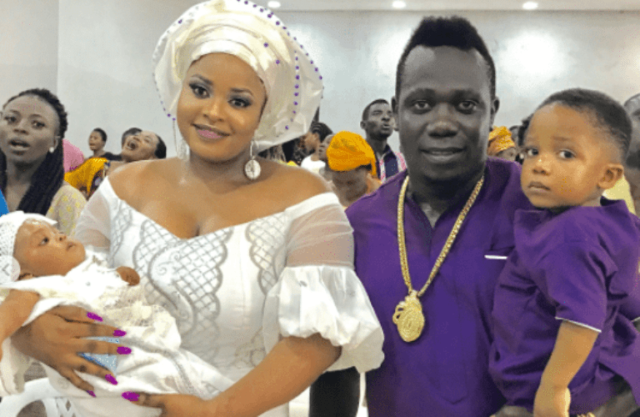 The Port Harcourt First Son got married to Vivien Okechukwu on the 25th of July 2015. They lived happily for five years, and their marriage was blessed with three kids, two boys and a girl. Sadly, everything started falling apart in December 2020 when the artist accused his wife of infidelity. According to him, a DNA test result revealed that their daughter, Mitchell, is not his, and she was probably fathered by one Mr. Frank.
Further into their disagreement and scandal, Mighty also accused his wife and her family of using diabolic means to try to kill him. He made several posts where he alleged that she had poisoned his food and bath water for two years and eleven months in an attempt to kill him to take over his properties. In one of the posts on Instagram, he gave thanks to God that he could make a recording of his estranged wife's confession where she admitted that she wanted to kill him.
Although they are not legally divorced yet, the couple has since separated. He claims that Vivien and her family have been on the run after he discovered their evil plot against him.
Other Interesting Facts About Duncan Mighty
1. Duncan Mighty received three nominations in 2011 at the Nigeria Entertainment Awards for his works – Ahamefuna and I Don't Give A Shot. He eventually won Indigenous Artist of the Year at the award ceremony.
2. The Port Harcourt-born singer was honored for his contribution to the music industry at the 4th annual Odudu Music Awards. Other artists who were also honored at the events are Sodi Cookey, M-Trill, Becky Enyioma, and Timaya.
3. Wene Mighty is a father of two lovely children, following his marriage to his sweetheart, Vivien, on 25 July 2015. The couple's wedding ceremony was strictly by invitation and had music elites such as gospel singer Sammie Okposo in attendance.
4. The singer is a United Nations (UN) Peace Ambassador.
5. Duncan Mighty is also called "Port Harcourt First Son."
6. His local name, Wene, means brotherhood while Wene Mighty means togetherness, according to the singer.
7. In 2012, he was nominated for African Artiste of the Year at Ghana Music Awards.
8. His record label, Young Wealth Records, was founded in 2014.