The murky waters of corporate Nigeria aren't exactly awash with successful women, and it's still a territory controlled predominantly by the male folk. Interestingly, since money and wealth is not gender-biased, the changing times seem to be giving women better chances to compete with their menfolk in the rich list. The richest women in Nigeria are the most successful philanthropic businesswomen. Although some had help, others built their wealth from scratch. These women have managed to build empires for themselves through wise investments and running some of the most successful businesses in the country. Check out our top 10 list of the richest women in Nigeria and their net worth.
1. Folorunsho Alakija
Net Worth: $1 billion
Age: 71 years old
Industry: Oil and gas
Marital Status: Married (Mr. Modupe Alakija)
No. of Children: 4 sons
Top of the league of richest women in Nigeria is Folorunsho Alakija, a 71-year-old Lagos-born business baroness ranked as the 20th richest Africa's billionaire by Forbes 2020.
Folorunsho made her first millions from fashion Industry
Coming from an upper-middle-class family of Chief L. A. Ogbara of Ikorodu, Lagos State, Folorunsho is a graduate of Secretarial Studies from the Pitmans Central College London. She started her career working briefly as an executive secretary of Sijuade enterprise located in Lagos, Nigeria, before she began a twelve-year long career in the banking world, working as an executive secretary at FinBank, which is now acquired by First City Monument Bank (FCMB),  and as a Head of the Corporate Affairs Department of the International Merchant Bank of Nigeria (formerly First National Bank of Chicago).
She left the banking world to pursue her passion for making clothes and set up her first fashion label, Supreme Stitches, which metamorphosed into Rose Of Sharon House Of Fashion over the years. The fashion house is specialized in making clothing for the elites. Part of her clientele included the wife of the then military head of state Ibrahim Babangida. Following the success of her fashion business, Folorusho Alakija diversified into more lucrative businesses and oil being the most lucrative at the time, was her next business target. She received an oil prospecting license (OPL) for her company, Famfa Oil Limited, to explore oil on a 617,000-acre block.
Gaining much ground in the oil business, she entered into a joint venture agreement with Star Deep Water Petroleum Limited and grew her wealth from there. Today, she is one o the top oil moguls in the country. Folorunsho is currently the Vice Chairman of Famfa Oil, an exploration company with a 60% stake in oil block OML 127  located at the Agbim oil field, one of Nigeria's largest deepwater oil reserves. Alakija reached a new milestone in 2014 when she was listed among the world's 100 most powerful women alongside Nigeria's then-Finance Minister Ngozi Okonjo-Iweala.
The oil tycoon is keeping the management of her oil company within her family circle with her husband, Mr. Modupe Alakija, standing as the chairman, and her two sons, Ladi and Dele, sitting on the board of directors.
Other Sources of Folorunsho Alakija's Net Worth
While oil and gas business remains Mrs. Alakija's major source of wealth, she has some other ventures that are quite successful as well:
She Owns a Printing Business
The oil mogul has a printing business known as The Rose of Sharon Printing. The company specializes in large printing formats, promotional prints, design and offset printing, industrial and corporate signage. It prints on items like uniforms, towels, table cloths, bedsheets, etc.
The real estate business is one other big business with millions of profit the likes of Alakija will never ignore. She is the chairperson of Dayspring Property Development Company. The company is apparently behind the Famfa and Rose of Sharon tower project.
She is also a Reputable Author
Folorunso Alakija is a preacher of the gospel. Hence, most of her publications are Christian-based. She went ahead to display her expertise in writing and has got several publications under her belt. list o her books include:
Growing with the Hand that Gives the Rose
Window Shop for your Spouse
The Cry of Widows and Orphans
Wish for it? Pray for It (Scriptures for Wives)
Wish for it? Pray for It (Scriptures for Husbands)
Alone with God
His Name Is
Summary of all Florunsho Alakija's Source of Wealth
Rose of Sharon Fashion House
Famfa Oil Limited
Digital Reality Prints Limited
The Rose of Sharon Printing and Promotion
Dayspring Property Development Company Limited
How Mrs. Alakija Spends Her Money
As one of the powerful and richest women in Nigeria, Folorusho Alakija also lives up to her social status. She has landed properties in strategic areas around the world. Her home, which is located in the Ikoyi area of Lagos State, is reported to be over $900 million, ranking as the most beautiful and expensive house in Nigeria. Her obsession for Mercedes has seen her acquire fleets of its brands, including 4 G-Wagons for her sons and a Mercedes S class limousine for her husband. You can easily identify her cars with the number plate "FLO." She also owns a private jet, Bombardier Global Express XRS, which is worth a whopping $46 million.
2. Hajia Bola Shagaya
Net Worth: $950 million
Age: 63
Industry: Oil and Gas, Real Estate
Marital Status: Married (Alhaji Shagaya)
No. of Children: 6
Also listed as one of the most successful and richest women in Nigeria is Hagiya Shagaya, a 63-year-old Kwara state indigene and daughter of a Sudanese seamstress, who like her billionaire counterpart, Folorunsho Alakija, began as a banker before her business metamorphosed into oil and gas.
Shagaya's first major source of wealth was photographic equipment
Mrs. Shagaya started her sojourn into corporate Nigeria when she joined the Central Bank of Nigeria (CBN) as an audit staff. She left Apex bank in 1983 to pursue other business interests. Under the trade name Bolmus International (Nigeria) Limited., Shagaya went into importation and distribution of photographic materials such as roll papers, films, and chemicals. With the success of the business, she became the sole West African agent of the then-leading photographic company, Konica.
Through her Konica brand of photographic materials were introduced in Nigeria and the rest of West African markets. Seeing opportunities in the Nigerian photography industry, Shagaya expanded her Konica marketing operations to photo laboratories. Hence the birth of a photo laboratory company, Fotofair (Nigeria) Limited, in 1997.
She became one of the indigenous oil marketers in the late 1980s
With profits from her photo laboratories and photographic equipment, Bola Shagaya ventured into the oil and gas business, establishing Practoil Limited, which is currently one of the largest importers and distributors of base oil in Nigeria. The company also has its lubricating plant in Kirikiri and produces multi-grade oils and lubricants useful for local lubricants blending plants.
In 2011, Bola Shagaya founded Voyage Oil and Gas Limited, another oil and gas industry operating as a Crude Oil trading and export company. Since its official launching in 2012, the company has been on the Nigerian National Petroleum Corporation (NNPC) crude oil term contract with about 30,000 barrels of oil produced per day. Voyage has also operated as a dealer and independent marketer of oil, petroleum products, and gas. Currently, the company is involved in selling petroleum products, haulage, marketing, and storage, all of which have added greatly to her net worth.
Hajia Bola Shagaya's Other Net Worth Sources
It is common to have a business tycoon like bola Shagaya spreading their business tentacles to other lucrative sectors. Shagaya targeted the Real Estate business as it was (and still is) one of the most lucrative business ventures globally.
Hajia Bola Shgya's Bolmus Group International is also into real estate investments. The company owns housing estates in several major cities in Nigeria and properties in the US and Europe. These investments also contribute to her wealth; however, what she makes from the real estate business is unknown.
The 57-year-old socialite boasts close ties with some of the most powerful people in the land, including the former military head of state Ibrahim Babangida. During the last political dispensation, she was a frequent visitor to the villa to see the former first lady, Patience Jonathan.
Summary of Hajia Bola Shagaya Source of Wealth
Bolmus Group International – importation/ distribution of photographic materials, Real Estate investment
Fotofair (Nigeria) Limited – Photo Lab Company
Practoil Limited – Importer and distributor of base oil
Voyage Oil and Gas – Crude Oil trading and export company
A Peek into Bola Shagaya's luxurious Lifestyle
For someone with huge investments in some of the biggest economic hubs, it is only natural to have Bola Shagaya use some of the world's most expensive things. The business tycoon has state-of-the-art mansions in Lagos, Abuja, and even in her hometown in Illorin. Her state-of-the-art business property at Kirikiri is among the most expensive in the country. As for her fleet of cars, Hajia Shagaya owns a Rolls-Royce Phantom and a Rolls Royce Ghost, both valued at a whopping sum of ₦90 million.
3. Daisy Danjuma
Net Worth: $900 million
Age: 70 years old
Industry: Politics
Marital Status: Married (Theophilus Danjuma)
No. of Children: NA
Daisy Ehanire Danjuma is another business magnate who made it on our list of richest women in Nigeria, with her net worth estimated at $900 million. Currently 70 year of age, Daisy is a businesswoman and a politician best recognized as the former senator representing the Edo South Senatorial District. Daisy makes much of her monies from politics and other investments.
Daisy Danjuma, who hails from  Benin City, Edo State, Nigeria, is a Law graduate who was called to the Nigerian Bar as a practicing lawyer in 1977. She started her career as a State Counsel at the Department of Public Prosecutions in the Lagos State Ministry of Justice. Her successful law career saw her occupying various high positions in public and private firms.
She served as a pioneer Legal Counsel to the Legal Aid Council of Nigeria before leaving for the investment bank Nigerian Acceptances Ltd. (NAL). Daisy spent her next decade as Company Secretary/Legal Adviser to the Nigerian Television Authority (NTA) before moving into private practice.
She earned the majority of her wealth from her Political career
Passionate about serving her people, Daisy joined politics under the Action Congress Party (AC) and was elected Senator of the Federal Republic of Nigeria in 2003. Serving from 2003 to 2007, she was a member of numerous committees, most notably as a Member, Senate Committees on Health, Education, Finance, and Land Transport of the National Assembly. With her successful career experience in the law firm and the Nigerian parliament, daisy became Chairman of the ECOWAS Parliament's Women and Children's Rights Committee and Senate Committee Chairman on Women Affairs and Youth Development.
Mrs. Danjuma contested for the second tenure for her senate office during the 2011 Nigeria general election, but she lost it to  Ehigie Edobor Uzumere with a margin that almost doubled her votes. Although she is currently not holding any political office, it is believed that she garnered so much wealth from her four-year career at the Senate.
Other Sources of Daisy Dnjuma's Net Worth
While a detailed list of businesses and investments attached to Daisy's name cannot be found, it is largely believed that she has made some notable investments. In 2019, she was appointed the chairman of May & Baker Nigeria PLC, a leading pharmaceutical manufacturing company. Currently, she is an Executive Vice Chairman of a Nigerian oil and gas exploration and production company known as South Atlantic Petroleum (SAPETRO).
As for how Disy spends her money, daisy is entirely private with that aspect of her life. Hence, there's nothing known about social life as she keeps them off the media.
4. Fifi Ejindu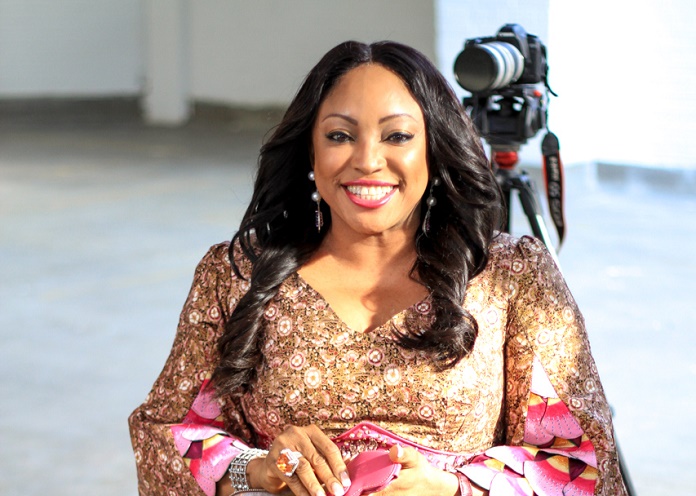 Net Worth: $850 million
Age:d 61 years old
Industry: Architecture, Real Estate
Marital Status: Married (Amechi Ejindu)
No. of Children: 1 son
Offiong Ekanem Ejindu, otherwise known as Princess Fifi Ejindu, is one successful woman who is blessed with the proverbial Midas touch. Everything she touches turns into gold. Fifi is one cosmopolitan businesswoman who sees opportunities everywhere. Her ability to dive into every opportunity that comes her way has made her one of the most successful and richest women in Nigeria.
Blessed with beauty and uncommon genes, Fifi is the great-granddaughter of King James Ekpo Bassey of Cobham Town in Calabar, Cross Rivers State. She was born on May 21, 1962, and her father, Professor Sylvester Joseph Una, is from Uyo, Akwa Ibom State. Fifi started her career in 1995 after obtaining various academic certifications that qualify her as a successful architect. She established Starcrest Group of companies that comprises Starcrest Investment Ltd., Starcrest Associates Ltd., and Starcrest Industries Ltd, all involved in real estate, oil and gas, building construction, project management, and youth empowerment.
Through her Starcrest Associates, she designs buildings, constructs residential villas and estates, carries out architectural services, urban planning, engineering services, and interior decorating. The Spanish Ambassador's apartment in Maitama, Abuja, is a perfect example of Ffi's architecture expertise. She also is behind the design of the official apartment of Professor Charles Soludo, a one-time governor of the Central Bank Of Nigeria.
Fifi's Net Worth Majorly Comes from her Group of Companies
It is unknown how much Fifi charges for her architectural designs. There is no doubt she earns much, considering the caliber of people and firms she has worked for. With her neo-traditional kind of architecture, Fifi is now named among female pioneers in the fields of Architecture and Business on an appearance on CNN's African Voices. She is also a member of the Nigerian National Heritage Council. Her excellent career has also earned her many awards and recommendations, including the "African Female Economic Champion" in 2013 and a recommendation from the Georgia House of Representatives, USA.
How Fifi Spends her wealth
This stylish showstopper knows how best to pamper herself with just anything money can buy. Anytime she attends social functions, it is always in grand opulence, ready to make a fashion statement. When it comes to car brands, she buys most of the most expensive cars she lays her hands on. During her 51st birthday in 2015, this society lady pampered herself with a Rolls Royce Ghost worth N30 million.
Princess Ejindu is humanitarian to the core. She puts part wealth into humanitarian service. Her charity and philanthropy speak volumes of her persona as a cheerful giver.
5.   Dr. Stella Okoli
Net Worth: $800 million
Age: 78 years old
Industry: Healthcare
Marital Status:  Married (Late Barrister Christopher Okoli)
No. of Children: 3 (Uzoma Okoli, Emeka Okoli, (Late) Chike Okoli.)
Stella Chinyelu Okoli (MON, OON) makes it on our list of the top five richest women in Nigeria. She is a renowned entrepreneur, pharmacist, philanthropist, and certainly one of the successful women in Nigeria. She is best known as the Chief Executive Officer and Managing Director of Emzor Pharmaceutical.
A native of Nnewi in Anambra State, Stella was born on July 30, 1944, in Kano State, to the family of Felix Ebelechukwu and Margaret Modebelu. She began her career working several years for pharmaceutical firms, including Boots the Chemists Limited, Middlesex Hospital, London, and Pharma-Deko. After gaining much knowledge and experience in the field, she established a small pharmacy retail shop in 1977 and named it "Emzor Chemists Limited."
The retail shop, located in Somulu, Lagos State, later grew from buying and selling already produced drugs to manufacturing its drugs. And today, it has grown to have a range of over 50 products, including the popular, very affordable, and effective Emzor Paracetamol. The company began producing its drugs in 1985, and less than three years, it had established itself as a pharmaceutical manufacturing company in the western region, with Emzor Paracetamol being its leading brand of analgesic in Nigeria and even across Sub Saharan Africa.
Today, Dr. Stella's Emzor Pharmaceuticals has become one of Nigeria's most respected, indigenous multi-billion naira pharmaceutical companies known for attracting foreign missions, students, and scholars of pharmacy, microbiology, and chemistry. The company is also popular for manufacturing over 120 products across analgesic, anti-malaria, anti-helminthic, antibiotics, vitamin/haematinics /multivitamin supplement, and therapeutic categories. The company posted a net income of N1.47 billion as of December 2019.
A Large Chunk of Stella Okoli's et Worth came from her company
As the founder and Group Managing Director of Emzor Pharmaceutical Industries Limited, Dr. Stella Chinyelu Okoli has not only earned massively from her company, but it has also helped her achieve her dream of reaching millions of lives across Sub Saharan Africa. For her works, Stella has received awards like International Entrepreneurial Challenge (IWEC) Award and the 2014 CePATHonors Lifetime Achievement Award.
Much of Stella's Wealth Goes to Philanthropy
In addition to giving herself and her family the best that money could buy, Stella dedicated chunks of her income to help people. She founded Chike Okoli Foundation (COF) in 2006 in memory of her beloved son, Chike, who passed away in 2005. Through the foundation, she established a Centre for Entrepreneurial Studies at Nnamdi Azikiwe University, Awka, which trains over 250 students in entrepreneurship every year.
6. Bimbo Alase