Bola Tinubu (Full Name: Bola Ahmed Adekunle Tinubu) is a Nigerian accountant and politician best known as the former Governor of Lagos State from 1999 to 2007 and as the 2023 presidential nominee for the All Progressives Congress.
The name Jagaban is a name every Nigerian is familiar with. It is a name that signifies boldness and excellent leadership skills, and no two persons in the country are officially recognized as the Jagaban except Bola Tinubu, the Asiwaju of Lagos. The title, which describes "someone who leads while others follow," was attached to Tinubu's name in the Niger State of Nigeria. He is the Jagaban of the Borgu Kingdom.
The 71-year-old politician is a well-known master strategist who has shaped Nigerian politics through his dominant position in the political affairs of the country's commercial capital, Lagos, for decades. He is Asiwaju Bola Ahmed Tinubu. Whether you love Tinubu or despise his brand of politics, that name is key in discussing politics in Nigeria. Here is everything you need to know about the former two-time governor of Lagos State.

Bola Tinubu Profile Summary
Name in Full: Bola Ahmed Adekunle Tinubu
Also Known As: Asiwaju, Jagaban
Date of Birth: March 29, 1952
Age: 71 years old
Educational Qualification: Accounting Honors
Profession: Accountant, politician
Spouse(s): Oluremi Tinubu
Bola Tinubu Hails from Osun State, South-West Nigeria
Following his popularity in Nigeria's commercial heart, many may mistake Lagos to be the Asiwaju's native home. Bola Tinubu originally hails from Osun State. He is the son of Abibatu Mogaj, a famous Nigerian business magnate who became the Ìyál'ọ́jà of the Association of Nigerian Market Women and Men. His real name is Bolanle Ahmed Adekune Tinubu. Not much is known about Tinubu's father, but his name is given as Oyetola Tinubu. We also know his siblings to include Wale Tinubu, a renowned businessman, consultant, and lawyer, who is the group chief executive of Oando PLC.
Tinubu is also related to Alhaji Isiaka Gboyega Oyetola, a politician and Osun State governorship aspirant in 2018, and Rafiu Olubodun Tinubu, the suave Managing Director of Primero Transport Company. Further details about the illustrious Tinubu family are unknown. Still, from his mother's status as Iyaloja – a position she occupied until her death in June 2013, it is believed that the politician grew up in a wealthy home, where nearly everything he needed as a child was provided.
His brother Mr. Rafiu, in an interview, noted that although the Asiwaju was known to be a stubborn child, he also exhibited characteristics of greatness right from his childhood. He would want to lend helping hands to people regardless of who they were and where they came from. Apparently, he was someone people happily chose to rely on. This trait has helped him become the man he is today.
Controversies Surrounding His Real Age
Age has always been a relevant factor in the political affairs of a country as large as Nigeria. It is a factor that could make or mare the ambition of anyone holding or wishing to hold a public office. With the introduction of the Not-Too-Young-To-Run initiative to break the elderly hegemony of political space in Nigeria, many public office holders have tampered with their birth certificates to retain their political positions or attain new ones.
Bola Tinubu's 69 years birthday celebration in March 2021 was one event that threw up many issues on various media tabloids. While friends and loved ones of the respected politician showered him with gifts and prayers, social media handlers accused him of fraudulently abridging his actual age by at least ten years!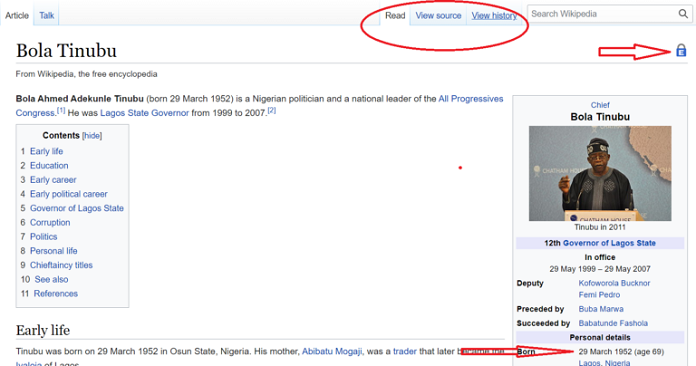 It all started when a Twitter user posted a purported screenshot of Tinubu's profile on Wikipedia, showing that the politician was born on March 29, 1942, not 1952, as noted on his celebration day. The argument about further when it was reported that the famous politician's Wikipedia page was edited multiple times, leading to it being locked by editors of the free online encyclopedia. The page was later locked to prevent further editing after findings revealed that many persons had attempted to edit Tinubu's age up to 84 times. The last lock on the page happened after the post about his age difference surfaced on Twitter. While Tinubu remained silent on the issue of his actual age, it left many with questions on the authenticity of his other official documents.
At 27, Tinubu Bagged Honours in Accounting
Bola Tinubu started his educational journey at St. John's Primary School, Aroloya, Lagos, where he studied for a while before transferring to Children's Home School in Ibadan, where he completed his primary education. He then traveled to the United States in 1975, where he had his secondary education at Richard J. Daley College Chicago, Illinois. After which, he gained admission into the Chicago State University, where he graduated with a Bachelor of Science degree in Accounting in 1979.
For his academic excellence, the Aswaju reportedly received several awards, including an Outstanding Student's Award, the University Scholar's Award and the Certificate of Merit in Accounting and Finance, and a Summa cum laude. After graduation, Bola Tinubu got his first professional job working with Arthur Andersen LLP  – a Chicago-based American holding company known for providing auditing, tax, and consulting services to large corporations. Tinubu also worked for big companies like Deloitte Haskins & Sells (now called Deloitte Haskins and Touche) and GTE Services Corporation, all in the United States of America.
There were also claims that the Awaju did some menial jobs such as washing dishes, night-guard, and cab-driving to see himself through school difficulties at the Richard Daley College, Chicago, Illinois. Returning to Nigeria in 1983, Bola Tinubu worked with Mobil Oil Nigeria as a Senior Auditor. He also worked in the company as a treasurer and rose to the position of an executive in the company before his eventual retirement.

All the Schools Bola Tinubu Attended
St. John's Primary School, Aroloya, Lagos State,
Children's Home School, Ibadan, Oyo state,
Richard J. Daley College Chicago
Chicago State University
Bola Tinubu Began His Political Career in 1992, at the age of 40
Bola Tinubu has always been a man blessed with leadership skills. As a young man, he also had a passion for politics, so during his school years, he participated in his departmental politics. He even contested and won his first political election as the President of the Accounting Society of the institution in his final year at the University. While working with Mobil oil after returning to his home country, Tinubu took part in financial contributions and fund-raising needed for community development programmes in Lagos State. He was even known to lead Primrose Group, a political action organization pushing for fundamental changes in the politics of Lagos State.
Bola's journey into politics began fully in 1992 when he contested and won the seat of a senator of the Federal Republic of Nigeria, representing the Lagos West constituency. Going by his birth date of March 17, 1952, it could be said that Tinubu's political career officially started when he was 40 years of age. After the annulment of the June 12, 1993 election, Bola Tinubu founded National Democratic Coalition (NADECO) with some other Nigerians, a group that advocated for the restoration of democracy and recognition of the June 12 results.
In 1994, Bola Tinubu went into exile and later came back in 1998 when Sani Abacha had died. Bola Tinubu contested for governor of Lagos State in 1999 and was elected in the platform of Alliance for Democracy (AD). He was sworn into office as the second Executive Governor of Lagos State on May 29, 1999, a day he described as "special." In April 2003, after the expiration of his first term in office, he was re-elected for a second term. During Tinubu's service years as governor of Lagos State, he took several moves that helped in the economic and infrastructural development of the State.
He invested largely in education in the State and returned many schools to their former owners; Initiated new road construction needed to meet the needs of the fast-growing population of the State, and tussled with the Federal government over whether Lagos State had the right to create new Local Council Development Areas (LCDAs) to meet the needs of its large population. The controversy led to the Federal government seizing funds meant for local councils in the State. Despite all odds, he was able to create a total of 37 LCDAs.
Tinubu's tenure as Lagos State Governor ended on May 29, 2007, when Babatunde Fashola of the Action Congress took office. After leaving office as governor of Lagos State, Bola Tinubu was brought before the Code of Conduct Tribunal for trial over the alleged illegal operation of 16 separate foreign accounts. Two years later, he and Governors James Ibori of Delta State and Obong Victor Attah of Akwa Ibom State were cleared of charges by the Economic and Financial Crimes Commission (EFCC).
Summary of Tinubu's Political Career/Offices Held:
1992 –  Wins Election as Senator of the Federal Republic of Nigeria, representing the Lagos West constituency.
1993 – Founded National Democratic Coalition (NADECO)
1999- 2003 -He became the second Executive Governor of Lagos State
2003-2007- Began and Completed his second tenure as Lagos state governor
A Look At Tinubu's Relevance in the APC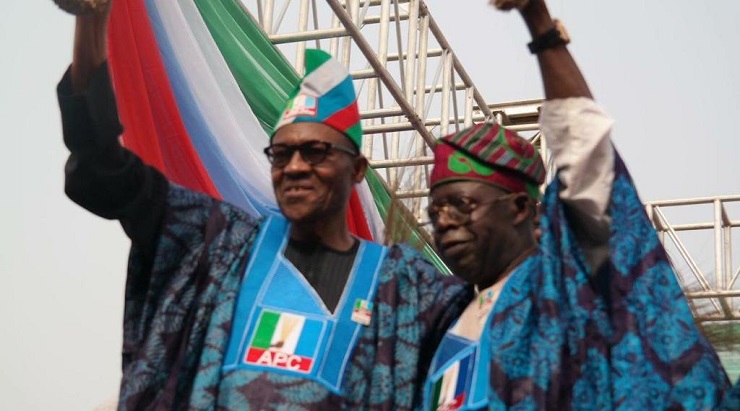 Bola Tinubu is currently the National Leader of the All Progressive Congress (APC) – a party he formed along with Muhammadu Buhari in 2015. The party's primary goal was to build a stronger party that would eliminate the ruling party Peoples Democratic Party (PDP), during the 2015 general election. Tinubu's initial target was to run as Buhari's vice-presidential candidate but later conceded for his ally and former commissioner of justice, Yemi Osibanjo. 2015 saw Tinubu's dreams of destroying the then ruling PDP came through as Buhari rode the APC to victory, ending the sixteen-year rule of the PDP and marking the first time in the history of Nigeria that an incumbent president lost to an opposition candidate.
Through his campaign effort, the APC defeated the PDP a second time in the 2019 general election. The 'Jagaban,'  Bola Tinubu is rated as one of the most influential politicians in Africa in the 21st century. His firm and resolute style of politics has helped him attain several accomplishments. One of his most outstanding achievements would be the number of politicians who served under his tutelage. They include Prof. Yemi Osinbajo, the vice president of Nigeria; Babatunde Raji Fashola, Minister of Power, Works, and Housing and one-time governor of Lagos State; Rauf Aregbesola, Osun State governor, among others.
Little wonder he is believed to have surpassed Chief Awolowo's political record. The former gave life to the Yoruba race through his free education program. However, the latter is considered to have achieved greater success as the first Yoruba politician, whose party, while in the opposition, defeated a ruling party in a presidential election, thereby controlling the central government.
Bola Tinubu's Major Political Accomplishments
Revamped the civil and criminal procedure rule and created the Citizens Mediation Centre, a well-staffed and independent Office of the Public Defender, offering legal services for the poor.
Instituted a reform plan that helped to improve the welfare of judicial officers, including magistrates
Upgraded facilities at the Lagos State Teaching Hospital (LASUTH)
Provided free healthcare services, including free ante-natal care for women, free eye treatments, and glasses for the visually impaired, popularly called 'JIGI BOLA.'
Established the Lagos State Traffic Management Authority (LASTMA)
Created 37 Local Council Development Areas
Established Five additional general hospitals in Lagos state
Pioneered the Bus Rapid Transit System and LAGBUS
Spear-headed the political merger that produced the APC
Besides Politics, Tinubu Has Made Some Personal Accomplishments
Aside from his political career, Bola Tinubu has made some personal accomplishments that would keep his family legacy for years. The famous Nigerian politician is known to own many expensive properties and investments that are worth billions of Naira linked to him. The APC leader is allegedly the wealthiest Lagos State politician currently, with different real estate properties worth billions of Naira to his name. One of his massive investments includes Oriental Hotel located along Admiralty Way, Victoria Island.
The hotel has the best facilities for a luxury traveler and, as expected, commands one of the highest room rates, with the president suite going for more than 400 hundred thousand Naira a night. It is said to be worth over N120 billion alongside his The Choice property at Lekki Lagos. The Asiwaju is allegedly the owner of Oando Oil Company, which is managed by his blood brother. The company is said to be the largest oil production company in Nigeria, with equity of N162 billion and a revenue of N449 million.
According to reports, his other properties include;
Prime land of 157 hectares with 2.5km of Atlantic beachfront valued at about N10 billion,
14 hectares Parkview Ikoyi Estate foreshore land reclaimed by Lagos State Government,
The annex of the Lagos State Guest House in Asokoro, Abuja, which the state Government purchased in 2006 for N450 million,
A 5-bedroom detached house on one acre of land valued at N450 million,
His home at Boudillon which is worth over N1 billion
250-hectares of land located at Ajah junction on Leki road and estimated at 35 billion Naira.
A 1,000 hectares of land situated at Lakowe close to Abijo at Ibeju-Lekki Local Government Area and valued at about N75 billion.
A Fishery Landing Jetty in Badore, the Ogudu Foreshore Scheme worth N15 billion Naira.
It is, however, worthy of note that some of the properties were said to be initially meant for the development of the public by the Lagos State government but were converted by him.
Bola Tinubu's Awards And Recognitions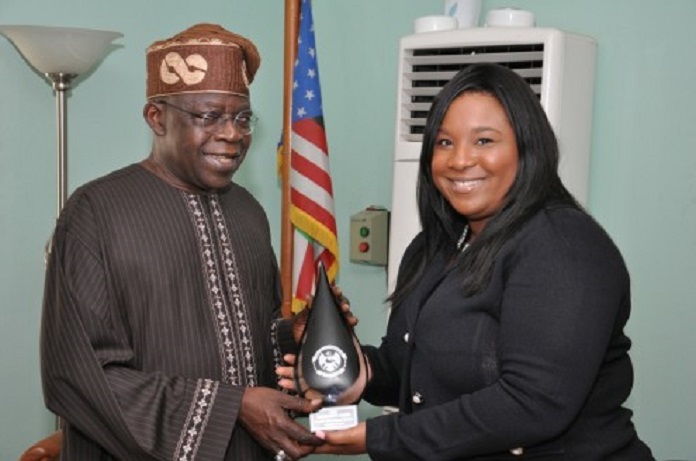 Thinkers Magazine Man of the Year Award – 2015
Silverbird Man of the Year Award – 2015
Pillar of Culture in Africa at the AFRIMA Awards – 2015
Champion of Democracy Award at the Global Village Extra Seminar and Awards Night, United States of America – 2016
Grand Commander Worthy Leader of the Order of Niger (GCWLON) by the Osun Concerned Women Forum (GCWF) – 2018
Why Is Tinubu Called Asiwaju or Jagaban of Lagos?
Bola Tinubu holds several chieftaincy titles conferred on him by people who deem him deserving because of the role he plays in their affairs. Of all the titles conferred on him, he is mainly referred to as Asiwaju or Jagaban. The name "Asiwaju" is a Yoruba appellation that carries the burden of Yoruba ethical principles. It means "the one who leads." The title was conferred on him following his role in the development of Lagos State since his time in office as a governor. Hence, he is called the Asiwju of Lagos State.
The title Jagaban appears to have the same meaning as Asiwaju. It was conferred on Tinubu by the Emir of Borgu in Niger State, Hrh Alh. (Senator) Haliru Dantoro Kitoro III, on February 26, 2006. The emir turbanned him and his wife, Senator Remi Tinubu, while announcing the Jagaban of Borgu and Yun Bana Jagaban of Borgu.
In an excerpted speech, the emir revealed that the title given to the Asiwaju was his way of recognizing and appreciating the support he gave him (the emir) during his legal sojourn in the Emirship tussle with the Nigerian government. While the title's meaning in many contexts can be defined as the 'Boss of Bosses,'  the emir said in his kingdom, it means 'Leader of Warriors.' It can also mean someone in charge, powerful, and influences the streets, an area, or industry.
Other titles attached to Bola Tinubu's name include:
Aare of Iluji kingdom
A-re-agbo of Egba land
Eze Obalu Dike Gawu na oko,
Wakilin Raya Emir of Gusau