Diezani Alison-Madueke is a former Nigerian Minister of Petroleum Resources, ex-Minister of Transportation, and the first female President of OPEC. When she was assigned the position of Nigeria's Minister of Petroleum Resources, Diezani pledged to transform Nigeria's oil and gas industry to benefit all Nigerians. She supported the controversial government's plan to remove state subsidies on fuel prices during the PDP administration in Nigeria. But, her political career in Nigeria came to an end following the many money laundering charges and corruption allegations leveled against her.
Since her exit from office, her name has featured as either the main defendant or an accomplice in several corruption cases filed in court by the EFCC. However, given that she fled out of Nigeria, having her back to face all the pending charges has been a hard nut to crack. Read on as we give you all the details you should know about her, what she was up to after leaving Nigeria, and all the corruption charges against her.
Profile Summary of Diezani Alison-Madueke
Full name: Diezani K. Alison-Madueke
Date of Birth: 6th December 1960
Age: 62 years old
Place of Birth: Port Harcourt, Nigeria
Nationality: Nigerian
Marital Status: Allison Madueke (m. 1999 – present)
Children: 6
Education: University of Cambridge, Howard University, University of Cambridge Judge Business School
Profession: Architect
Occupation: Politician
Years Active: 2007 – 2015
What is Diezani Alison-Madueke Currently Up To?
As of June 2019, evidence surfaced in Nigeria of how Mrs. Diezani Allison Madueke carefully planned and secured a foreign country's citizenship and a political appointment to secure immunity from prosecution. She obtained the citizenship of the Commonwealth of Dominica and was subsequently appointed as a Trade and Investment Commissioner in that country. This happened just two days before the expiration of her tenure as the minister of petroleum resources in Nigeria on 1st June 2015.
In the appointment letter issued by Dominica Prime Minister Kerry, Diezani was assigned the task of directing, marketing, and promoting Dominica as a trade and investment domicile and an emerging and unique tourist destination in the Caribbean. Even though her diplomatic visa expired on May 20, 2020, she is said to remain immune from arrest and prosecution by any law enforcement agency, including Interpol. So far, there has not been any information about her whereabouts, but it is believed that she remained in Dominica.
Diezani Alison-Madueke Hails From Port Harcourt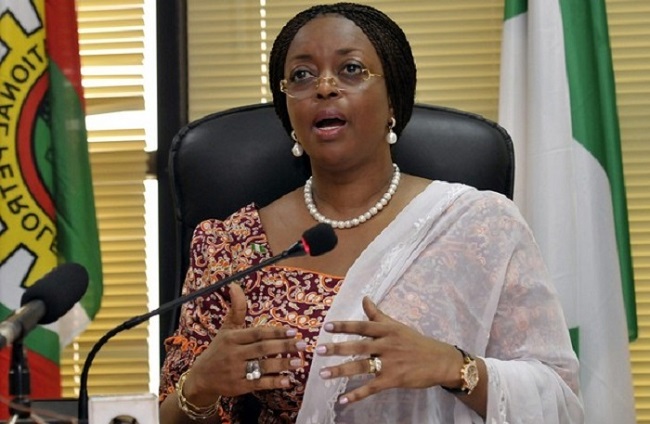 Diezani Alison-Madueke was born into the family of Chief Frederick Abiye Agama on the 6th day of December 1960. We do not have further details of her siblings and family background. Though she was born and brought up in Port Harcourt, Rivers State, Diezani has since 1999 been married to retired Nigerian naval officer, Alison Madueke, who hails from Agbariji-Inyi, Oji River, Enugu State, Nigeria. Her husband had served as military governor of Anambra State from January 1984 to August 1985 and Imo State military governor from 1985 to 1986.
She is a Very Learned Woman
Diezani had her primary education at Shell camp and attended various secondary schools, including Hussey Model School, Township school Port Harcourt, and Holy Rosary Government Girls Secondary School. She finally obtained her WASCE in 1975. In the following year, she acquired her A' Levels at the Federal School of Arts and Sciences in Mubi, Adamawa State. She moved to the United Kingdom to study Architecture in 1997.
However, she did not complete the course in the UK before she moved to Howard University in the United States. On 8th December 1982, Diezani graduated with a bachelor's degree from Howard University. She went further to study at Cambridge Judge Business School, where she obtained her MBA degree in 2002. Diezani Alison-Madueke is also a beneficiary of the Chevening scholarship and was in September 2011 awarded an honorary Doctorate in Management Sciences by the Nigerian Defence Academy, Kaduna
Before she Joined Politics, Diezani Alison-Madueke Worked at Shell Nigeria
In 1992, after she graduated from Howard University, Mrs. Alison returned to Nigeria and had her first appointment at Shell Petroleum Development Corporation. There, she worked at the estate's area of operations in its Lagos office as an architectural consultant. Not long after, she was promoted to the position of Head of Civil Infrastructures. In 1997, she was made the Head of Corporate Issues and Crisis Management Unit. Then in 2004, upon acquiring her MBA degree at Cambridge, she was made the Joint Ventures Representation Adviser. In 2006, Diezani Alison-Madueke became the first woman ever to be appointed as an Executive Director of Shell in Nigeria.
Her First Political Appointment was in 2007
The ex Nigerian petroleum minister has held three prominent positions in the federal government of Nigeria. Firstly, she was in July 2007 appointed as Transportation Minister, and in the following year, December 2008, she was made Minister of Mines and Steel Development. Then following his emergence as acting President in February 2010, Goodluck Ebele Jonathan dissolved the cabinet and swore in a new one in April 2010, which saw Alison-Madueke become the Minister for Petroleum Resources.
As petroleum resource minister, one of her allegiances and pledges of Allison was to transform Nigeria's oil and gas industry for the benefit of all Nigerians. However, her tenure saw one of the most controversial government policies to remove state subsidies on fuel prices. In a statement credited to Alison-Madueke then, she said this in support of the discontinuation of the subsidy:
"Because it [fuel subsidy] poses a huge financial burden on the government, disproportionately benefits the wealthy, [and] encourages inefficiency, corruption, and diversion of scarce public resources away from investment in critical infrastructure." 
Diezani occupied the position as the petroleum resource minister untiln2015 when president Goodluck Jonathan lost the election to Muhammadu Buhari. Furthermore, She was the first woman to head a country's delegation at the annual Organisation of Petroleum Exporting Countries (OPEC) conference. She was also the first woman to be appointed to the board of Shell Petroleum Development Company Nigeria and the first female Minister of Transportation. She was elected as President of OPEC on 27th November 2017.
From the start of her career, Mrs. Alison found herself in male-dominated sectors and made sure she leveraged the opportunity to warn and advise young women she mentored to change their mode of thinking.

List of All the Offices She Has Held with Dates
Federal Minister of Petroleum Resources:  6 April 2010 – 28 May 2015
President of OPEC: 27 November 2014 – 2 December 2015
Federal Minister of Mines & Steel Development: 17 December 2008 – 17 March 2010
Federal Minister of Transportation: 26 July 2007 – 17 December 2008
Financial Misconducts and Corruption Allegations Leveled Against Diezani Alison-Madueke 
It all began when Diezani Alison-Madueke became Nigeria's Petroleum Minister when the American and British officials alleged that she might have personally organized a diversion of $6 billion (N1.2 trillion) from the Nigerian treasury. Apart from being arrested on 2nd October 2015 in London, Alison-Madueke was accused and charged with the following:
Responsible for $20 billion missing from the Petroleum Agency
Awarding multi-billion naira contracts without recourse to due process
Recklessly spending government funds
Wasting billions of dollars (Nigerian taxpayer's money) inappropriately on private jets.
An investigative report sent by some Italian Prosecutors indicted ex-president Goodluck Jonathan, Diezani, and others in a $1.3 billion Malabu oil fraud.
The former Central Bank of Nigeria (CBN) governor, Sanusi Lamido Sanusi, also went public with charges that $2 billion was missing from the Nigerian National Petroleum Corporation (NNPC) under Alison-Madueke's management. Still, she dismissed the allegation saying the ex-CBN governor is retaliating because she didn't help him get appointed as the president of the African Development Bank (AfDB).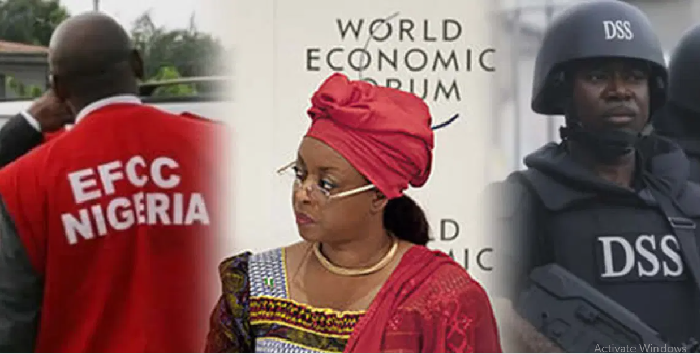 In the anti-graft war, the Economic and Financial Crime Commission (EFCC) seized $18 million mansions belonging to Alison-Madueke – a building located in the Asokoro area of FCT, Abuja. The agency also linked other assets worth millions to her name, such as the Le Meridien Hotel in Port Harcourt.
Bribery Allegations
Another report indicted Diezani Alison-Madueke in the act of bribery. On May 3, 2017, the former INEC staff, Yisa Adedoye, was convicted by the High Court in Lagos for accepting N264.88 million to rig the 2015 general election results, along with other staff of the commission. Mr. Adedoye pleaded guilty to the charges as a confirmation that the said financial inducement came from Alison-Madueke.
Furthermore, telephone conversations by Mrs. Diezani Alison-Madueke were hacked, and it revealed that she deliberately connived with her business partners to steal the country's oil revenue. An investigation carried out by US security agencies showed that she used her influence to facilitate illicit business opportunities for Messrs. Kola Aluko and Jide Omokore, who used Shell companies to receive billion-dollar contracts to sell Nigeria's crude oil.
Although it wasn't clear what relationship she had with the duo, it was obvious that her connection made it possible for Messrs Omokore and Aluko to get multi-billion oil contracts that were deemed ineligible for their companies – Atlantic Energy Holdings Limited and its subsidiaries, Drilling Concepts Limited (AECD) and Atlantic Energy Brass Development Limited.
Leaked Telephone Conversation of Diezani Alison-Madueke
The US prosecutors revealed the phone conversation between Diezani, Kola Aluko, and Jide Omokore. They quoted Mrs. Alison-Madueke saying We stuck our necks out regarding the SAA and supported it.
Below is the rest of the conversation as acquired by the US investigators:
The Central Bank of Nigeria (CBN) under the governorship of Mr. Sanusi Lamido Sanusi reported that AEDC "had neither the technical expertise nor the capital to develop the joint venture, but [was] nonetheless able to lift crude and retain the proceeds…up to 70% of the profit of the Joint Venture. The Bank noted that the arrangement was designed to acquire assets belonging to the [Federal Republic of Nigeria] and transfer the income to private hands.
Abuja Electricity Distribution Company (AEDC) & Atlantic Energy Brass Development (AEBD) Connection
AEDC and AEBD were allegedly incorporated in July 2010, about three months after Mrs. Alison-Madueke became Petroleum Resources Minister and was awarded eight oil mining leases (OMLs) evidently on procedural manipulations carried out by the ex-minister. According to a report by the Sahara Reporters, the billion-dollar deal delivered astounding wealth to Messrs. Omokore and Aluko, who bought and renovated luxury London properties for Diezani and renovated the properties, bought her furniture worth millions of dollars, and cater for her living and lifestyle expenses in London.
Messrs. Aluko and Omokore have allegedly drenched themselves in obscene opulence, including the acquisition of a $50 million luxury condominium in New York and the $80 million yacht, Galactica Star by the former – a yacht which reportedly hosted the 32nd birthday of American music superstar, Beyonce, as she traveled on it with her husband JayZ in 2013.
US Court papers revealed that Messrs. Aluko earned over $1.5billion in revenues from the sale of Nigeria's crude oil and that the sum was laundered into the US and the United Kingdom through the purchase of properties and other luxury items for themselves and Mrs. Alison-Madueke. While the EFCC investigated other corruption allegations and charges, she later implicated other top governments and bank officials who participated in siphoning the oil funds.
Forfeiture of Properties
A Justice of the Federal High Court in Ikoyi, Lagos, Chuka Obiozor, on July 19, ordered the temporary forfeiture of a $37.5m property at Banana Island bought by Diezani Alison-Madueke in 2013. The move was made following actions by the EFCC who argued that the property – 24 apartments, 18 flats, and six penthouses, located at Building 3, Block B, Bella Vista Plot 1, Zone N, Federal Government Layout, Banana Island Foreshore Estate – could have been acquired with proceeds of alleged unlawful activities of the Minister.
The court also ordered the temporary forfeiture of the sums of $2,740,197.96 and N84,537,840.70, which is said to be part of the rent collected on the property. According to Anselem Ozioko, who is the counsel for EFCC, an investigation by the agency revealed that Diezani Alison-Madueke made the $37.5m payment for the purchase of the property in cash, and money was moved from her house in Abuja and paid into the seller's First Bank account. Currently, the government seeks a worldwide freeze of multi-billion dollar assets owned by Messrs. Aluko and Omokore, including the $80 million Super Yacht (the Galactica) and three private jets.
Recovery Efforts So Far
As of May 2021, $153 million and 80 properties have reportedly been recovered from the ex petroleum minister Diezani Alison-Madueke. According to Premium Times, the EFCC Chairman, Abdulrasheed Bawa, disclosed this in an interview with Nigerian Television Authority (NTA), stating that the 80 properties were worth around $80 million. Giving an update on the progress of the cases, the EFCC boss said that they have been on their best on the cases, having managed to secure the final forfeiture of over 80 properties in Nigeria valued at about $80million.
He further added that other cases, especially as it relates to the INEC bribery, are currently ongoing as he reassured that they have certainly not been abandoned. Going further, Mr. Bawa assured that all the recovered assets were being properly managed as all possible steps were being taken to ensure that forfeited assets were not re-acquired through proxies.