Being one of the biggest tribes in Nigeria, the Yorubas have a wide range of traditional foods. They are very proud of their culture, especially their food. Traditional Yoruba foods are known for their rich nutrients and natural flavors and they consist mainly of Amala, Gbegiri, Efo Riro, Ewedu, Asun, Ewa Agoyin, among others.
Regarding ingredients and recipes, Yorubas mostly use herbs, natural spices, and palm oil to create well-flavored soups and sauces with chili peppers. Here are the top ten of the best Yoruba dishes and how to prepare them.
10 Most Common and Best-liked Yoruba Traditional Foods
Gbegiri
Efo Riro
Ewedu
Ewa Agoyin
Iresi Eyin
Amala
Igbin
Dodo
Asun
Ofada Rice
1. Gbegiri
Gbegiri is one of the common Yoruba foods that have a lot of health benefits. It is made from beans. Initially, the dish is strictly made with peeled beans but now, you can make it with unpeeled beans, thanks to an electric blender. The delicious dish goes very well with the traditional drink, Tombo.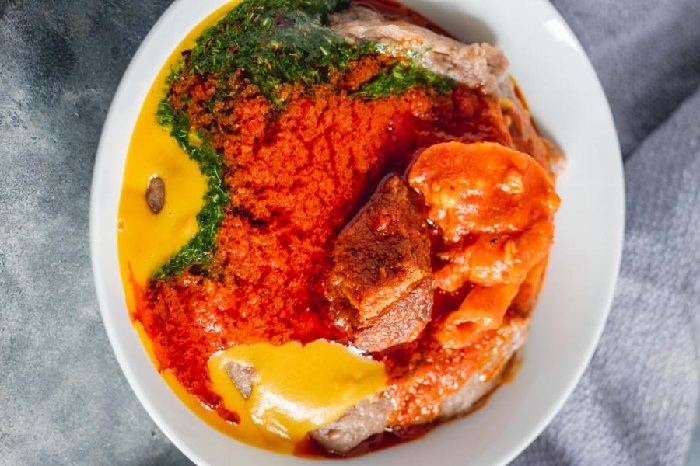 Major Ingredients Needed
Brown beans or black-eyed peas
Cayenne pepper or fresh pepper
Palm oil
Ground crayfish
Seasoning (stock cubes)
Method of Preparation
Soak beans in normal water for 3-5 minutes and peel the skin (you can also choose to leave the skin). Alternatively, it is faster and easier to use the blender to peel the beans
Boil peeled beans with enough water until it is soft (a pressure cooker is recommended for this bit)
Use a blender to blend the cooked beans until it is smooth
Boil your assorted meat till they get tender, and set by the side
Place a pot/cooking pan on medium heat, add palm oil, and heat for about 2-3 minutes
Add the blended beans and stir, add a little water to achieve the desired texture
Add the meat, crayfish, salt, seasoning (stock cubes), and cayenne pepper
Now, reduce the heat and leave to cook for about 10 minutes
Check for salt and seasoning
Serve with ewedu soup and any swallow of your choice like Amala, garri, or tuwo
2. Efo Riro
This is a delicious vegetable soup/stew made majorly with vegetables and meat. Efo riro is one of the common Yoruba native foods and it is super delicious. It is rich in vitamins and minerals. It is eaten with any swallow of your choice and can go with any kind of drink.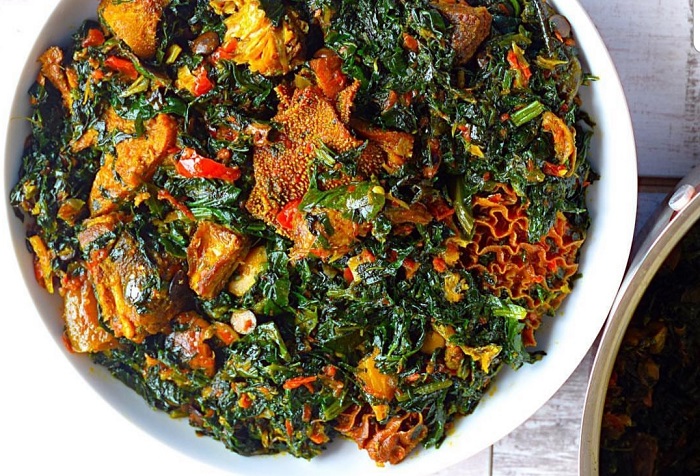 Major Ingredients Needed
Green vegetables (efo tete), or substitute with fresh or frozen spinach
Red bell peppers (tatashe)
Scotch bonnet chillies
Dried shawa/palamu (dried smelt fish)
Palm oil
Locust beans (Iru woro)
Onions
Smoked ponmo, washed and diced
Smoked mackerel
Ground crayfish
Salt and seasoning
Method of Preparation
Place a pan on medium heat, add palm oil, and heat for about 5 minutes (do not bleach)
Add chopped onions, blended pepper, and stir for about 2 minutes to combine
Then, add locust beans, diced ponmo, ground crayfish, a pinch of salt, and seasoning, and cook
While you are waiting for the sauce, boil enough water and pour on the chopped vegetable, and cover for about 5- 10 minutes, then strain and squeeze out the water and set aside
Continue cooking the sauce till the oil floats on the top, then add smoked fish, dried fish, and stir (you can add a little water if it is too dry but do not over add)
Add the vegetables and stir till it is well combined
Check for salt and cook for another 2 minutes
Then take it off the heat and serve with rice or swallow of your choice (you can also choose to eat it alone)
3. Ewedu
Ewedu is the most popular Yoruba soup traditionally served with soups like fish stew, beef stew, or chicken stew and accompanied with a swallow of your choice. The dish has become one of those Yoruba foods that get wiped out on occasions. It is made using jute leaves/ewedu leaves, a highly nutritious leafy green plant. The ewedu broom also adds a really unique taste to the dish.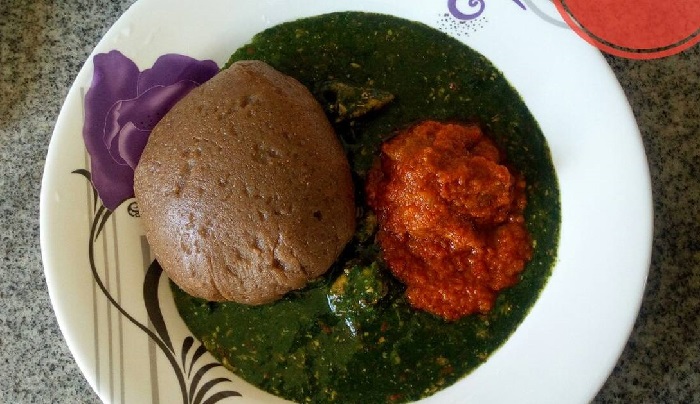 Major Ingredients Needed
Ewedu
Ewedu broom
Ground crayfish
Egusi
Bouillon powder
Iru (locust beans)
Method of Preparation
Place a cooking pan on low-medium heat, add ³/4 cup of water, and boil for about a minute
Mix a spoon of water to the ground melon to form a paste and add it to the boiling water, also add the locust beans
Allow the melon to solidify before you stir
Cook for 2- 3 minutes and use the back of a spoon to break the lumps of egusi
Now, add the ewedu, crayfish, salt, bouillon powder, and use the ewedu broom to stir continuously to combine
Cook in medium heat for another 3 minutes, taste salt and seasoning
Take it off the heat and serve
4. Ewa Agoyin
Ewa Agoyin is made from pounded or mashed cooked beans. Every typical Yoruba person is crazy about ewa agoyin. It is best eaten with peppered palm oil sauce, and can as well go with yam, ogi (pap), or bread. This delicious meal rightly goes with palm wine or any other available cold drink.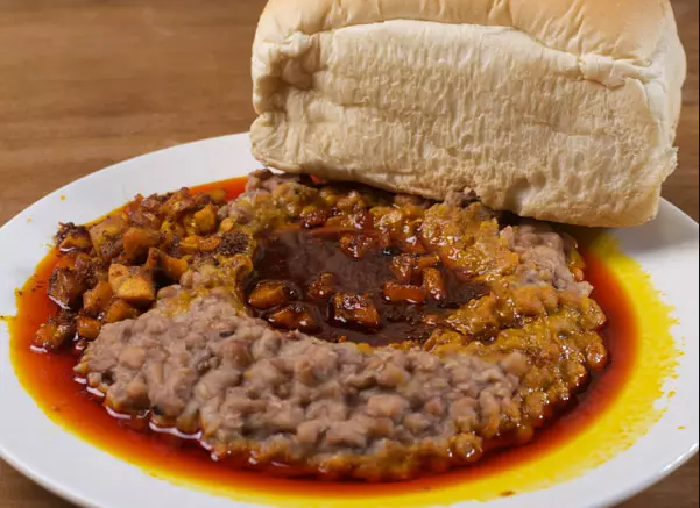 Major Ingredients Needed
Beans
Crushed chillis
Palm oil
Salt and seasoning
Method of Preparation
Place your pot on medium heat, add rinsed beans, chopped onions, enough water, and boil (a pressure cooker is recommended)
Add salt to taste when the beans have really become tender
Remove from heat and mash the beans till it becomes almost smooth, meanwhile, while waiting for the beans to cook, start making the sauce
Blend chillis and onions, add a little water while blending
Place a clean/dry pot on medium-high heat, add enough palm oil and bleach
Add chopped onions and fry till it turns brown but not burnt
Reduce the heat and add blended pepper, stir till it changes color to brownish, then add salt and seasoning to taste. Do not add water, but more palm oil if need be
Cook on low heat till the oil starts floating on top
Remove from heat and enjoy with agege bread
5. Iresi Eyin
This delicious Yoruba dish is a local adaptation of the commonly served Nigerian jollof rice. It is one of the Yoruba foods that almost all the natives know how to cook as it is very easy to prepare. Iresi Eyin is best served with fried plantain known as "dodo" alongside any kind of drink.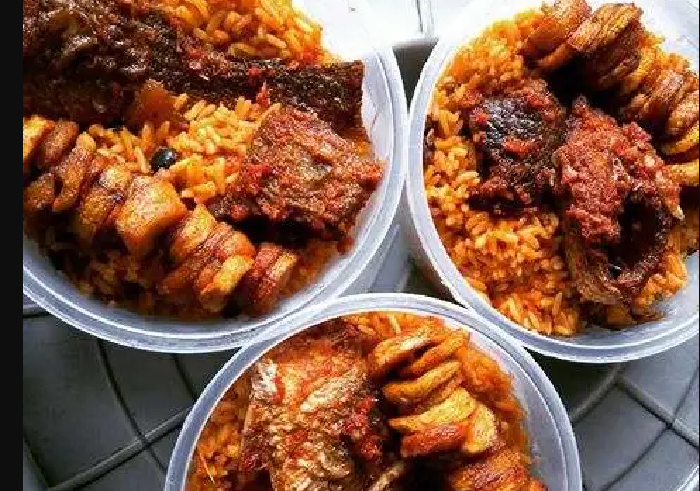 Major Ingredients
Rice
Palm-nut cream
Iru (Locust Beans)
Ede (Dried Crayfish)
Dried Catfish (Cleaned)
Dried pepper powder
Chopped Onion
Salt and seasoning
Jollof rice ingredients
Vegetables (carrots and peas)
Method of Preparation
Wash and parboil rice for about 6 minutes
Add water and all the ingredients at once to a pot, cover the pot, and place on medium-high heat to boil
After 10 minutes, reduce the heat to medium so it doesn't get burnt
It takes about 30 – 35 minutes to cook
6. Amala
Amala, also called Elùbọ́, is one of the most searched Yoruba foods. The dish which traces back to Yoruba culture has become a common Nigerian swallow. It is now eaten by everyone and has gained national status. It is made from yam, cassava, or unripe plantain flour. They are peeled, sliced, dried, and blended into powder form. The color of the powder (flour) changes to brown after they are dried.
Ingredients
Yam/cassava/unripe plantain flour
Water
Method of Preparation
Add water to a pot  and place on medium heat to get to a boiling point
Once its boiled, remove it from the heat and begin to add the yam flour gradually (do not add the flour while the pot is on fire)
As you are adding the flour, be stirring it with a wooden stick
Add a little more water, turn very well, and put back to the fire
Cook on low heat for about 5 minutes
Check the texture to ensure it is not too soft nor too hard, add more hot water or yam flour as required
Stir very well until it is smooth
Remove from heat and leave for about 10 minutes, then serve
7. Igbin (Snail Stew)
One of the Yoruba foods that are meant for special occasions is Igbin. A typical Yoruba party would not be done without serving this mouthwatering dish. It is a blend of de-shelled snails with onion-pepper sauce. It can also be served as a snack alongside any type of cold soft drink.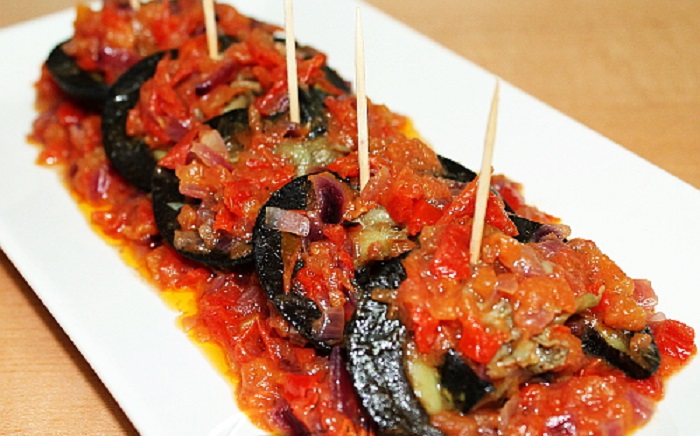 Ingredients
Snails
Tomatoes, pepper, onion, all blend
Curry Powder
Cameroun Pepper
Vegetable Oil
Salt and chicken seasoning
Method of Preparation
Put snails in a pot, and add ingredients; pepper, seasoning, salt, onions, and a little water that would barely cover the snail
Cut onions into rings
Place a clean/dry pot on low heat. Add oil, heat it and fry the onions for about 2 minutes
Then add tomato blend and fry till the liquid dries up (stir continuously)
Remove the steamed snail and add the liquid from it to the pot, add a little water if required, and cover the pot
Cook until oil starts appearing on top of the stew
Return the snails and cook for another 5 minutes, taste for the desired result and the Igbin is ready
Serve with plain boiled rice, with fried plantains by the side and vegetables
8. Dodo Ikire
Dodo Ikire is a very popular Yoruba street food, especially in the streets of Lagos and Yoruba towns. It is made with overripe plantain and it is very easy to prepare. Most people think that once a plantain is overripe, the next thing is to throw it away but here is a delicious meal that could be made from it. Instead of a drink, Dodo ikire is best served with ogi (pap).
Major Ingredients
Overripe but not rotten plantain
Crushed chilli
Palm oil
Method of Preparation
Peel the plantains, and chop or mash them
Put them into a bowl and add chillis, salt and mix together until is well combined
Then, place a frying pan on medium heat, add palm oil and allow it to heat for 2- 3 minutes
Use a spoon or your palm to scoop the plantain mix and be dropping into the heated oil
Cook both sides until they turn almost dark but not burnt (while frying, reduce the heat to low)
Remove from the heat and put the dodo ikire in a sieve to drain excess oil out
If you want to get the original effect as its being hawked, tie each of them into a wrap with a cling film and sprinkle some crushed chilli on it
9. Asun (Peppered Goat Meat)
Asun is one of the well-known Yoruba foods that consists of well-spiced barbecued assorted goat meat. The dish goes well with adoyo drink or any other traditional drink. Its popularity birthed the slogan, "No Asun, no Owambe". You need to try this meal out at your home and not only wait to attend a party before you can enjoy it.
Major Ingredient Needed
Goat meat
Seasoning (knorr cubes)
Ata rodo (use as much as you can bear)
Sliced onions
Method of Preparation
Wash the goat meat and put it in a bowl, add a knorr cube, and a pinch of salt, and mix together thoroughly. Leave for 30 minutes to marinade
Place a roasting pan under the grill and put the goat meat in it. Grill till it is well done but not burnt or dried out. It should still be moist and juicy
Then, blend the ata rodo and onion with a little or no water
Place a deep pan on medium heat, add a tablespoon of vegetable oil followed by the sliced onions and stir fry for about 2 minutes
Add the blended ata rodo mixture and immediately followed by the grilled goat
Continue tossing together for about 5 minutes
Then, take it off the heat and serve immediately as it is best taken hot
10. Ofada Rice and Stew
Also called unpolished rice, Ofada rice is a popular variety of Nigerian rice that traces back to the Yoruba tribe. It is a name of indigenous rice from a small community called Ofada in Ogun State. The rice is very much healthier than white rice. It is eaten with a locally made Yoruba stew also called ofada stew.
Major Ingredients Needed
Ofada rice
Tatashe
Chilli flakes
Iru (locust beans)
Chicken bouillon Powder
vegetable oil
Boiled eggs
Assorted meat of your choice
Method of Preparation
Ofada rice is known to be full of stones and dirt so pick them carefully, then wash thoroughly and repeatedly, rinse till the water is clean
Parboil the rice for about 10 to 12 minutes, take off the heat, and rinse the starch
Then, add enough water and cook till it is soft (also check on it at intervals to prevent sogginess)
While waiting for the rice to cook, start preparing the ofada stew
Place a dry/clean pot on medium heat, add vegetable oil and bleach for about 5 minutes or more (remember to keep the kitchen ventilated while at this stage)
Add chopped onions, locust beans, chilli flakes, and blended pepper, and stir for about 2 to 3 minutes to combine
Then, add the boiled eggs, salt, and seasoning and cook on medium heat for about 15 minutes
Now add the cooked assorted meat and stir
Cook for another 5 minutes and by now, oil should be floating on top of the stew
Check for salt and seasoning
Remove from heat and serve with the already cooked ofada rice (you can also choose to serve with plain white rice)