ICPC is an agency saddled with the responsibility of combating corruption and its related offenses. Nigerians interested in working with the ICPC should understand the recruitment process and have an idea of the salary structure of the commission. Over time, the agency has experienced a high turnout of interested applicants. But unfortunately, very few of these applicants become successful, as most of them are disqualified because of one reason or the other.
Even after achieving success as a member of the agency, there are different levels one must go through. In addition, each of these levels or ranks has its salary plan. Therefore, it is better to have a clearer knowledge of the ranks and the salary structure even before applying.
What is the Full Meaning of ICPC?
The full meaning of ICPC is Independence Corrupt Practices and other Related Offenses Commission, also known as Independence Corrupt Practices Commission. Any of the two full meanings are accepted whenever one wants to refer to ICPC.
Functions of ICPC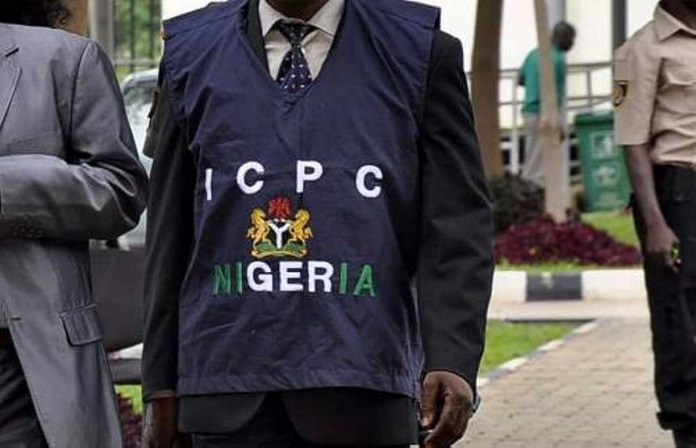 Before going into details about the ICPC recruitment and salary structure, we decided to outline the duties of ICPC. These functions are embedded in the ICPC Act of 2000 section 6 (a-f) to ensure proper discharge of duties by the commission. In addition to being mandated to prohibit and prescribe punishment on corrupt acts and likely offenses, below are other functions of the commission:
The commission receives and investigates complaints from members of the public on allegations of corruption
It ensures that offenders are prosecuted in appropriate cases
To examine the systems, practices, and procedures of government ministries, departments, and agencies
Where any of these government parastatals aid corruption, the commission is to direct and supervise reviews
To render advice and assist any ministry, department, and agency of the government on processes to follow in order to avoid or reduce corruption
The commission advises heads of public bodies of changes in practice, systems, or procedures that will help eliminate bribery or corruption and related offenses
To enlighten the public on the consequences and effects of corruption, bribery, and other related offenses
To create and support the public in fighting corruption
What to Know About ICPC Online Recruitment Test
Below are the essential things to know about ICPC online recruitment. We have segmented them into sections like general requirements, necessary documents, and steps to go about the ICPC recruitment for a better understanding.
General Requirements For ICPC Recruitment
There are different requirements expected to be in place for anyone who wishes to apply for the ICPC recruitment exercise. However, these basic requirements are a must to be able to qualify for other stages of the recruitment process. Below are the major requirements:
The applicant must not be above or under the age gap of 18 to 35 years
Applicants must possess a recognized means of identification
Applicant must be Nigerian by nationality
The applicant must possess a certificate to attest to medical fitness, which must come from any federal government-owned hospital
Must have a birth certificate or certificate showing declaration of age
Must have acquired a minimum of Second Class Lower from an accredited institution of higher learning
HND/ND certificate holders must possess a minimum of Lower Credit
The applicant must also possess good communication skills
Applicants must be computer literate, at least the knowledge of Microsoft Office
Applicants must also have an NYSC discharge certificate or exemption certificate
List Of Documents Necessary For ICPC Application
Copies of all your certificates are scanned and sent to through official website or submitted to the ICPC office address
A testimonial of good conduct from your area police DPO or the community's ruler
An affidavit or declaration confirming that you've not been convicted of any crime at all
A certificate to identify your state of origin or the Local Government Area
A birth certificate or statutory declaration of age
Two current colored passport photographs with a white background
Step By Step Process Of Applying For ICPC Recruitment
The application process of ICPC is very simple but applicants are directed to be mindful of fraudsters who demand payment. The agency attached no fee to the application process, which means that the online submission and physical submission are free. Below are the steps involved in successfully applying for ICPC:
Login to the ICPC career portal or click here
Register with the portal and get a user name and password
Click on the recruitment section
Select the position you are applying for
Fill out the provided form and attach the necessary documents required
Note: to get information on when ICPC recruitment will commence, register your e-mail on the ICPC career website. This will enable the agency to send notifications to your mail upon the commencement of the recruitment.
The Salary Structure Of The ICPC
The salary structure of ICPC staff has over time remained unspecified by the commission. In our research on ICPC recruitment and salary structure, the National Revenue Mobilisation, Allocation, and Fiscal Commission fully determine the agency's staff remuneration. As stated in the corrupt practices act and other related offenses act 2000 Act No.5. Under the establishment of the commission, appointments, and powers No.5.
The commission is to structure their ranks according to the civil service grades and levels in order to have a uniform remuneration plan for agencies under the NRMAFC. However, NRMAFC did not specify the salary structure of ICPC staff. Therefore, we decided to rest our research on the available information based on the ICPC staff survey.
Grade Level 8 phase 1
The ICPC staff that fall under this grade receive a monthly salary of N74,000 and an annual salary of N888,000.
Grade Level 8 phase 2
Staff members under this level receive a monthly remuneration of N75,000 and an annual remuneration of N900,000.
Note that the above grades and levels are for BSc holders in the relevant field of study required by the commission.
Grade Level 7 Phase 1
The staff with ranks under this grade receive a monthly remuneration of N50,000 and an annual remuneration of N600,000.
Grade Level 7 phase 2
The members on this grade level receive a monthly remuneration of N51,000 and an annual remuneration of N612,000.
General Level
The legal adviser under the commission receives a monthly remuneration of N158,000 and an annual remuneration of N1,896,000.
An ICT or programmer receives a monthly remuneration of N105,000 and an annual remuneration of N1,260,000.
A senior administrative officer receives a monthly remuneration of N76,000 and an annual remuneration of N912,000.
Other senior officers of the commission receive a monthly remuneration of N53,000 and an annual remuneration of N636,000.
Incentives and Welfare Packages For Officers Of The ICPC
Undoubtedly, ICPC's salary structure has other incentives and allowances that accompany the remuneration. The staff of the commission is entitled to certain levels of allowance and other incentives from the government. Other incentives include health insurance and access to housing loan advances among other things. These incentives are mostly available for officers of the commission with higher ranks.