According to the World Bank, Nigeria is classified as a mixed economy emerging market, which has reached lower middle-income status. It is the 50th largest export market for US goods and the 14th largest exporter of goods to the US.
The Nigerian Stock Exchange is the second largest in Africa and Nigeria was once ranked 30th in the world in terms of GDP.  Today, Nigeria is the United States' largest trading partner in sub-Saharan Africa and supplies a fifth of its oil.
Prior to this massive economic growth, the economic development of Nigeria had been hindered by years of military rule, corruption, and mismanagement. The restoration of democracy and subsequent economic reforms have successfully aided Nigeria a smooth journey towards achieving its full economic potential.
In 2014, it was the largest economy in Africa, after overtaking South Africa. Therefore, it is not surprising that Nigeria is the home of the richest man in Africa, as well as other top billionaires in the continent.
This rating is based on the Real-time Forbes estimates with regards to their net worth. The rating of a few of these richest were judged based on 2017's most recent rating. Here they are:
10. OBA OTUDEKO
Net Worth: $650 Million
Source of Wealth: Manufacturing, Telecoms, Self Made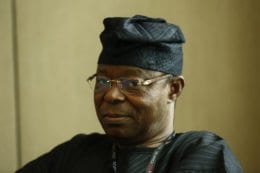 73-year-old Oba Otudeko (CFR) who was a banker for 23 years before going into business is the founder and chairman of Honeywell Group. He is also the chairman of FBN Holdings Plc and his operations are across oil and gas, marine transportation, flour mining, and real estate. In order to give back to charity, he founded the Oba Otudeko Foundation. In 2011, he was awarded the Nigerian National Honour of Commander of the Order of the Federal Republic (CFR).
Read Also: Top 20 Richest Musician In Nigeria The Net Worth Of No 1 Will Shock You
9. JIM OVIA
Net Worth: $1 Billion
Source of Wealth: Banking
Jim Ovia is the founder of Zenith Bank Group. The 65-year-old is the largest individual shareholder with about 9.3% stake in the company. He is also an investor in real estate across Nigeria. His other assets include Visafone, a mobile telecommunication outfit which has over 3 mllion subscribers. In 2014, Jim Ovia commenced the construction of $1.5 billion petrochemical complex in Akwa-Ibom State Nigeria which will begin its service soon after completion. Jim Ovia is the 30th richest man in Africa 2014 as listed by Forbes.
8. ORJI UZOR KALU 
Net Worth: $1.1 Billion
Source of Wealth: Diversified
Former governor of Abia State, Orji Uzor Kalu is the chairman of SLOK Holding and the Daily Sun and New Telegraph newspapers. Before his governorship, he served as the chairman of the Borno Water Board and the chairman of the Cooperative and Commerce Bank Limited. Kalu was also a member of the Progressive Peoples Alliance (PPA) and the chairman of the PPA Board of Trustees. Orji Uzor Kalu claims to have made his billion from business and not politics.
7. TONY ELUMELU
Net Worth: $1.4 Billion
Source of Wealth: Bussines Tycoon
Tony Elumelu is a certified economist, a visionary entrepreneur and philanthropist. He is the Chairman of Heirs Holdings, the United Bank for Africa, Transcorp and founder of The Tony Elumelu Foundation. The 54-year-old holds the Nigerian national honours, the Commander of the Order of Nigeria (CON) and Member of the Order of the Federal Republic (MFR).
6. ABDULSAMAD RABIU
Net Worth: $1.5 Billion
Source of Wealth: Cement, Sugar, Flour
Abdulsamad Isyaku Rabiu is a fast-moving consumer businessman, and son of Khalifah Isyaku Rabiu, one of Nigeria's foremost industrialists in the 1970s/1980s. Abdul Samad is the founder and chairman of BUA Group, a Nigerian conglomerate with interests in manufacturing, infrastructure and  agriculture. The business was set up in 1988, and they import rice, sugar, edible oils, iron and steel rods. Abdulsamad is also the chairman of Nigerian Bank of Industry. BUA group operates two cement plants in Nigeria and was reported to spent $500 million for a new cement plant in Edo State.
5. THEOPHILUS DANJUMA
Net worth: $1.7 Billion
Source of Wealth: Oil
Business tycoon and General Theophilus Yakubu Danjuma is a Nigerian Jukun soldier, politician and multi-millionaire businessman and philanthropist. He was Nigerian Army Chief of Army Staff from July 1975 to October 1979. He was also Minister of Defense under Olusegun Obasanjo's administration. Danjuma is chairman of South Atlantic Petroleum (SAPETRO), and has a net worth of $1.7 Billion US dollars.
4. Folorunsho Alakija
Net Worth: $2.1 Billion
Source of Wealth: Oil, Fashion, Printing.
66-year-old Folorunsho Alakija is the richest self-made woman in Nigeria, Africa and one of the two female billionaires in the continent. She stated with a fashion label was patronized by mostly Nigerian elites, including the wife of the former military president, Ibrahim Babangida. This grew her business relationship into a strong connection which paid off and led her into the old sector.
Former President Ibrahim Babangida gave Alakija's company a license for one of the most lucrative oil fields in Nigeria. She is the group managing director of The Rose of Sharon Group which consists of The Rose of Sharon Prints & Promotions Limited and Digital Reality Prints Limited. She is also the executive vice-chairman of Famfa Oil Limited.
3. Femi Otedola
Net Worth: $2.3 Billion
Source of Wealth: Gas Stations
Femi Otedola is the chairman of Forte Oil Plc, and appeared as one of only two Nigerians to appear on the 2009 Forbes list of 793 dollar-denominated billionaires in the world, with an estimated net worth of over US$2.3 billion. Femi Otedola is the Nigerian President and Chief Executive Officer of Zenon Petroleum and Gas limited, and has 78% stake in Forte Oil.
The company owns numerous gas stations, fuel storage depots and manufactures its own line of engine oils. Forte said its shares rose in 2014 due to new investments in power generation and distribution.  Father of celebrity personality – DJ Cuppy,  Femi Otedola is a simple man but classy billionaire.
2. MIKE ADENUGA
Net Worth: $10.5 billion
Source of Wealth: Telecom, Oil
Mike Adenuga Jnr is one of the richest black people in the world. He is the founder of Globacom,  and chairman of Conoil. Mike also owns stakes in the Equitorial Trust Bank. In 2003, he founded Globacom, which has more than 27 million subscribers in Nigeria, making it the second largest mobile phone network in the country after South African giant MTN.
Adenuga made his first fortune trading lace and Coca-Cola after returning from his studies in the United States. He made key friendships with top Nigerian military personnel and earned lucrative state contracts along the way.
1. ALIKO DANGOTE
Net Worth: $12.5 Billion
Source of Wealth: Cement, Sugar, Flour
60-year-old Chairman & CEO of Dangote Groups is the richest man in Africa and automatic riches in Nigeria. His company operates in Nigeria and other African countries, including Benin, Cameroon, Ghana, South Africa, Togo and Zambia. As of January 2015, he had an estimated net worth of US$18.6 billion. Dangote is ranked by Forbes magazine in 2014 as the 24th richest person in the world and the richest in Africa but has since then fallen to positions below 100 due to Nigeria's poor Naira.
See Also: 10 captivating Facts You Didn't Know About Dangote
In August 2014, Aliko Dangote said he would invest $1 billion in commercial rice farming and modern rice mills. His publicly traded Dangote Cement is also grabbing new markets in Africa, with $750 million in new plants planned for Kenya and Niger. His net worth tumbled from $25 billion in February 2014 to what it is currently, due to the devaluation of the Nigerian currency and a drop in demand for cement.