Most ladies love to look classy and comfortable and there are many simple Ankara short gown styles that will give you just that. Ankara short gowns are knee-length or shorter dresses made with Ankara material. They are known for their versatility and ability to easily fit into different occasions, whether formal or informal.
Usually, simple Ankara short gowns are made of different patterns, designs, and colors that fit different body sizes. They are also made to suit different races and people of different complexion.
Considering this, Ankara short gowns can be styled with different shoes such as heels, sandals, slippers/easy-to-wear, covered flats, and sneakers. Also, they can be worn with accessories such as jewelry and head wraps. Now that we have a background, why don't we look at some Ankara short gown styles that should be in your wardrobe today?
Classic Ankara Short Gown Styles
Classic Ankara short gowns have stood the test of time and their quality is even more timeless. There are different styles attached to this type of gown that you may want to explore. Here is a list of classic Ankara short gown styles.
1. Short Peplum Gown
The short Ankara peplum gown is one of the short classic gowns to explore. You can make the sleeves and pleating in different ways. To style this dress, you can wear it with matching shoes, leggings, pantyhose, and even with a waist belt. In addition, the short peplum Ankara gown can be layered with a shirt for formal events.
One very interesting thing about this type of gown is that it fits every type of body. Hence, whether you are petite, medium, or plus size, this classic short gown is for you.
2. Ankara Shirt Dress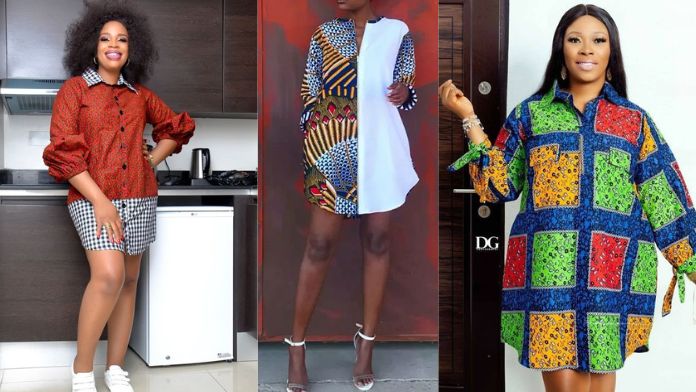 A very popular but versatile design, the Ankara shirt gown is a go-to short gown. It is made in the form of a regular shirt but in a gown form. While it can be made solely with Ankara fabric, it can also be mixed with jeans, cotton, and many other types of materials.
To enhance its beauty, style it for the occasion or casual outing you intend to have. Styling it will depend on the shoes and accessories you choose to wear. In more recent times, this type of gown is often styled with sneakers and light jewelry.
3. Short Ankara Gown Style with Net or Lace
Do you wonder what classic short Ankara gown to make? Well, one of the best styles is combining your Ankara material with lace, net, or both. This style is a mixture of modern and traditional African fashion and fabric.
In addition, the style is one of the most recently explored short gowns found among classic women. The short ankara dress mixed with lace or net is common for attending weddings, Church services, naming ceremonies, and many other important events. It can be worn with a beautiful bag, head wrap, and jewelry.
4. Wrap Short Gown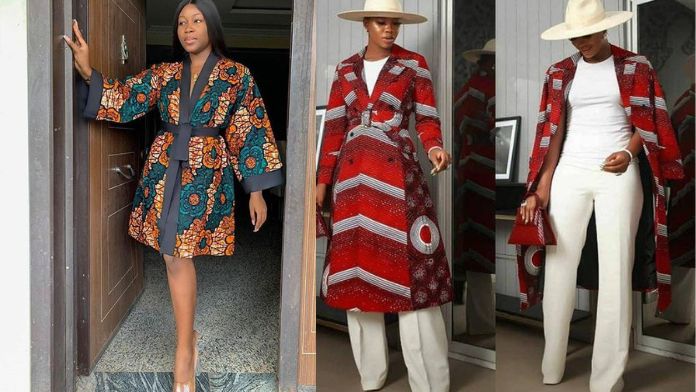 The Ankara wrap gown, which can also be used as a kimono, is a fashion trend in many parts of the world, as its beauty has captured places beyond Africa. This type of dress has a modern and traditional African twist and this gives it an edge over many other Ankara clothing.
Also, as a result of incorporating both traditional and African styles, this clothing is used for formal and informal occasions, and easily matches with any type of shoe. The shoes will definitely depend on the occasion you are attending.
You can wear this type of clothing as a gown with its rope or belt wrapping your waist. You can also wear it as a coat (kimono), matching a straight gown, skirt and blouse, or a trouser.
5. Classic Pleated Short Gown with a Jacket
Sometimes referred to as a two-piece gown, the pleated gown and jacket combination could easily fit in as a new trend with Ankara. With this style, a short gown is made, mostly with pleats, and a straight jacket is made as an extra adornment. One peculiar this about this type of gown is that it can be worn either with its jacket or not.
For formal events, the jacket comes in handy. For casual outings, the plain pleated gown is enough. This gown can be styled with any type of shoe, depending on the occasion and whether you are wearing its paired jacket or not.
Short Bubu Gown Styles
The short bubu gown is culturally known by different names such as boubou, m'boubou, babban riga, k'sa, or short darra'a. This clothing is most popular in West Africa and was first popularized by the West African Muslims, with the migration of Hausa, Fulani, and Dyula.
Today, the ankara short bubu is one of the most fashionable attires women wear across the globe. It is a wide short dress with wide hands that can be used in both casual and formal settings. For formal activities, it can be styled with heels, and for casual outings, flats and sneakers are often used. Here is a list of beautiful Short dresses to try today.
6. Short Bubu Gowns with Stones or Sequence
The short bubu gown can be decorated with different types of stones, beads, or a sequence fabric. These stones can also be of different sizes, depending on the preference of an individual.
Most times, women wear the short bubu adorned with stones to both formal and informal events, such as weddings and other parties. It is best styled with heel shoes (sandals or covered) and sneakers.
7. Butterfly Sleeve Short Bubu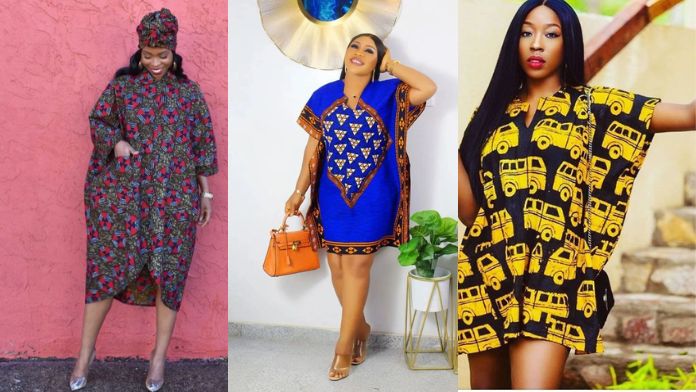 The butterfly sleeve short bubu is one of the most explored types of short gowns that have remained in fashion for a very long time. Its sleeves are usually made to be wider than other body parts. This is done in a way that mimics a butterfly.
Interestingly, rather than using the same Ankara to create the sleeves of this dress, other materials such as lace, a different type of Ankara, net, and several other types of materials can be used.
As in the case of many gowns on this list, the butterfly sleeve short bubu can be paired with different types of shoes. It can also be worn with jewelry to match and a handbag.
8. Short Bubu with Fringe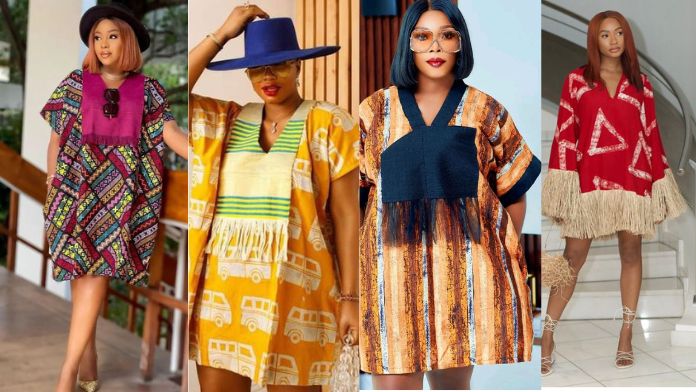 A fringe is often an ornamental textile trim applied to a textile item. In this case, this fringe can be used in a short bubu gown. One interesting way to style or use the fringe on this type of gown is the fact that it can be used on any part of the dress.
This means it can be added to the edge of the gown (where the length stops), the sleeve, or the chest area. In most recent fashions, the fringe is often used in short bubu gowns on the chest area.
This type of gown fits every body type and styling it is also easy. It can be matched with heels or flat shoes, boots, or covered, or open shoes. It can also be used to attend formal and informal activities (mostly depending on the shoes you choose to wear).
9. Adire Short Simple Bubu Gown
Adire is a common fabric found in West Africa and is also known as tie and dye. With this fabric (Ankara), one can explore a beautiful adire short bubu gown in many ways. This Bubu can be made with plain adire, asoke material, decorated with fringe, and also with silk, or any type of material.
When it comes to styling this type of short gown, you can wear it with a pair of heels, half-covered shoes, sneakers, boots, and sandal shoes. These shoes should have similar or matching colors with the adire gown.
Also, you can layer it with a turtle neck or bodycon that matches the dress.
10. Ankara Short Boho Bubu Gown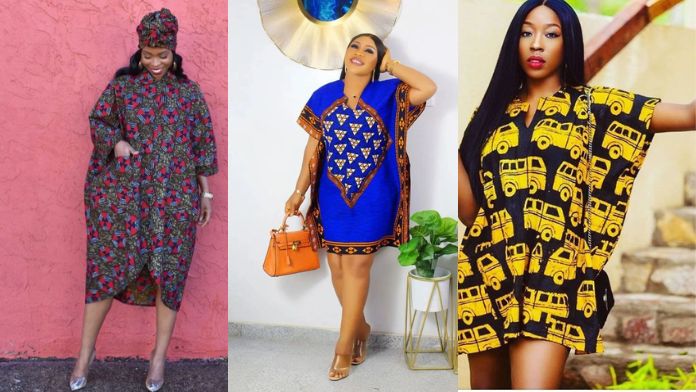 Ankarar Boho bubu style is one of the most unique bubu styles you would ever come across. They are a combination of traditional African clothing and modern Bohemian style. It is one of the most commonly found Ankara styles outside Africa.
This type of style is known for its artistic and classic outlook. To style this type of bubu, you will mix an Ankara fabric with any other type of material such as lace, jeans, crepe, and leather.
This type of clothing can be used for different types of occasions and can be styled with a head wrap, African traditional or Western accessories, matching earrings, shoes of different sorts (depending on the occasion), and a handbag.
It can also be styled with a hat, leggings, or a bodycon top, which has to be worn inside the clothing, with only its sleeves visible.
Bodycon Ankara Short Pencil Gown
11. Short Bodycon Ankara with Large Hand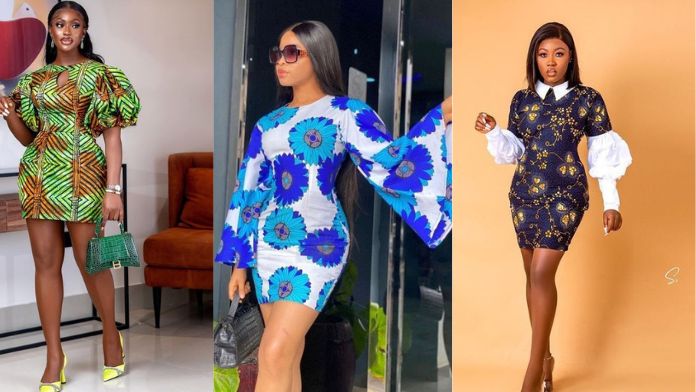 If you want a short pencil Ankara that will give volume to other parts of your body, then the short bodycon Ankara with large or voluminous sleeves is your sure bet.
This type of dress can be used for different occasions. While it can be worn as it is, you can spice it with different things for different occasions. For instance, you can wear this gown with a silk neck scarf. It can also be worn with a layered collared shirt inside for formal outings.
For weddings, you can style it with a headgear, heels, and a bag/clutch.
12. Ankara Simple Short Gown with Basket Weave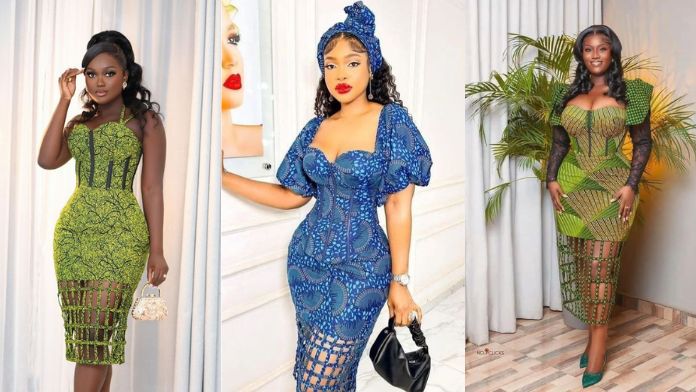 The basket weave in classic short gowns is fast taking the fashion trend across the globe. Like other parts of the clothing, the baskets are also mostly woven with Ankara. However, any other type of material can be used in order to enhance its beauty.
This dress is commonly used for formal occasions or weddings. The first rule of styling this type of dress is to use the Ankara material that suits your complexion. Secondly, it goes best with beautiful jewelry such as earrings, necklaces, bangles, and wristwatches.
While different types of shoes can be used for this type of dress, heels have proven to be of great advantage.
13. Bodycon Short Gown with Pleats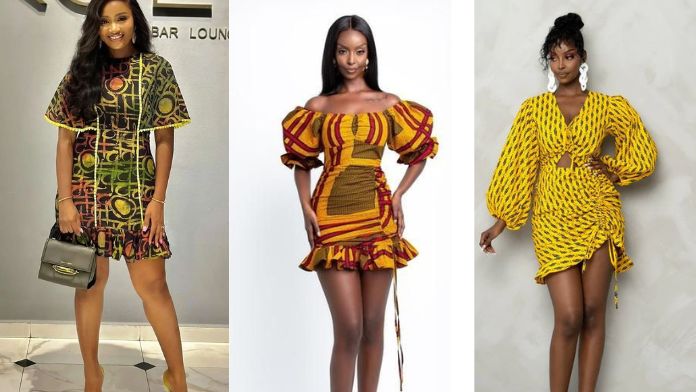 A bodycon short gown with pleats at the edge is one of the most beautiful, elegant, and classic gowns for ladies. This type of gown is known for complementing the body figures and adding volume to already existing curves.
This style can be used for different occasions. To style it appropriately, use statement accessories, wear the right shapewear undergarments, wear a good bra and seamless panties, and use shoes that complement your other accessories.
14. Tube Dress with a Cape
To achieve the perfect Ankara tube dress, choose an Ankara print that suits your complexion and body type.
This type of gown also fits snugly from your upper body down to your hips and thighs. A cape can be added to fit loosely, creating a balanced and flattering silhouette that accentuates your curves in all the right places.
To style the Ankara tube, you can opt for a monochrome look by adding a jacket, a cape, or a detachable flare belt or skirt in the same Ankara fabric.
Accessorizing is also key when styling the Ankara tube. A glaring necklace is very important among the other accessories you may want to add to the outfit.
Prevalent, the Ankara tube gown is a timeless and elegant style that is perfect for any occasion. With the right fabric, fit, and accessories, you can create a look that is uniquely you.
15. Bodycon Gown With Slit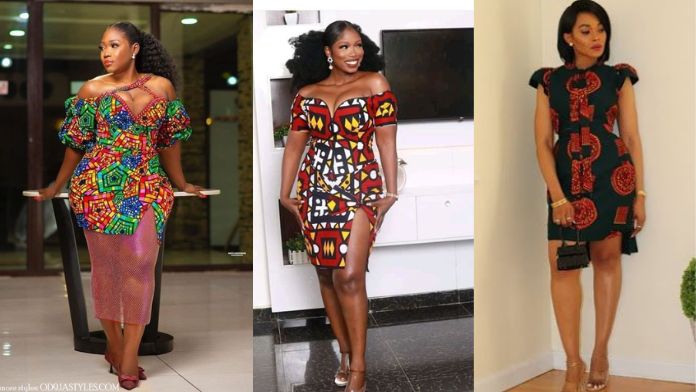 The bodycon short gown is another high couture in fashion. The dress can be done in many ways, but the most important thing is that it has to have a slit. This slit can be in front, side, or behind the dress. If you are looking for a short gown inspiration that will add elegance to your wardrobe, this style has that ability.
It can be styled with a hat, a scarf (mostly Zara scarf style), or a well-arranged hairstyle. Also, you can pair it with heavy or light jewelry. You can make your look classic by adding a classic bag instead of a modern clutch.
The short gown with a slit can be worn to any type of occasion when it is not too short. However, when too short, you may opt for a more casual event.
For a formal occasion where you want to wear this gown, you can style it with a plain kimono or jacket.
To round it up, Ankara short gown is a great choice for anyone looking to add some African-inspired fashion to their wardrobe. One exceptional thing about these gowns is how they don't go out of fashion.