Tecno W4 was launched in 2016 and is the first from the Hong Kong-based Tecno Mobile to feature the Android 6.0 Marshmallow.
It is a three-horse competition between Tecno, Infinix, and Gionee. Companies like Samsung are not out, but they have a group they are targeting. These three, however, are looking to capture the mainstream and even go deeper.
Tecno was one of the first to start the race, and it doesn't seem like it is about hanging its boots. Even as it is going forward to create powerful phones such as the Phantom phones for the high-end market, it is still taking some time to create stuff like the Tecno W4 for the mid-range market.
Let's delve into the complete review of the Tecno W4
Build quality and design
Sound quality
Camera
Memory and storage
Processor and Software
Battery 
Quick Specs
Pros
Cons
Verdict
Price
Tecno W4 build quality and design
Many phones have already been developed and getting something new that would claim to be the best designed will be very hard. The W4 doesn't claim to be. Still, it manages to be a well-built piece that assures of considerable durability.
There are some that will question the durability of the phone since it is a plastic-built phone. That is understandable but what makes this different from most other plastic-bodied phones is that it has a different and intelligent make.
You can open the back of the phone, but the battery is non-removable. If you want it changed, however, it can easily be done.
On the right-hand side of the phone are the volume and unlock buttons and when you open the back of the phone, that is where your sim and Micro SD card is fixed.
It has Tecno's own User Interface which is known as the HiOs. The interface comes with beauty on one hand and good features on another. Some of the features include the Hi Manager (file manager), Boom Player for music, interesting themes, and live wallpapers.
Finally, it is a Dual mini SIM phone which supports up to 4G LTE internet connection.

Sound quality
There are no million things to write about the sound quality of the phone as it doesn't give much outside the box. It neither gives too much in the volume nor does it give too little. However, the best experience for me was with the earphones.
If you do not use earphones, the next best should be indoors, as outside is not the best for playing music with this phone.
Camera
There are hardly many things that could be said about the camera that comes with the Tecno W4 as it is mostly like what most others give; 8.0MP back camera that gets up to 3264 x 2448-pixel pictures and a 2.0MP front camera.
The pictures you will get with the back camera will be great and very pleasing, considering that the camera has a wide-angle beautification effect.  For what you get with the front camera on the other hand, while it will be on the pass side, it will not meet what you get with the back.
Also, to get the best of the front camera you will do good by ensuring that there is generous light or that you do not stay indoors while snapping except of course if it is well lighted.
You may not need to worry about much light with the front camera because it is fashioned with a LED flash. Other features that serve to enhance your pictures are the HDR and autofocus.

Memory and storage
The Tecno W4 is furnished with a 1GB RAM. Although I will say this is rather small for most of the high-end phones that feature as much as 3 GB RAM, it still works well with this and it doesn't get you dragging. This is even though it has a storage of up to 16 GB internal memory.
Of the 16GB storage it comes with, 6 is already taken over by preinstalled apps and system files. If because of this the 10 GB remaining doesn't serve you well, you can have it expanded with a 64GB Micro SD card.
Even though I didn't have any problem with this, I cannot assure you that when you get the whole 64GB filled, which is very unlikely, you won't get a little sluggishness since it has only 1 GB RAM.

Processor and Software
A quad-core MediaTek processor is what it brags of as the processor which runs at 1.3 Ghz. This gives you a good speed in real-world performance. Also, getting up against the 1 GB RAM it comes with, you get good multitasking, but you may not be able to enjoy very high applications.
For the operating system, as earlier stated, it runs on the Android 6.0 Marshmallow. This allows you to get the most recent Android features.

Battery 
At only 2500 mAh, the battery does not come with any plans to stop the world from moving. Nevertheless, because of the functionality of the phone, the battery happens to be very good for it in both charging time and battery lifetime.
Within 2hrs 30 mins, you should be able to have the battery fully charged even when the battery is completely exhausted. That should be able to last you more than 24 hours if you are not a heavy user. If you are, you should be able to get up to 10 hours of use before it runs out on you.
See Also: Infinix Hot 2 Prices and Specs
Getting the phone in power-saving mode, you will achieve significantly more than the 24 hours it promises to non-heavy users.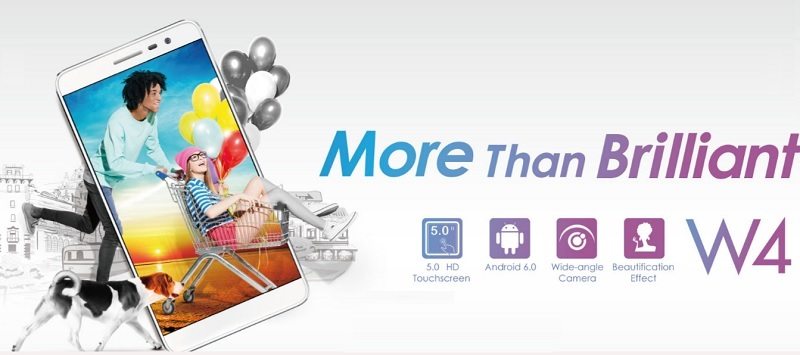 Tecno W4 Specs
Screen Size: 5-inch with resolution of 1,280 x 720
Colors: Black and gold
Body: Plastic
Memory: 1GB RAM
Storage: 16 GB (can be expanded by up to 64 GB)
Operating System: Android 6.0 Marshmallow
Camera: 8 MP back camera and 2 MP front camera.
Battery:  2500 mAh
Connectivity: 4G LTE
Pros
It is a very valuable phone.
The back camera works quite nicely.
Decent battery life
Generous internal and expandable storage capabilities.
Cons
Doesn't come with the best front camera
Only 1 GB RAM
Verdict
Now that the starting point for most good android phones is at N50,000, the Tecno W4 is a good buy for someone looking to get a good one that doesn't kill with price. The best things with the phone apart from the fact that that it comes to be durable are the fact it has a good battery life, supports 4G LTE, and does well with multimedia.

Tecno W4 Price in Nigeria
In Nigeria, you will be able to get the phone on various online stores including Jumia. From our checks, the phone should fall between N30, 000 and N35, 000. I don't think this is a bad bargain considering all that it has to offer.
Once you order this phone, it comes along with a pair of well-built earphones, a charger, a USB cord, a user manual, and a free flip case.