Rosy Meurer (born February 15, 1992) is a 31 year old Gambian-born Nigerian actress and producer better known as the wife of Olakunle Churchill, the ex-husband of Nigerian actress Tonto Dikeh. Churchill divorced Tonto in 2019, before marrying Rosy that same year. Their marriage is blessed with a son, King Omodayo Churchill Junior.
Meurer was accused of being in a relationship with Churchill while he was still married to Tonto, but she denied the accusations. Her marriage to Churchill is free of any scandals as they have lived happily ever since.
Rosy Meurer's Biography Summary
Full name: Rosaline Ufuoma Meurer
Nickname: Rosy
Gender: Female
Date of birth: February 15, 1992
Rosy Meurer's Age:

31 years old

Ethnicity: Dutch-Nigerian
Nationality: Nigerian
Zodiac Sign: Aquarius
Sexual Orientation: Straight
Religion: Christianity
Marital Status:

Married

Rosy Meurer's Husband: Olakunle Churchill
Rosy Meurer's Children: 1 (Omoniyi Churchill)
Rosy Meurer's Height in Inches: 5 feet 5 inches
Rosy Meurer's Weight: 57 kg
Rosy Meurer's Net worth: $20,000-$200 Thousand (est.)
Famous for: Being Olakunle Churchill's wife
Rosy Meurer's Instagram: @official_rosymeurer
Twitter: @rosy_meurer
Rosy Meurer was Born and Raised in The Gambia
Born Rosaline Ufuoma Meurer on February 15, 1992, Rosy is currently 31 years old. The actress was born to a Dutch father and a Delta State mother. She was born and raised in The Gambia, along with her two younger siblings. The names of her siblings and her parents are currently unknown as she has never shared such info with the media.
Growing up in The Gambia, Rosy loved aircraft and nurtured the ambition of becoming an air hostess or a pilot. She completed her basic education in The Gambia. However, the school she attended is unknown. She further acquired a diploma in business management from an institution in The Gambia, but the name of the institution is currently unknown.
She Started Her Career as a Model Before Being Discovered by Desmond Elliot
After getting a diploma in Business Management in The Gambia, Rosy also studied photography before joining the entertainment industry. She first started her career as a model in The Gambia, where she was born and raised.
The gorgeous-looking actress modeled for top brands in the country. The names of the brands she worked with have not been disclosed by the actress. During one of her modeling projects, she was, however, discovered by Nigerian actor, producer, and politician Desmond Elliott.
The duo met in 2009, and the actor told her she could do better as an actress in Nigeria. Rosy finally accepted and made a decision to give acting a try. As a result, she had to move down to Nigeria.
Rosy Meurer Returned to Nigeria in 2009 to Kickoff Her Acting Career
Returning to Nigeria in 2009, Rosy settled in Lagos, Nigeria, where her acting career kicked off in earnest. Her first acting role was in Emem Isong's film Spellbound. She starred in the 2011 film In the Cupboard, and in the following year, she played a minor role in Weekend Getaway, which was directed by Desmond Eliott.
While she was gaining momentum in the Nigerian entertainment industry, Rosy Meurer decided to go back to The Gambia to complete her education. Two years later, the actress returned to Nigeria to continue her acting career. Not long after she returned, Rosy got her first significant acting role, starring in a lead role as Ksylsh in the TV series Oasis.
2015 saw her starring as Nneka in Damaged Petal. She also featured in Open marriage and Red Card. Rosy played the lead character in Our Dirty Little Secret in 2017 and Kemi Alesinloye in Ayo Makun's Merry Men: The Real Yoruba Demons.
Rosy Meurer's Filmography
Spellbound (2009)
In the Cupboard (2011)
Weekend Getaway (2012)
Damaged Petal (2015)
Open Marriage (2015)
My Sister And I (2016)
Pebbles of Love (2017)
Our Dirty Little Secret (2017)
Merry Men: The Real Yoruba Demons (2018)
Karma (2018)
Accidental Affair (2019)
Circle of Sinners (2020)
Meurer Worked as Olakunle Churchill's Assistant
Before getting into a relationship with Olakunle Churchill, Rosy Meurer worked as a Personal Assistant to Churchill and also an Ambassador to the Big Church Foundation's Mother and Child Project. At that time, she had been in a relationship with another man who she claimed left her following Tonto Dikeh's allegations of having an affair with her husband, Churchill.
While working as his PA, Rosy was confirmed to be going on trips and receiving expensive gift items from her boss. Although she denied having an affair with Olakunle at the time of the allegations, Meurer and Churchill got close and grew fond of each other. Rosy further asserted that she saw him as a brother for being there for her and her family and that she didn't have anything to do with him until after two years of his divorce.
As a Personal Assistant to Olakunle Churchill, Rosy got to know him better because they spent time together. This brought them closer and led to the relationship they developed, which led to marriage later.
Rosy Meurer Became Olakunle Churchill's Wife in 2019
Two years after the crash of his first marriage to Tonto Dikeh, Olakunle Churchill proposed to Rosy Meurer, and they got married sometime in 2019. Their marriage was kept away from the spotlight for a couple of years. It was in February 2021 that Rosy's marriage to Churchill came out in the open. This was first revealed by Churchill through the heartwarming love message he penned down for his wife in 2021.
This revelation got many tongues wagging again as many fans concluded that Tonto Dikeh's allegations were right. They said that Rosy had been having an affair with Churchill at the time of the accusations, even though they denied it.
In her defense, Meurer said that marrying Olakunle was the best thing to happen to her, and she would not be touched by what people will say about her. She is now more concerned about the happiness and blessing she has found in her family and will not let anyone ruin it for her.
They Welcomed a Son in March 2021
Just two months after their marriage became public, Rosy and Churchill welcomed their son, King Churchill Junior, in March 2021. This is Olakunle's second child and son from his two marriages. Rosy gave birth to her son in Switzerland, and she admitted that her perception of life had changed ever since she became a mother.
Both Rosy and Churchill live happily together with their son, and there haven't been any scandals that would threaten the marriage ever since.
Olakunle was Previously Married to Tonto Dikeh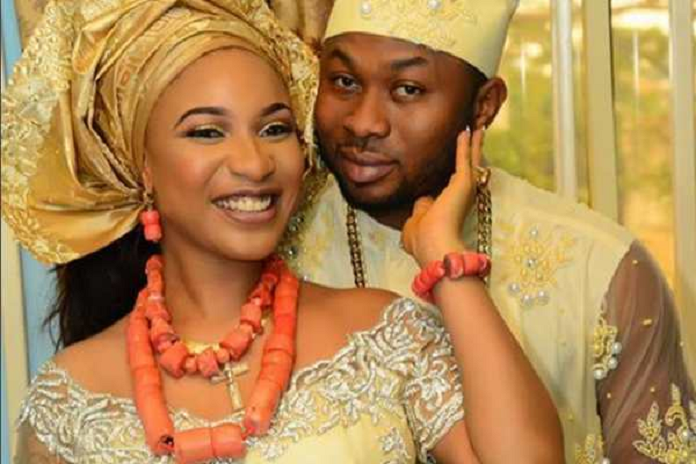 Olakunle Churchill previously got married to the famous Nigerian Nollywood actress Tonto Dikeh in 2015. Their marriage was blessed with a son Andre Omodayo Churchill who was born in 2016. His marriage to Tonto was short-lived as they got divorced in 2017. The primary reason for their divorce centered on infidelity. Churchill was also accused of neglecting and abandoning his wife and son.
Olakunle's closeness and relationship with his PA, Rosy, was the reason for his first failed marriage. Even though they denied being in a relationship at first, Churchill and Rosy started one and today are happily married.