The best polytechnic in Nigeria is Yaba College of Technology (Yabatech), which is located in Lagos state, Nigeria. Other institutions that make up the list of the top ten best Polytechnics in Nigeria are Lagos City Polytechnic, Federal Polytechnic Ilaro, Auchi Polytechnic, Federal Polytechnic Ado-Ekiti, Federal Polytechnic Nekede, Federal Polytechnic Ede, Federal Polytechnic Bauchi, Moshood Abiola Polytechnic Abeokuta, and Petroleum Training Institute.
Nigerian Universities are among the best when it comes to grooming people who are seeking academic excellence and career opportunities. But when it comes to gaining technical skills, you are sure to experience that in Nigerian Polytechnics. Quite a good number of polytechnics in Nigeria have produced workers who are vocational and technically skilled and have impacted the country's economic development.
Polytechnics are believed to be inclined towards imparting knowledge to students through practical and technical classes, which is considered their strong suit. Perhaps even more noteworthy is the affordability of Polytechnic education. Compared to federal and state universities, Polytechnics have lower registration fees and tuition costs, and their payment plans are more flexible and user-friendly. So, if you are looking for a polytechnic with the best facilities, structures, labs, and aids, as well as other features that aid in better and more competitive learning for students, here are the 10 best polytechnics in Nigeria.
Best Polytechnics in Nigeria
1. Yaba College of Technology (Yabatech)
Year Founded: 1947
Location: Herbert Macaulay Road, Opposite WAEC office, Yaba Lagos
Motto: Labore Et Veritate
Yabatech is one of the leading polytechnics in Africa. It is, in fact, the first institution and best polytechnic in Nigeria. This school has earned a reputation in the industry as being a place for the production of well-baked, skilled, educated, ingenious, and innovative workers in Nigeria and in Africa as a whole. Yaba College of Technology was established in 1947 as a successor of Yaba Higher College.
Yabatech has eight schools and thirty-four academic departments with a total of sixty-four accredited programs across ND, HND, and Post-HND levels. The college also offers certificate courses. The successes of the students from this institution in all areas of the Nigerian economy have earned it a spot on the list of the best polytechnics in Africa. The school is efficient in its activities in such a way that reports have been circulated about the transformation of the school into a University.
However, the administration and the Senate of the school have denied the assertions. The institution is the first higher institution in Nigeria to establish a Centre for Entrepreneurship Development, with linkages with the world of commerce and industry. The center offers compulsory courses which all students must take throughout their stay in the college. Some of the famous alumni of the Polytechnic include Prince Jide Kosoko, Ruth Kadiri, Eniola Ajao, Niyi Akinmolayan, and Omotola Jalade Ekeinde.
2.

 

Lagos City Polytechnic
Year Founded:

1990

Location: 6, 7 Bashiru Oweh St, Ikeja 101233, Lagos
Motto: For Technological Upliftment
Lagos City Polytechnic is the First Private Polytechnic In Nigeria. It is the second-best Polytechnic in Nigeria and one of the ten cheapest polytechnics in Nigeria. The institution was founded in 1990 and accredited by the National Board for Technical Education. Despite being one of the newest institutions of tertiary education among top polytechnics within Africa, Lagos City Polytechnic has proved itself to be an excellent institution.
LCP, as it is called, is the only private Polytechnic in Nigeria that is socially oriented and technologically advanced. The institution, which is affiliated with Southwestern University, Nigeria, has, over the years, built a track record of producing some of the most skilled employees who are well-represented in all the sectors they have found themselves in Nigeria and Africa as a whole.
The institution provides National Diploma courses in Accountancy, Banking & Finance, and Business Studies. It also has top-notch, modern technology and facilities that keep it as one of the best not just in Nigeria but in Africa as well.
3. Federal Polytechnic Ilaro
Year Founded: 1979
Location: No 6 iyafin street, Ilaro, Ogun State
Motto: Technology towards Development
The Federal Polytechnic Ilaro is sure one of the best polytechnics in Nigeria. The institution was founded in 1979, and considering its years of achievements, this federal institution has seen itself grow to become a market leader in the provision of technically skilled manpower for Nigeria
Federal Polytechnic Ilaro is renowned as a model for many other established and emerging polytechnics. The institution was swiftly recognized as a top polytechnic due to its regular academic calendar, top-quality education facilities, and wide range of the kinds of programs available.
Generally, the institution aims at providing technical and practical-oriented training to its students so as to meet the manpower requirements for the industrial, agricultural, commercial, and economic development of Nigeria. The use of modern technology and facilities at the school provide students with the ideal conditions for learning. Among famous people who graduated from the school include actors Biola Adekunle and Lizzy Anjorin.
4. Auchi Polytechnic
Year Founded: 1964
Location: Etsako West Local Government Area, Edo State
Motto: Hands & Brain for Development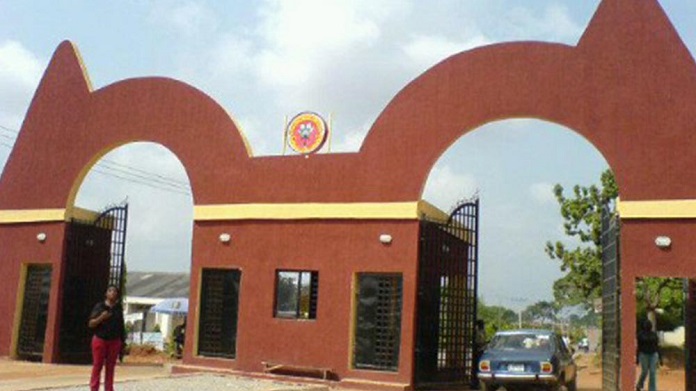 Auchi Polytechnic is one of the leading Polytechnics in Nigeria, one of the most vibrant and cosmopolitan towns in Nigeria. It is one of the first four Polytechnics established in Nigeria, with over 10,000 students enrolled in business, technology, environmental, and arts courses. Most importantly to the students, Auchi Poly is one of the cheapest polytechnics in Nigeria.
The technical knowledge and skills needed by the various programs that the school offers are provided with the most advanced facilities, which are better than those you encounter in other polytechnics in Africa.
Auchi Poly is, therefore, the preferred choice of institution for those who wish to acquire an understanding of the practical and technical aspects of their area of study. The school was founded in 1964 by the Federal Government of Nigeria. It initially opened as a technical college before it became a full-fledged polytechnic in 1973 and was run by the former Bendel State and later Edo State. It became a Federal institution in 1994 and now has 7 faculties.
Despite being among the longest-running polytechnics in Nigeria, it has evolved to keep up with technological advancements in Nigeria and to grow with the constantly changing curriculum. Among the famous graduates of Auchi Polytechnic are Hanks Anuku, Tom Ikimi, and Paul Obazele.
5. Federal Polytechnic Ado–Ekiti
Year Founded: 1977
Location: Ado-Ekiti, Ekiti State
Motto: Training for Skill and Expertise
Though not currently the best polytechnic in Nigeria, Federal Polytechnic Ado-Ekiti is one of our ten best polytechnics in the country. It is also one of the second-generation Polytechnics established by law through Decree No. 33 of July 1979. Federal Poly Ado-Ekiti is largely regarded as the cheapest polytechnic in Nigeria, with students' tuition fees running from N11,000 to N22,000.
Federal Polytechnic Ado-Ekiti was first founded in 1977 as a College of Technology in Jos, Plateau State, and later that year moved to Akure, Ondo State, by the then Federal Military Government. The Institution then grew from Seven Academic Departments at its inception to over 10,000 (Full-Time Morning and Evening, National Diploma, Higher National Diploma) Students.
Among its many objectives, the institution aims at providing courses of Instruction and Training in Technology, Applied science, Commerce, and Management, and in the development of Nigeria in areas of Industrial, Land, Agricultural Production and Distribution and for Research in the development and adoption of Techniques as the Council may from time to time determine. With five faculties, Federal Polytechnic Ado-Ekito offers both National and Higher National Diploma as the other Federal Polytechnics on this list.
6. Federal Polytechnic Nekede 
Year Founded: 1978
Location: Nekede, Owerri West LGA, Imo State
Motto: Knowledge and Skill for Service
This is a federal government-owned higher education institution established in line with a well-planned strategy that has gradually helped it to grow to become one of the top polytechnics in Nigeria. It's not a surprise to see the institution on the list of the best polytechnics in Nigeria due to the competitive nature of the school, which helps it stand in line with the leading polytechnics.
The school was established on a temporary site at the premise of Government Technical College by the Imo State government in 1978 as the College of Technology, Owerri, before it was moved to its present location in Nekede. Federal Poly Nekede offers a variety of programs that are technologically oriented in line with the modern norm. Some of the courses the institution offers in its seven faculties are technical drawing, Basic Electronics / Basic Electricity, Auto Mechanics, and Woodwork (for Civil Engineering Tech.)
FPN  is never lacking in innovative technology developments in the sector. The school provides hands-on methods of training that help students of the school adjust to the changing technology. One notable celebrity who graduated from Federal Poly Nekede is Nollywood actor Okey Uzoeshi.
7. Federal Polytechnic Ede
Year Founded: 1992
Location: Ede, Osun state
Motto: Knowledge, Skill and Character
Situated in the heart of Ede Township, Osun State, the Federal Polytechnic Ede was established in 1992 with the aim of providing broad courses in different fields. The institution also aims to provide training in technology, Applied Science, Commerce and Management, and other applied learning, especially in the areas of Industrial and Agricultural Production, Distribution, and Research.
Federal Polytechnic Ede has been recorded as one of the best federal polytechnics in Nigeria. The school exposes its students to five faculties and several other departments. No wonder why it prides itself as one of the best polytechnics in Southwestern Nigeria.
8. Federal Polytechnic Bauchi
Year Founded: 1979
Location: Bauchi Town, Bauchi State
Federal Polytechnic Bauchi is a government-owned Polytechnic based in Bauchi State, North-East Nigeria. The institution was established in July 1979, and it is situated at Gwallameji village Bauchi. The school is mandated to run full-time and/or part-time programs on Technology, Applied Science, Commerce, Management, and other relevant fields needed for driving the development of Nigeria. It also offers programs leading to the award of the National Diploma and Higher National Diploma.
Federal Polytechnic Bauchi, Bauchi State, has been officially accredited and/or recognized by the National Board for Technical Education (NBTE), Nigeria. In 2020, it was granted approval + to run nine-degree courses in affiliation with Abubakar Tafewa Balewa University, Bauchi.
9. Moshood Abiola Polytechnic Abeokuta
Year Founded: 1979
Location: Abeokuta, Ogun State
Motto: Technology for Development
Established in January 1979, Moshood Abiola Polytechnic Abeokuta was Ogun State Polytechnic, Abeokuta. The institution got a name change in 1998, following the death of Chief MKO Abiola, the Polytechnic's greatest benefactor. As a result of the name change, the law of the Polytechnic was repealed, and a new law cited as Moshood Abiola Polytechnic Edict of May 1999 was thereafter enacted.
The Polytechnic commenced academic activities with fewer programs, but now, it runs about 40 programs in 26 departments in the School of Business Administration and Management Studies, School of Communication and Information Technology, School of Engineering, School of Environmental Studies, as well as School of Science and Technology.
The Centre for Part-Time and Diploma Programmes, however, oversees all the part-time courses. The Polytechnic started on two temporary campuses, Oke-Egunya and Onikolobo, moving to the Ojere campus between April 1985 and March 1988. Some of the known celebrities who graduated from the polytechnic include Odunlade Adekola, Funke Akindele, Kayode Akintemi, Adewale Ayuba, and the famous musician Zlatan.
10. Petroleum Training Institute Effurun
Year Founded: 1973
Location: Effurun, Delta State
Motto: For skills, Service and Progress
Petroleum Training Institute Effurun rounds up our list of ten best polytechnics in Nigeria. The institution was established in 1973, and currently boasts of graduating over 50,000 students since its establishment. PTI was established to serve as a platform that would provide courses of instruction, training, and research in petroleum technology and to produce technicians and other skilled personnel required to run the petroleum industry.
Currently, the institution offers about 20 courses and 150 specialized courses, with its quality Policy being in compliance with the requirements of ISO9001, which is geared towards the provision of quality service delivery and training of personnel to meet clients' requirements in conformity with global best practices.
PTI has graduated over 50,000 (fifty thousand) technologists and technicians and other technical personnel in various areas of oil and gas and allied Industry operations since its inception in 1972. It awards General Welding Certificates, National Diploma, and HND Higher National Diploma certificates. Some of the unique departments in the institution include petroleum Engineering and Geosciences (PEG), Environmental Science and Management Technology (ESMT), and Industrial Safety and Environmental Technology (ISET).