Kingsley Chinweike Okonkwo (born 18 April 1979), best known by his stage name Kcee, is a 44-year-old Nigerian singer and songwriter who rose to prominence in the music industry after winning the Star Quest competition in 2012.
Like many of his contemporaries, Kcee didn't start as a one-man team. He actually rolled out his musical career with his longtime friend and partner Presh, after which the duo formed a musical group known as KC Presh. Also, it is noteworthy that the music star is an elder brother to one of Nigeria's youngest billionaires, E-money. Apart from his relationship with his wealthy brother, Kcee is popular for his 2013 R&B/Soul hit single, Limpopo.
Profile Summary of Kcee
Full name: Kingsley Chinweike Okonkwo
Date of Birth: 18th April 1979
Age: 44 years old
Place of Birth: Ajugunle, Lagos State
Ethnicity: Igbo
State of Origin: Uli, Anambra State
Nationality: Nigerian
Marital Status: Married (Ijeoma Okonkwo m. 2010)
Children: 3
Education: University of Nigeria Nsukka
Occupation: Singer, songwriter
Years Active: 2013- present
The 44-Year-Old Musician is a Native of Uli in Anambra State
He was born Kingsley Chinweike Okonkwo into an average family on 18th April 1979, in Ajegunle, Lagos State. He is a native of Uli (a fast-growing town in Anambra State) but was raised in Lagos State, where he also had his basic education. His father was a DJ, but there are no records yet about his mother. His dad's love for music probably inspired him, even though his original dream was to become a professional footballer. He said that it was football that took him out of the country for the first time.
Apart from his younger brother E-money, who is also prominent within the entertainment circle, there is no information regarding his other siblings. In an interview with Buzz Nigeria, he revealed the kind of family he came from, stating that it was not very easy for them while growing up. He recalled how their landlord threw them out of the house because they couldn't pay the sum of N70,000 for a three-bedroomed flat. Kcee went ahead to engage in several hustlings like selling furniture and other menial jobs in the streets of Ajegunle.
According to him, the hustle in Ajegunle was real, and you don't have a choice; either you hustle or die in hunger. Kcee completed his secondary education at Central High School in Isolo and proceeded to the University of Nigeria Nsukka, where he graduated with a bachelor's degree in Theatre Arts.
Star Quest Reality TV Show Launched Him Into the Limelight
Kcee and Precious knew themselves from their church choir, and both of them rose to stardom in 2002 after participating and winning the much-converted Star Quest competition. From growing their friendship as choir members, the two later formed a musical group with their friends Domino and Emmy, who eventually went their separate ways after some time.
According to the Limpopo crooner, they entered the competition after Kano-born hip-hop singer Eedris Abdul Kareem advised them to do so. For emerging winners at the competition, Kc and Presh were offered a 4-year music contract with the Nigerian-based hip-hop, R&B, pop record label Kennis Music and received a one million naira cheque. Their performance at the competition also earned them several awards such as Best Akwa Cross Artist (2006), The Most Promising Act (2002), Best Collaboration, Best South-South Artist (Niger-Delta, 2006), and others.
Recall that Presh (real name Precious John) is from Southern Nigeria. While his collaboration with Kcee lasted, the duo performed alongside great Nigerian artists such as Oliver D Conque, Femi Kuti, and Lagbaja. They also featured in tours and events like Play Safe Rave Tour, Laff 4 Christ Sake, Nescafé Valentine Show, AY Live, Nite of a Thousand Laugh, AMAA Awards, and Calabar Xmas.
He Got His Breakthrough in 2013 with the Song Limpopo
For 12 years, KC-Presh released over 40 songs together, including but not limited to Everybody Dance O, Joyful Noise, Ginga Ur Swagga ft. Timaya, Shokori bobo. They also had to their credit, albums which they titled: Sio Nkpo – Make A Noise, Ose Baba, No Time, and Get Ready. They later ended their musical relationship in 2011 when they mutually agreed to pursue solo careers.
Following their disbandment, Kcee signed under the Five Star Music record label and has remained there. His breakthrough came after he released his debut album under the label. The album is titled Take Over with a smash single Limpopo. Kcee's career got him established in the music industry following the fame the song garnered within a few weeks after its release and subsequently.
The single became well accepted and gained several positive reviews from critics and the general public. With over 2 million views on YouTube, Limpopo became extraordinarily popular and was played on several TV and radio stations, parties, and many other social events. Kingsley has worked with many Nigerian music elites, including Phyno, D'Banj, Don Jazzy, Timaya, Davido, Flavour, and Del B, who doubled as the producer of his song Limpopo.
Kcee Married Ijeoma Okonkwo At the Age of 31 in 2010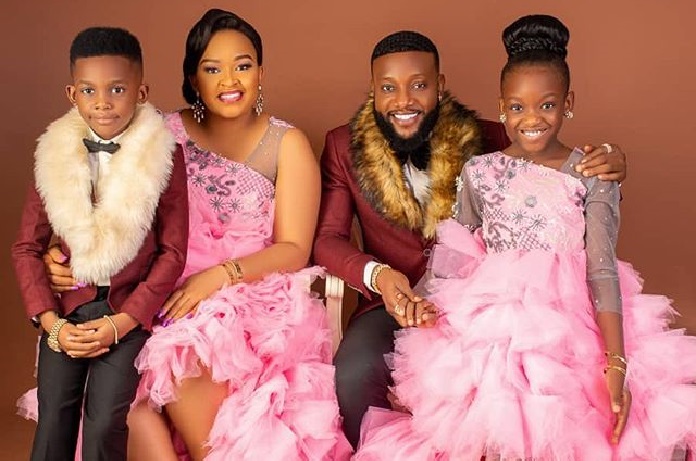 Kcee got married to his longtime girlfriend Ijeoma in 2010 after he proposed to her in a hot air balloon in Dubai in the same year. Their marriage has so far produced three lovely kids, a girl- Sommy and two boys- Kanye and King Kwemtochukwu Okonkwo who joined the family on 12th May 2020. Ijeoma Okonkwo is an event designer and the CEO of Pixieworldevents- a top event planning and designing company based in Lagos, Nigeria.
The couple has so far done a perfect job in keeping their marital relationship out of the public eye, which explains why they have never been involved in any kind of controversy or scandal. Unlike her husband who likes flaunting his pictures on social media, Ijeoma once revealed that she does not like public appearances.
Who is Richer and Older Between Kcee and E-Money?
Kcee is best known for his relationship with his younger brother Emeka Okonkwo, popularly known as E-Money. Kcee was born on 18th April 1979, and his brother E-money was born on 18th February 1981, that is to say, that the singer is older than the youngest billionaire by two years.
Emeka is best known as the CEO/founder of Five Star music studio and makes money from many other business channels, including the oil and gas sector, real estate, clearing and forwarding, etc. He earned his nickname E-money as a result of flaunting his wealth and luxury lifestyle on social media. Despite their social status, the two brothers share a cordial sibling relationship, spend a good part of their free time together, and flaunt photos of themselves having fun all over the internet.
On the part of wealth and popularity, E-money is richer than his elder brother Kcee, but the latter was the first to become popular and brought fame to his family. E-money has an estimated net worth of $35 million, while Kcee's net worth is pegged at $5 million. While Kcee's net worth was majorly accrued from his music career, E-money built his wealth through multiple businesses.