Muoghalu Uchechukwu Judith, popularly known as Judy Austin is a 31– year-old Nigerian actress, producer, model and CEO of Judyaustin Boutique. She was born on December 31, 1991, and is married to Yul Edochie as his second wife.
Judy has been in the show biz longer than 2013 when her acting career brought her a long-deserved rise to fame. She is best known for her roles in movies such as " Dancer', "Goodbye Tomorrow" and "Native Girl". She was thrust further into the limelight was when her colleague-turned-husband, Yul Edochie, formally introduced her to the world as his second wife. Enjoy the following facts about Judy Austin.
Summary of Judy Austin's Biography
Full name: Moughalu Uchechukwu Judith
Nickname: Judy Austin
Gender: Female
Date of birth: 31 December 1991
Judy Austin's Age:31 years old
Ethnicity: Igbo
Nationality: Nigerian
Sexual Orientation: Straight
Religion: Christianity
Marital Status: Married
Judy Austin's Husband: Yul Edochie
Judy Austin's Children: Star Sike Munachimso Yul-Edochie
Judy Austin's Height in Inches: 5' 6"
Judy Austin's Height in Centimetres: 167
Judy Austin's Weight: 85kg
Judy Austin's Net worth: $250,000
Famous for: Being Yul Edochie's Wife
Judy Austin's Instagram: @judyaustin1
Who Is Judy Austin?
Judy Austin is a Nigerian actress, movie producer and model who is now famous as Yul Edochie's second wife. She hails from Anambra state. She is a native of Umuoji in Idemilli North, Anambra State, and her real name is Muoghalu Uchechukwu Judith.
Judy was born on December 31, 1991, and she is currently 31 years old. She grew up with her parents and siblings, however, further details about her biological family have not been revealed yet. She grew up in her community where she completed her basic and secondary school education before moving to the Nnamdi Azikiwe University, Awka, Anambra State, where she gained a degree in arts.
How Judy Began Her Acting Career
Judy has always been a lover of show business and while she was still studying at the university, she got herself into modelling which helped her to build a strong foundation in the entertainment industry. She also did a bit of singing as well. Her emergence into the movie industry follows a recommendation from a movie director and producer, Silvester Maduka, who featured her in 'Secret of the Witches' in 2013.
Judy grew relatively fast in Nollywood. She rose to prominence after her appearance in the movie, Dancer. She appeared in a few more movies before deciding to start a career in movie production. By 2018, she had produced two of her movies, 'Native Girl' and 'Fear'. her roles in the movie industry both as an actress and movie producer have helped her strong alliance with some of the notable personalities in the industry.
Some of her famous works include Ernest, Mums at War, Idemili, Pleasure and Crime, Scared Stupid, and Dance. She has worked with some of Nollywood bests like Ngozi Ezeonu, Chinwetalu Agu, etc.
Besides being a successful acting and movie producer Austin is also an entrepreneur and the CEO of the Judyaustin Boutique.
Judy Austin's Movies and TV Shows
Native Girl,
Fear,
The Street Girl I Love,
Where I Belong,
Trouble Comes To Town,
Secret Of The Riches,
Goodbye Tomorrow,
Slaves and Free Born
Was Judy Austin Ever Married and Who Is Her Ex-husband?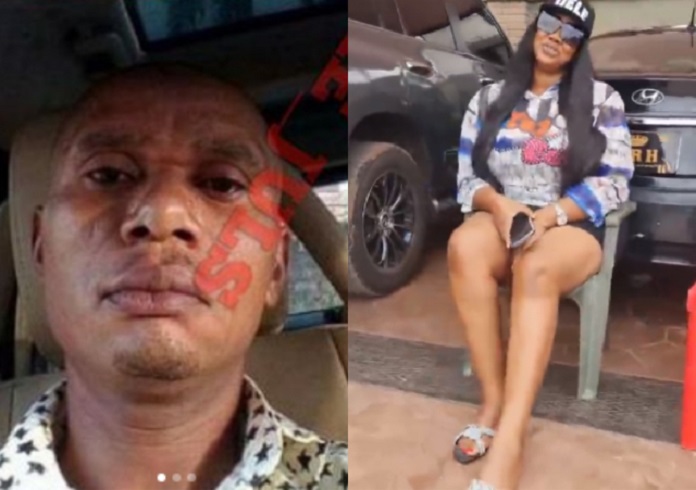 Judy Austin was first married to a man named Emmanuel Obasi. Although not much has been revealed about him, Emmanuel claimed to have married the actress when she was 19 years old and he was 29, and that he was responsible for her finances during her years at the University.
Judy's marriage to Obasi reportedly ended in March 2013. Her alleged husband claimed that she left their marriage with their kids after he refused to buy her a house in Enugu. He further disclosed that he reported the incident to the actress's parents but they made no effort to reconcile them.
Obasi also claimed that Judy was having extramarital affairs while she was still married to him. Judy has, however, denied having an affair outside her marriage. In a Facebook Live, the 31-year-old actress said the allegations levelled against her by her ex-husband were false.
Who Is Judy Austin's Husband Now
Judy Austin is now married to co-Nollywood star Yul Edochie who unveiled her as his second wife on 21st April 2022 after welcoming a baby boy with her. The couple got married traditionally.
Judy's husband, Yul Chibuike Daniel Edochie, is also from Anambra state. He is the son of Nigerian actor Pete Edochie. Yul began his acting career in 2005 and his first film role was in The Exquires where he shared the screen with the likes of Justus Esiri and Enebeli Elebuwa. He , however, got his break in 2007 after featuring alongside Genevieve Nnaji and Desmond Elliot in the movie Wind Of Glory.
Yul was married to May Yul Edochie for over a decade before unveiling Judy as his second wife. He and Judy's marriage has stored up controversies as his first wife who didn't seem pleased with the union revealed that her husband paid Judy's bride price on 24 April 2022 without informing her.
May further revealed that she found out about his traditional marriage to Judy the following day. Since their marriage, several controversies have trailed Yul and Judy's union, particularly on social media.
Meanwhile, Judy has debunked rumours about her dating Yul Edochie while she was still married to her first husband. She claimed to have met him years after her first marriage ended. Despite the controversies her new marriage has raised, the 31-year-old plus-sized actress appears quite comfortable and happy with her new status.
Judy Austin's Children
Judy currently has three children. Her first two children were the product of her marriage to her first husband Emmanuel Obasi. She welcomed her first child with her new husband, Yul, on 21 November 2021 and his name is Star Dike Munachimso Yul-Edochie.
Judy's son with Yul arrived barely a year before they were officially married. The birth of the child raised many issues as Judy's ex-husband claimed to be the biological father of the child. He also accused her of denying him rights over his two other children whose names are yet to be revealed.
Judy is also a step other to Yul Edochie's four children – Kambi Edochie, Karl Edochie, Victory Zane Chukwubuike Yul-Edochie, and Dani Edochie. Yul lost his first son, Kambilichukwu Edochie in April 2023, after he developed a seizure while playing football with his schoolmates.
Kambili's death happened amid the marital crisis between Yul and his first wife, over his marriage to Judy who, on the other hand, has been accused of having a hand in the teenager's death. Many also blamed her for bringing problems into Yul Edochie's family.