The Nigerian star actress Queen Nwokoye is married to Oluchi Uzoma, a South African-based businessman. Although it is unknown when and how they met and got married, the actress and her husband are said to have been together for about a decade. They welcomed their first child, a daughter named Princess Oluchi, in 2018.
Queen Nwokoye is not just a Nollywood actress; she is also a model, TV personality, and businesswoman. However, with nearly two decades of career in the entertainment industry, not much about Queen's private life, especially her marital life, has been unveiled to the public. Fortunately, we've gathered some interesting facts about the actress's husband and children you probably don't know.
Is Queen Nwokoye still Married?
Queen Nwokoye is still married to her spouse Oluchi Uzoma. While it is still unclear when they got married, it is largely believed that the celebrity actress has lived with her husband for over a decade. Despite the wide speculations placing Queen Nwokoye among the Nollywood actresses still single, the 941-year-old is surprisingly still hooked up with her husband.
Neither Queen nor her husband has been fair enough to share their traditional or white wedding ceremony details. However, it is largely believed that the actress, popularly known as the "Darling of Nollywood," got married a few years after she ventured into the Nigerian movie industry in 2004.
She, however, revealed that she and her spouse exchanged wedding vows in a secret ceremony and opted for a quiet wedding to avoid having a media circus on her big day.
Is Queen Nwokoye's Husband an Actor?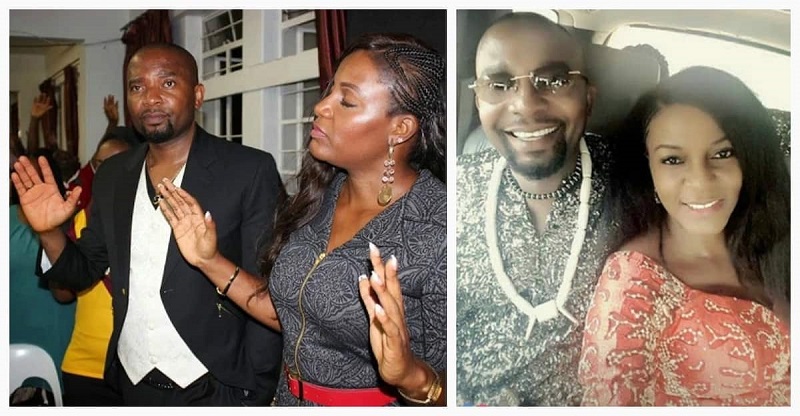 Queen Nwokoye's husband is neither an actor nor is he involved in anything related to the entertainment industry. While he may not be a popular face on our TV screens, he is undoubtedly an influential personality both in Nigeria and South Africa. The young and vibrant Igbo man hails from Isu Njaba in Imo State, Nigeria, but he is based in South Africa's big city of Johannesburg.
Although there are claims about Uzoma being a preacher of the Christian faith, it is common knowledge that he is an influential businessman. While being an entertainer like his wife may not be his calling, Oluchi Uzoma has continuously supported his wife's career ambition.
He is even said to have played an essential role in Queen's successful character role in the most popular 2014 Igbo movie Ada Mbano – which had her speaking Mbano dialect even when she is not from the same state as her husband. Queen hails from Ihembosi in Ekwusigo local government area of Anambra State.
Aside from being an influential businessman and a real estate mogul, Queen's husband Uzoma seems to be also interested in politics. In 2019, he reportedly contested for a seat in the State House of Assembly in Imo State, under the All Progressive Congress (APC). Unfortunately, his bid to represent the people of Isu local government of Imo State was not successful.
How Many Children Does Queen Nwokoye Have?
Queen Nwokoye and her husband Oluchi Uzoma are blessed with a daughter whose name is Princess Oluchi. However, there are claims that the famous actress is also a mother to twin boys, but following her explanation in an Instagram post, she is only their aunty and not their mother.
Full Name: Princess Oluchi
Date of Birth: August 20, 2018
Princess Uzoma's parents: Oluchi Uzoma and Queen Nwokoye
Queen's daughter Princess was born in 2018, but her exact birth date is not known as the actress has successfully kept all information about her love life and children off the media. However, the good news about her baby's arrival was announced on August 20, 2018, by one of her excited friends named Oma Nnadi.
Aside from being a regular face on her mother's Instagram page, further information about the fair, beautiful daughter of Queen Nwokoye can not be found.
Which Other Member of Queen Nwokoye's Family Do we Know?
Despite being in the spotlight following her excellent acting skills, Queen Nwokoye remains one of the few Nollywood stars who has managed to keep everything about their families away from media scrutiny. This is probably why none of her family members is known to the public. However, the actress has been fair enough to reveal that she was raised in a family of seven children (three boys and four girls).
Her parents were devout Catholics who instilled strict Catholic values in their children. Not only did her early days revolve around church activities, but schools as well. This is because her mother and grandmother were both teachers. Though the strict parental upbringing made her more reserved and shy as a teenager, it helped her become the successful woman she is today.
She also affirmed that the level of discipline and determination in her career and family were products of what her parents imbibed in her during her younger years. Queen Nwokoye's parents are no longer alive. They both died in 2019, with their deaths occurring within half a year. Though their demise was quite challenging for her, the movie star is grateful to them for molding her into the woman she is today.
As per her siblings, there are no details of Queen Nwokoye's sisters or brothers known to the public except for a lady named Nwamaka Nwokoye, who the actress introduced to her fans on Instagram as her sister. No further details of Nwamaka are revealed, but from the Instagram link the actress posted, she may be into hair business.
There are also claims about Queen Nwokoye being related to Chizoba Nwokoye. This is mostly because the two bear the same surname. Chizoba, also called Sharon Chizzy, is a fast-rising Nigerian actress and social media sensation. She hails from Awka in Anambra state and is known to have a twin sister Stephanie Ekwu who is also famous in the Nigerian movie industry.
Chizoba Nwokoye and Queen Nwokoye may share the same surname and state of origin, but they are not related in any way. The two actresses have also not given any hint about them being family related.