Joselyn Dumas is currently single and not dating anyone. However, the Ghanaian media star was previously married to her ex-husband, whose identity has remained undisclosed. The couple divorced and went their separate ways years ago.
Joselyn Dumas is a popular Ghanaian Television host and actress whose media career has spanned over 15 years. She has, within these years, grown to become a household name in the Ghanaian entertainment industry.
But what is more, besides her thriving on-screen career, the media personality did not have it all well for herself in terms of marriage. Here are scintillating details of what went wrong in her previous marriage and how her relationship journey has been since then.
Joselyn Dumas Met and Married Her Ex-Husband in the US
Worthy to note is that Joselyn Dumas had a practicing career in Law. She was born and raised in her home country Ghana, where she received her basic and high school education. Then, after high school, she moved to the United States of America, where she studied and obtained a Degree in Administrative Law. It was there and then that she met her ex-husband.
While she was studying abroad, Joselyn met and married the man who once answered her husband. But there is no single information about this man and his identity. However, from the tidbits, we could gather that Joselyn did not go into the marriage out of her free will but was forced into it.
According to her, she revealed that her ex-husband was also a Ghanaian living in the US just like her, and that contributed to the things that formed the basis of their union.
At first, she resisted the pressure from the man's family to marry their son, but when her own family joined in the pressure, she had to reluctantly give in to their demands as she had no other choice. All these happened many years ago while Joselyn was based in the US; hence, many are unaware that the actress had gone through marriage and divorce.
Their Marriage was Shortlived
One would not be so shocked that a marriage built on a shaky foundation like this will possibly, sooner or later, crash. Joselyn started facing marital challenges just by the time she entered her husband's home. As days went by, unhappiness became the order of her day, and she began to realize that the marriage was a huge mistake.
Upon this realization, she wasted no time in getting divorced. As we mentioned earlier, Joselyn Dumas seems to be the type that loves to keep her personal life private; hence, details of her marriage remain shrouded, including how long they were together.
Nevertheless, the TV personality once hinted that her young age and immaturity as of then were contributing factors that made the marriage not work. She described her past marital life as "a nice experience" that will make her more patient and tolerant when she eventually gets married again.
The Union Produced Their Only Child, Senia Canfor-Dumas
Joselyn had a daughter with her ex-husband before they got divorced. The name of her daughter is Senia Canfor-Dumas, and she was born in the US. The Ghanaian actress has stated on different occasions that her daughter is a big and major part of her life that she holds dear to her heart.
Even though she likes keeping her personal life under lock and key, Joselyn Dumas does not hide her daughter, who is now grown up and is her mother's carbon copy. Senia is said to be in her teens and would be attending one of the recognizable schools in Ghana.
The mother and daughter share a very strong bond, but it seems the young girl does not have any form of relationship with her father. According to Jose, the responsibility of caring for and protecting her child is solely on her as Senia has already started gaining unnecessary public attention.
Joselyn Dumas Moved to Ghana Following the End of Her Marriage
After her divorce in the US, the TV host returned to her home country and was supposed to enroll in a one-year course in law school, after which she would be called to the bar. But, she was drawn by a passion she quickly developed in the media after she met with famous radio presenter Kofi Okyere Darko (KOD) in 2008.
Kofi introduced her to Charterhouse, after which she landed her debut as the host of a TV entertainment show, Charter House's Rhythmz. Since then, Joselyn has worked with, co-hosted, and produced several TV programs and has also diversified into acting. She concentrates squarely on her media career and as well raising her daughter.
Meanwhile, the actress once revealed that it has since become very challenging for her to get a man for herself as most men prefer ladies that don't have kids. Letting on, she said that she had lost a love interest because of her single mum status.
Joselyn Dumas Has Been Romantically Linked to Some Men
Although she was once married, Joselyn has recounted that she is single and prefers to be addressed as such. But, being in the entertainment world would only mean that unverified rumors are bound to circulate around you, especially in terms of love affairs.
Recently, the internet got buzzing with the news that Joselyn has gotten married to Nollywood star Jim Iyke following some wedding photos of them that circulated online.
This made fans wonder if they did tie the knot in a secret ceremony. However, digging deeper into the news, some media outfits found out that those were only shots from a Netflix movie the two did together titled Cold Feet. Though they looked perfect as a couple, it was not a real wedding.
Again, it had been a longstanding rumor that Joselyn and Ghanaian actor John Dumelo were in a romantic relationship. It was speculated that the duo has been spotted on different occasions in a compromising position. The rumor mill even went as far as saying that they had wedded in Accra and that many celebrities were in attendance at the ceremony.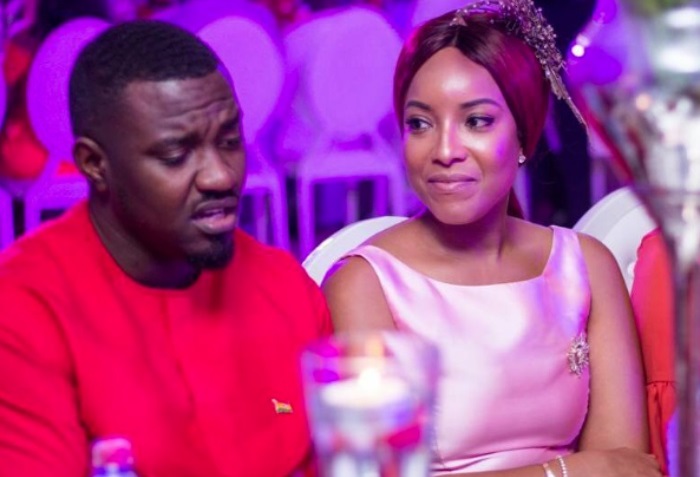 However, an established fact later came up revealing that the purported wedding was not real but was part of the plot of a movie. Regardless, Joselyn also debunked the rumors via an interview she granted with Abeiku Santana on the Atuu show.
She, first of all, confirmed the fact that she once dated John Dumelo, and they were together for two years before going their separate ways. Speaking further, she reiterated that both of them started dating after featuring in three movies, but things didn't subsequently go the way they anticipated, and they mutually decided to separate.
Meanwhile, John has since gotten married in May 2018 to his wife, Mawunya. The wedding ceremony, which happened in Ghana, was studded by movie stars like Nadia Buari, Ramsey Nouah, Jackie Appiah, Yvonne Nelson, and many others.