Ramsey Nouah's net worth is estimated at $4.5 million. The actor is famous for Nigerian films such as Blood Sisters (2022), RattleSnake: The Ahanna Story (2020), Living in Bondage: Breaking Free (2019), and The Figurine (2009). 
Ramsey gathers his wealth from acting, directing, movie production, other business ventures, and endorsements. Starting from 1993, he has appeared in and worked on several Nigerian Blockbuster films. He has equally ascended as one of the most celebrated Nollywood actors with roles that project the Nigerian and African movie industries to the world.
This has landed him a fortune, making him one of the richest and giving him accolades of The Best Actor in Leading Role, Best Actor in Supporting in the Africa Movie Academy Award (2010; 2020), etc.
Ramsey Nouah Net Worth
Born on December 19, 1970, in Lagos, Nigeria, Ramsey Nouah is worth $4.5 million. However, some sources claim the actor could have a net worth as low as $1 million, while others suggest it could be as high as $8 million.
Since he has not opened up to any particular amount, all the internet has is perhaps only speculation, judging based on the value of the movies he has played roles in, endorsement deals, and other business. The net worth may have also been put together based on his luxury life and investments amidst other criteria.
Tracing his acting career, Ramsey once dreamed of taking a leap into music but ventured into the former following a friend's advice. In 1991, when Nouah was 21, he got the role to play Jeff in an upcoming TV series Fortune, which aired from 1993 to 1994. At the time, the actor was 23-24 years old.
The series became popular among Nigerians, and soon enough, the public nicknamed him Jeff – a name some Nigerians still refer to him. Although it is barely known exactly how much the actor earned for his role in the series featuring Liz Benson, it undoubtedly added to his wealth and paved the way for many more roles.
Ramsey has shown himself through different characters in more than 100 Nigerian films and a few intentional films, such as Cameroon's The Fisherman Diary (2020). With each role, he presents versatility, creativity, and a style peculiar to him. Little wonder his name refuses to fade, and he has also become a highly-paid actor in the competitive world of the Nigerian film industry.
In addition, Ramsey is currently compared to actors such as Jim Iyke, Richard Mofe Damijo, Desmond Elliot, and Segun Arinze in terms of wealth. These actors reportedly have $30 million, $17 million, $11 million, and $5.1 million as net worth, respectively.
Ramsey Nouah's Movies
1. Merry Men: The Real Yoruba Demons (2018)
This is one film that has contributed to Ramsey Nouah's net worth. In the Toka Mcbaror-directed film, Ramsey narrated the story; he also played the role of Ayo Alesinloye – an eligible bachelor with flowing wealth and a successful businessman that women refer to as a Yoruba Demon. The name is also shared among his group of friends.
The action comedy film, which also featured Ayo Makun, Jim Iyke, Falz, etc., became one of the most successful films Ramsey featured in. It made ₦235.6 million at the Box Office to become one of the highest-grossing films in Nigeria and the 3rd highest in 2018 after Chief Daddy and King of Boys.
In 2019, the sequel Merry Men 2: Another Mission was released, and it made ₦234.5 million. The movie and its sequel made Ramsey one of the highest-earning actors in 2018. Although there is no insight into how much he made, Merry Men: The Yoruba Demons and its sequel made ₦471.1 million at the Box Office.
2. Living in Bondage: Breaking Free (2019)
Ramsey Nouah's net worth of $4.5 million has been contributed by Living in Bondage: Breaking Free, a sequel of Living in Bondage (1992) directed by Chris Obi Rapu. On the other hand, the sequel was the first film directed by Ramsey Nouah.
The film received critical reviews, and although it had a budget of ₦10 million, it reportedly made ₦25.8 million in a single at the time of its release. It would further become one of the highest ₦168.7 million at the Box Office.
Living in Bondage: Breaking Free won the light-skinned actor a 2020 award for Best Nollywood Film at the American Film Award. It featured Kenneth Okonkwo, Enyinna Nwigwe, Kanayo O. Kanayo, and Jidekene Achufusi.
3. Rattlesnake: The Ahanna Story (The Armadas) (2020)
The thriller action film is another movie that has contributed to Ramsey Nouah's net worth. Although he did not play a part as an actor in the film, he played a vital role as its director. It also made it to the list of highest-grossing movies in Nigeria with a total of ₦70.3 million. In its first week of release, it made ₦13.5 million.
Apart from the favorable review it has received, it also received several awards, including Ramsey receiving a nomination for the Director of the Year by Best of Nollywood Awards (2021) and Best Overall Movie at the African Magic Viewers' Choice Awards (2022).
The film is a remake of the 1995 Amaka Igwe's Rattlesnake, and it starred Stan Nze, Osas Ighodaro, Omotola Jalade Ekeinde, Ayo Makun, and Chiwetalu Agu.
Ramsey Nouah Old Movies
1. Silent Night (1996)
Three years after Ramsey made his debut in the Nigerian movie scenery, he appeared in Silent Night in 1996. The film as directed by Chico Ejiro featured Nouah as Stanley Odame. His role was a young rich kid who joined a robbery gang with Segun Arinze (Black Arrow) as its leader. The film featured other notable Nigerian actors such as Joke Silva, Alex Usifo Omiagbo, Kate Henshaw, Peter Bruno, and Emeka Ike.
2. Fugitive (2000)
In Fugitive, the then-30 years old Ramey played the role of a young prisoner saved by a lawyer. The attorney accepted him as his child and brought him to his house. When the daughter of the man who had saved him fell in love with him, but he did not feel the same way about her, she schemed against him. The film also featured some of Nollywood's most celebrated actors, including Genevieve Nnaji, Rita Dominic, Stella Damasus, and Alex Usifo.
3. Power of Love (2002)
This is one other movie that set the Lagos-born actor to fame and fortune. It also landed him the name of a lover boy. The film surrounds the story of Chris (played by Ramsey Nouah) and two women fighting over his love. He started with Sandra (Steph Nora Okere), who refused to help him with funds to move to the US.
On the other hand, Genevieve (Juliet) stole her father's money and helped him. After he made money and returned, his character wanted to marry Juliet, but since she was paralyzed from an accident that was intentionally caused by Sandra, his parents refused.
In a twist, he became married to Sandra after she lied to him about Juliet. He would later find out that Sandra was behind why he did not marry Juliet, and a fight would lead to the death of the former, which equally led to his becoming married to Juliet.
4. Dangerous Twins (2004)
The famous lover boy of Nollywood, Ramsey Nouah, brought to life the roles of identical twins Taiye and Kenny. While the twins were married and settled in different places (Taiye-London and Kenny- Lagos), Taiye could not have children of his own.
He led Kenny into accepting to switch places to allow his brother to impregnate his wife. Nonetheless, Kenny betrayed his brother, and violence took charge. It remains uncertain the income of Ramsey for playing double roles. However, the film remains one of the highly-budgeted Nigerian films of the early 2000s.
It was shot in locations that include Nigeria, France, London, Switzerland, US, Netherlands, and Belgium. The Tade Ogidan film also won the 1st Africa Movie Academy Awards. It features Stella Damasus, Bimbo Akintola, and Sola Sobowale.
List of Ramsey Nouah Old Movies
Silent Night (1996)
King of Money (1999)
Camouflage (2000)
Infidelity (2000)
Vuga (2000)
The Battle of Love (2001)
Love Boat (2001)
Valentino (2002)
My Love (2002)
Battle Line (2002)
You Broke My Heart (2003)
Working for Love (2003)
When Love Dies (2003)
Real Love (2003)
Mortal Sin (2003)
Dying For Love (2003)
Bad Boys (2003)
Coming to South Africa (2004)
Mr. Lover Boy in Ghan (2004)
Super Hero (2005)
Real Love (2005)
End of Discussion (2006)
Dancing Heart (2006)
To Love an Angel (2007)
Missing Rib (2007)
Governor's Wife (2007)
Reloaded (2008)
True Sacrifice (2008)
Hidden Treasure (2008)
The Figurine (2009)
Silence Is Golden (2010)
A Private Storm (2010)
Ramsey Nouah's Business Ventures
The 5'11 tall actor earns from business and endorsement deals over time, which have contributed to making the actor one of the richest Nigerian actors.
He Founded a Movie Production Company, Ramsey Films
Ramsey Films was founded by the Israeli-Nigerian actor. It is a film production company responsible for producing Box Office breaking films such as Rattlesnake: The Ahanna Story and Living in Bondage: Breaking Free. 
The film production company is responsible for producing other films such as The Accidental Spy (2017), 76 (2021), and 30 Days in Atlanta (2014, ₦163 million at the Box Office).
Endorsement Deals That Have Added To Ramsey Nouah's Net Worth of $4.5 Million
Western Lotto (2017)
In 2017, it was recorded that the actor signed an endorsement deal with Western Lotto, a lottery company, alongside other a-list stars like TuFace and Olamide. In 2018, he appeared in the brand's advert and became famous on BBNaija, and was rated best on the reality show. While it may difficult to trace the exact amount the actor may have received from Western Lotto for being a brand ambassador, it is no news that many celebrities of his caliber receive millions for endorsements.
Glo
Nouah was said to have been dropped by Glo in 2018 after enjoying about 8 years as an ambassador of the telecommunication company. According to some reports, Glo issued about ₦500 million to the 10 celebrities that signed that endorsement deal. Among the beneficiaries is believed to be Ramsey.
Summary of Ramsey Nouah's Income Sources
Acting
Directing
Business ventures
Endorsements
How Ramsey Nouah Spends His Fortune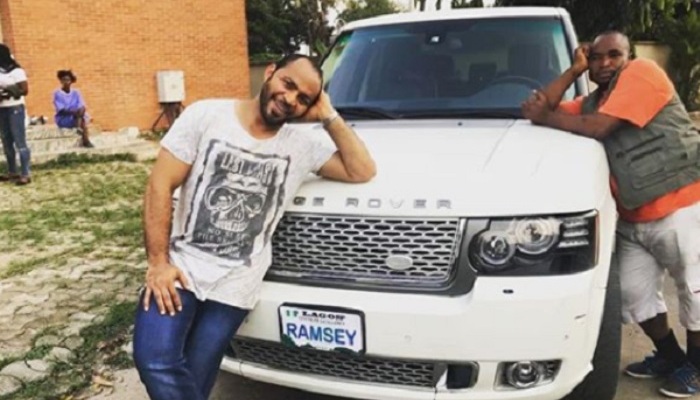 Because Ramsey does not show a life of luxury on social media as portrayed by many other stars of his cycle, there are few details about his spending. Nonetheless, it may not be far-fetched that he may be an owner of a house.
There are also reports that he may have several houses in Lagos and even away from the popular state of Nigeria. Based on internet recordings, the actor has scores of luxury cars that are more than ₦200 million. They include the following:
An Aston Martin DBS Superleggera that is said to be worth ₦140 million
1959 Cadillac Coupe De Ville of ₦11.5 million
A ₦30 million worth of Range Rover Vogue
₦51.9 million worth of Tesla Model X