Flash Share is an Android app that enables file transfers between devices at an incredibly fast rate. It is a brilliant file-transfer tool that stands out for its user-friendly interface and transfer speed.
Android users can transfer virtually anything from contacts, files, images, music, videos, and even apps on their phones using the app.
Flash Share works the same way as Apple's airdrop application and does not require either Bluetooth support or internet data to work. Unlike Bluetooth or WiFi, Flash Share uses the NFC protocol of all devices involved in the transfer, ensuring a transfer rate that is 4 to 40 times faster than normal Bluetooth.
The app usually comes pre-installed on Tecno and Infinix phones as Flash share, but the app can be installed on other smartphones as Xander from the Play Store.
Why You Should Use Flash Share
Downloading Flash Share is free.
File transfers with the app are free, given that there are no internet data charges.
It is fast and saves time especially when transferring large files.
Multiple applications can be transferred at the same time.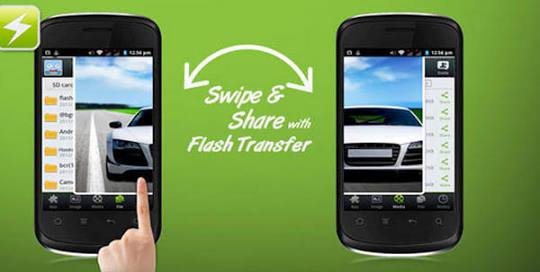 Other Features On Flash Share
Flash Share also has the ability to connect to iOS devices, specifically the iPhone.
The app also shows your traffic stats, memory usage.
Though Android already has this as a built-in feature, the app also enables users to share cellular data with family and friends.
How To Download And Install Flash Share APK
The Flash Share app can be installed in three different ways on your Android phone.
Installing Flash Share Via Bluetooth
This is probably the traditional way of installing most Android phone apps given that it is quite easy and it doesn't require any technical procedure. To install any desired file transfer app or smartphone app generally, follow these procedures:
Switch on your Bluetooth and make it visible to nearby devices.
On the sender's phone visit SETTING>INVITE FRIEND>SELECT BLUETOOTH and receive the same file through Bluetooth.
Installing Flash Share From APK Sites
Any APK app can easily be downloaded from an APK site. Simply follow these procedures to download and install APK files to your Android device.
Visit the APK download site to download the Flash Share file app
Go to your browser settings and click on security. Scroll mid-way of the page and enable installation from an unknown source.
Open the folder containing Flash share and install it.
Note: If you failed to enable installation from an unknown source you will not be able to install any APK file.
Installing Flash Share On Your PC Or Desktop
Flash Share can be directly installed from a PC to your smartphone using the APK desktop installer. What it does is install any APK file directly to your smartphone without prompting you to enable installing apps from an unknown source.
Installing APK files can be made very easy using your PC through the following steps:
Download and install the APK installer for PC and restart your PC afterward (Not compulsory)
Connect your Android phone to your PC and enable debugging via the developer option for the APK PC installer to detect your Android phone. Then select the phone and click on the 'OK' tab to proceed.
Click on install at the upper left of the APK PC installer homepage, select tools from the bottom of the page that follows, and click on open APK to add the list of all the APK apps you want to install on your Android.
Tick the APK apps you want to install on your device and click on install to the right bottom of the APK install page.
Also See: Everything You Need To Know About Spectranet Broadband And ISP
How To Transfer Files With Flash Share
Download the Flash Share App from Google Play Store
Create a username and password for your account after installation.
After establishing your account, click on the "Connect with friends" icon. Two options will pop up, the "create a connection" and "scan to join" options.
Click on the "create a connection" icon and on the receiving device/s, click the "scan to join" icon and a wifi connection will be established.
Select the files/apps you intend to share.
Shake your Smartphone to send the applications you have highlighted.
For the receiving device/s, go to history on your Flash Share application and install that set up you just received.
Though your device may notify you of data from an unknown source, you can simply fix that by going to your phone's settings and opening applications then checking the box label unknown source.