Thanks to technological trends, banking operations in Nigeria have advanced from physical to mobile and internet banking. Banks have leveraged the ease and speed of mobile banking to improve the effectiveness of the sector.
Nowadays, visiting the banking premises to make simple tasks like transferring money and paying bills has become unnecessary with mobile banking systems. The crown of it all is the ease customers now recharge their mobile phones without scouting for retail shops.
The introduction of the Unstructured Supplementary Service Data, also known as USSD codes, has made banking activities even much easier for Nigerians. You also don't need an internet connection to use these bank USSD codes make it more interesting. In view of this, we will show you practical steps to buy airtime from your access bank account using these codes.
What are Access Bank USSD Codes?
Following its commitment to providing more alternative solutions for our customers at no extra cost, Access bank introduced *901# as its USSD code. The code is available to all individual account holders whose phone numbers are registered with any of the mobile network operators (MTN, GLO, Airtel, and 9Mobile) and correctly maintained with the bank.
Conditions You Must Meet Before Using The *901# Code
Have an account with Access bank
Have a mobile number registered with the bank
Register/generate a 4-digit pin necessary for making airtime transfers
Joint, corporate, and multiple signatory accounts are not eligible for this service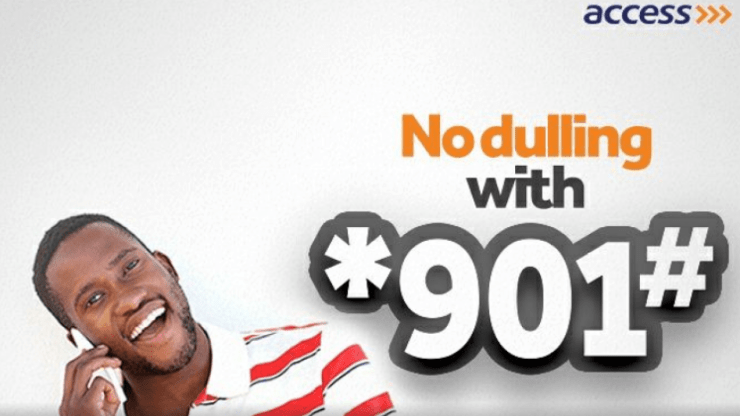 How to Register for the Access USSD Code
Dial *901# with your registered phone number and click on 'Transfer'
Enter the last 6 digits of your Debit Card number
You will be prompted to input your 4 digits secret pin on your debit card, date of birth if you do not have an active debit card.
Enter your account number
Create a 4-digit PIN
How To Buy Airtime Using Access Bank USSD Transfer Code *901# 
With the Access bank USSD transfer code *901#, you can easily top-up your airtime any day anytime in Nigeria. If you meet the aforementioned conditions, you can buy airtime by dialing *901*Amount# on your phone. For example, you dial *901* 1000# to purchase airtime of N1000.
To Buy Airtime for Another Number
To top-up Airtime for a friend, close one, or another number that is not registered with the bank, the same Ussd code is applicable, however, with a minor iteration.
Dial *901*Amount*phone number# Eg: You dial *901*1000*08023990000# to transfer N1000 airtime to someone.
You will receive a message seeking your confirmation on the recharge of N1000 to another number. Authenticate the transaction using your 4-digit PIN.
A confirmatory message telling you that you have successfully purchase N1000 airtime to the number will follow shortly afterward
Things To Note Before Using the Access Bank Transfer Code
You can use this service even if you have more than one account with Access bank. Just ensure that that your phone number is registered with the bank.
This process works for all networks in Nigeria (MTN, Glo, Airtel, 9mobile)
To purchase airtime to another number that is not registered with the bank, you will be required to authenticate the transfer using a 4-digit PIN before the transaction is completed.
There are no charges for buying or transferring airtime to yourself or someone else's phone. It is free.
Once you use this code, the amount requested will be automatically deducted from your bank account.
Other Ways to Buy Airtime From Your Access Bank Account
Aside from using the Access Bank USSD code, there are various other ways you can easily buy airtime from your account. The three other areas you can use to buy airtime from your Access bank account include:
The Access bank app downloaded from your app/play store,
Go Online via the bank's website
Use the automated teller machine (ATM) nearest to your location
How to Buy Airtime using Access Bank Mobile App?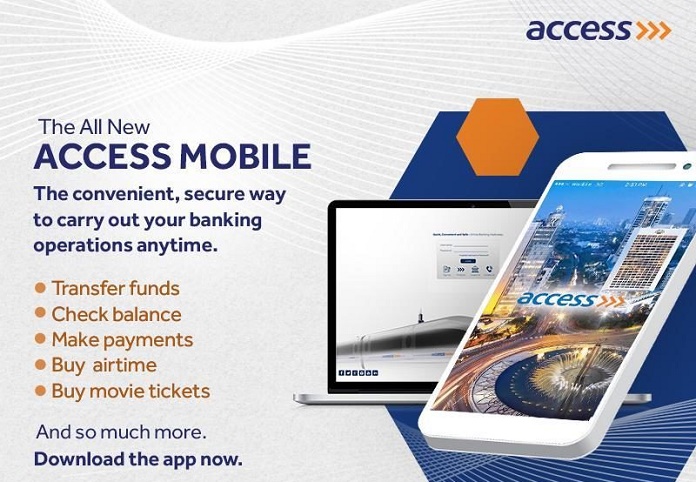 To be able to buy airtime from the Access bank mobile app, you must have the app downloaded and installed on your phone. These steps will guide you on the Access bank app registration and use:
Download the Access bank app from your PlayStore or iOS Store
Get registered by entering your profile and bank details
If you have successfully registered, you can log in with your username and password,
 Click on "Menu" and select 'Bills'
Navigate to Mobile top-up and select the account number you wish to recharge
Select the network you wish to recharge, (i.e MTN, Glo, 9Mobile, or Airtel)
Input the amount and click on the send button
Enter your authentication pin or Token to complete the process.
To Buy Airtime Using Access Bank Online Platform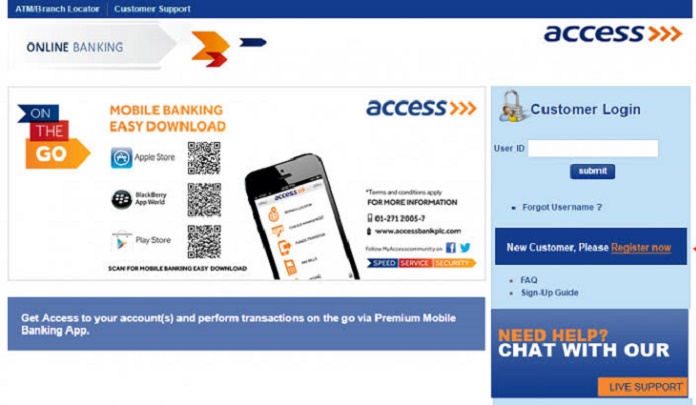 Access bank online platform serves as another platform for its customers to access their fun easily. Although this process involves the use of data and an active mobile phone, it is also considered as another easy way to make transactions. To use the Access bank online platform, you must first meet all the following requirements:
You must be an Access Bank account holder. Be it current or savings account
The phone number and email that you used to open the access bank account must be active
A smartphone is required (android, IOS, etc)
Active ATM card
Follow these steps to register on the Access bank online platform
On your browser, type www.accessbankplc.com
Click on Internet Banking by the top-right corner of the page,
Please enter your valid Current/Saving Account number and hit the "submit" button
You will receive an authentication to your mail and to your mobile phone via SMS
You will be asked to enter the Activation Code & submit
Once you have successfully entered a valid activation code, you will be taken to the next screen where you can choose your ID, Password, Secure Image.
Accept the Terms & Conditions and submit.
Now you are ready to Log on to Access Online Banking and continue
Process of Buying Airtime
If you have successfully registered for online banking, you can log in and begin your banking activities that, of course, include purchasing airtime from your account. To recharge your phone or send airtime to another number, these steps will be of help:
 Visit the Access bank online platform here
 Locate the login area and enter your details that include your username and password
Click on your desired service you want to perform from the menu
Enter the recipient details such as account number for transfer or phone number for airtime purchase
Verify to ensure all information is correct
Input your security code for authorization and submit.
Buying Airtime Using an ATM Card
Your Access Bank ATM card is also a useful tool that could help you purchase airtime from your account:
Insert your card in an ATM machine and log in with your 4-digit pin
Click "Airtime Recharge" in the ATM menu. Select the network and input the amount. Input your phone number and confirm the transaction.
Note: Some ATMs will require you to select QuickTeller first from the initial ATM menu before you go to the Airtime Recharge