The internet now occupies a large part of people's lives, and Nigerian internet service provider, Spectranet – the first to launch 4G LTE internet service in Nigeria, may have redefined competition in the broadband market.
Spectranet is one of the fastest, reliable and affordable broadband Internet services in Nigeria and it currently has its services available across Lagos, Abuja, Ibadan and Port Harcourt and hopes to include more cities and states to their 4G LTE network in the near future.
Spectranet Devices
Spectranet Nigeria provides various devices to support your internet connection with options like:
Spectranet Indoor Wifi – Which provides you with a fast and constant internet connection. It supports multiple OS, like Linux, MAC, Windows, and Android. Several persons can use this router.
Spectranet Portable MiFi – This high-speed wifi router is perfect for home, office, and business. It also provides a multi-user connection.
Spectranet Outdoor Modem – The main advantages are high signal strength, reliable and constant internet connection plus the superior quality of the signal. You can perfectly use this router for home or your enterprise.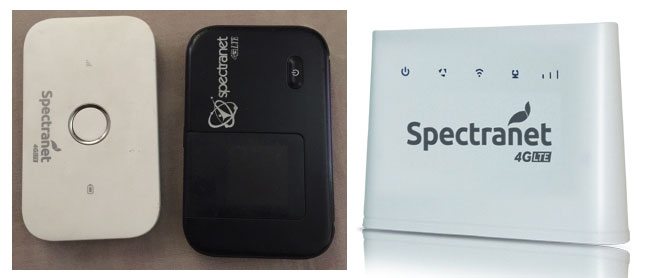 Spectranet Self-care Portal
The Self-care portal via (https://selfcare.spectranet.com.ng) is a platform specifically designed for Spectranet subscribers to manage their data plans by themselves.
You can buy new data when your current data has expired, check your data balance or expiry data, monitor how much data you're using and if you're using it in an office or sharing it with one or more people, you can even monitor the devices connected to it consuming much data.
The Self-care portal is also accessible when you don't have a subscription or when it has expired and you're connected to the Spectranet network, this way you can easily buy or subscribe for a new data plan.
But before you can check your Spectranet data plan balance, you must have changed your password from the self-care portal when you first logged into the site.
You will be asked to change your password at the point of purchase of the Spectranet Wifi Modem, where you will be issued a login username and password which you will use to login into the self-care portal, then you will be asked to change it after the first login.
How to pay for Subscription on Spectranet Self-service
Log in to your account
When you're on your account screen, click on "refill" on the left sidebar.
After clicking on refill you'll be shown two options, which are:
Use Prepaid Voucher: You can buy Spectranet's prepaid voucher from any of their stores or partners outlet for any of the plans you wish to subscribe for.
If you have a prepaid voucher, simply click on the "use prepaid voucher" option. This would take you to a new page where you'll be able to input the prepaid voucher pin and refill your account.
Refill your account using Webpay: On clicking on this option, you'll be taken to a new page where you'll be asked to enter the amount you wish to pay and in what currency (The default currency is Naira).
Enter the amount and click submit, you'll be taken to the Webpay portal. On the portal, you'll need your ATM details to enable you to pay online.
After refilling your account, go back to your Account Summary page.
Scroll down you'll see two options for you to either Renew your data subscription with your current plan or with a different plan entirely.
Changing your Password
In case you forget your password, you don't have to fidget about that. Just go to the Self-care portal and click on the forgot password link on the portal. Enter your username and the characters in the Security Image then click the 'Submit' button.
See Also: Swift Nigeria 4G/LTE Network Internet, Data Plans And How To Log In
You will receive a temporary password instantly via SMS and the e-mail you registered with. Enter the temporary password and you will be able to access your Self-care account. Change the temporary password to your preferred password.
Data Plans
Spectranet data bundle plans range from N3,000 to N70,000 including some all Nite Plans which have 24 hours access on weekends and Public Holidays.
They also have a 'Free Night' offer which means Unlimited Free Night browsing between 1am – 7am. See table below;
| | | | | | |
| --- | --- | --- | --- | --- | --- |
| Plan Name | Plan/Data | Plan Cost | Additional Bonus | Validity | Access |
| Unified Value 2GB | 2GB  | N3,000 | Nil | Monthly  | 24 x 7 |
| Unified Value 5GB | 5GB | N5,000 | Nil | Monthly | 24 x 7 |
| Unified Value 20GB | 20GB | N10,000 | 10GB + Free Night | Monthly | 24 x 7 |
| Unified Value 50GB | 50GB | N20,000 | 10GB + Free Night | Monthly | 24 x 7 |
| Unified Value 100GB | 100GB | N40,000 | 10GB + Free Night | Monthly | 24 x 7 |
| Unified Value 200GB | 200GB | N70,000 | 10GB + Free Night | Monthly | 24 x 7 |
| Unified Nite Value 20GB | 20GB | N7,500 | Nil | Monthly | 7pm – 7am |
| Unified Nite Value 40GB | 40GB | N11,000 | Nil | Monthly | 7pm – 7am |