Lizzy Anjorin (Full Name: Elizabeth Aishat Anjorin, born April 4) is a Nigerian actress and movie producer known for Ise Onise (2009), Arewa Ejo (2009), and Owowunmi (2010). Although her year of birth is not known, she is presumed to be in her 30s or 40s.
The actress was born into a struggling family where she hawked with her mother at a tender age to make ends meet. This led her to do menial jobs to survive until she joined the movie industry.
The diva moved into film production upon realizing that the Nigerian movie industry may soon collapse due to the lack of investments in the sector and pirate activities in the industry. It can be said that the fear of poverty pushed Lizzy into success. Today, Anjorin is one of the most successful female artists in the movie industry.
Summary of Lizzy Anjorin's Biography
Full name: Elizabeth Aishat Anjorin
Date of birth: April 4
Place of birth: Lagos, Nigeria
Occupation: Actress, producer, entrepreneur
Education: Olabisi Onabanjo University, Ogun State
Net worth: $1 million
Marital Status: Married
The Actress Was Born and Raised in Lagos State, Nigeria
While her actual year of birth is not known, Lizzy was born on the 4th of April to Oba Lamidi Adeyemi III. Although her mother's identity is unknown, she gave birth to her daughter at a tender age, while her baby's father died some months after her birth. Lizzy was a Christian up until 2013 when her mother died. She left Christendom and joined Islam because pastors refused to bury her mother when she died. This explains why she took up the name Aishat. She explained in an interview that her father was a Christian while her mother was a Muslim, and she decided to follow her mother's path.
Anjorin struggled through primary and secondary school in Lagos and later obtained her National Diploma in the Federal Polytechnics Ilaro, Ogun State. Her first admission to study Law at Adekunle Ajasin University, Ondo State, was unsuccessful due to lack of funds. However, she later continued her education and graduated from Olabisi Onabanjo University, Ogun State, with a BSc. in Transport Planning and Management in 2017.
Lizzy Anjorin Became Famous Through Acting
There are so many reasons why people choose to do what they do in life. When it comes to choosing a career, there are reasons ranging from the influence of parents to personal decisions. For the famous actress Lizzy, she chose her acting career because of her passion for the arts and her movie-production career came in a bid to escape poverty. For someone with her kind of background, Anjorin has done justice to her fears. She has achieved both fame and fortune in the movie industry and is still in the business.
As an actress, Lizzy has acted in movies like Arewa Ejo (2009), Ise Onise (2009), Owowunmi (2010), and The Dance Movie Project (2016), among others. Her roles in movies have been well-acted, and this bought her the fame she is now enjoying. Anjorin did not rest on her achievements as an actress; rather, she moved into movie production for sustainability and continued in the movie business.
As a producer, Lizzy Anjorin has produced many movies and, it was the movie Owo Naira Bet that brought her into the limelight as a producer and got the many reviews that bought her a spot in the hall of fame. Other movies she has produced include:
Tolani Gbarada
Kofo Tinubu
Kofo De First Lady
Gold
Iyawo Abuke
She Also Owns A Fashion Business
As an entrepreneur, you don't put all your eggs in one basket and as the adept businesswoman that she is, she has left her choices open. Lizzy owns a fashion business that she advertises on her Instagram page. Anjorin's fashion store is located in Lekki, Lagos, and is visited more by government officials. Lizzy loves fashion and has eyes for unique things, which is why we often see her in unique attires. This passion for the good stuff is what she turned into a business and now deals in unique materials.
Her Awards and Recognition
Every successful person deserves some awards, especially if they have attained a pro status in the field. As an actress, Anjorin has won a few awards due to the quality service she renders in the movie industry. Below is a list of these awards.
Best Actress at the 2012 Young Achievers Awards
Yoruba Movie Personality of the Year at the 2014 City People Entertainment Awards
Special Recognition Award and Yoruba Movie Personality of the Year (female) in the 2017 City People Movie Awards
Anjorin is Married to Lateef Adegboyega Lawal
After staying for a long time without a man in her life, on the 16th of July 2020, Lizzy married Lateef Adegboyega Lawal, her Muslim friend with whom she has been acquainted for 14 years. In an interview, the actress confirmed that she has known Lawal for a long time, but didn't agree to his marriage proposal because she was not ready at the moment. She wanted to be successful before getting married so that she would not have to depend on a man for anything. He has been there for her and her late mother and they have been good friends for a while before getting married.
After many years of declining, Lizzy finally said yes to Lawal and they tied the knot on the 16th of July 2020. they had a simple and private wedding to keep the public out of their private life. Moreover, on 1st May 2021, she welcomed a new baby with her husband in a hospital in Miami, Florida, USA.
Lizzy Anjorin Has Courted Some Controversies Over The Years
These controversies range from marital to social media disputes. It is true that on the ladder to success, so many toes would be stepped on, and with Anjorin, it is not different. She has had issues with fans, fellow actors and actresses, rivals in the movie industry, and so on. Like other celebrities, her career has had its ups and downs.
Controversies About Her Marriage
There have been claims that Lizzy's husband, Lateef, abandoned his wives to be with the actress. He has been identified as a Muslim man with five wives. Following these claims, Anjorin has received many backlashes on social media and has been dubbed a husband snatcher by many.
However, Lizzy denied these claims on her Instagram page on the 19th of July 2020, when she said her husband does not have any other legal wife and that he does not have the strength to have married up to four wives. She also stated that they know the law on Bigamy and the consequences of committing the act. It was in her defense that Anjorin mentioned that she had known her husband for 14 years before getting married to him. She concluded by saying that it was a plot by her rivals to ruin her image.
Lizzy's Unending Feud With Her Colleague Toyin Abraham
Lizzy Anjorin has had many controversial issues with her colleague, Toyin Abraham, on Instagram. These two have had the greatest quarrel in the Nigerian Yoruba movie industry that required the intervention of Yoruba movie actors like Iya Rainbow and Antar Laniyan to settle. Abraham is always against how Lizzy shows off her wealth a lot on social media, while Anjorin feels she should just mind her business.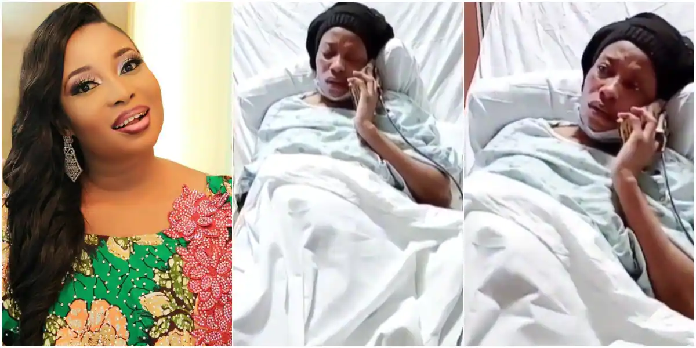 In 2019, Lizzy accused Toyin of giving birth to her baby boy in a health practitioner's place and not a hospital. Toyin did not take this lightly with her, and the two have been quarreling since then. When Lizzy gave birth to her second child, it was Abraham who uploaded the video to get back at her, inciting her fans to question the country in the video. This led to Anjorin's fans blasting her on the video clip of the hospital she gave birth in, saying it doesn't look like a hospital in Florida as she boasted on Instagram.