A new research has scientists working on the possibility of dogs being used to detect malaria in the future.
Distinctive chemicals found in the breath of people infected with malaria can be sniffed out by dogs with their sharp sense of smell and could save thousands by sniffing out the disease early on.
The researchers are hoping dogs will lead the way to non-invasive testing that can detect malaria and be used on large numbers of samples at a time.
The project, led by scientists from the London School of Hygiene and Tropical Medicine, has been awarded a grant by The Bill and Melinda Gates Foundation to further the research.
It is also being supported by the University of Durham, the Medical Research Council (MRC) in the Gambia and the UK charity Medical Detection Dogs.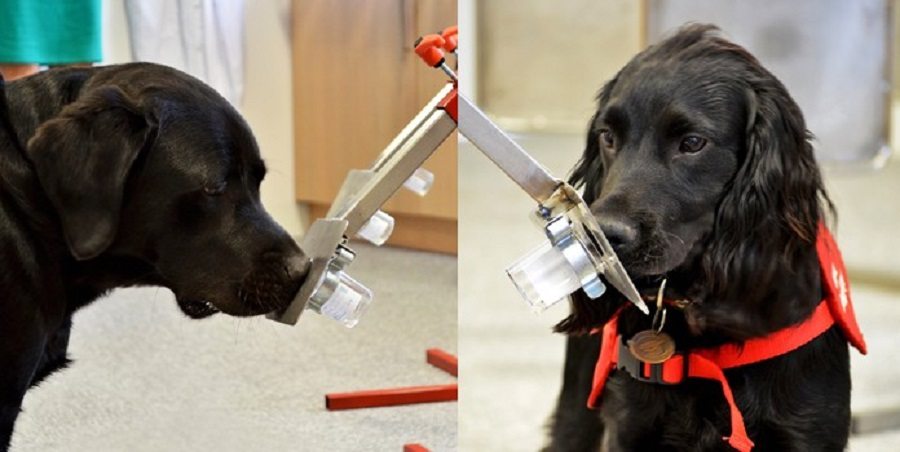 Current tests require finger-prick blood collection and laboratory screening but, in contrast, dogs are portable and rapid.
Dogs and their acute sense of smell can already track down drugs, pursue suspects, find dead bodies and malaria could soon be added to that list.
James Logan, senior lecturer in Medical Entomology at the London School, who alongside his team will be conducting the research, said in a blog post that dog detectives do not require a laboratory, but rather are portable, inexpensive, and could rapidly screen many individuals.
The research, currently in its very early stages, will collect urine and sweat samples from 400 Gambian children, including a proportion known to have malaria. The children will be asked to wear nylon socks for 24 hours, which will be used together with skin swabs to provide the sweat samples, according to the London School of Hygiene & Tropical Medicine.
The dogs will then be trained to distinguish between positive and negative samples using odour clues. This research is expected to help in finding out who is carrying a malaria parasite in communities where the disease is at a low level.
The Bill and Melinda Gates Foundation, formed by the Microsoft founder and his wife in 2000, has focused much effort in finding a cure for malaria and is now funding the ground-breaking research.
Last year there were 214 million malaria cases and an estimated 438,000 deaths, with ninety percent of deaths recorded in Africa. The most vulnerable were children under five years and pregnant women.
Becoming a medical detector dog… What are the criteria?
It is paramount to note that it takes a lot before a dog is certified medically fit to detect malaria or other diseases. Medical dogs are trained by sniffing samples of people already diagnosed with cancer and those of people without the disease so they can learn to express the difference.
Some of the traits that are generally considered include; motivation, response to reward, their environmental soundness, behaviour characteristics and relationships with humans – i.ei their ability to bond and willingness to please.
See Also: 7 Amazing Reasons Why You Should Own A Dog
Interesting facts you need to Know
The Bill & Melinda Gates Foundation made a £70,000 grant for the advancement of the project.
If the idea works, travellers entering regions that are malaria-free could be screened using it.
In preparation for training the dogs, sweat samples from 400 Gambian children are expected from the London School of Hygiene.
This is not the first time dogs have been used in health-related trials. Some time ago, a German Shepherd was able to sniff out thyroid cancer in urine samples with a success rate of 88 percent. Frankie, as it is named, was trained at the University of Arkansas for Medical Sciences.
In 2014 precisely, a heroic dog named Daisy the labrador sniffed out her owner's cancer and also found disease in 551 patients. According to reports, a Labrador's nose is more than 300 times more sensitive than that of a human being.
A dog's sense of smell is around 1,000 to 100,000 times more sensitive than a human's. Dogs have around 125 to 300 million scent glands while a human's scent gland is about 5 million.
Recently, it was reported that researchers are looking forward to creating a breakthrough method of using dogs to detect ovarian cancer. It's also believed that investigators have even started inventing devices that may detect cancer by "mimicking" the sensitivity in a dog's nose. Apparently, it looks like the future holds so much for bio-detection and medical detection dogs. The project if successful in training dogs to detect malaria with high accuracy will significantly reduce the time spent in detecting the disease and giving medication to sick patients.