We all want to believe in genuine love and fairy-tale endings, but relationships aren't always as romantic as they are in the movies – even for celebrities. Famous power couples have to deal with the same problems the rest of us do, but they do it all with lots of media attention. The love life of influential Nigerian politician and businessman Dino Melaye has always been very controversial. The former lawmaker has not found marriage any easier than his political career. The two aspects of his life have recently been saddening and unfavorable to him. 
Dino's marriages are filled with endless controversies, several domestic violence accusations, and cheating allegations. Amid all, the former lawmaker has fathered some children. Dino may be popular for flaunting his luxuries on the media, but certainly not so with his family. However, the Kogi State former lawmaker does have a family with beautiful children that are equally doing well on their part. Here are facts about Dino Melaye's love life and family you would love to know
Dino Melaye Has Been Married Twice
The former Kogi state lawmaker Dino Melaye has had many flings with women, but he married only twice, with his first wife being Tokunbo Melaye and his second, Alero Falope. However, Dino is currently living with neither of them. His latest marriage only lasted for only six months before they went their separate ways.
Interestingly, both Dino's first and second marriages failed for similar reasons, including domestic violence and infidelity. After his fallout with his second wife, the Kogi state indigene seems not to be willing for any other relationships. Instead, he plunges his money into businesses and buying luxury cars and accessories.
Dino Married His First Wife, Tokunbo Melaye, in 2003
Dino Melaye's first wife is Tokunbo Melaye (nee Fabiyi). The former Nigerian lawmaker got married for the first time when he was 39 years old. There is no much information regarding the personal life and career of Tokunbo, as she only became popular after her marriage to a famous politician. However, there are claims that she was his longtime girlfriend and that she supported him during his time of lack.
As love would have its way, they eventually sealed the union in 2003. Unfortunately, their legal union only lasted for a decade. But before they called it quit on their marriage, their union led to lots of controversial headlines.
Their Union was Plagued with Accusations of Domestic Violence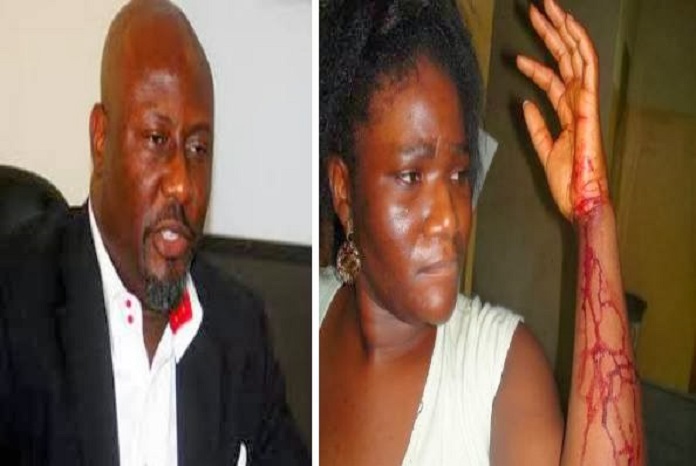 The exact time Dino and his wife began having complications in their marriage is unknown, as it wasn't until Tokunbo gained the courage to voice out her sufferings as Dino's wife. She also included pictures of injuries she received from the numerous physical abuses Dino meted on her. It was through her confessions that the world knew about the strange happenings in their marriage. Tokunbo said her worst experience with her estranged husband that made her choose to end their marriage was when he pointed a gun on her head and threatened to pull the trigger.
Tokunbo Filed for Divorce in 2013 Following Dino's Alleged Infidelity
Things became sour between Dino and Tokunbo when the latter found out that her husband was unfaithful to her with a popular Yoruba actress named Bisi Ibidapo-Obe. The actress was not the only one the former member of the House of Representatives had an affair with when he was still married to Tokunbo. He was also rumored to have had an affair with Alero Falope, who eventually became his second wife.
Things went all wrong in their marriage, and not even the love of the kids they had together could save their marriage. In 2013, Tokunbo knew she had enough physical abuse, death threats, and more from her unfaithful husband. She then summoned courage, contacted her lawyer, and filed for a divorce. Their divorce was finalized in 2014.
Meanwhile, on his part, Dino issued a statement denying all Tokunbo's claims and accusing her of tarnishing his image. The former lawmaker also accused her of conniving with his political enemies to imprison him over illegal arms possession. In his statement, through his family lawyer, Dino accused Tokunbo of stealing, infidelity, and abandoning their children to go for plastic surgery in India. He also opined that his estranged wife was rooted in ensuring his image was tarnished.
Before their divorce, which took almost a year to finalize, Tokunbo moved out of her marital home as the divorce was being processed. According to her, she could not stand being in the same space with Dino Melaye any longer. During that period, Tokunbo had to bear with having limited chances of seeing her kids as Dino Melaye made it almost impossible for her to see or contact them. She would make unaware visits to her children's school to spend few minutes with them after the school's closing hour.
After their Divorce, Dino Married Alero Falope in 2014 
Dino Melaye and Alero Falope dated for 4 years before getting married in January 2014. This means the couple started dating while the ex-senator was still married to his first wife. The couple had a glamorous wedding, which was attended by many known celebrities in Nigeria. However, details of their wedding, including where it took place and when it happened are unknown.
Alero Falope is a University of Ibadan graduate, and she is popular for being the second wife of Dino Melaye and the niece of Daisy Danjuma, a former lawmaker from Edo State, who represented Edo South Senatorial District at the Nigerian Senate from 2003 to 2007. Like Dino Melaye, Alero Falope had just come out of a failed marriage, and she had a child from that marriage, but her ex-husband won custody of the child.
His Second Marriage Also Ended Due to Domestic Abuse
Alero Falope must have thought getting married to Dino Melaye would be as rosy as it was during their dating period. Unknown to her, her marriage would only last a few months. She started experiencing horrible things Tokunbo experienced while married to Dino, and Alero would not wait so long before she eventually left him.
Six months into their marriage, Alero packaged her belongings and left her husband's house despite being 5 months pregnant with his child. In a leaked SMS Alero and Tokunbo exchanged, it appeared that she was physically abused the same way Tokunbo was. She called Dino a bully and expressed how sorry she felt for Tokunbo as she only suffered for 6 months what Tokunbo suffered in 10 years.
How Many Children Does Dino Melaye Have?
So far, Dino Melaye is known to have 5 kids from three separate women; 3 from his first wife Tokunbo, one from his second wife Alero Falope, and one from his ex-mistress Bisi Ibidapo-Obe. All of Dino Melaye's children were born in Nigeria. Of all his children, only two of his sons- Joshua and Israel –  are a bit popular for various controversial reasons. 
Dino Melay's Kids with Tokunbo
THE MELAYE'S pic.twitter.com/oMKRwRDTr8

— Senator Dino Melaye. (SDM) (@dino_melaye) August 2, 2020
With his first wife, Dino Melaye had his first 3 kids, two of whom are boys named Israel Asiwaju Melaye and Joshua Oluwakimbati Melaye, while the third is a female named Ruth. It is believed that all three of Dino's kids with Tokunbo are currently residing in the United States of America. Nothing much is known about them except for their pictures which the former lawmaker flaunts on his various social media platforms. 
Israel Asiwaju Melaye
Israel is Dino Melaye's eldest son. His actual birth year is unknown, but he celebrates his birthdays on January 14th every year.  Israel is not so much a public person, and unlike his father, he prefers to keep to himself and relate with only a few of his close friends. Meanwhile, there were claims that one of Melaye's sons is a popular low-key comedian at the University of Lagos (Unilag). It is, however, not clear if the person was Israel or any other of the Melaye family.
Joshua Oluwakimbati Melaye
Joshua is Melaye's second son. He also celebrates his birthdays on January 13th every year. He has once been involved in controversies concerning his father. Joshua referred to Nigerians as ingrates in what seemed like an outburst of betrayal and disappointment on how his father was being dragged on social media following his theatrics with the police and the federal government in 2019. He also added that those involved in criticizing his father are also on his page begging for alms.
Dino Melaye Has a Daughter with His Second Wife Alero Falope
During his short marriage to Alero Falope, she got pregnant for him few months before they separated. Their child was born in late 2014. Further news about Dino and Alero's daughter rarely circulates the media except for reasons of her birthday.
He Also Has a Daughter with Actress Bisi Ibidapo-Obe
Bisi Ibidapo-Obe, a Nollywood actress famous for starring in Yoruba indigenous movies, is one of Dino Melaye's baby mamas. His fourth child was Bisi Ibidapo-Obe's daughter, Destiny Okiki Oluwajomiloju Dino-Melaye. Destiny is aged 8; she was born on November 30, 2012. Even as Dino Melaye was not present when Destiny was Christened, she still takes his last name.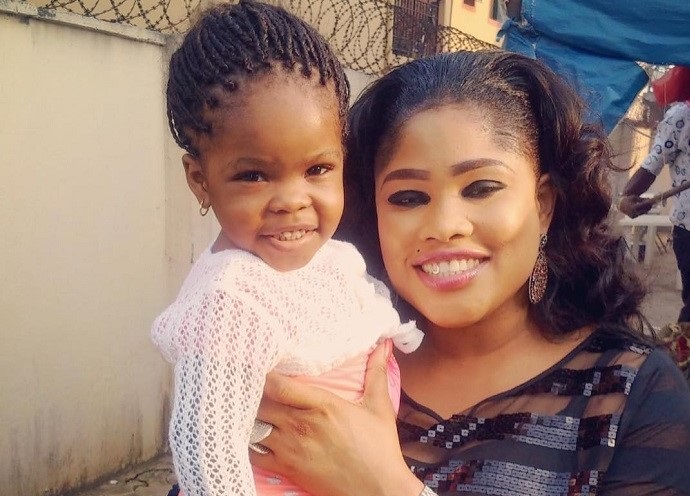 The pair were having an affair while the Kogi politician was still married to his first wife. When the actress announced she was pregnant, and the father of her unborn child was the former senator, Dino was quick to deny the pregnancy and asked that a DNA test be done. Dino also described Bisi's claim of being pregnant as an "African Magic story" and the thought that he would be the father of her baby as "an expression of fiction."
Ms. Ibidapo-Obe gave birth to her baby girl on Friday, November 30, 2012, at Reddington Hospital, Ikeja, Lagos, and many rumored that the baby had a striking resemblance with the politician. It is not clear if the actress went ahead with the paternity test, but four years after, Dino acknowledged the kid as his own when he wished her a happy birthday.