Davido has three children; daughters Aurora Imade and Hailey Veronica, and son David Ifeanyi Jr. The 31 years old Nigerian singer had all of his kids from different women. 
Davido's first child was born in 2015 when he was about the age of 23. His second child came in 2018 while the third one came a year later in 2019. Davido loves all of his children and has played an active role in their life.
How Many Children Does Davido Have? 
Davido is a father of three children; two daughters and a son. His first daughter Imade is a product of his relationship with Sophia Momodu while his second daughter Veronica was born from his brief relationship with US-based model Amanda. His third child, son David was born to his lastest girlfriend Chioma.
Davido's First Daughter Aurora Imade Adeleke is a Brand Ambassador and Child Model
The 8-year-old was born on May 14, 2015. She is the oldest of Davido's children and is a product of her father's relationship with Sophia Momodu.
Her birth came with several controversies and tussles between her parents. Also, there are allegations that her mother met Davido while he was about the age of 21 and she was quite older than him.
She was said to have taken advantage of the generosity and benevolence of Davido, which perhaps may have resulted in the pregnancy that led to the birth of Imade. Well, pointers showed that there was a paternity test and Davido also fought to keep her but her mother also wanted her. The duo later settled to share custody.
Heading to her education, Aurora Imade is said to be attending Parkview International School in Ikoyi, Lagos, alongside Tiwa Savage's son Jamil where they both graduated from kindergarten in 2017.
Rather than only being one of Davido's children, she is also currently making a name for herself as a child model and a brand ambassador. She endorses Eva Soap.
Hailey Adeleke is Davido's Second Child
Hailey Veronica Adeleke was born on May 9th, 2017, as the second daughter of David Adeleke. The 6-year-old lives in the United States with her mother Amanda and attends school in the said country. Even though she is a child Instagram model with tons of followers, her father's fame is what has brought her to the limelight.
Like other Davido's children, she makes it to the social media page of The Headies award-winning singer. One of her most memorable presence on the media that went viral is her twerking on her 4th birthday and being cautioned by her father to stop the dance.
Her bond with Davido is close and the singer dubs her his twin.
David Adeleke Jr. is Davido's Only Son
The only son among Davido's children, David Ifeanyi Adedeji Adeleke, was named after the singer. He is currently 4 years old and was born from the high-profile relationship between the singer and Chioma Avril "The Chef Chi" in 2019.
David Jr. taps his fame mainly from his father. Regardless, he has been listed as an executive producer in his father's 3rd studio album, A Better Time. His picture and that of Davido are also on the cover of the album.
Who are the Mothers of Davido's Children?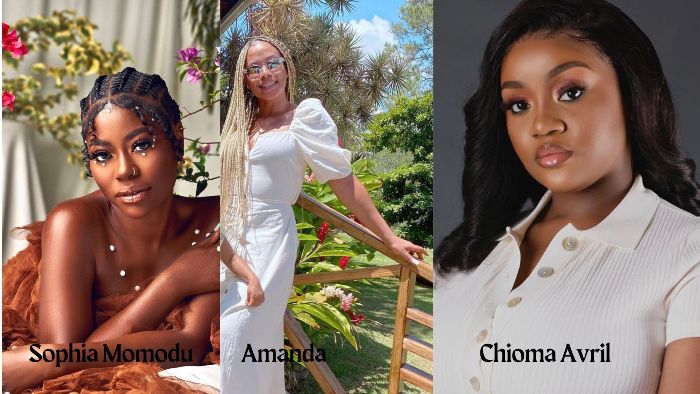 Sophia Momodu is Davido's First Baby Mama and the Mother of Imade Adeleke
The first baby mama of Davido is Dele Momodu's niece, Sophia Momodu. She is a Nigerian entrepreneur, brand influencer, humanitarian, and CEO of director of The Sophia Momodu Brand, a clothing brand. She is also the founder of Precious Jewels Foundation – a foundation aimed at empowering and encouraging intellectual academic development in women and children across Africa.
Sophia is an Osun State Native who was born on June 9, 1987, and is currently 36  years old. It was around 2014 that she reportedly met OBO and according to his side of the story, she maneuvered her way into his home. In another account, it was recorded that they had an off-and-on relationship.
Whatever that real side of the story was, she had Imade in 2015. The birth of the young celebrity child came with controversies as her parents had gone as far as social media to vent their frustrations.
According to sources, the birth also came with a paternity test on Davido's first daughter Imade. The controversy increased when the singer claimed that Sophia was using alcohol and Indian hemp and it was found in the system of Imade while she was still a baby. As such, the girl had to be taken to Dubai. The afrobeat singer and producer also dragged her uncle Dele Momodu into their higgledy-piggledy.
On her own part, Sophia claimed that Davido and his family had abducted the girl and had kept her since 2015. Apart from the drama of back and forth with the child, Sophia has reached to the social media to show her displease that Imade had adopted all of Davido's names but not even a single letter in hers. She claimed that her mother had to make points about why the girl had to use her father's name.
Currently, she has a better relationship with Davido, with the singer not failing to pass comments on her posts on social media.
Amanda is Davido's Second Babymama 
Davido's second baby mama is also known as Mandi as well as Laplubelle on social media. She is the mother of Hailey Veronica Adeleke and is Atlanta-based. Of the women that had children for Davido, she seems to be more private but supposedly studied political science and graduated in 2019.
Chioma "Chef Chi" Avril Rowland is the Mother of Davido's Only Son
Also known as Chioma Davido, the third baby mama of the singer hails from Imo State in the eastern region of Nigeria. She is a chef, model, brand influencer, and mother of David Adeleke Jr. Her fame is a result of her affiliation with Davido.
The 28 years old met Davido while they were students at Babcock through a friend and they became friends. Their relationship, however, started around 2015. In 2018, Davido released Assurance to celebrate her 23rd birthday.
Subsequently, they became engaged and welcomed their first child together. Their marriage was slated for 2020 but was delayed due to the COVID-19 pandemic. In 2021, they split and the cause was due to the alleged infidelity of Davido with an American model, Mya Yafai.
In any case, around March 2022, there were rumors that they had rekindled their love. This is because there was evidence that Chioma attended the 02 Arena concert of the singer in London with their child.
Davido Allegedly Has Two Other Baby Mamas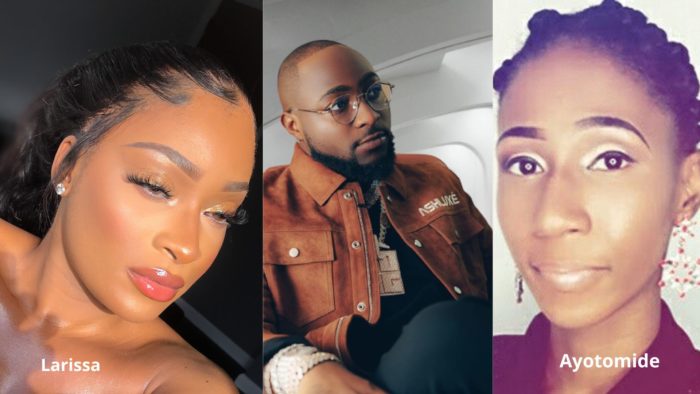 Ayotomide Labinjo Claimed to be Davido's First Baby Mama
According to the circulating news, she met Davido sometime in 2013 and had a sexual affair that resulted in a pregnancy that birthed a daughter, Aanuoluwapo Adeleke. While she has maintained that Davido was the father, there hasn't been any in-depth to the story.
In addition, Davido claimed that there was a paternity test but it came out negative. Yet, his team settled her some money out of pity. On her own part, she claimed that she never received money from him, even while they had an affair. Still, she called for another DNA test and disclosed that she was heading for the court if he was not going to take responsibility.
Likewise, Asa Asika, Davido's manager also made it known that the singer was not going to make himself available for any DNA test since the first had been done. According to him, she only wanted fame and money with the whole drama.
Larissa Yasmin Lorenco Allegedly Had a Child for the Singer While He was with Chioma
Larissa is a London-based make-up artist that was born in Angola. Some reports declared that Larissa Londo had been in the life of Davido since 2017 when he was in a relationship with Chioma. She seemingly attended some of the singer's shows in more than one country and by 2020, there were further assertions that she had given birth to a baby boy.
There are reports that Davido has since blocked her just so he could save his relationship with Chioma. Prior to the unconfirmed pregnancy and child, Larissa London was said to already be a mother of a daughter.