Antar Laniyan (born May 26, 1963) is a 60-year-old Nigerian actor and director whose career in the Nigerian movie industry has spanned over three decades. He has accumulated a net worth of over $1 million and has featured in major movies such as Ijakumo: The Born Again Stripper (2022), Last Request (2019), and Agogo èèwò (2002).
With every role he has interpreted and every work he directed, Antar achieved both fame and fortune. He is easily identified as one of the longest-serving actors as well as the legends of Yoruba language thespians. In any case, there is more about him to be explored – ranging from his unusual birth to his education, long career, wealth, and his family.
Summary of Antar Laniyan's Bio 
Full name: Antar Thywill Babatunde Laniyan
Nickname: De Black Prince
Gender: Male
Date of birth: May 26, 1963
Antar Laniyan's Age:60 years old
Ethnicity: Yoruba
Nationality: Nigerian
Zodiac Sign:  Gemini
Sexual Orientation: Straight
Religion: Christianity
Marital Status: Married
Laniyan's Children: 2 sons
Siblings: 3 brothers
Antar Laniyan's Net worth: Over $1 million (estimated)
Famous for: being an actor
Antar Laniyan's Instagram: @antarthywill
How Old Is Antar Laniyan?
Antar Laniyan is currently 60 years old. Although there have been varying reportsabout his age, he revealed in an interview that he was one year old in 1964 when Prince Jide Kosoko began acting. In this case, the actor was born on May 26, 1963, in Lagos. Nonetheless, he hails from Osun State in the southwestern geopolitical zone of Nigeria.
His birth happened in an unusual manner as his mother was pregnant with him for 18 months (1 year and 6 months). His parents were forced to find a solution and his mother was told to eat an animal called "aworinwo" or "antar" (Goanna). This resulted in his birth as well as his name, "Antar".
The actor was born into a royal and Muslim family before he later converted to Christianity. Regardless, he still upholds some values he got from Islam. When he was younger, his mother was the chief mammy market woman at Ilaro, Ogun State. On the other end, his father was working with the Federal Ministry of Education.
This also caused him to be moving from one location to another since his father kept being transferred.
Antar Laniyan's Education
Antar attended many schools while growing up since his family couldn't settle in a particular place. Some of the places he was schooled in were Lagos, Ilaro, and Ikere Ekiti. Among the earliest schools he went to is Ansarudeen Primary School. Later, he attended a secondary school in Lagos.
He subsequently went to the oldest university in Nigeria, the University of Ibadan. There he studied Theater Arts.
The Actor Played Football and Nurtured the Dream of Becoming a Soldier
While growing up, Antar was exposed to numerous things that shaped his thoughts toward a career. He played street football but his mind was on becoming a soldier – a career choice that his mother was not happy with.
He continued to hope to pave a way for himself in the military but his school principal, M.O Alake (father of Henry Dele Alake, journalist and special adviser to Nigeria's president Bola Tinibu) thought he would be better off as a Thespian.
Also, he met the playwright Ben Tomoloju "Pappy Ben" – a man who has a successful career as a journalist, activist, essayist, poet, singer, and former deputy editor of The Guardian. Pappy Ben thought that he may not make a very good soldier. Instead, the older man saw him as a young teenager who would have a prospect as an actor.
Antar Laniyan's Journey as a Stage and Mainstream Actor
His career started when he was 15 years old. He then met Ben Tomoloju in 1980 and they started Kakaki Art Court. In 1981, they opened Channel 7 and he continued to follow Tomoloju who helped to shape his acting skills and career.
In the earliest phase of his being a professional actor, Antar played many roles on stage. He later transitioned to a mainstream career and in all, he has lasted over 3 decades.
Although he featured in many stage dramas, it has been revealed that his first movie was Mojere in 1993. He became highly acclaimed when he featured in a 1997 film titled Sango. The film focused on the 15th-century Yoruba king, Sango (played by Wale Adebayo). The historical movie narrates how Sango became the Alaafin of Oyo and also a deity.
Antar played the role of Olowu and he featured in the film alongside famous people such as Peter Fatomilola, the late Rachael Oniga, Kola Oyewo, Ayo Akinwale, and Jimi Solanke. Away from Sango, another work that brought prominence to Antar is his being featured in  Super Story. His other earliest works are Hostages (1997), Most Wanted (1998), Oduduwa (2000), and Agogo èèwò (2002).
Antar Laniyan's Career as a Filmmaker
Apart from acting, Laniyan is also a prominent Nigerian director. He is most famous for directing the famous Wale Adenuga Productions TV series, Super Story for about 10 years.
In 2003, he directed a Yoruba-language Nigerian romantic film, Arewà. The movie which also starred Laniyan has other actors such as Funsho Adeolu, Idowu Philips, and Mide Martins.
In 2005, he directed other films such as Olufunmi and Durodola. His filmmaking career continued and by 2015, he featured as well as directed Aruga. This drama featured notable actors such as Lateef Adedimeji and Sunkanmi Omobolanle.
List of Antar Laniyan's Movies and TV Series 
Olola-Aginju (2022)
Ijakumo: The Born Again Stripper (2022)
Covenant (2022)
Ekun Iyawo (2022)
Alimi (2021)
The Cleanser (2021)
Kakanfo (2020)
Last Request (2019)
Atupa (2018)
Black Val (2016)
Aruga (2015)
Kabiosi (2015)
Yemoja (2011)
The Return of Jenifa (2011)
Òréré layé (2009)
Akandun (2007)
Idunnu mi (2007)
Egun (2007)
Alagbara (2007)
Eje adegbenro (2006)
Durodola (2005)
Wanted at All Cost (2004)
Kadara Mi (2004)
Arewà (2003)
Contractors (2003)
Agogo èèwò (2002)
Àkóbí gómìnà (2002)
Oduduwa (2000)
Sàngó: The Legendary African King (1998)
Most Wanted (1998)
Hostages (1997)
What Is Antar Laniyan's Net Worth?
The actor's net worth is estimated at over $1 million. He has earned majorly from his career as a stage and mainstream actor as well as director. In addition, he has earned from other sources such as endorsement deals and perhaps other businesses.
Here, we have calculated his net worth based on his career success (keeping income at the forefront). This includes looking at his assets and putting them in monetary value.
How Much Is Antar Laniyan's Salary?
The actor's exact salary is not known but he sure gets paid for each of the movies and series he is featured in. Interestingly, he has featured in over 50 films and has equally performed on stage.
Looking further, most new Nigerian actors of this era receive over ₦150,000 per role while those with more experience and playing major roles receive over ₦1 million for a role.
In this case, it is safe to say that Antar may have received about ₦150,000 at a point in his career. Needless to say, he may be receiving almost or about a million Naira for each of the roles he has played.
While keeping this in mind, it is also worth noting that many Yoruba language actors do not earn as high as English actors. Since most of his roles are in Yoruba movies, his earning may not necessarily be as high as our projection.
Now, looking at his earning as a director, Nigerian directors are said to earn an average of ₦200,000 per film. One of his greatest works is Super Story which he directed for 10 years. In this case, he would be paid per episode (for every series for 10 years).
He Has Bagged Several Endorsement Deals 
The Ogun-state native has bagged several endorsement deals which have contributed to his estimated $1 million net worth. Among them is a deal with Dosmak Nigeria Limited. The company owns the famous Prince Golden Estate. The endorsement is reportedly worth millions of Naira and the actor was highly involved in advertisement and other marketing strategies for the brand.
Another brand Antar Laniyan endorsed is Naira Millions – a Nigerian online lottery company which he cut a deal with in 2020. The company which aims at alleviating poverty, especially among youths, has also been endorsed by Kunle Afod and Kazeem Abimbola among others.
Who is Antar Laniyan's Wife?
Antar Laniyan is married to a supportive wife whose identity is kept under wraps. In 2014, it was revealed that the couple was married for 18 years. As such, it is likely they were married around 1996.
Laniyan met his wife at the National Theater in Lagos. At first, he was not sure if he was going to speak to her because he was shy about asking women out. As a result, his friend and actor Rasak Ajao "Araosan" approached and told her that Antar wanted to speak to her. The rest they say is history.
Antar Laniyan speaks highly of his wife despite keeping her away from the spotlight. He narrated a story of how she would review his movies and once told him how he was not romantic enough in a movie.
Meet Antar Laniyan's Children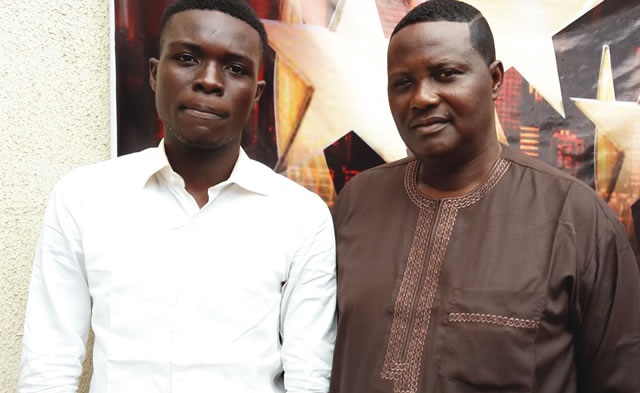 The Nollywood actor is a father of 2 sons. While the other is more private, the actor's oldest child is Ifeoluwa Thywill Laniyan. He was born around 1997 and by the time he was 2 years old, he featured in a movie titled Pelumi alongside his father.
Ifeoluwa attended Ajayi Crowther University where he studied Mass Communication. Currently, he son is a talent manager.