Funsho Adeolu Adegeye (born 9 May 1968; Age: 55 years old) is a veteran Nollywood actor, producer, director, Master of Ceremony (MC), and social media influencer famous for his roles in The Perfect Arrangement (2022), Omo Mi (2005), and Camouflage (1999). 
While Funsho may have gathered fame through his enormous works in the movie industry, his private life has also attracted attention. Looking deeply into it, he was raised in a broken home by a wealthy businessman as a father and a mother who died in 2021. Funsho has since started his own family. He is a father of two children and is the husband of Victoria Adeolu, whom he married in 2004.
Summary of Funsho Adeolu Adegeye's Bio
Full name: Funsho Adeolu Adegeye
Gender: Male
Date of birth: May 9, 1968
Funsho Adeolu's Age: 55 years old
Ethnicity: Yoruba
Nationality: Nigerian
Zodiac Sign: Taurus
Sexual Orientation: Straight
Religion: Christianity
Marital Status: Married
Funsho Adeolu's Wife: Victoria Iboro Adeolu
His Children: 2
Funsho Adeolu's Parents: Pa Felix Adeolu (father), Mrs. Hannah Tunmise Adeyemi (mother)
Siblings: 4
Funsho Adeolu's Height in Inches: 5 feet 6 inches
Adeolu's Height in Centimetres: 167.64 cm
Funsho Adeolu's Net worth: $1 million – $5 million (estimation)
Famous for: Actor, Director, Events Manager, MC, and Motivational Speaker
Funsho Adeolu's Instagram: @adeolufunsho
Twitter: @funshoadeolu
Where is Funsho Adeolu From?
Funsho Adeolu hails from Okitipupa in the Ikale part of Ondo State in Southwestern Nigeria. He was, however, born on 9 May 1968 in Lagos.
Funsho is the second child among the five children of Mr. Felix Ife Adegeye (father) and Mrs. Hannah Tunmise Adeyemi (mother). The actor's parents' marriage failed along the line, and it eventually led him to live with his mother and father in different places in Lagos State, Nigeria.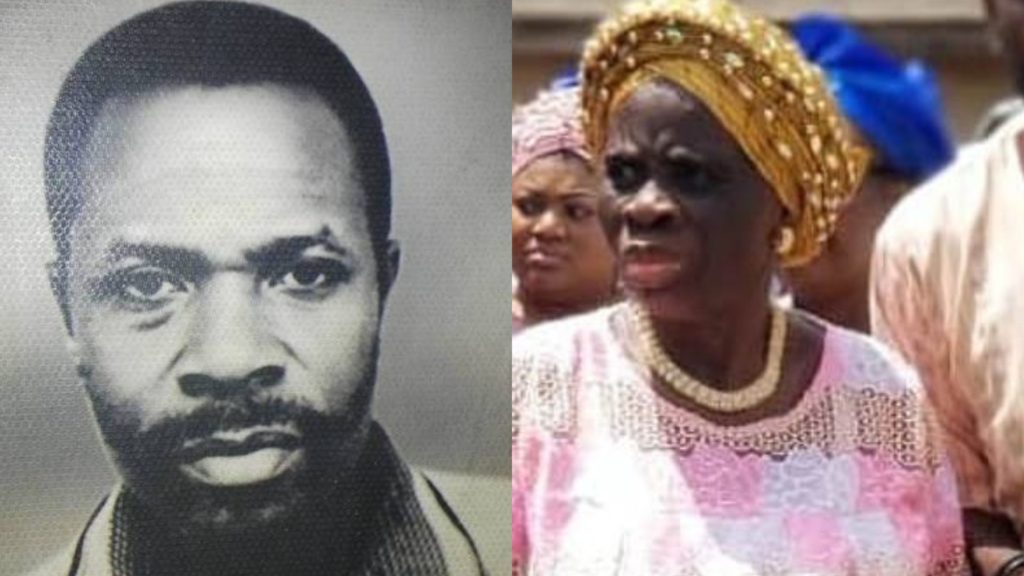 His father was a wealthy Yoruba man who owned a sports equipment store at the national stadium in Lagos. He was said to have been a devout Christian and member of the Redeemed Christian Church of God (RCCG) before a brief illness struck him and led to his death on 26 January 2015 at 77 years of age.
In addition, Funsho Adeolu lost his mother, Mrs. Hannah Tunmise Adeyemi, on November 17, 2021, at 79.
Funsho Adeolu's Education
Funsho Adeolu grew up attending several schools in Lagos State. First, he attended Lady Lak primary school at Ebute Meta – the same school that actress Liz Benson attended. He moved to Ansar-Ud-Deen College, Isolo, Lagos, sometime from 1980-1985, and then went on to Baptist Academy Obanikoro, Lagos, from 1987-1988 for his A'levels (Higher School Certificate).
Although he was interested in studying Law at Obafemi Awolowo University, Ile-Ife, Osun State, the actor did not gain entrance after writing Jamb four times and failing to meet the cut-off mark. He later gained admission into Ondo state university, Ado-Ekiti, now Ekiti State University (EKSU). There, he bagged a bachelor's degree from the department of Guidance and Counseling in 1994.
Funsho Adeolu further went for a pre-degree in advertising and public relations after his degree program.
Funsho Adeolu was 7 Years Old When He Appeared in Cool Red
Based on IMDB's recording, Funsho appeared in the action drama Cool Red in 1976 when he was 7 years old. He played the role of Marni in the film, which narrates the story of Africans through colonization instead of thugs as mostly portrayed.
The film incorporated Hollywood actors Tom Aldredge and Greg Moris, among others. Funsho and Jab Adu are the Nigerian actors in the film, among others. Afterward, there was no recording of the actor's career in acting, but he later joined a small dance group before he met film director Antar Laniyonu who reintroduced him to acting in 1987 at the age of 19.
His earliest acting career presented him as a stage actor and television series actor. He first became notable for featuring in Chinua Achebe's adapted Things Fall Apart on Nigerian Television Authority (NTA). However, his breakthrough role in Palace was televised under the Africa Independent Television (AIT) Station and produced by Ralph Nwadike.
He spent many years in the 1980s and 1990s honing his acting skills. Despite this, he attracted massive attention in 2001 when he appeared in Oh Father, Oh Daughter Super Story, produced by Wale Adenuga.
The 55-Year-Old Actor Features in English and Yoruba Language Movies
Adeolu has not confined himself to only English-language movies. Rather, he added to his fame through his appearances in Yoruba movies. This would make him one of the most celebrated in both aspects.
As regards his appearances in Yoruba films, some of his earliest films are Itakun, where he acted in the role of a killer, and Ale Ariwo. He has also appeared in Ògédé Didùn (2003), Arewà (2003), and Òkú Tee Sin (2004) among others.
The multifaceted actor has appeared in numerous films and has played roles with the likes of Fathia Balogun, Olu Jacobs and his wife, Joke Silva, Bimbo Manuel, Genevieve Nnaji, Richard Mofe Damijo (RMD), Ramsey Noah,  and Funke Akindele many others.
He Transitioned to Being a Filmmaker and Writer
Knowing that there was more he could offer in the movie industry, Adeolu decided to take a leap into the art of filmmaking. He traces his directorial debut in the mid-2000s with mostly Yoruba films such as Orita Ipinya (2007), Abanidaro (2007), Òréré Layé (2009), and Omo University (2015).
Apart from this, Funsho is a movie producer and founder of Fynest Media. The company deals with productions and well as influences brands. He also produces and shares his works on YouTube under the Fynest Media channel.
As a writer, the actor has established himself and is praised for Omo University, a film that features him as D.P.O.
Some of Funsho Adeolu's Movies and TV Series
The Perfect Arrangement (2022)
Inside Life (2022)
The Griot (2021)
Eyan Ni Mi (2021)
Mimi's Voice (2021)
Shuga (series, 2019)
Imperfect (2019)
Midnight (2019)
Last Days (2019)
Backline (2019)
Backline (2019)
Deep Heat (2019)
Game Boy (2019)
Silenced (2019)
Ileri Oluwa (2019)
Edu (2018)
Backdoor (2018)
Jaded Heart (2018)
Diva (2018)
Alagbara (2018)
Alangba (2017)
Gone Grey (2016)
The Cobweb (2015)
Jewel (2015)
Omo University (2015)
God Behind Bars (2015)
The Antique (2014)
Heroes and Zeroes (2012)
Alakada (2011)
Idamu Ojo kan (2011)
Orere Layer (2009)
Asiri Owo (2009)
Jide (2007)
Enuiyan Dudu (2007)
Adeyemi (2007)
Durudola (2005)
Playing Games 1&2 (2004)
Eyin Oka (2004)
Arewa (2003)
Jesu mushin (2002)
Oh Father Oh Daughter (series, 2001)
Camouflage (1999)
Things Fall Apart (Series, 1987)
Funsho Adeolu's Awards and Nominations
Funsho Adeolu began receiving awards as best actor and more from as far back as the 2000s.
City People Movie Special Recognition Award (2018)
Nominated for Yoruba Movie Personality of the Year(Male, 2018) at City People Movie Award
City People Movie Award Nominee for Yoruba Movie Personality of the year (2017)
Nominated for Best Actor of the Year for City people movie Award (2014)
Best Actor in a Leading Role in an English Movie Nominee at the Best of Nollywood Awards (BON-2013)
Thema Movie Award in 2007 (his first award)
The Actor is Also a Musician
Funsho has proven his versatility and creativity in interpreting difficult roles in movies and his ability to play various musical instruments and sing classical songs as well as highlife and other genres aside from Fuji.
His background as a musical personality in the church has worked perfectly to empower his skill. Coincidentally, his wife also sings, however, she does it mostly in church. The director has also had to make and perform soundtracks for movies such as Omo Ni Kara.
He has been in one too many events, gatherings, and parties working out his skills as a disc jockey and also as a dancer, much to the pleasure of the audience.
Who is Funsho Adeolu's Wife?
Victoria Iboro Adeolu is Funsho Adeolu's wife of 19 years. She is a former radio personality, welfare manager, make-up artist, and continuity person in the Nollywood industry who was born on 5 April 1976. She hails from Akwa Ibom State in the south-south region of Nigeria but grew up in Lagos State.
Victoria, a French graduate of the University of Lagos, was born into the family of Mr. and Mrs. Eboh. She has three siblings, one of which is the popular Nollywood actress, producer, and filmmaker, Imoh Eboh. The others are Bryan Eboh and Thelma Eboh.
Funsho met his wife while she was still living with her parents and working in Zeb Ejiro's office during her time behind cameras in Nollywood. In an interview, he stated that it was not love at first sight, but he was attracted to her being natural instead of the heavy makeup that is common.
He asked her to be his friend, and they ended up being together for about eight years before they got married in 2004. The couple had their wedding on a football pitch in Obanikoro Lagos due to the population expected at the wedding, even though their initial plan was to have a small wedding.
Despite the high divorce rate in the entertainment industry, Funsho has accorded the success of his marriage to God. He revealed that he and his wife pray a lot, and it has helped. More to it, they have learned to persevere and make it intentional to stay together and raise their children.
Funsho Adeolu and His Wife are Parents to Two Boys
Olamide Adeolu is the first son of the actor and director. He was born on October 9, 2005, a year after Funsho was married. The celebrity child of Adeolu is currently 17 years old and recently graduated from high school. He is a content creator and likes to play instruments while in school. He is also said to be interested in acting.
Two years after the birth of Olamide, Funsho and Victoria welcomed their second son named Akorede Adeolu, who was born on August 15, 2007, and is currently 15 years old. He studies in an unspecified school in Lagos.
While there may not be concrete evidence as regards some details about the boys, they are students of Taekwondo to help in self-defense. Before the boys were born and gained interest in the sport, Taekwondo was something that was rooted in Funsho's life.
Growing up, the actor's father owned a sports store in the National Stadium in Lagos. There, the Omo University actor and his elder sister got involved in sports. She was a sprinter while Funsho focused on advancing his Taekwondo. He got as far as the level of the black belt.
Funsho Adeolu was Involved in a Controversy With Actress Fathia Balogun
The relationship between Funsho Adeolu and Fathia Balogun has caused quite a ruckus as to whether the star may be having a love affair or not. While this may be popular news, Funsho revealed that his relationship with the actress is solely platonic and one of mutual respect.
Despite the lack of evidence as regards whether Fathia and Funsho had an affair, her ex-husband Saheed Balogun had a misunderstanding with Funsho that lasted years. It may also have contributed to why Saheed's marriage to Fathia may have ended.
There are also allegations that Funsho's career may have nose-dived since the controversy. It is further recorded by some sources that some producers and other filmmakers that were close to Saheed decided to stay loyal to the actor and did not offer roles to Funsho. Other filmmakers would rather have only one of the two men on set to avoid fighting.
It may be well-known that the actors have acted in a lot of movies together, and on many occasions, they have had to play the roles of a couple. One of the movies they featured in is Edun Ara.
Funsho is not the only actor that has been accused of having an affair with Fathia. Nollywood actor Femi Branch was allegedly called out by Saheed for reportedly hanging out with the actress at hours that were not comfortable for him.
Funsho Adeolu Came Close to Death in 2016
In the late hours of December 12, 2016, Funsho was involved in a fatal accident that overturned his car into a ditch on a bad road on the express road in Ibadan.
Luckily, there were witnesses who availed themselves to help the actor and also save his Toyota Corolla car, which was just a whisper away from falling off into a ditch. At the end of the day, the actor did not report sustaining any injuries and his car was removed successfully.