Access Bank is a Nigerian multinational corporation and commercial bank licensed by the Central Bank of Nigeria. As one of the five largest banks in Nigeria in terms of assets, loans, deposits, and branch networks, Access Bank extends its services via internet-enabled devices. With the introduction of Access Bank transfer codes, customers enjoy more convenient measures of the instant banking system.
One particular thing that customers can enjoy is transferring money in a multitude of ways. With technological advancement, the process is quite easy, from using a mobile app to using transfer codes to send funds to a client, friend or relatives, although some of these means require more information than others. Given that, we are here to acquaint you with how to use the various Access Bank transfer codes, internet, and mobile banking provisions and utilize the services the Access Bank customer care unit offers.
What is Access Bank Transfer Code?
Mobile banking has improved significantly to allow easy access to banking services through the use of USSD Codes. Access bank has also leveraged this new trend to provide faster transaction services to its customers. One of the bank's laudable feats is its introduction of the *901# USSD Code.
The Access bank transfer code has helped make money transfer operations much more straightforward for customers as it enables sending and receiving money on the spot. This mobile money transfer system makes it possible to send money from one account to another, any time, any day, and anywhere.
What Are The Functions Of The Access Bank Transfer Codes?
The Access bank transfer code provides the customer with different ways of making more banking transactions. It helps to make your day less stressful and allows you to do more with the bank while staying at home. Below is a list of all the things you could do with Access bank's *901# code:
Account Opening
BVN and email Updates
Bills Payment
Changing PIN
Blocking your stolen ATM cards
Money Transfers
Airtime Recharge
Check Account Balances
Benefits of Using Access Bank Transfer Codes
Using the Access Bank transfer code, like every other bank's transfer code, comes with lots of benefits:
It makes bank transactions easier, faster, and convenient
The code is compatible with all phone types
You do not need mobile data to operate it
Transaction process is less than 20 seconds
The service is available 24 hours a day, 7 days a week.
The service is available to all networks in the country – Airtel, 9mobile, GLO, and MTN subscribers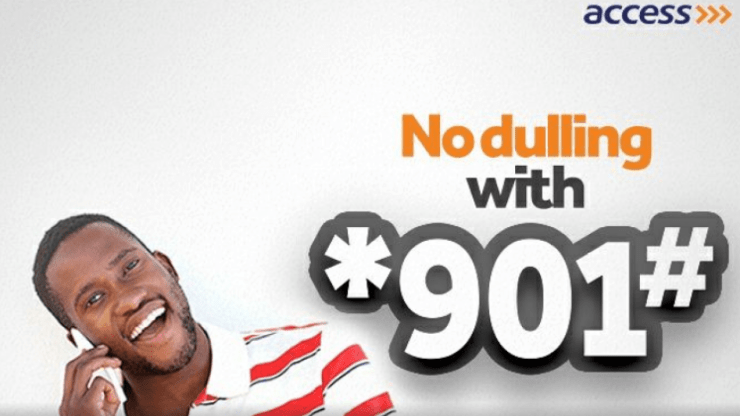 How To Create Your Access Bank Transfer PIN
To start using the Access bank USSD code, you must first activate it by getting your transfer pin. To begin the process of getting a transfer pin, there are some basic requirements you must meet
Have an Access bank account number
Have a phone number that is registered or linked to your account
Have an ATM card
Prepare a four (4) digit unique pin you would need to replace the default pin
Having met the above-listed requirements, follow these steps to activate the Access Bank transfer code
Dial *901# with your registered phone number and click on 'Transfer'
Enter the last 6 digits of your Debit Card number (if you do not have an active debit card, you will be prompted to input your registered Date of Birth).
Enter your account number and click send
Create a 4-digit PIN
Note: There is no bank charge attached to this process. It is free of charge
Things You Can Use The Transfer Code To Do
1. Transfer Money
Access bank transfer code allows you to make a transfer of money either to another Access bank account or to a client with a different bank account like First bank, Fidelity bank, or Eco bank.
To transfer money to another Access bank accounts – Dial *901*1*AMOUNT*NUBAN Account Number#. Eg: *901*1*10000*1234567890# for a transfer of N10,000.
To transfer money from your Access bank account to a different bank account, dial *901*2*AMOUNT*NUBAN Account Number#. Eg: *901*2*10000*1234567890#
Note: Access bank charges N20 for every money transferred within two of its customers (Access bank to Access bank). Transfers to other banks cost N10 (for N5000 and below), N25 (for N50,000 and below), N50 (above N50,000).
2. Buy Airtime
You can buy airtime on any network from your bank account using the Access Bank transfer code. What's more interesting about this is that it is free of charge.
Self Airtime: To purchase airtime to your own phone number that is linked with Access bank, dial *901*amount# For example: *901*200# for an airtime transfer of N200.
For Someone Else: To purchase airtime for another SIM card that is NOT linked with your account, such as your other SIM, someone else's number like friends, family, etc, dial *901*amount*phone number# Example: *901*200*08104xxxxxx#.
3. Opening New Access Bank Account
You don't need to visit the bank to open a new bank account with Access Bank. The introduction of the shot code has made the process easier. Use the following steps:
Dail the Access Bank short code *901# on your mobile phone and follow the instructions on the screen.
Enter your first name as requested, then send.
Type your last name and send. Please make sure that your names are written correctly.
Follow the on-screen prompts to complete your registration.
4. Verifying Access Bank Account Number
To check your Access Bank account number with the transfer code, use the following steps.
Simply Dial *901# on your phone number linked to your access bank account.
Enter "5" and press send.
Wait for a few minutes.
You will receive an SMS from Access Bank with your account balance
Note: There is a bank charge for this process. Access bank charges N10 for every account balance inquiry.
List of All Access Bank USSD Codes
| | | |
| --- | --- | --- |
| S/N | Short Strings | Function |
| 1 | *901*1*merchant code*amount# | Merchant payment |
| 2 | *901*amount# | Self-airtime purchase |
| 3 | *901*Amount*Phone Number# | Airtime to others |
| 4 | *901*Amount*Account Number# | Transfer |
| 5 | *901*00# | Balance inquiry |
| 6 | *901*0# | PIN change/reset |
| 7 | *901*000*522+etag number+amount# | LCC Toll account top-up |
| 8 | *901*911# | To deactivate the phone number on USSD (this service can be accessed via any phone or phone number). |
| 9 | *901*3# | Bill Payments |
| 10 | *901*000*RefCode# | USSD on POS |
| 11 | *901*5# | Diamond Xtra |
| 12 | *901*11# | Payday Loan |
| 13 | *901*14# | Dual Transaction Service (DTS) |
| 14 | *901*10# | Access Yellow |
| 15 | *901*13# | Access Africa |
| 16 | *901*12# | Update customer info |
What Are Sort Codes and SWIFT Codes?
A sort code is a number used to identify both the bank and the branch where an account is held. The sort code is usually used when transferring funds from one account in one bank branch to another branch of the bank or another bank. A sort code can be located at the bottom of a bank's cheque booklet.
A swift code, on the other hand, is an alternate format of a Bank Identification Code (BIC). It was created by the Society for Worldwide Interbank Financial Telecommunication network and is used to identify a bank location, country, and branch number when initiating an international transfer.
How Access Bank Sort Codes and Swift Codes Work
While sort codes are made up of 9 numbers divided into 3 pairs, for example, 123-456-789; swift codes are a bit more complicated as they can range from 8 to 11 alphanumeric characters.
Access bank, like every other Nigerian bank, uses an eight (8) character swift code that is meant for a bank head office while the eleven (11) character codes are for the other branches of the bank.
Sort codes are used to transfer money between domestic banks and financial institutions only. They work by identifying accounts and providing instructions needed to route money transfers domestically within clearance organizations.
Swift codes are passed between banks and non-financial corporations in a secure, encrypted way. Funds are not physically transported using the SWIFT network, only the instructions; this communication facilitates the money transfer.
Where Can One Find  Access Bank Sort/SWIFT Code?
Access bank has more than 300 branches in the country, and each of these bank branches has its own sort code. You can find Acces bank's sort code on bank-issued cards, statements, and online banking. The code can also be seen in the bank's cheque books.
The SWIFT Code for Access Bank Nigeria is ABNGNGLA. This code, which is valid irrespective of the branch in which you opened your Access Bank account, can be found on bank statements and by logging into online banking accounts. Alternatively, you can contact Access bank customer care directly to confirm the SWIFT code.
Note: Since Diamond has now merged with Access Bank, all previous Diamond bank customers will also have to use ABNGNGLA as their Swift Code.
A Complete List of Access Bank Sort Codes For Each State
| | | |
| --- | --- | --- |
| State | Access Bank Branches | Branch Sort Code |
| ABIA | 4, EZIKUWU ROAD, ABA | 044230205 |
| | 15, AZIKIWE ROAD, ABA | 044231233 |
| | DUKE HOUSE 45, AZIKWE ROAD, ABA | 044232465 |
| | 132, FAULKS ROAD, ABA | 044232177 |
| | 6, LIBRARY AVENUE, UMUAHIA | 044230726 |
| | 2, LIBRARYWAY, UMUAHIA | 044231864 |
| | UNIVERSITY OF AGRICULTURE, UMUDIKE MAN CAMPUS UMUDIKE | 044232575 |
| ADAMAWA | 7 GALADIMA AMINU WAY, JIMETA, YOLA | 044090597 |
| AKWA IBOM | 222, ZIK AVENUE, AWKA | 044021375 |
| | KM 41, ENUGU-ONITSHA EXPRESSWAY, REGINA CAELI JUNCTION, AWKA | 044020761 |
| | 48, PORT HARCOURT ROAD, BRIDGE HEAD, ONITSHA | 044021540 |
| | 2, EDO EZEMEWI ROAD, NNEWI | 044020703 |
| | 21, UGA ROAD, EKWULOBIA | 044021760 |
| | 5, UMUDIMOGU ROAD, OFF ORLU ROAD, IHIALA | 044021278 |
| | 14, NEW MARKET ROAD, ONISTHA | 044020282 |
| | 30, NEW MARKET ROAD, ONISTHA | 044021155 |
| | KM7, OSHA-ENUGU EXP/WAY, BUILDING MATRL MKT, OGIDI | 044023247 |
| | 4, RIDGE ROAD, STOCK EXCHANGE COMPLEX, ONITSHA | 044021870 |
| | 10, OGBUNKA ROAD, ORUMBA NORTH LOCAL GOVT, UMUNZE | 044023069 |
| | BANK PLAZA, NNAMDI AZIKIWE UNIVERSITY, AWKA | 044022031 |
| | UPPER IWEKA, NEW ELECTRONIC MKT, ONITSHA | 044021498 |
| BAUCHI STATE | 5, BANK ROAD, BAUCHI | 044030340 |
| BAYELSA | MBIAMA/YENAGOA ROAD, ONOPA YENAGOA | 044320636 |
| | KM 6, MBIAMA/YENAGOA ROAD, YENAGOA | 044321350 |
| | OPP AGIP GATE, TWON BRASS | 044323277 |
| BENUE STATE | KM 72, BENUE CEMENT FACTORY, MAKURDI -GBOKO ROAD | 044051772 |
| | 5/7, JS TARKA WAY, GBOKO | 044051604 |
| | PLOT 417, GBOKO ROAD, WURUKUM, MAKURDI | 044052124 |
| | 83,OLOTUUKPO ROAD, MAKURDI | 044050333 |
| | 19, FEDERAL ROAD, OTURKPO | 044052768 |
| | N0 1, KAFE CLINIC STREET, Y-JUNCTION, OFF KATSINA ROAD, ZAKI BIAM | 044052593 |
| BORNU STATE | I, DAMATURU ROAD, BIU, MAIDUGURI | 044063236 |
| | 24, SIR KASHIM IBRAHIM WAY, MAIDUGURI | 044060352 |
| CROSS RIVERS STATE | 16/18, BOGOBIRI ROAD, CALABAR | 044071477 |
| | 10, CALABAR ROAD, CALABAR | 044070261 |
| | PLOT 22, HOSPITAL ROAD, IGOLI, OGOJA | 044072298 |
| DELTA STATE | 128, OLD LAGOS ASABA ROAD, AGBOR | 044041915 |
| | OKUMAGBA AVENUE, DECO ROAD, WARRI | 044042341 |
| | 80, EFFURUN-SAPELE ROAD, WARRI | 044040233 |
| | 417B, NNEBISI ROAD, ASABA | 044040259 |
| | 82, SAPELE/WARRI ROAD, SAPELE | 044042419 |
| EBONYI STATE | 44, OGOJA ROAD, ABAKALIKI | 044330626 |
| | 41, OGOJA ROAD, ABAKILIKI | 044331683 |
| EDO STATE | 23, AIRPORT ROAD, BENIN CITY | 044042558 |
| | 33, POLY ROAD, AUCHI | 044043052 |
| | 45, AKPAKPAVA STREET, BENIN CITY | 044040301 |
| | 62A, IHAMA ROAD, BY AKHIONBARE JUNCTION, GRA, BENIN CITY | 044043308 |
| | 6, AKHERE LANE, EKPOMA | 044042545 |
| | 70, MISSION ROAD, BENIN CITY | 044041452 |
| | NEW SITE, IGBINEDION UNIVERSITY CAMPUS, OKADA | 044042561 |
| | 164, SAPELE ROAD, BENIN CITY | 044040903 |
| | 74, EDO TEXTILE MILL ROAD , BENIN CITY | 044041724 |
| | RANSOME KUTI ROAD, UNIVERSITY OF BENIN, BENIN CITY | 044040699 |
| | 170, USELU LAGOS ROAD, BENIN CITY | 044040974 |
| EKITI STATE | 144, SECRETARIAT ROAD, IYIN | 044340386 |
| | 27, MARKET SQUARE, IJERO COMPUTER CENTRE MARKET SQUARE,IJERO EKITI | 044342012 |
| ENUGU STATE | PLOT 9, EBEANO HOUSING ESTATE, GARDEN AVENUE, ABAKALIKI RD, ENUGU | 044252872 |
| | BLOCK 16, PLOT 7, NIKE ROAD, LIBERTY BUS STOP, ABAKPA | 044253088 |
| | 183, AGBANI ROAD, ENUGU TOWN | 044252827 |
| | 12, ENUGU ROAD, NSUKKA | 044251527 |
| | ENUGU STATE UNIVERSITY, AGBANI TOWN | 044252814 |
| | 42, KENYATTA STREET, UWANI, ENUGU | 044251909 |
| | 67, OGUI ROAD, BY NNAMDI AZIKIWE STADIUM, OGUI | 044250793 |
| | 5, OKPARA AVENUE, ENUGU | 044251381 |
| | UNIVERSITY OF NIGERIA, ENUGU CAMPUS | 044250913 |
| | UNIVERSITY OF NIGERIA, NSUKKA | 044252830 |
| GOMBE STATE | ASHAKACEM FACTORY COMPLEX, ASHAKA | 044350606 |
| | GONA QUARTERS, ALONG GOMBE-KANO ROAD, DUKKU | 044351582 |
| | 24, NEW MARKET ROAD, GOMBE | 044350279 |
| | EMIR PALACE ROAD KUMO,AKKO | 044352934 |
| | DEBA GRA, YAMALTU/DEBA | 044351595 |
| IMO STATE | 4A, BANK ROAD, OWERRI | 044101321 |
| | EKE-AHIARA JUNCTION, MBAISE | 044103183 |
| | FEDERAL POLYTECHNIC, NEKEDE | 044103073 |
| | 2, ASIKA ILOBI AVENUE, ORLU | 044101813 |
| | 117, WETHERAL ROAD, OWERRI | 044100584 |
| JIGAWA | PLOT 10/11, SANI ABACHA WAY, DUTSE: | 044120962 |
| KADUNA STATE | A2, AHMADU BELLO WAY, KADUNA | 044112624 |
| | 26D, ALI AKILU ROAD, KADUNA | 044111311 |
| | 1A,B2 IBRAHIM TAIWO ROAD,GUMI MARKET,KADUNA | 044113092 |
| | 314, KACHIA ROAD, KADUNA | 044112145 |
| | 16/20, BIDA ROAD, KADUNA | 044110121 |
| | 19, KAGORO ROAD, KAFANCHAN | 044112679 |
| | KRPC/ NNPC COMPLEX KM 16, KACHIA ROAD,KADUNA | 044112954 |
| | 7, KWATO ROAD, UNGWAN RIMI GRA, KADUNA | 044112941 |
| | 16,RIVER ROAD, ZARIA | 044111803 |
| KANO STATE | AMINU KANO TEACHING HOSPITAL, KANO | 044122892 |
| | 3B, BANK ROAD, KANO | 044122533 |
| | BAYERO UNIVERSITY,BAYERO MAIN CAMPUS, KANO | 044122889 |
| | 24, BELLO ROAD, KANO | 044122135 |
| | ALONG KATSINA ROAD, BY BICHI JUNCTION, KANO | 044121136 |
| | 17/18, FRANCE ROAD, KANO | 044123202 |
| | 12B, POST OFFICE ROAD, KANO | 044120137 |
| | 48E, ADO BAYERO ROAD, SINGER MARKET KANO | 044123286 |
| | IBRAHIM TAIWO ROAD, KATIN KWARI | 044122779 |
| | ALONG KANO-DUARA RD, KAZAURE | 044121440 |
| | 146, MURTALA MOHMD WAY, KANO | 044121149 |
| KASTINA STATE | ALONG KANO ROAD, DAURA | 044132332 |
| | 126, ZARIA ROAD, FUNTUA | 044132099 |
| | 106, IBB WAY, KATSINA | 044130570 |
| | IBB WAY , KATSINA | 044131618 |
| | 11/12, FUNTUA YASHE ROAD, MALUMFASHI | 044132963 |
| KEBBI STATE | 1 JOS ROAD GRA,BIRNIN KEBBI | 044270317 |
| KOGI STATE | 82, LOKOJA-KABBA ROAD, LOKOJA | 044280899 |
| | ACCESS BANK, OPP DANGOTE CEM FACTORY, OBAJANA | 044280640 |
| | 46, LAGOS-ABUJA ROAD, OKENE | 044281733 |
| KWARA STATE | 24, WAHAB FOLAWIYO ROAD, ILORIN | 044141404 |
| | 199A, STADIUM SHOPPING COMPLEX,IBRAHIM TAIWO ROAD, ILORIN | 044140395 |
| | 29A, RESERVATION ROAD GRA, ILORIN | 044143101 |
| LAGOS STATE | OBA ADENIJI ADELE PLAZA, ADENIJI ADELE ROAD, LAGOS ISLAND | 044153159 |
| | 71, ADENIRAN OGUNSANYA STREET, SURULERE | 044151290 |
| | 53, ADENIYI JONES, IKEJA | 044150440 |
| | 100 ST FINBARRS COLLEGE RD, AKOKA | 044150482 |
| | PLOT 1607, ADEOLA HOPEWELL, VICTORIA ISLAND | 044151339 |
| | 11A, ADEOLA ODEKU STREET, VICTORIA ISLAND | 044151106 |
| | 44, ADEOLA ODEKU STREET , VICTORIA ISLAND | 044152642 |
| | 30A ADETOKUNBO ADEMOLA STREET, VICTORIA ISLAND | 044150660 |
| | PLOT 1408A, ADETOKUNBO ADEMOLA STREET, VICTORIA ISLAND | 044152312 |
| | 1, IDOWU TAYLOR STREET, COMMERCE HOUSE, VICTORIA ISLAND | 044151038 |
| | 53, ABEOKUTA EXPRESS ROAD, ABULE TAYLOR, ABULE-EGBA | 044152118 |
| | 5, ENITAN STREET, AGUDA, SURULERE | 044150042 |
| | 4 AGUDOSI STR, OFF OJO ROAD, ALABA INTL MARKET, ALABA | 044151216 |
| | 55, MURITALA MOHAMMED AIRPORT ROAD, AJAO ESTATE, ISOLO | 044151009 |
| | 287, AJOSE ADEOGUN STREET, VICTORIA ISLAND | 044151986 |
| | 44/45 ALABA INTERNATIONAL MARKET ROAD, ALABA | 044150686 |
| | KM32, DANIEL FARM, LAGOS ABEOKUTA EXP WAY, AGEGE | 044151423 |
| | 183, OBAFEMI AWOLOWO RD, ALAUSA, IKEJA | 044151164 |
| | 1, ALFRED REWANE ROAD, IKOYI | 044151287 |
| | 13, ALLEN AVENUE, IKEJA | 044152600 |
| | 84, ALLEN AVENUE, IKEJA, LAGOS STATE | 044150084 |
| | ZONE B, R4 MERCY CAFÉ, ASPAMDA PLAZA, TRADE FAIR COMPLEX, OJO, LAGOS STATE | 044150673 |
| | ICC , LAGOS INTERNATIONAL TFC, LAGOS BADAGRY EXP RD, OJO, LAGOS STATE | 044150466 |
| | 58, AWOLOWO ROAD, IKOYI, LAGOS STATE | 044151119 |
| | 87, AWOLOWO ROAD , IKOYI, LAGOS STATE | 044151711 |
| | 13, KEFFI STREET, OFF AWOLOWO ROAD, IKOYI, LAGOS STATE | 044153298 |
| | 158, AYOBO-IPAJA ROAD, AYOBO, LAGOS STATE | 044152480 |
| | 42, BODE THOMAS STREET, SURULERE, LAGOS STATE | 044152697 |
| | 115/117, BROAD STREET, LAGOS ISLAND, LAGOS STATE | 044150039 |
| | 32, BROAD STREET, LAGOS ISLAND, LAGOS STATE | 044151533 |
| | 4, BURMA ROAD, APAPA, LAGOS STATE | 044150013 |
| | 8/10, COMMERCIAL ROAD, APAPA, LAGOS STATE | 044150327 |
| | 24A, CREEK ROAD, APAPA, LAGOS STATE | 044150453 |
| | KIRIKIRI LIGHTER TERMINAL 2 TINCAN ISLAND LAGOS | 044150479 |
| | SHOP 822/839 BANK ROAD, DALEKO MARKET, DALEKO, MUSHIN, LAGOS STATE | 044153133 |
| | 2 LAGOS/ABEOKUTA EXPRESSWAY, DOPEMU, LAGOS STATE | 044153214 |
| | 35, AKOWONJO ROAD,EGBEDA, LAGOS STATE | 044152354 |
| | ALONG EJIGBO/IKOTUN ROAD, OPP NNPC JUNCTION, EJIGBO, LAGOS STATE | 044152503 |
| | 4TH AVENUE, FESTAC, LAGOS STATE | 044150819 |
| | PLOT 286, OSHODI APAPA EXPRESSWAY, GBAGADA PHASE I, LAGOS STATE | 044151960 |
| | IDDO SHOPPING COMPLEX, IDDO, LAGOS STATE | 044151957 |
| | PLOT 161E, IDEJO STREET, OFF ADEOLA ODEKU, VICTORIA ISLAND, LAGOS STATE | 044150291 |
| | COLLEGE OF MEDICINE, ISHAGA ROAD, IDI-ARABA, LAGOS STATE | 044151012 |
| | 71, EGBEDA/IDIMU ROAD, IDIMU, LAGOS STATE | 044153120 |
| | 122 NNAMDI AZIKWE STREET, IDUMOTA, LAGOS STATE | 044150026 |
| | 6 DIYA STREET, IFAKO-GBAGADA, LAGOS STATE | 044151630 |
| | 206, IJESHA ROAD, IJESHATEDO, SURULERE, LAGOS STATE | 044152723 |
| | 134 WATER WORKS ROAD, IJU-ISHAGA, LAGOS STATE | 044153010 |
| | 7, AYANGBUREN ROAD, IKORODU, LAGOS STATE | 044150068 |
| | 68, LAGOS ROAD , IKORODU,LAGOS STATE | 044151517 |
| | 38/40, IKORODU ROAD, JIBOWU, LAGOS STATE | 044151999 |
| | SUITE E 79-81 AND 116-118 VGC, IKOTA SHOPPING COMPLEX, IKOTA, LAGOS STATE | 044150657 |
| | 4, IKOTUN JUNCTION, IKOTUN, LAGOS STATE | 044152396 |
| | 25A, ILUPEJU BYE-PASS, ILUPEJU, LAGOS STATE | 044150835 |
| | 11, TOWN PLANNING WAY, ILUPEJU, LAGOS STATE | 044151834 |
| | 171, ABEOKUTA EXPRESSWAY, IYANA IPAJA, LAGOS STATE | 044150505 |
| | 1, GODWIN OMONUA STREET, IRE AKARI ESTATE, ISOLO, LAGOS STATE | 044152794 |
| | 113, OKOTA ROAD, OKOTA, ISOLO, LAGOS STATE | 044151821 |
| | 27/29, ISSA WILIAMS STREET, LAGOS ISLAND, LAGOS STATE | 044150521 |
| | 533, IKORODU ROAD, KETU, LAGOS STATE | 044152079 |
| | 52/54, KOSOKO STREET, LAGOS ISLAND, LAGOS STATE | 044152286 |
| | KM 20, LAGOS BADAGRY EXPRESS WAY, OJO, LAGOS STATE | 044152613 |
| | 87, ITIRE / LAWANSON ROAD, SURULERE, LAGOS STATE | 044153007 |
| | PLT 7, BLK 2, ONIRU PRIVATE ESTATE, LEKKI, LAGOS STATE | 044151973 |
| | KM 17, LEKKI EPE EXPWAY, CHEVRON ROUND ABOUT, LEKKI, LAGOS STATE | 044151054 |
| | PLOT 15, LIGALI AYORINDE, VICTORIA ISLAND, LAGOS STATE | 044150822 |
| | 23, BANK OF INDUSTRY BULIDING, BROAD STREET, MARINA, LAGOS STATE | 044151083 |
| | 48, MARINA STREET, LAGOS ISLAND, LAGOS STATE | 044151368 |
| | 6, MOBOLAJI BANK-ANTHONY WAY, IKEJA, LAGOS STATE | 044150712 |
| | 125 LADIPO STREET, MATORI, LAGOS STATE | 044151261 |
| | 17, SIKIRU OTUNBA STR, OLD OJO ROAD, BADAGRY EXPRESSWAY, MAZAMAZA, LAGOS STATE | 044151300 |
| | 34, MOLONEY STREET, LAGOS ISLAND, LAGOS STATE | 044151740 |
| | 211, MURI OKUNOLA STREET, VICTORIA ISLAND, LAGOS STATE | 044152985 |
| | 68/70 MURITALA MOHAMMED WAY, OYINGBO, EBUTE-METTA, LAGOS STATE | 044152587 |
| | 279, AGEGE MOTOR ROAD, MUSHIN, LAGOS STATE | 044152736 |
| | NAHCO COMPLEX 1, MURTALA MOHAMMED INTL AIRPORT RD, IKEJA, LAGOS STATE | 044152024 |
| | 68, NNAMDI AZIKWE ROAD STREET, IDUMOTA ,LAGOS STATE | 044152325 |
| | 23-25, OBA AKRAN AVENUE, OFF AWOLOWO WAY, IKEJA, LAGOS STATE | 044151708 |
| | 77, OBAFEMI AWOLOWO WAY (MAN HOUSE), IKEJA, LAGOS STATE | 044152273 |
| | OPP 2ND GATE LAGOS POLYTECHNIC, ODOGUNYAN, IKORODU,LAGOS STATE | 044152367 |
| | 40A/40B, OGBA IJAIYE ROAD, OGBA, LAGOS STATE | 044150880 |
| | 150, OGUNLANA DRIVE, SURULERE, LAGOS STATE | 044150738 |
| | PLOT 101, ISHERI ROAD, BERGER, LAGOS STATE | 044151193 |
| | 1A, OGUDU ROAD, OJOTA, LAGOS STATE 044152309 | 044152370 |
| | 78, OJUELEGBA ROAD, TEJUOSHO, YABA, LAGOS STATE | 044152451 |
| | OLD ALABA MOTOR PARK, OFF OJO IGBEDE, OJO, LAGOS STATE | 044150495 |
| | 153, OLD OJO ROAD, KUJE-AMUWO, AGBOJU, LAGOS STATE | |
| | PLOT 24, OPPOSITE IBRU JETTY, OLODI APAPA, LAGOS STATE | 044150848 |
| | 30, KING GEORGE V ROAD, ONIKAN, LAGOS ISLAND, LAGOS STATE | 044150152 |
| | 23, OPEBI ROAD, IKEJA, LAGOS STATE | 044152066 |
| | 51, KUDIRAT ABIOLA WAY, OREGUN ROAD, IKEJA, LAGOS STATE | 044152752 |
| | 3, ALHAJI OWOKONIRAN STREET, ORILE COKER, LAGOS STATE | 044152082 |
| | 3, OROYINYIN STREET, IDUMOTA, LAGOS STATE | 044152529 |
| | MOSAFEJO MARKET, OSHODI, LAGOS STATE | 044153117 |
| | 56,PALM AVENUE, MUSHIN,LAGOS STATE | 044150518 |
| | I, POINT ROAD, APAPA, LAGOS STATE | 044150851 |
| | 290, HERBERT MACAULAY WAY, SABO, YABA | 044152804 |
| | 44A, SAKA TINUBU STREET, OFF ADEOLA ODEKU STREET, VI | 044152998 |
| | 438, OLD OJO ROAD, ABULE – ADO, SATELITE TOWN | 044152257 |
| | 20, SIMBIAT ABIOLA ROAD, IKEJA | 044150534 |
| | 47, MKT/ODUNLAMI STREET, SOMOLU | 044152406 |
| | 67, ST FINBARRS ROAD, AKOKA , YABA | 044151669 |
| | 31, TEJUOSHO STREET, YABA | 044151562 |
| | 54, TOYIN STREET, IKEJA | 044151245 |
| | ZONE F, BLOCK 1, TRADE FAIR | 044152668 |
| | UNIVERISTY OF LAGOS, AKOKA, YABA | 044152749 |
| | PLOT 1665, OYIN JOLAYEMI STREET, VICTORIA ISLAND | 044150149 |
| | 13-15 WHARF ROAD, APAPA | 044152053 |
| NASARAWA | NO 32, JOS STREET, LAFIA | 044360751 |
| | PLOT 3316, ABUJA KEFFI EXPRESSWAY, MARARABA | 044362788 |
| NIGER | ALONG BCC ROAD, BIDA | 044162975 |
| | 1, DAVID MARK ROAD, TUNGA ROUND ABOUT, MINNA | 044160401 |
| | 2, OLD AIRWAY ROAD, OFF BOSO ROAD, MINNA | 044163220 |
| | 19, SULEIMAN BARAU ROAD, SULEJA | 044161934 |
| | NNPC DEPOT, SULEJA | 044162001 |
| OGUN | KM 12, IDIROKO EXPRESS WAY, OTTA | 044172473 |
| | 1-5 FAJUYI ROAD, SAPON AREA, ABEOKUTA | 044170378 |
| | PLOT 2CA/4 ILARO ROAD, AGBARA INDUSTRIAL ESTATE, AGBARA | 044151025 |
| | 19, IBADAN ROAD, IJEBU-ODE | 044172428 |
| | PLOT 1, ONA OLA QUARTERS, ILARO | 044172389 |
| | 1, LALUBU STREET, OKE ILEWO, IBARA , ABEOKUTA | 044171461 |
| | 145, LAGOS-ABEOKUTA EXPRESS WAY, SANGO-OTTA | 044172266 |
| | REDEMPTION CAMP, KM 46/85, LAGOS/IBADAN EXPRESS WAY, MOWE | 044172101 |
| | 71, AKARIGBO RD , SAGAMU | 044172716 |
| ONDO | ADEKUNLE AJASIN UNIVERSITY, AKUNGBA AKOKO | 044182683 |
| | 11, ADO OWO ROAD, AKURE | 044181396 |
| | 126, OBA ADESIDA ROAD, AKURE | 044180177 |
| | 7, YABA ROAD, ONDO | 044181558 |
| OSUN | 26, ADEREMI ROAD, ILE IFE | 044292227 |
| | 107A, ORINKIRAN STREET, OSHOGBO ROAD, ILESHA | 044291642 |
| | OBAFEMI AWOLOWO UNIVERSITY CAMPUS, ILE-IFE | 044292243 |
| | 2 OBAFEMI AWOLOWO ROAD, IGBONNA, OSHOGBO | 044290054 |
| OYO | PLOT 32, UI ROAD, BODIJA, IBADAN | 044191098 |
| | PLOT 6, UNIVERSITY CRESCENT, UI SEC ROAD, IBADAN | 044191755 |
| | CHALLENGE ROUNDABOUT, IBADAN | 044192848 |
| | 1 JIMOH ODUTOLA STREET, DUGBE MARKET, IBADAN | 044190196 |
| | 50, ADEKUNLE FAJUYI ROAD, EKO TEDO IYA-OLOBE, IBADAN | 044192204 |
| | 4, IWO ROAD, IBADAN | 044191920 |
| | 37, IWO ROAD, IBADAN | 044190549 |
| | 34, NEW COURT ROAD, DUGBE, IBADAN | 044191250 |
| | OKE-APAKE AREA, OGBOMOSO | 044191852 |
| | KM 4, OLD IBADAN/OYO ROAD, SABO-OJOO, IBADAN | 044191849 |
| | ILORIN / OGBOMOSHO EXPRESSWAY, OYO | 044191674 |
| | RING ROAD, IBADAN | 044192217 |
| | BESIDE BLOOD BANK UCH, IBADAN | 044192233 |
| PLATEAU  STATE | 1, MARKET ROAD, BUKURU | 044202437 |
| | 37, BEACH ROAD, JOS | 044201438 |
| | 1, MURTALA MOHAMMED WAY, JOS | 044200222 |
| RIVERS STATE | 3, ONNE ROAD, GRA PHASE 2 | 044210429 |
| | 12, AZIKIWE ROAD, PORT HARCOURT | 044210555 |
| | 5, AZIKIWE ROAD, PORT HARCOURT | 044212906 |
| | 64 HOSPITAL ROAD, BONNY | 044210610 |
| | BY EASTERN BULKCEMENT COY LTD, WOFE ROAD, PH | 044212650 |
| | PPMC DEPOT, PORT HARCOURT | 044211570 |
| | 82/88, ABA ROAD, PORT-HARCOURT | 044212511 |
| | 31A, AMAIGBO ROAD, IKOKWU DIOBU, PORT HARCOURT | 044213031 |
| | 14, LOCATION ROAD, OBIGBO | 044211208 |
| | 329A, OLU OBASANJO ROAD, PORT-HARCOURT | 044210241 |
| | PLOT 9 ,OLU OBASANJO ROAD, PHC | 044212155 |
| | RIVER STATE UNIVERSITY SCIENCE AND TECHNOLOGY, PORT HARCOURT | 044213167 |
| | PLOT 382, PORT HARCOURT- ABA EXPRESSWAY, PORT HARCOURT | 044212854 |
| | 679, IKWERRE ROAD, RUMUOKORO, PORT HARCOURT | 044211075 |
| | 35, AIRPORT ROAD, RUMUOKORO, PORT HACOURT | 044213170 |
| | PLOT 10, TRANS AMADI INDUSTRIAL LAYOUT, TRANS AMADI, PHC | 044210102 |
| | 446/447, TRANS AMADI INDUSTRIAL LAYT, TRANS AMADI, PHC | 044212634 |
| | UNIVERSITY OF PORT-HARCOURT , PORT-HARCOURT | 044212867 |
| | WOJI ESTATE ROAD , BY YKC JUNCTION, WOJI, PORT HARCOUT | 044211415 |
| | 1, AGIP ROAD, BESIDE KILIMANJARO, MILE 4 RUMUEME, PORT HARCOURT | 044210924 |
| | 10A, BANK ROAD, PORT HARCOURT | 044210937 |
| SOKOTO | 27, KANO ROAD, SOKOTO | 044220419 |
| | 45 MAIDUGURI ROAD, SOKOTO | 044221625 |
| | USMAN DANFODIO UNIVERSITY, MAIN CAMPUS, SOKOTO | 044223021 |
| TARABA | 27, KANO ROAD, SOKOTO | 044220419 |
| | 45 MAIDUGURI ROAD, SOKOTO | 044221625 |
| | USMAN DANFODIO UNIVERSITY, MAIN CAMPUS, SOKOTO | 044223021 |
| YOBE | 12B, MAIDUGURI ROAD, ALONG POTISKUM, DAMATURU | 044311658 |
| ZAMFARA | 43,CANTEEN ROAD, GUSAU | 044370770 |
| | SOKOTO ROAD, TALATA MAFARA | 044372163 |
| FCT (ABUJA) | BLOCK B NNPC TOWERS, H/MACUALAY WAY, CBD | 044082440 |
| | PLOT 833, ADETOKUNBO ADEMOLA CR WUSE 2 | 044080439 |
| | PLOT 1195, AMINU KANO CRESCENT, WUSE 2 | 044080099 |
| | PLOT 87, YAKUBU GOWON CRESCENT, ASOKORO | 044080947 |
| | PLOT 256, HERBERT MACAULAY WAY, WUSE, ZONE 6 | 044081124 |
| | PLOT 207 CADASTRAL ZONEA0, CENTRAL BUSINESS DISTRICT | 044081179 |
| | ZONE B2582, DEI DEI BUILDING MATERIAL INTL MKT, DEI DEI | 044082042 |
| | PLOT 1037, SHAFA SHOPPING CENTRE, BY OLD FEDERAL SECRETARIAT | 044083193 |
| | PLOT 81, RALPH SHODEINDE STREET, CENTRAL BUSINESS DISTRICT | 044081784 |
| | FED MIN OF JUSTICE COMPLEX, OFF SHEHU SHAGARI WAY, MAITAMA | 044082181 |
| | PHASE 1, BLK 4A, 015, FED SECRETARIAT COMPLEX, CENTRAL BUSINESS DISTRICT | 044081690 |
| | PLOT 266, CADASRAL OA, FEDERAL MORTGAGE BANK OF NIGERIA BLDING, CENTRAL BUS DISTRICT | 044082194 |
| | PLOT 599, CADASTRAL ZONE A3, GWARJO CLOSE, OFF GIMBIYA ST, GARKI, AREA II | 044081221 |
| | PLOT 1231, AHMADU BELLO WAY, GARKI, AREA II | 044080879 |
| | 353, SPECIALIST HOSPITAL ROAD, GWAGWALADA | 044082929 |
| | PPPRA BUILDING PLOT 1012 CADASTRAL ZONE, CENTRAL BUSINESS DISTRICT | 044080565 |
| | 6 JOS STREET, AREA 3, GARKI | 044081182 |
| | PLOT 312, NYANYA SPORTS CENTRE LAYOUT, CADASTRAL ZONE, KARU DISTRICT | 044081797 |
| | PLOT 59, GADO NASKO ROAD, KUBWA | 044081043 |
| | PLOT 1244, LADOKE AKINTOLA BOULEVARD, GARKI 2 | 044081946 |
| | 50, GANA STREET ,CADASTRAL ZONE A05, MAITAMA | 044082916 |
| | NASRDA COMPLEX,OBASANJO SPACE CENTRE, AIRPORT ROAD, LUGBE | 044081881 |
| | NATIONAL ASSEMBLY COMPLEX , WHITE HOUSE SENATE WING, 3 ARM ZONE | 044080866 |
| | WUSE MARKET, WUSE ZONE 5 | 044081069 |
| | TOFA HOUSE, PLOT 770, CENTRAL BUSINESS DISTRICT | 044082495 |
| | PLOT 903, OBAFEMI AWOLOWO WAY, UTAKO | 044081894 |
| | PLOT 2401 CADASTRALS ZONE A7, WUSE | 044081483 |