Access bank cares for its esteemed customers and they see to it that their satisfaction is given priority. This is why Access Bank customer care agents can be reached in so many ways by its customers. The financial institution created a stream of channels through which its customers can interact with customer care agents, who in turn help them resolve their banking-related issues.
Positive Feedbacks Have Come From Interactions With Access Bank Customer Care
Technology has made life easy; the banking sector has advanced rapidly from analog to digital rendering services that were hitherto unfathomable. What you need is a mobile phone or internet-enabled device and you can contact the Access Bank customer care helplines through Whatsapp and their social media platforms for assistance. Based on feedback from their customers recently, their services have been excellent, some customers have dared to rate them 5 stars for their committed service to the good people of Nigeria.
However, during the second half of 2020 during the nationwide lockdown, customer care services were having technical difficulties due to network hiccups and there was an inadequate supply of personnel to run the day-to-day activities of the bank. After the lockdown was relaxed, social distancing was enacted and the irony; banks were overcrowded with customers who all have various business transactions to carry out. This greatly affected the quick and effective response to customer needs.
It is worthy of note that all have normalized now and they are back at doing what they do best regaining the confidence of their customers.
Ways To Contact Access Bank Customer Care
There are various ways to contact Access bank customer service. Notably, there is no channel better than the other, it all depends on the choice of the customer.
Phone Call and IVR
The generally known Access Bank customer care number is +234 1-2802500, but you can also reach the bank on these numbers; 234 1- 2712005-7, 07003000000. They are all toll-free lines with customer service agents at the other end to resolve customers' complaints. You do not need airtime in your account for the call to go through. All you need is a phone that is registered with any service provider with a good network connection. Dial any of the numbers given above and wait for a voice prompt that will guide you through the process.
It is best to call any of the numbers from 10:00 AM – 03:00 PM from Mondays to Fridays and between 10 AM – 2 PM. Various numbers are for various purposes such as for Mobile Pin activation; call 01-2273007, for complaints; call +2347003000000 and 01-28022500.
These numbers also come with the IVR (Interactive Voie Response) service. This simply means that you also have the opportunity to resolve your banking issues using self-service options made accessible on the IVR platform. With the IVR, you can check your account balance, transfer money, enquire about products and services, block ATM cards and carry out many more transactions without having to speak with an agent. Sometimes after properly using the IVR, customers do not proceed to speak with an agent.
Live Chat
You will get in touch with Access Bank customer representative via Live Chat by logging on to www.livechat.accessbankplc.com. Provide details such as name, phone number (registered with bank), Email address, account number, subject, and security code then you submit. Once the above details have been provided you will be forwarded to an online customer care representative who will attend to all your issues and business transactions.
Electronic Mail (Email)
The official email address of Access Bank is [email protected]. From your web browser log in to your private email address such as Gmail or Yahoo mail. Click on compose icon to compose a message. Add the above email as recipient and write the subject of the mail. Next, you compose what transaction or complaint you intend to do with the bank.
Once you send the message, you will get an instant response from the answering machine acknowledging receipt of your message and informing you that you will be responded to within 24 hours or one working day. All issues will be resolved within the stipulated time and a response sent to you for correspondence. Sending an email is best for transactions such as requesting a new card, proposals, reporting illegal operations, and other related matters.
Through the Internet
The internet is a very effective way to contact Access Bank customer care. If you have an account with Access Bank and wish to contact them online, all you need is an internet-enabled device with a good internet connection. On your internet browser, enter the website www.accessbankplc.com. This will direct you to the Access Bank official website, click on the Internet Banking (Individual) icon by the top-right corner of the web page and proceed as follows;
You will provide a valid Savings/Current account
You will be sent an authentication mail ID on your registered phone number with the bank via Short Message Service (SMS) and your email address.
Enter the validation code ID sent to you and proceed
You will choose your Identification ID, password, and image
Accept the Terms and Conditions and submit
Log in your ID and Password to display your dashboard
Bank Branch
You can walk into any of the various Access Bank branches located nationwide to talk to a representative face to face. All transactions will be handled proficiently and timely.
Tamada
Tamada is an online financial assistant that enables customers to get quick answers to inquiries and requests. You can access Tamada by logging on to www.tamada.accessbankplc.com on your web browser to chat with a service representative of Access Bank plc. Through this channel, you can pay bills, transfer, buy airtime, open accounts and locate the nearest Access Bank ATM machine.
The above are some of the ways to contact the fast and reliable customer care representatives of Access Bank PLC but there are more channels.
How To Reach Access Bank Customer Care on Social Media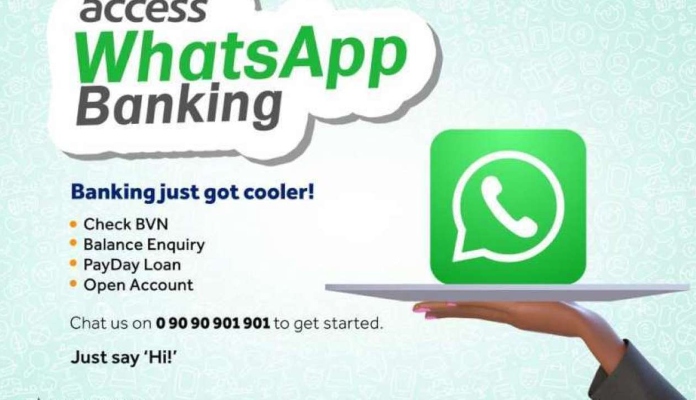 The advent of social media has further solved the problem of accessibility for service organization and their customers. Apart from phone calls and email, there are various social media platforms through which Access Bank customers can interact with customer care agents.
WhatsApp
The Access Whatsapp number is +234909090190. All you have to do is get a phone or device with access to the internet and save the number as Access Whatsapp. Next, you download the Whatsapp application (if you don't already have one) from Google Play Store for Android users and from App Store for iOS users. When the download is complete, open the downloaded application and fill out the necessary information to get you started.
Refresh your Whatsapp contacts and navigate to Access Whatsapp number, send the message 'Hi'. Within seconds, a customer care representative will be available to assist you. All services request on Access Whatsapp are treated instantly and the speed of transaction is dependent only on the internet connection of the user. The various services customers can access via the Access Whatsapp banking platform include; Request Payday Loan, Balance Enquiry, BVN display, and account opening.
Other Social Media Platforms
Your favorite bank is very active on social media. You can reach Access Bank customer care on Facebook, Twitter, and Instagram via the handle @Access Bank. Log in to any of these social media platforms search for Access Bank and when results pop up click on the icon branded Access Bank with the official logo. You will be attended to immediately by a customer care representative when you send a message.