The city of Abuja might be one of the smallest major territories in Nigeria. Still, it accommodates many people as it is the 8th most populated city in the country. As at the last census in 2011, the Federal Capital Territory was estimated to accommodate over 1.2 million Nigerians. The people residing in the capital city of Nigeria share a range of postal codes within 900001 to 950102. Among those who share in these postal codes is the country's number one citizen President Muhammadu Buhari.
 What is a Postal Code?
A postal code or postcode is a series of digits or alphabets and digits assigned to geographical areas designed to receive many mails. Simply put, they are strings of numbers or alphabets that help postal services determine where a piece of mail is being sent to.  Of the 190 countries associated with the Universal Postal Union, 117 countries use postal code systems. Postal codes differ in different countries based on how they are assigned and the format they are arranged.
Postal Codes Can Be Used for Many Thing
Postal codes are very beneficial to individuals, the postal services, and the country at large. Here are some of the essential reasons why postal codes are important.
These

codes have gone beyond just being numbers that identify a location. They have become social identifiers – providing details on the demographics of the people in a particular geographical area. 

Companies use postal Codes as important data structures that give them a visual representation of their audience.

In terms of delivering goods, giving your correct postal code helps deliver goods to the right address and at the appropriate time. Simply put, postal codes

help simplify the postman's job of bringing a post to its destination.

In some cases where we have similar street or town names but in different cities or districts, postal code helps differentiate these streets or towns with similar names.

Brands collect postal codes of their customers to identify which location they have more or less audience, which would aid in making marketing decisions such as opening or closing stores in that location or launching new products.

Providing correct postal codes helps to validate and verify addresses. 
 How the Abuja Postal Codes are Classified
In Nigeria, the organization in charge of assigning postal codes is the Nigerian Postal Service, abbreviated as NIPOST. Nigeria postal codes are in digit forms only, and each contains six digits. NIPOST categorizes the country into nine regions, and the first digit represents the region under which the area falls. For example, all zones within Abuja have 9 as the 1st digit of their postal codes because Abuja falls within the 9th region.
The first digit, combined with the second and third digits, represents the dispatch district for outgoing sorting, while the fourth, fifth, and sixth digits represent your local post office.
List of Council Division in Nigeria
The Federal Capital Territory consists of six area council divisions, including:
Abaji

Bwari

Gwagwalada

Kuje

Kwali

Abuja Municipal Area Council
It is important to note that locations within the different council divisions do not share similar postal codes. Instead, they have their separate postal codes.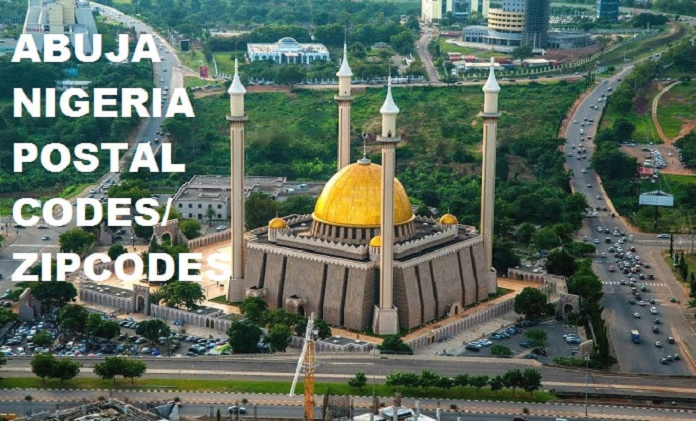 Here's A Complete List of Postal Codes For all Abuja Districts
1. Abaji 
The people of Abaji are the Hausa, Egbira, and Ganagana. Abaji is populated by 98,000 people and has a landmass of 922km2. Abaji Local Council consists of two districts which are: Abaji district and Yaba district.
a. Abaji district: All locations in this district use the common postal code of 950101.
Areas in Abaji district that share the 950101 postal code:
Agyana

Bogo

Bandagi

Dapala

Ebagi

Gbogbogo

Kebba

Manderegi

Nah. Tosho

Nahalati Sabo

Nuku

Panagana

Rimba

Uboshenu

Yawule
b. Yaba district: All locations in this district use the postal code 950102.
Areas in Yaba district that share the 950102 code are:
Abuja

Adagba

Afo

Akori

Alampa

Allu

Ayaba

Bari-Bezi

Busga

Chakun

Chundugo

Dabbare

Dara

Dewu

Domi

Dum

Ekki

Fakon tando

Gadabiri

Gari

Gasakba

Gasukpa

Gawu

Gawun

Gidan Maisaye

Gurdi

Guruza

Gwanda

Gwona

Jamigbe

Kafako

Kpace

Kilarida

Kutara

Kwago

Kwakwa

Kyawu

Lafia Yaba

Managi

Nadichi

Nagun

Nassarawa

Nowog

Nyembo

Pako Base

Panagu

Pandaji

Pankuru

Panpari

Piowe

Sabongida

Sorowo-abdu

Selifulyu

Shadad

Soitan

Takpeshi

Talpa

Tanaga

Wapa

Yelwa

Yelwa Gawu

Zuwa
2. Bwari 
The people of Gbagyi are the original inhabitant of Bwari. As assigned by NIPOST, locations in Bwari share the 901101 postal code.
Here are the areas in Bwari that operate on the 901101 postal code.
Apugye

Barago

Baran Rafi

Barangoni

Barapa

Bazango Bwari

Bunko

Byazhi

Chikale

Dankoru

Dauda

Donabayi

Duba

Dutse Alhaji

Gaba

Galuwyi

Gidan Babachi

Gidan Baushe

Gidan Pawa

Gudupe

Gutpo

Igu

Jigo

Kaima

Karaku

Karawa

Kasaru

Katampe

Kawadashi

Kawu

Kikumi

Kimtaru

Kogo

Kubwa

Kuchibuyi

Kuduru

Kurumin Daudu

Kute

Kwabwure

Panda

Panunuki

Paspa

Payi

Piko

Rugan S/Fulani

Ruriji

Sabon Gari

Sagwari

Shere

Simape

Sumpe

T/Danzaria

T/Manu

Tokulo

Tudun Wada

Tunga Bijimi

Tunga-Adoka

Tungan Sarkin

Ushafa

Yaba

Yajida

Yaupe

Yayidna

Zango

Zuma
3. Gwagwalada
This area council in Abuja has a landmass of 1,043km2 and accommodates over two hundred thousand people. Locations in Gwagwalada share the same 6-digit postal code of 902101.
Locations under Gwagwalada:
Agota

Akwayi

Akyakyata

Alu Wamo

Anguwar Hausawa

Anguwar Sarki

Atopi

Auguwar-Madaki

Bargada Bassa

Basan Zuba

Bassa

Biyu

Boka

Chaboda

Chitumu

Chzako

Dabagayi

Dada

Dada Gongo

Dadabiri

Damin Kara

Dawaki

Didan Tujura

Diko

Dikwa Gwari

Dikwa Kotwa

Dobi

Doni

Doruwa

Eabodo

Garin Godoso

Gbadolo

Gerin Angulu

Gidan Ango

Gidan Bala

Gidan Dandu

Gidan Gade

Gidan Golo

Gidan Yaro

Goi

Goi Sabo

Gongo

Gulupe

Gurebare

Gurfa Gongo

Gurfata

Gurfata Sabo

Gwako

Gwale

Gwari

Gwaywalada

Gyabiri

Hanagada Abdu

Hanagada Bassa

Ibbo

Ibwa

Ibwa Sarki

Ikwa

Isom Bassa

Isom Fulani

Jalita Gongo

Jigodo

Jiwape

Kaburufi

Kace Bassa

Kace Sabo

Kace Sarki

Kaida Bassa

Kaida Gwari

Kaida Sabo

Kalangu

Kasanki

Kpatawuro

Kutabwche

Kutunku

Kuturpe

Kwalikuzi

Lafiya

Ledi

Ledi Sabo

Madaki Abuche

Maikaraya

Maje Bassa

Maje Tsoho

Makama

Momo Sabo

Pabeyi

Pagada

Pagena I

Paiken Korce

Paiko

Pajana II

Pako

Paso Gwari

Pass Kutawa

Patte

Rafin Zurfi

Rain Zurfi

S/Ganuwa

Sabo

Saboda

Sabon Gari

Shaga I

Shaga II

Shajantara

Shanagu

Shara Bassa

Shibo

Shibo Bassa

Shida

Shidahida

Shinge

Soko

Tsagban Siji

Tsaunia Kura

Tsudna

Tundun Wada

Tung Tsauni

Tunga Makeri

Tungan Adamu

Tungan Auta

Tungan D. Kolo

Tungan Giwa

Tungan Jika

Tungan Kakaki

Tungan Ladan

Tungan M. Hassan

Tungan Maikasuwa

Tungan Pada

Tungan S. Pada

Tungan Tsauni

Tungan Salihu

Ung Gade

Ung. Bassa

Ung. Bassa

Ung. Gwari

Wagu Wase-Gyan

Wuma

Wumi

Wurumbi

Wuye-Wuye

Yaluan Ibwa

Yemipe

Zuba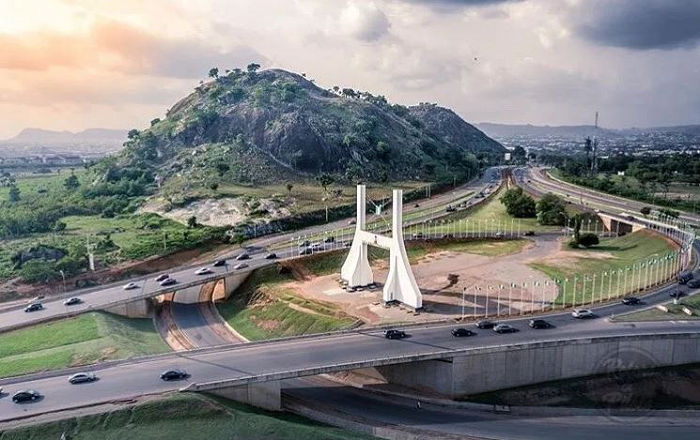 4. Kuje 
Kuje is about 40km southwest of Abuja. With a population of over a hundred thousand Nigerians, it has a landmass of 1,644km2. Kuje Area Council has two districts which are Kuje and Rubbochi districts. 
Places in Kuje districts make use of 903101 postal codes, while Rubbochi districts make use of 903102 postal codes.
5. Kwali
This area council occupies 1,206km2 and recorded 85,837 occupants during the census carried out in 2006.
Districts in Kwali and their postal codes
Pai: 904101

Dafa: 904102

Yangoji: 904103

Kilankwa: 904104

Kwali: 904105

Yebu: 904106

Gumbo: 904107

Ashara: 904108

Wako: 904109
6. Abuja Municipal Area Council
The Abuja Municipal Area Council is divided into 27 districts, with each district having a unique postal code shared by all locations within them.
Here are the 27 districts attached to the Abuja Municipal Area Council and their unique postal codes:
Asokoro – 900231

Abuja Central Business district – 900211

Garki Area 1 – 900241

Garki Area 2 – 900242

Garki Area 3 – 900243

Garki Area 7 – 900244

Garki Area 8 – 900245

Garki Area 10 – 900246

Garki Area 11 – 900247

Garki Rural Areas – 900104

Gwarimpa – 900108

Karu – 900110

Maitama – 900271

Nyanya – 900103

Three Arms – 900221

Wuse II – 900288

Wuse Zone 1 – 900281 

Wuse Zone 2 – 900282

Wuse Zone 3 – 900283

Wuse Zone 4 – 900284

Wuse Zone 5 – 900285

Wuse Zone 6 – 900286

Wuse Zone 7 – 900287

Gui – 900105

Gwagwa – 900106

Kabusa – 900107

Orozo – 900109