Muhammadu Buhari is a 80-year-old Nigerian former military general and politician who served as the president of Nigeria from 2015 to 2023. He was the first to win from an opposition party, APC, since the return of democracy in 1999.
In 2019, he won the presidential seat for the second time to rule for another four years. Before democracy, however, he served in the Nigerian Army and was the military head of state from 1983 when he was 41 years old to 1985.
Buhari's rule as the 7th and 15th president of Nigeria has been met with praises and criticism. To some, he is one of the best, and another sect would label him as one of the country's worst leaders. From whatever angle you may see him, there's a general truth about him you probably may not have come across. Here's an exploration of his real age, parents, siblings, education, politics, and controversies.

Muhammadu Buhari's Profile Summary
Full name: Muhammadu Buhari
Nickname: PMB
Gender: Male
Date of birth: 17 December 1942
Muhammadu Buhari's Age: 80 years old
Ethnicity: Fulani, Katsina
Nationality: Nigerian
Zodiac Sign: Sagittarius
Sexual Orientation: Straight
Religion: Islam
Marital Status: Married
Buhari's Wife: Safinatu Yusuf (m. 1971, divorced in 1988 and died 2006) Aisha Buhari (nee Halilu; m. December 1989)
His Children: 2 males (1 deceased), 8 females (1 deceased)
PMB's Parents: Mallam Hardo Adamu (father), Zulaihat Buhari
Siblings: 23 siblings (Hajiya Rakiya Adamu is his sister and only surviving sibling)
Famous for: Nigeria's military head of state (1983-1985), Nigeria's President (2015-present)
Buhari's Instagram: @muhammadubuhari
Twitter: @mbuhari
Facebook: Muhammadu Buhari
Muhammadu Buhari is 80 Years Old and Hails From Katsina, North East, Nigeria
PMB was born on 17 December 1942 in Katsina State in the North East region of Nigeria as the 23rd and last child of his father, Malam Hardo Adamu, a cattle herder and Fulani chieftain. At the age of 4, the politician lost his father and was raised by his Hausa and Kanuri descent mother, Zulaihat Buhari.
Buhari had his earliest education in Daura, Katsina, and later Mai'adua in the same State. He later moved to Katsina Provincial Secondary School from 1956 to 1961. At the age of 18, he applied to be accepted into the Royal Nigerian Army, and by the time he was 19, he had been accepted and commenced his journey into the military. The first point of his military enrollment was to the Nigerian Military Training College (NMTC), now known as the Nigerian Defense Academy, Kaduna.
Buhari Gained His First Ranking in The Military At The Age of 20 and Became Head of State at 41
At 20, he was commissioned to the rank of a 2nd lieutenant and became a Brigade major in 1965 at 22. He served the second infantry as commander until 1967. In 1975 at the age of 32, Buhari served at the Nigerian Army Corps of Supply and Transport Headquarters as acting director of transport and supply. In that same year, he was Governor of Borno until he was 33.
From then until he was 35 in 1978, he became the first chairman of the Nigerian National Petroleum Corporation. Later from the age of 36 to 37, Buhari was a military secretary at the army headquarters, became a member of the Supreme Military Council, attained the rank of Colonel, and obtained a master's degree. His quest for growth continued, and by the time he was 41 in 1983, he became the Head of state of Nigeria, a position he held until 1985 when he was overthrown in a coup d'état by Gen. Ibrahim Babangida.
He Started Contesting For Presidency in 2003 at The Age of 61 and Finally Won in 2015
Buhari began his drive into politics to be president in 2003 at the age of 61 under the All Nigeria People's Party (ANPP) but lost to the former President Umaru Yar'Adua of the People's Democratic Party (PDP). In 2011, he contested again to be president under the Congress Progressive Change (CPC) but lost to former President Goodluck Jonathan.
In Nigeria's general elections of 2015, he polled under the All Progressives Congress (APC), which was a merger of different political parties headed by Bola Ahmed Tinubu. The election led to Buhari becoming the first Nigeria President under the APC and the first to become a president from an opposition party since 1999 when PDP took power and democracy returned. He returned for a second tenure after winning another time in 2019 with Yemi Osibanjo as his vice on both occasions.
Summary of Public Positions Buhari Has Held Since the 1980s
Here are all the public positions Muhammadu Buhari has held to date
He was a 2nd lieutenant and appointed Platoon Commander of the 2nd infantry Battalion Abeokuta, Nigeria (Jan 1963)
Buhari was a commander of the 2nd infantry Battalion, appointed Brigade major, second sector (1965-1967)
1st infantry Division (April 1967 to July 1967)
Brigade major/commandant 31st Infantry Brigade (1970 to 1971)
Assistant Adjutant-Gen 1st Infantry Division Headquarters (1971 to 1972)
North-Eastern (Borno State) Military Governor (1975)
Federal Commissioner for Petroleum Resources (1976 to 1978)
Military Secretary at Supreme Military Headquarters (1977)
Pioneer Chairman of the Nigerian National Petroleum Corporation (1977 to 1978)
General Officer Commanding, in the Nigerian Army (1981 to 1983)
Military Head of State (1983 to 1985)
Pioneer Chairman Katsina Foundation (1988 )
Chairman Petroleum Trust Fund (PTF, 1988)
President of the Federal Republic of Nigeria (2015)
Re-elected President of the Federal Republic of Nigeria (2019)
Controversies Surrounding Muhammadu Buhari
Right from the time Buhari was a military head of state in Nigeria to when he aspired to head the country as a democratic ruler, there have been many controversies about the 80-year-old Nigerian President. Here is all to know.
He Has Been Called a Dictator Numerous Times
As a military head of state, Muhammadu Buhari was accused of tampering with human rights through attacks on citizens, unlawful detention of people, sending attacks on courts and the press, among other accusations. The name of a dictator followed him when he started his aspiration to become president. Several people called him unfit on many occasions due to the dictatorship's history. Although he attested that even some British publications labeled him a dictator, he promised to change the notion when allowed to rule through democracy.
In 2015, his journey as a president in Nigeria started but soon began to raise questions as to whether the said dictatorship in him had been thrown or was dragged to democracy after his administration reportedly flaunted several court orders, raiding the homes of judges by armed SSS officials, and arresting two former security chiefs. In addition, his administration saw the arrest of several critics and journalists, including Dadya Idris, Jones Abiri, and Omoyele Sowore. Also, people such as Ibrahim el-Zakzakky and his wife were victims of arrest, and their detention also flaunted court orders.
In a more recent accusation of the retired general's dictatorship, his administration is responsible for the arrest, detention, and torture of the leader of Biafra, Nnamdi Kanu. This was accompanied by another accusation of being responsible for the illegal raiding of the home of human rights activist Sunday Igboho, which led to the killing of some of his followers. Although Muhammadu Buhari may not be directly responsible for the several arrests and abuse of rights, the acts have occurred under his administration.
He Has Allegedly Incited Violence
Before the 2011 general elections, while campaigning under CPC, Buhari threatened to make Nigeria ungovernable if he lost. Shortly after the elections in which Goodluck Jonathan emerged as the winner, violence took over a part of the North West and North East where about 800 people, including 10 NYSC members, were reportedly killed.
Still, in 2011, he uttered "kare jini biri jini" in Hausa which directly translates to "the dog and the baboon getting soaked in blood." Although he claimed to have used the words as Hausa idiom, which is also a metaphor for a very tough fight, it didn't stop him from ending in a controversial situation to be instigating violence.
In addition to his causing violence, the presidency under his watch has been accused of deploying the military to Lekki Toll Gate in Lagos, where 10 people lost their lives from shootings on 20 October 2020, during the EndSars protest that was perceived peaceful.
Muhammadu Buhari Reportedly Intends to Islamise Nigeria
Back in 2001, it was recorded that Buhari called for the introduction of total Islamic "Sharia" law in Nigeria. Although he was criticized heavily, especially by many Southern leaders, the call for action was defended by some of his supporters. At many points, the accusation of the politician's intention to Islamize Nigeria continues with politicians such as the former governor of Ekiti State, Ayodele Fayose, joining in the allegation. This was also accompanied by another accusation by the Indigenous People of Biafra, IPOB, who also claimed that the shutting down of Twitter in Nigeria in 2021 exposed his plan to Islamize the country.
More about this, others believe that the real intention of Buhari is not necessarily to Islamise Nigeria but to turn the country into a Fulani state. The evidence mostly cited by the public is an alleged creation of a Fulani radio station with Federal government finances. Although the allegations to turn the country into an Islamic State or a Fulani domain have not been proven, it still has not stopped many from believing and accusing.
The Politician's WAEC Certificate Generated Controversy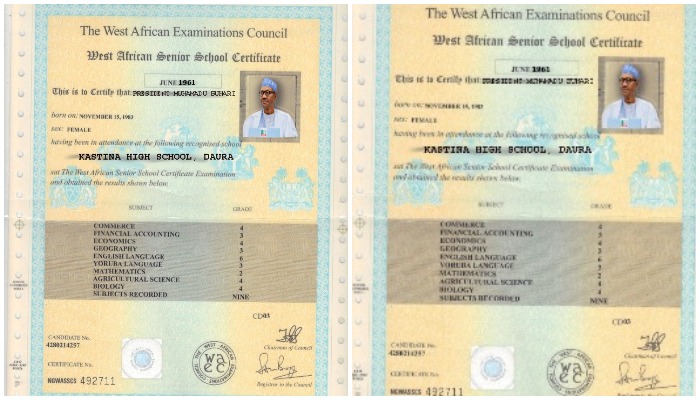 As stipulated in the 1999 constitution of the Federal Republic of Nigeria section 131, it is expected that any candidate running for the office of the President should, among other things, be educated up to at least the School Certificate level or its equivalent. At the turn of the 2015 election period, a case awoke with questions surrounding why Muhammadu Buhari did not have a copy of his WAEC certificate among his documents before the INEC umpire. This would lead to questions such as "is Muhammadu Buhari a graduate?"
In any case, a major factor was that to have been enlisted in the army and risen through the ranks to retire as a general, he must have sat for his West African Examination Council certificate. In further explanation, he said his house during his time in detention was raided, and such a document might have been taken or destroyed. He again said all copies of his relevant documents were with the military. This trend of official statements following the missing WAEC result was doused when WAEC authorities sent an attestation indicating that indeed the 15th president of Nigeria sat for his certification examinations in 1961.
Given his military training in different schools in and outside Nigeria, the demand for his WAEC result was more of an integrity bomb and less about the constitutional requirement.

Highlights of His Educational History
Katsina Middle School, Daura, and Mai'Adua (primary school, 1953)
Katsina Provincial Secondary School (1956-1961)
Nigeria Military Training College (1962-1962)
Mons Officer Cadet School Aldershot, England (1962-1963)
Nigeria Military Training College (1963-1964)
Army Mechanical Transport School, Borden United Kingdom (1964)
Defense Services Staff College, Wellington, India (1973)
US Army War College in Carlisle, Pennsylvania (1979-1980)
Muhammadu Buhari Has Been Accused of Favoring Only The Northern Region 
Since his ushering into ruling Nigeria democratically, Buhari has been accused of marginalizing the southern part of Nigeria and favoring the north, especially in his appointments. According to reports, this results in the president being dragged to court in 2020 by some southern leaders. The accusation has gone as far as claiming that his appointment entails 81 Northerners out of 100 appointees.
The presidency through Femi Adesina has countered this report claiming that 82 of the 157 appointments as made by Buhari went to the South while 75 from the North. However, a publication by Premium Times in 2017 showed that the list by Adesina was inaccurate, and several names were omitted in what was believed to be a deliberate act to show that the South had more appointments.
He Infuriorated Nigerian Youths and Granted Pardon to Terrorists
In 2019, at the Commonwealth Business Forum of the Commonwealth Heads of Government Meeting (CHOGM) held in London, Buhari, while speaking about the issues of Nigeria, made claims that Nigerian youths want things free because the country is an oil-producing one. He further claimed that the youths are mostly uneducated and lazy. The accusation led to anger by many, especially the youth, who mostly took to social media to discuss their grievances.
The twist in this comment came after it reached the public that the Nigerian government started a rehabilitation program for convicted and "repentant" Boko Haram. It became more controversial when the said repentant terrorists could join the military.
His Age Has Also Attracted Controversies
A popular belief is that Muhammadu Buhari may be in his 80s but clings to 80 years for political gains. Although this claim has not been proven, it has made rounds in the media and was a major point in the tussle for power during the 2015 campaign that led to his becoming a president. According to some sources, his sister, Hajiya Rakiya Adamu, who is (84) years old, is his younger sister, posing to be older. However, she claimed that Buhari is her younger and only surviving sibling.
The Real Muhammadu Buhari Purportedly Died, and The Current One is Allegedly Jubril of Sudan
In 2017, IPOB leader Nnamdi Kanu started a conspiracy theory that the Buhari who won the 2015 presidential elections had died and was buried in Saudi Arabia and was replaced by a body double known as Jubril of Sudan. To back up this claim, it was alleged that Queen Elizabeth II and Eric Joyce sent Nigeria a condolence message over the said death.
Further given evidence to back the theory gave the following:
It was claimed that Buhari was left-handed while Jubril uses his right hand.
There are further claims that Buhari is about 2 inches taller than Jubril.
It is asserted that Buhari is older than his body double.
Even though some politicians accepted the theory, including Femi Fani Kayode, others such as Olusegun Obasanjo, Femi Adesina, and Lai Mohammed thought the theory was a lie. Muhammadu Buhari has come out many times to debunk the widespread rumor.
Why Is Muhammadu Buhari's Presidency So Controversial?
Starting in 2003, Muhammadu Buhari led campaigns to be elected President of Nigeria to undo the long trail of bad governance, corruption, and other ills plaguing the nation. Upon his victory in 2015, the path to that reformation has not been a smooth one. The display of wealth by members of his immediate family while he claims a modest declaration of assert raises questions.
There have been setbacks and further collapse of the fragile state of things in most sectors of the nation. The military hand of rule often has been seen to air its head in the official speeches and statements surrounding national affairs in a fashion many have pointed out to be un-democratic. Also, the effects of actions connected to the execution of tasks by ministerial and presidential advisory team members are often heaped back on him as the head of the administration.
In his first tenure, the announcement to stop the office of the First Lady raised concerns on female involvement and gender equity in his government. The mayhem caused by Boko Haram and other bandit groups having further pressured the state of security is a crucial area his administration promised to tackle with little success so far realized.
The number of professional and civil unions that continue to threaten and carry out strikes keeps asking where the promises a highly determined candidate made? Finally, he has been noted to be a frequent traveler, especially for official and medical affairs. Coincidentally, many of these trips fall at times where places and matters in the country require needed attention. It has left the people feeling uncared for.