The fashion industry is one of the most lucrative economic sectors to venture into, as people constantly have a need to cover their nakedness and still look attractive. With top fashion designers like Lola Faturoti, Duro Olowu, Frank Oshodi, and other classic designers mentioned below, one would need decent money to patronize their products. However, you can still look good without breaking the bank.
To establish and encourage people's desire to look unique and attractive through fashion and style, this article is focused on the 15 most famous and well-established fashion designers in Nigeria. Not every tailor is a designer, but these outstanding personalities are exceptionally good at the art of foreseeing a style and bringing it to life through high-quality fabrics.
Meet The Best Fashion Designers Currently Dominating Nigeria
For the fact that clothing is one of the basic needs of man, fashion has in no doubt remained an inevitable aspect of our lives. Hence, many Nigerians have worked so hard to stand out in the world of fashion both within the country and beyond. Also, thanks go to social media platforms like Instagram, Facebook, and Twitter which have gone a long way to helping these designers showcase and advertise their creativity to several people around the globe.
1. Lola Faturoti
Brand Name: LolaloveCargo
Age: N/A
Active Since: 2000
Location: New York City
Target Demography: Women
Lola is not just a fashion star but a force to reckon with in the fashion industry. Her mother was a very good traditional fashion designer and this greatly helped her to nurse a passion for fashion right from childhood. The Ondo State native was born in her home state where she received her early education. However, she left the country at the age of 17 to London, where she studied fashion designing at the London College of Fashion.
Lola promptly began her fashion designing career following her graduation from the fashion school. She first worked for the famous Charivari boutique before landing the opportunity to represent the United States as the best young designer at the annual Osaka fashion committee in Japan in 1995.
Going forward, Lola created her own brand LolaloveCargo which continued catching the eyes of journalists and established her in the fashion scene, giving her outstanding recognition and popularity. She had been part of several fashion shows in the US and her works have been acquired and recognized by the Metropolitan Museum of Arts.
Her brand is an effortless, timeless, and wearable line that reflects the kind of woman she is – strong, bold, fun, unique and fearless. Lola tasted a new and different level of fame in New York after she made a dress to celebrate Barrack Obama's win as the President of the United States of America. Since then, her brand has remained outstanding both in the country and beyond, dishing out her uniqueness in style and fashion.
2. Duro Olowu
Brand Name: Duro Dress
Birth Year: 1965
Active Since: 2004
Location: London
Target Demography: Women
Duro Olowu is of mixed race; he was born to a Jamaican mother and a Nigerian father. He was born and raised in the city of Lagos but is currently based in London. While he was studying Law at the University of Kent in London, Duro's passion was in fashion and he did not wait to pursue it just after his graduation. He started his women's wear brand in 2014 which was an instant success and has today earned him global recognition and a place in the world of fashion as a well-respected fashion designer.
Duro is known and famous for his vintage prints on designs, off-beat patterns, and rich textures, reflecting both his African culture and at the same time the world. He translates his love for languages and art into a universal language of fashion. He has some of his clients to be the former U.S. first lady, Michelle Obama, Solange Knowles, Uma Thurman, Linda Evangelista, and others.
Duro Olowu has won a handful of awards in his fashion career. They include Dress of the Year by the British and American Vogue – 2009, Best International Designer at Africans Fashion Awards in South Africa – 2010, and New Designer of the Year at London Fashion Week – 2005.
3. Zizi Cardow
Brand Name: Zizi Industrial Company
Age: N/A
Active Since: 2000
Location: London
Target Demography: Women
CEO of Zizi Industrial Company, Zizi Cardow hails from Isiukwuato in Abia State. Over time, her works have been featured in top international and local media spaces like SABC, CNN, FTV, and Channel O. Her collections were also featured in the 2013 African Fashion Week in London. Zizi, who is all out to promoting Ankara fabrics, started her fashion company in the year 2000 after landing a fashion job in an Italian-owned boutique. She has a lot of trendsetters and first ladies as her patronizers.
Zizi Cardow is simply an outstanding fashion designer. Here is a list of the several awards and accolades she has won which has radically raised her profile in the industry.
2001 – The prestigious "Designer of the Year Award" by Nigerian Fashion Show
2007 – Pillar of National Development, Gold Award
2007 – African Role Model Leadership, Gold Award
2008 – Nigeria Enterprise Award for Excellence
2008 – Great Legend of Africa, Gold Award
2010 – UN Peace Ambassador
2010 – Young Achievers Award
2011 – Ada Ejiaga Mba 1 of Isiukwato
4. Ohimai Atafo
Brand Name: Mai Atafo Inspired, Weddings by Mai
Age: 45 years old
Active Since: 2010
Location: Nigeria
Target Demography: Unisex
Ohimai Atafo is the founder and creative mind behind the fashion label, Mai Atafo Inspired, and the wedding line, Weddings by Mai. The 45-year-old Nigerian designer is a native of Osun State although he grew up in Lagos. Before he went into the fashion industry, Mai acquired a Masters's degree in Information and Technology from City University, United Kingdom, and then worked as a brand manager at Guinness Nigeria. He gained global recognition in 2010 after launching his clothing label which aims at showcasing the personality of a classy, confident, and elegant Nigerian.
Ohimai has participated in several competitions that has made his brand grow fast. His works have gone on to feature in several fashion blogs and TV programs. The bespoke fashion designer dresses top celebrities like Banky W, Omowunmi Akinnifesi, Mercy Johnson, Stephanie Okereke, Waje, Gbenro Ajibade, and 2baba. For his immense contribution to styles and designs in Africa and beyond, Ohimai Atafo has bagged numerous awards and recognition in his career. They include;
2009 – Hottest New Male Designer Award by City People Fashion and Style.
2010 – Fashion Designer of the Year Award, Mode Men.
2010 – Special Recognition Award, City People Fashion, and Style.
2010 – Best Dressed Man of the Year Award, Mode Men.
Fashion Brand of the Year, FAB Magazine, 2010 edition.
2010 – Covenant University Redefining Fashion Contribution Award
2015 – Heineken Lagos Fashion and Design Week, Menswear Designer of the Year Award.
2015 – People Fashion and Style, Special Recognition Award
5. Lisa Folawiyo
Brand Name: Jewel By Lisa
Birth year: 1976
Active Since: 2015
Location: Nigeria
Target Demography: Women
Creative Director of Jewel By Lisa, Lisa Folawiyo is a graduate of Law from the University of Nigeria, Nsukka (UNN). Her brand has since become a household name and she remains one of the most successful designers in the country. She is known for creating luxurious prints with the unique West African wax popularly called Ankara textile. Some of her celebrity clients are Tacha Smith, Beyonce, Eve, and Kelis. Her Instagram page is @LisaFolawiyo and her website is www.lisafolawiyo.com. Lisa loved fashion from a tender age and in 2005 decided to pursue her passion by launching her own fashion label Jewel by Lisa.
Asides from Nigeria, Lisa Folawiyo has had her collections showcased in South Africa, the UK, and the US. In 2010, she participated in the New York and Paris Fashion Weeks. She won the African Fashion Award in 2012 and was featured in the 2012 Vogue Italia. Lisa made the best-dressed list of sites such as BellaNaija and style vitae among many others. In 2014, Women's Wear Daily (WWD) named her among the eight emerging talents, and in 2015, she was featured among top fashion brands by the prestigious list of international brands – BOF500. Her style is simply unique and innovative, and she loves to mix prints and play around with colors.
6. Ade Bakare
Brand Name: Ade Bakare Couture
Age: N/A
Active Since: 1991
Location: London, Nigeria
Target Demography: Women
Ade Bakare was born in Bromsgrove, United Kingdom, and graduated from Manchester University College. He gained his tailoring skills and experience in the 80s and 90s at the fashion houses of Victor Edelstein and Christian Stambolian. He launched his fashion line, Ade Bakare Couture, in 1991 and became famous for his elegant evening gowns, exquisite day gowns, and wedding dresses. Ade's classic collection went ahead to launch a jersey line in 2011 at the prestigious Wheat Baker Hotel Ikeja.
Having been in the fashion industry for two decades, Ade's outstanding African design has made and continues to make waves around the globe. He deals with high-profile clients, first ladies, senators, and minister's wives both in Nigeria and London who have recognized his top-notch fashion talent. He has been featured around the world in places like New York, Mozambique, Vienna, Morocco, Paris, and Cape Town. He has also participated in several programs that inspire and encourage fashion and received awards from Paris Academy and Conde Nast Publication.
7. Frank Oshodi
Brand Name: House of Bunor
Birth Year: 1959
Active Since: Over 25 years
Location: Nigeria
Target Demography: Women
Frank Oshodi is a fashion design rare gem who portrays the dynamic diversity of Nigeria in style and design. Before he started his brand, Frank had a successful modeling career where he modeled for many fashion houses like Dakova and Nikki Africana and did TV commercials for Macleans, Indomie noodles, Ultrasheen, etc. He later went into choreography, and then became a model manager before finding his niche in makeup and fashion with his label House of Bunor.
Frank Oshodi's major breakthrough came after Silverbird selected him as the makeup artist and designer for Agbani Darego who became the first Nigerian to win the Miss World Beauty Pageant in 2001. You can now recall why Frank Oshodi is associated with simplicity, elegance, and effortless beauty. With a career that has spanned over 25 years, Frank specializes in bride and bridesmaid garments, having both international and local top personalities and celebrities as his clientele.
He gained massive recognition which brought him to the limelight as his brand is being featured on various media platforms in Nigeria. Frank has also played prominent roles in events that have promoted Nigerian fashion and brought it to the forefront. He participated in the 2008 West African Fashion Week.
8. Lanre da Silva
Brand Name: Eponymous Design
Birth Year: 1978
Active Since: 2005
Location: Nigeria
Target Demography: Women
Lanre da Silva has had a successful career in and outside Nigeria with her label, Eponymous Design. She specializes in lace style designs, Ankara/asoebi designs and creatively combines traditional fabrics, patterns, and prints to make day gowns, and evening wears. Lanre became popular with her brand in 2005 after she displayed her collection with the iconic 1940's Couture signature designs. This gave her an opportunity to hang out with high-end personalities like American Vogue Editor-in-Chief, Anna Wintour, Creative Director of GTBank Lagos Fashion, Vogue Italia Editor-in-Chief, Franca Sozzani, and Design Week, Omoyemi Akerele. She also has celebrity clients like Erica Nlewedim, Toke Makinwa, Mo Abudu, and so on.
9. Deola Sagoe
Brand Name: House of Deola
Age: 57 years old
Active Since: 1989
Location: Nigeria
Target Demography: Women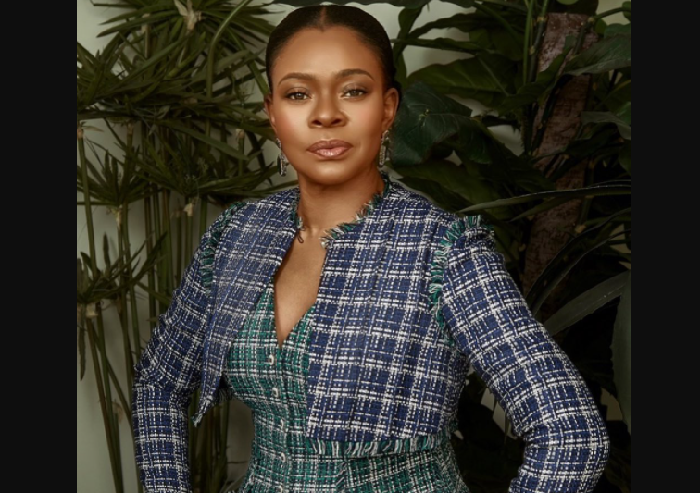 Deola Sagoe has simply made a name for herself as a highly respected fashion designer in several countries of the world. The Ondo State native, after graduating from the University of Lagos, proceeded to obtain a Master's Degree in Finance and Management from the University of Miami. After that, she began her fashion career in 1989 at her mother's tailoring shop known as Odua Creations. There, she developed a satisfactory passion for fashion, gathered enough knowledge she needed, and then decided to find her own line, House of Deola. Deola's brand has gained the hearts of top international fans and clients like Oprah Winfrey and Will Smith.
Her appealing and endearing style has also earned her Africa's first ladies as clients, top models like Alek Wek influential society girls like Lydia Hearst, and other famous personalities. House of Deola is good at translating old colorful traditions into many layers to bring culture and arts to life.
In 2000, she won the MNET/Anglo Gold Africa Designs of the year and became the first black woman to present a collection at AltaRoma, Rome's celebrated fashion week. In 2015, she was selected by the United Nations World Food Program to represent Nigeria in a campaign captioned Catwalk the World: Fashion for Food, which is aimed at raising funds to reduce, at least by half, the number of starving people in the world, especially children.
10. Folake Folarin Coker
Brand Name: Tiffany Amber
Birth year: 1974
Active Since: 1998
Location: Lagos, Nigeria
Target Demography: Women
On the list of the top 15 Nigerian fashion designers is Folake Folarin Coker, the founder and CEO of Tiffany Amber. Folake was born in Lagos, Nigeria but went on to have all her education in Europe (England, Switzerland, and Scotland). After she got a Master's Degree in Petroleum Law from a university in Switzerland, she returned to Nigeria to pursue her passion in fashion. She launched Tiffany Amber in 1998 and the brand has since then witnessed impressive growth.
Folake gained global recognition after she emerged as the first African fashion designer to showcase her talent at the New York Mercedes Fashion Week for consecutive two years. She has been featured by the international media house, CNN, and received an Enterprise Award at the 2013 Women Inspiration and Enterprise Symposium. In 2011, she was awarded Fashion Designers Brand of the Year at the ARISE Magazine Fashion Week. In 2009, she became the first recipient of Designer of the Year at the African fashion week held in Johannesburg, South Africa.
11. Soares Anthony
Brand Name: Soares Anthony
Age: N/A
Active Since: N/A
Location: Nigeria
Target Demography: Men
Soares Anthony is the Creative Director of Soares Anthony, a proudly Nigerian fashion brand that offers premium bespoke outfits. He is an unconventional but classy fashion designer who has his way with designs that are characteristically masculine. Growing up, he got his inspiration from Nigeria fabric with tailoring skills of Japanese excellence. Given the interest and love he has for fashion as a young boy, he would spend his time sketching and drawing styles and patterns on paper. Despite acquiring a degree in Law, Anthony went ahead to found his men's clothing line and has since been doing exploits in the industry. His pieces have been distributed to various countries of the world and worn by affluent politicians.
In addition to his fashion brand, he owns a fashion magazine known as SG2 which aims at celebrating and promoting fashion in Nigeria. He also gives back to society through a platform he uses to teach emerging Nigerian designers what they should know to make their works be of competent international standard.
12. Amaka Osakwe
Brand Name: Maki Oh
Birth Year: 1987
Active Since: 2010
Location: England
Target Demography: Women
Unlike many others in this list who are graduates of Law or other major fields, Amaka is actually walking in the path of what she studied in the university. She studied Fashion and Designing at Arts University Bournemouth before launching her brand, Maki Oh in 2010. She has in the list of her clients, A-list celebrities like Beyoncé, Rihanna, Lady Gaga, Kerry Washington, and Solange Knowles. In 2013, during Michelle Obama's summer trip to South Africa as the first lady, she wore Amaka's designed Maki Oh blouse.
Maki Oh has been featured and recognized by international and local fashion designers awarding bodies and media houses. In 2012, she was named Designer of the Year by the African fashion magazine ARISE. Her work has been showcased at the Museum at the Fashion Institute of Technology, the Brighton Museum & Art Gallery, and the Vitra Design Museum.
13. Kunbi Oyelese
Brand Name: April by Kunbi
Birth Year: 1971
Active Since: 2010
Location: Nigeria
Target Demography: Women
Kunbi Oyelese is a graduate of the Fashion Institute of Technology, New York. She is popular by her brand name which she coined from her birth month in April. The Nigerian founded April by Kunbi in 2010, and today with a career that has spanned over a decade, she has become a well-respected fashion talent in the Nigerian fashion industry. Her brand specializes in beautiful bridal pieces with celebrity clients like Tiwa Savage, Toke Makinwa, Seyi Shay, and others. Kunbi Oyelese has also taken part in some programs that are aimed at promoting fashion in the country.
14. Toluwaloju Olowofoyeku
Brand Name: Toju Foyeh
Birth Year: 1991
Active Since: 2010
Location: Nigeria
Target Demography: Women
Toju Foyeh is the one behind the four exquisite and ravishing outfits Nollywood actress Adesua Etomi wore at her traditional wedding. She is one of the most stylish and unique fashion designers known for bride and bridesmaids' wedding outfits. She officially launched her brand Toju Foyeh in 2010. Some other celebrities that have worn her brand include Toke Makinwa, Ossas Ajibade, Tiwa Savage, and many others. She also gains more popularity and a good fan base on her Instagram page @tojufoye.
15. Kathy Anthony
Brand Name: JUNE BATCH
Age: N/A
Active Since: 2010
Location: Nigeria
Target Demography: Women
Kathy Anthony made the list as one of the top popular female Nigerian fashion designers. With a specialty in women's wear, Kathy is a fashion designer with a taste for style, finishing, and fit, and loves paying attention to details. Her love for arts and crafts is borne out of the desire for designing and making people look good. She is best known for her Ankara fabrics and also has a fashion academy through which she imparts knowledge and gives back to society.
Other Noteworthy Fashion Designers in Nigeria
Nigeria indeed has got talented fashion designers who are celebrated both at the local and international levels. Asides from these 15 outstanding fashion designers, there are also other notable ones who are really doing exploits in the industry. Worthy to mention among them are
Yomi Makun (Yomi Casual)
Toyin Lawani
Taiwo and Kehinde Okunoren (Okunoren Twins)