The Igbo traditional attire is one of the three most circulated traditional attires in Nigeria and sometimes, among societies around the world. Back in Nigeria, the Igbo people are mostly found around the eastern part and they are known to play a significant part in the development of commerce and industry in the country.
As it is with every other part of their tradition, the Igbo traditional attire has its own significant meaning or purpose. This, of course, is why there are different outfits for royalty, chiefs, titled men, and regular people. The native attire worn in this part of the country has modern trends and is ideal for specific occasions.
Igbo Traditional Attire For Ladies
Igbo women are always elegant and beautiful in their most unique attire with every tiny piece of detail from their hair to their face, dress, and composure. This is why Igbo traditional ladies' attire is among the trendiest traditional attires for events across Nigeria.
Modern Igbo female traditional attire has transitioned from the old-fashioned thick fabric called the ekwerike clothing, into a now-elegant outfit with a well-embroidered blouse, headgear or headscarf, and heavy beads often worn around the neck, wrist, and ankle.
The common Igbo traditional attire for ladies include;
A headgear
beads around the neck
earrings
coral beads
shorts blouses
skirt or wrapper
sandals or shoes
Check out some of the latest traditional Igbo attire for ladies.
1. Igbo traditional two-layer wrapper and blouse
A typical Igbo lady knows how to tie a two-layered wrapper. It is the traditional way of dressing up for women from the eastern part of Nigeria.
To perfectly tie your two-layered wrappers, you must first understand the trick – the longer wrapper is tied first with legs widely spread apart to enable easy walking. Put on your fitted blouse and then complete your dressing with the shorter wrapper which goes a little above the one tied earlier. You can give yourself a finishing touch with a matching head tie or heavily beaded cap like you see in the picture above.
 2. Heavily beaded long sleeve gown with matching headtie
If you want to look classy in your Igbo traditional attire, then your lace will do the shine for you. Get into that nicely fitted A-line gown for that gorgeous look you desire.
3. Puffed-hand blouse with wrapper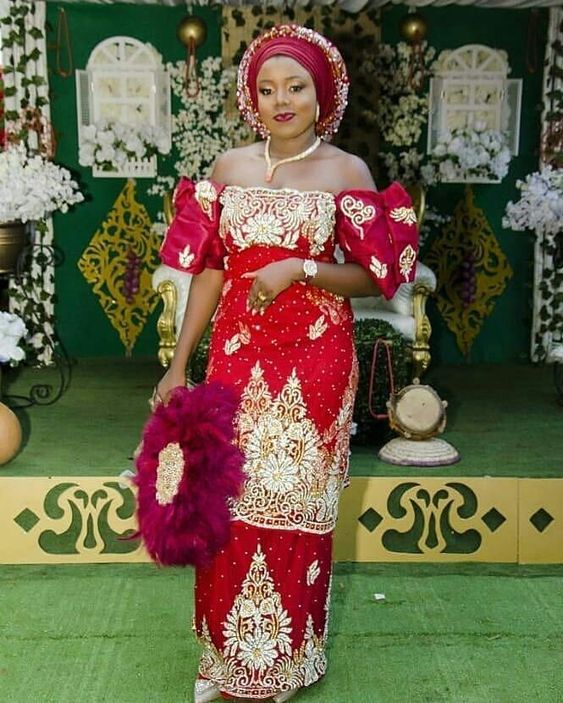 The Igbo traditional attire can never exclude wrappers and blouses. The most interesting thing is that you can style your blouse to your taste or even to fit the trending styles around you.
Here's a blouse with an off-shoulder puffed sleeve that can fit either your two-layered wrapper or a single well-wrapped wrapper.
4. Traditional Igbo women isi agu off-shoulder gown style
The traditional isi agu fabric is not only for men but women also rock it. Isi-Agu is an Igbo word that literally means lion's head. It is called 'Chieftaincy' attire as it is made with the lion's head prints. It is one fabric every Igbo woman would love to have in her clothing collection. Here is a beautifully designed and well-fitted off-shoulder gown you can rock for that traditional Igbo event or marriage ceremony.
5. Traditional Igbo Tube Gown
With the same Isiagu fabric, you can sew your dress to suit your taste. This design requires that the sleeves are entirely removed while the trunk of the clothing has its length running from the upper part of the body to the knee-length as another fabric of the same color is used to make a two-layer.
6. Igbo traditional short gown with detachable sleeves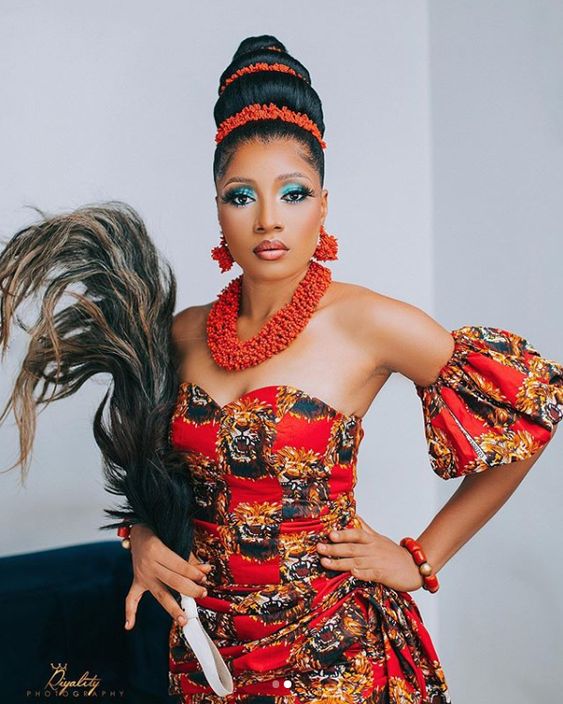 This is similar to the one above. The sleeves of the top are entirely detached, leaving the trunk of the clothing to run down with a bit of ruffling around the waist up to above the knee level. This beautiful attire allows you to adorn yourself with the traditional beads around your neck, waist, and feet.
7. Igbo traditional attire with intorica George fabrics
This simple but elegant attire gives you a typical Igbo bride appearance. It is a two-piece wrapper of which one is used around the chest area, covering the breasts in a stylish manner and the other is tied around the waist to a little above the knee. This attire is mostly worn by the bride during her traditional wedding (Igba nkwu).
This attire cannot be complete without the adorning signature of beads around the neck, waistline, and feet. You can look more fashionable with a few touches of the beads around your hairdo, as you see in the picture above.
8. Ishi agu mini strapped blouse on a mini skirt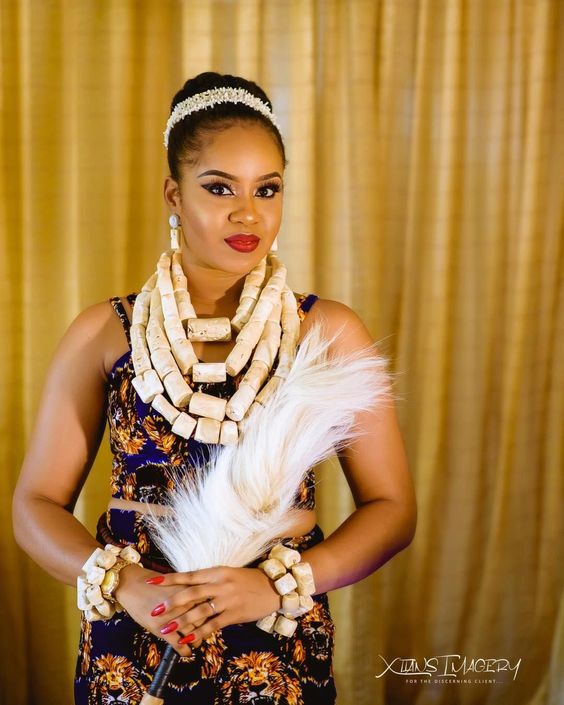 This is a replica of the one above and it is perfect with any color of isi agu fabric of your choice. Simply make a nicely-fitted mini blouse that goes just above your navel area, to display the tummy.
with strapped sleeves (you can choose to add a short sleeve or detachable mini sleeves), this attire perfectly fits moderately-plumpy and curvy ladies in the right proportions. The skirt is firmly fitted and runs from the waist down to the mid-thigh. It is rocked with waist beads, beaded necklaces, headbands, and hand bands, coupled with earrings made from beads. You can use a black horse tail to match the color of the attire.
9. Single sleeve all-red mini gown
Give yourself a colorful look with this all-red mini gown well adorned with coral beads from the head to your feet. The mini gown comes with a single off-shoulder sleeve with a touch of velvet fabric to further enhance the style.
10. Blue off-shoulder top with wrapper Igbo traditional attire
Igbo women love everything that will make them appear like they are royalty. Hence, royal blue color fabrics are loved by all. This is a royal blue George material used to make an off-shoulder top and wrapper. What distinguishes this type of off-shoulder top from the rest is the flower ruffle design used to make the sleeves. So, instead of having just an ordinary sleeve, you can creatively make yours look unique. Complement your royal look with an Asoke headgear with a single piece of coral bead worn on your neck and hands.
11. Purple lace off-shoulder gown
Here's another royal attire that can make you stand out among your peers. In the African fashion sense, the color purple represents the strong and beautiful nature of womanhood.
So, when you get that purple lace fabric, you can make it into this long tube gown embellished with fashion beads that could serve as your sleeves. This simple Igbo traditional attire will make you appear unique at every traditional Igbo event.
12. Off-shoulder strapped embroided Igbo women's attire
Fashion will only continue to get better. With an exciting style like this to add to the list, you are going to be attending quite a lot of traditional Igbo events this year. This is a well embroidered George fabric with two sleeves on each side. It gives you that elegant look you desire and with the coral bead on your neck and wrists, you are no less an Igbo queen set for that royal event.
 13. Off-shoulder crop top and mini wrapper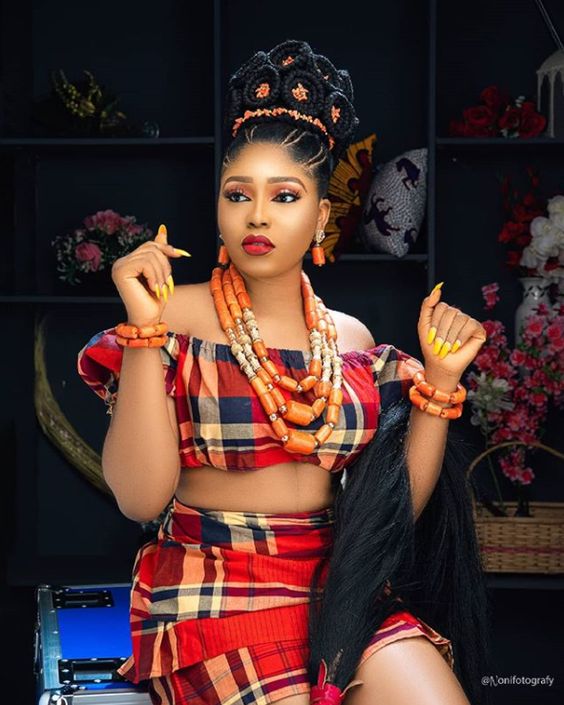 The is a simple blouse with an off-shoulder sleeve. The blouse is made just to cover the chest region. The fabric is also folded to cover from the waist to the mid-thigh. With a necklace made of coral beads, a beaded band around the hairdo, beaded wristbands, and beaded earrings, this outfit is perfect for an Igbo bride.
 14. Heavily beaded top on a long tube gown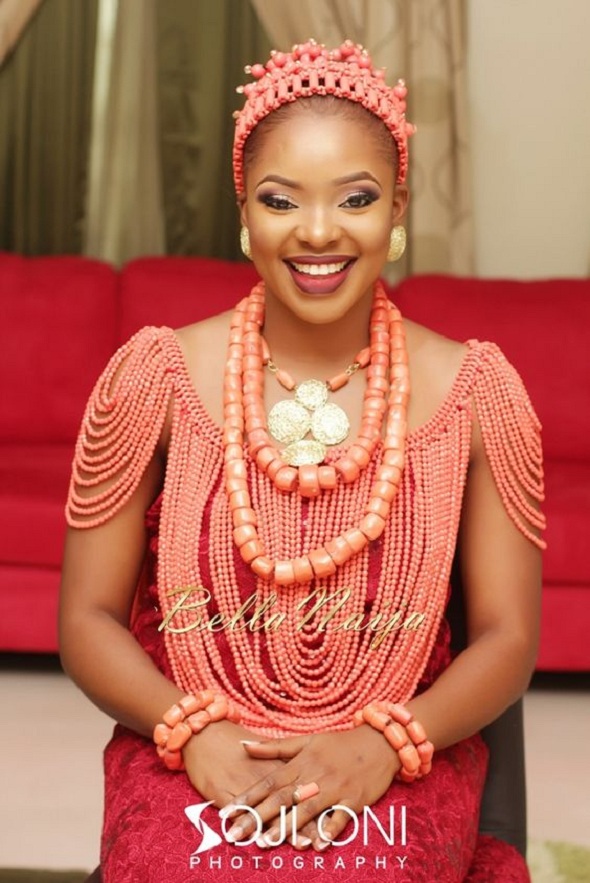 A true Igbo woman knows the worth of beads. it is one of the major ornaments that distinguish a traditional Igbo woman from women of other tribes. This is a beaded top usually worn on a long flowing gown.
The beads are used to cover the upper body, leaving only your neckline either plain or decorated with another set of heavy coral beads. You can complement this with your fashion necklace as seen in the picture above.
15. Igbo traditional attire with ankara fabric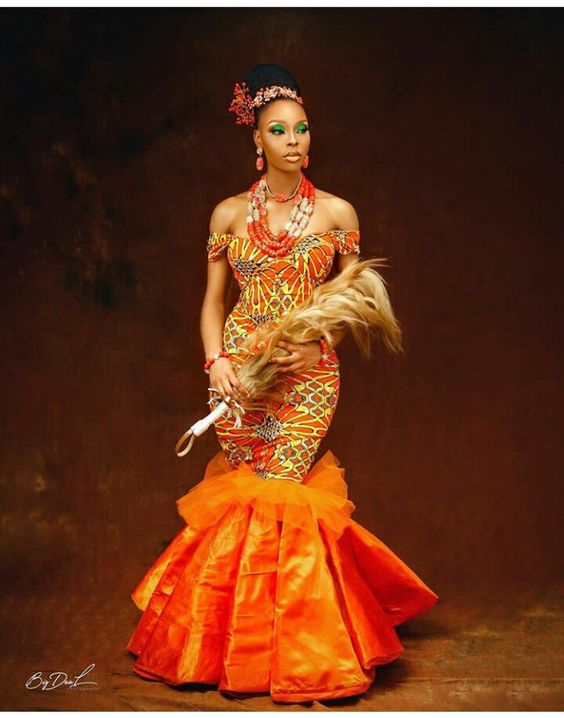 Expensive George or lace fabrics are not the only kind of fabric you can use to rock your Igbo traditional attire. Your colorful Ankara fabric can be can also give you that gorgeous look you desire.
This off-shoulder Ankara gown has mini sleeves. The long gown is tightly fitted to the body with not many complicated designs except for the satin fabric used to make a two-step flare from the knee level down to your feet. You can give yourself that true touch of beauty with a set of coral beads.
Igbo Traditional Attire For Men
The Igbo traditional attire for men comes in a combination of Isi agu or chieftaincy attire with wrapper or fitting pair of trousers, caps/ hat (mostly red), a walking stick, and, of course, coral beads. The tunic may come in red, white, black, burgundy, and in some cases, clearly distinct patterns.
These colorful Igbo traditional attire can make you look elegant for that Igbo event.
16. Short-sleeved ishi agu top and wrapper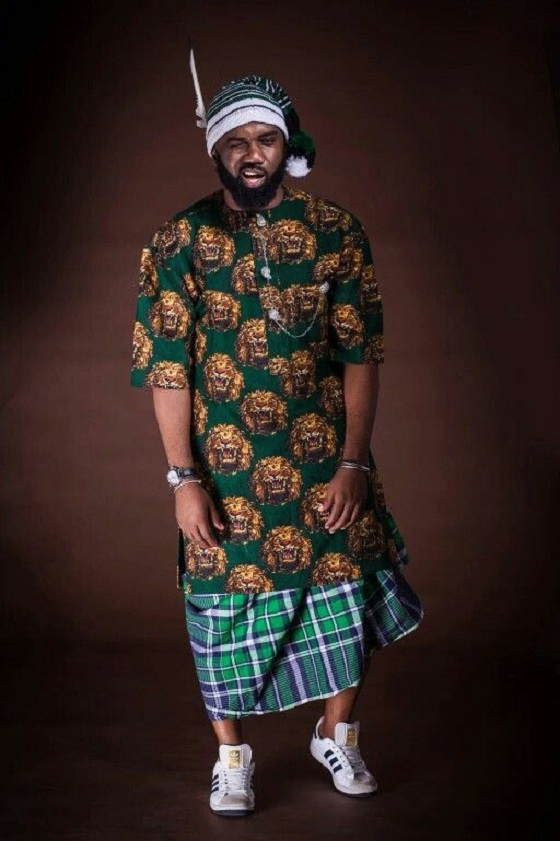 The Isi agu material which looks very similar to another famous Nigerian item of clothing, the Dashiki, is one of the Igbo traditional attire for men that can never go out of fashion. This richly decorated fabric is an ideal choice for a groom who wants to follow the Igbo tradition.
This is a green Isi agu fabric with short sleeves and well decorated with silver buttons that are linked by a chain. You can complete your dressing with the stripped Igbo hat with a bobble on its ends. The bird feather at the tip of the hat gives you a perfect definition of that Igbo traditional attire. The wrapper is usually the African Plain George Fabrics stylishly tied in a way that the tips of the wrapper go by the side.
17. Long-sleeved Isi agu shirt with wrapper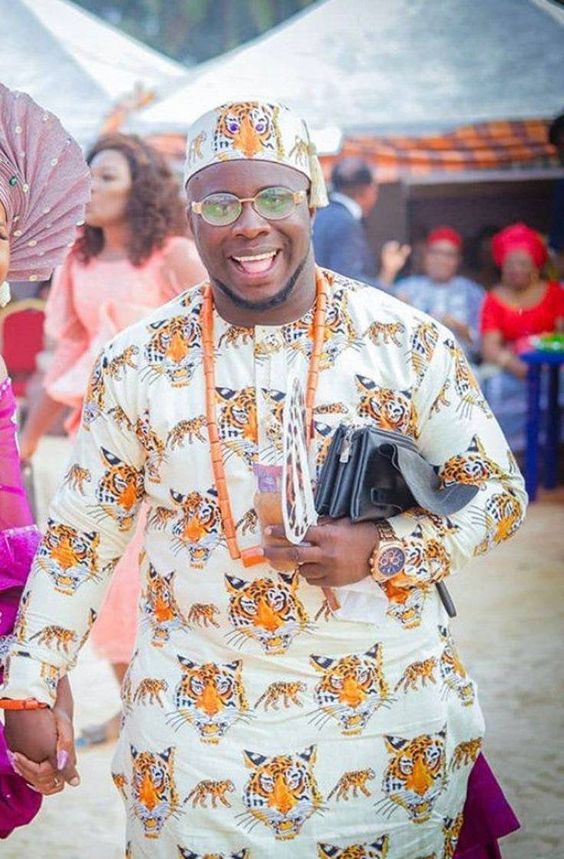 While many prefer to go with the short-sleeved Isi agu fabric with wrapper, long-sleeved Isi agu is also a welcomed idea. You can decide to decorate your shirt with silver, gold, or black big buttons, or use a stopper instead, as seen in the picture. Making a cap out of the fabric and combining it with your coral beads gives you a unique appearance as a stylish Igbo man.
18. Isi agu shirt with plain black trouser
This is one of the most commonly-worn Isi agu attire by men. Not only is it simple, but it also gives you a gorgeous look, especially when combined with any of the important accessories like the cap, beads, and walking stick. Get an Isi agu fabric of your choice, make it into a short or long-sleeved shirt, add accessories of your choice and look gorgeous like a typical Igbo man.
19. Isi-agu agbada combined with kaftan outfit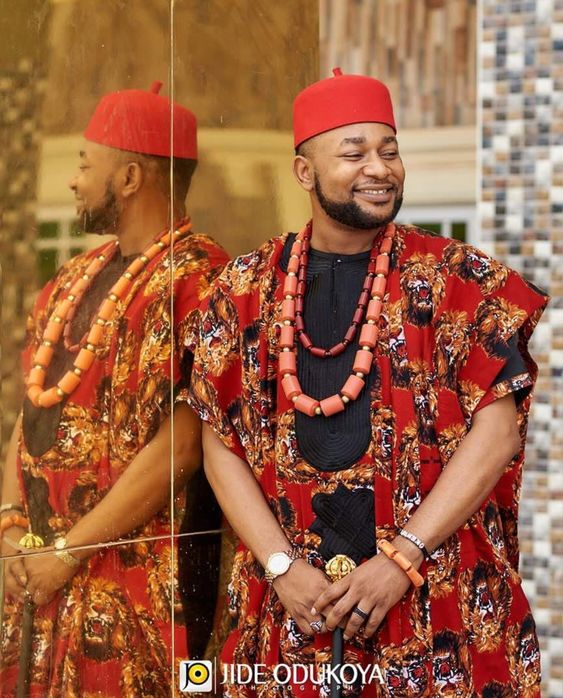 This is unique and extraordinary. Making a nicely-fitted shirt and top of the same background color with the Isi agu fabric of your choice can be a good way to rock that Igbo traditional attire. What you see in the picture is a well-embroidered Isi agu agbada with a short-sleeved shirt, a chieftaincy red cap, and a walking stick to go with.
20. Etibo Over Matching Wrapper
Though not a typical Igbo traditional attire but Igbo men have come to embrace this outfit. The Etibo shirt is largely inspired by the famous Niger Delta Etibo outfit. It comes in different patterns but the white fabric is mostly used.
The picture above presents you with a white etibo worn over a cream George fabric used as a wrapper. The wrapper is loosely tied with its length running to the ankle level. It can be worn with a matching cap, beaded necklace, and hand band. You can also wear your etibo with any color of George fabric of your choice. It can also go with the African plain George.
21. Etibo over matching trousers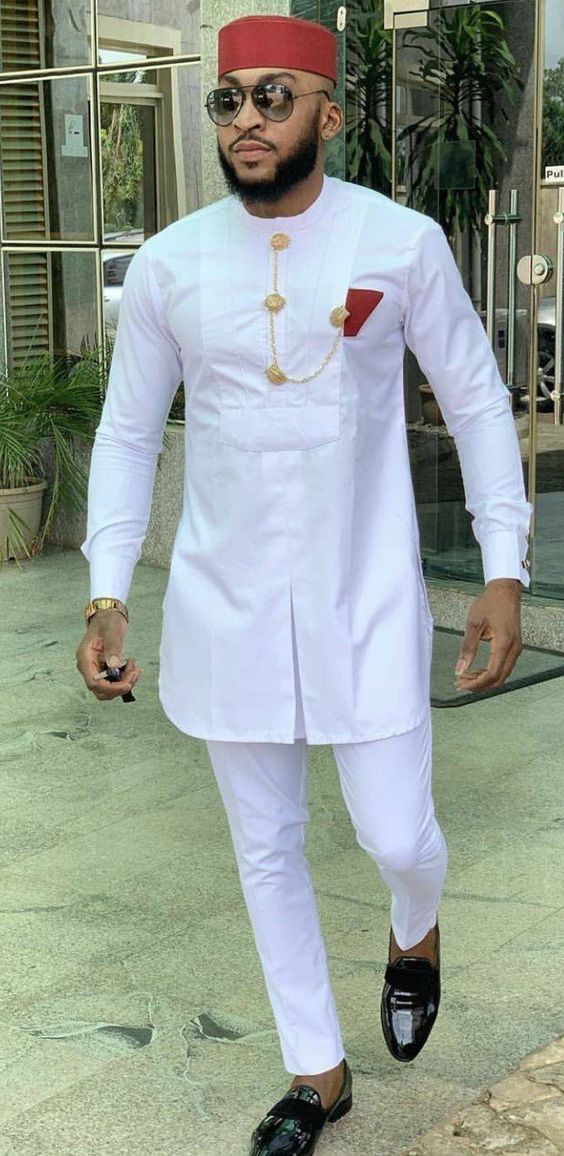 Your Etibo can also go with a pair of trousers of either of plain black color or of a matching color of your choice. The picture above gives you a uniquely designed white etibo over a white pair of trousers. The shirt is designed with the gold designer's button linked by a chain. Your "red cap" and walking stick are also a must-have.
22. Senator style with cap (okpu-eze)
This is simply unique. This senator style originated from the South Eastern and Niger Delta regions of Nigeria and is largely worn by Igbo men, although the fashion style has gained much recognition in all parts of Nigeria.
What's so unique about this style is that despite being a native style, it is usually made with fabric materials meant for formal styles such as suits and jackets. You will surely look your best with this outfit, a traditional Igbo cap, and a walking stick or hand fan to go with. Do not forget your coral bead bands.
23. Three-piece agbada attire for traditional Igbo men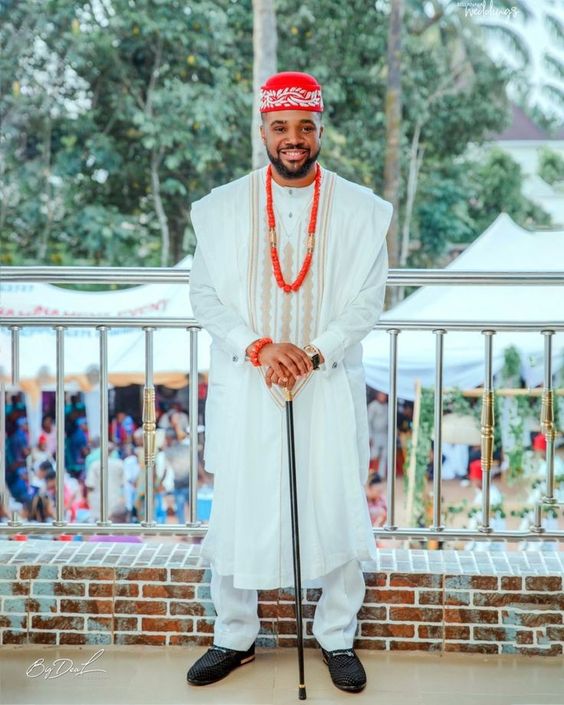 Agbada is never an Igbo attire. It is a clothing style of the trans-Saharan and Sahelian trading groups which has long become a welcome fashion style for Igbo men. Agbada is largely made from cotton and richly embroidered in traditional patterns.
You can rock a three-piece agbada like the one you see above for that Igbo traditional event but do not forget to give it a touch of Igbo tradition by adding coral bead bands and a colorfully designed cap.
24. Traditional George fabric over a plain trouser
If you choose to rather look simple or want to go back to the old Igbo fashion trend, then this is a sure Igbo traditional attire for men you should consider. All you need is a pair of trousers, a traditional African George fabric, and some coral beads to go with. The Igbo traditional amala hat is also a must-have to look your best in this outfit.
25. A see-through lace over a silk George wrapper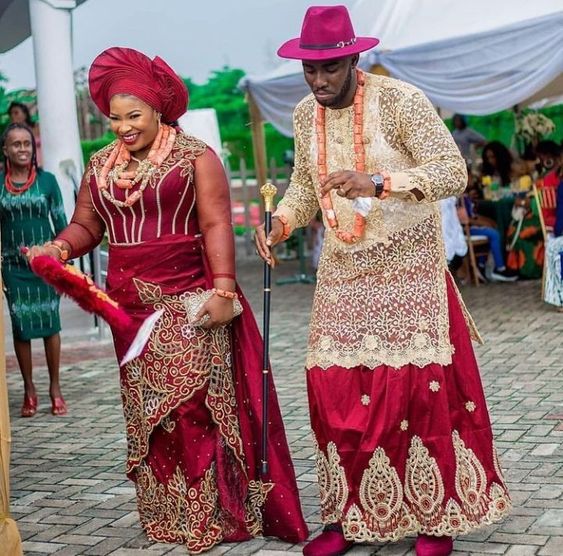 This is another trending Igbo traditional attire for men you must have. You can choose a simple silk George fabric or the heavily embroidered ones for that your event. You will also need to adorn this attire with beads, chieftaincy cap, and a walking stick.