Joseph Yobo (born September 6, 1980) is a Nigerian professional football player who played as a defender (center back). He is best known for being the captain of Nigeria's national team until he retired from playing internationally. He was also the nation's appearance holder.
Joseph Yobo is a household name in the Nigerian Football Team. He played as a defender (center back) and has had quite an eventful career both with the Nigerian National Team, as well as with clubs in France and England.
The brother to former Nigeria senior team player Albert Yobo is also known as an ex-Nigerian player who held the post of a captain in the country's national team until his retirement from international football in June 2014. But who is Joseph Yobo? What exactly is his net worth? Let's look at the things you probably never knew about the player Joseph Yobo, his wife, and more.
Where Is Joseph Yobe From?
Joseph Philip Yobo was born on September 6, 1980, in Koni, Rivers state, Nigeria to Williamson Michael Yobo and Comfort Yobo.
His father was a renowned journalist, editor, and writer who worked with Tide, a newspaper company. He has 8 siblings whose names are not fully known to the media.
Some of his known siblings are Michael Albert Yobo, Nnorum Yobo, and Gideon Michael Yobo. Michael, his elder brother was a footballer while Gideon is a FIFA licensed & English FA registered football agent who currently resides in the United Kingdom. He is married to Blessing Yobo and is a father to Williamson Michael Yobo, their only child.
In July 2008, the footballer's family hit the headlines following the abduction of Norum in Port Harcourt, Rivers State, Nigeria. He was eventually released on July 17, 2008, just 12 days after his abduction.
Other details about the footballer are currently not available.
He Started His Family After Getting Married To A Beauty Queen and Former MBGN Winner
Joseph is married to ex-beauty queen Adaeze Igwe, who won the Most Beautiful Girl in Nigeria in 2008. Yobo had arrived in Nigeria to spend a short part of the summer holiday and it was during this time that he met Adaeze (the daughter of Ikechukwu and Abigail Igwe) and was forced to spend the whole holiday in Nigeria after falling in love with the beauty queen.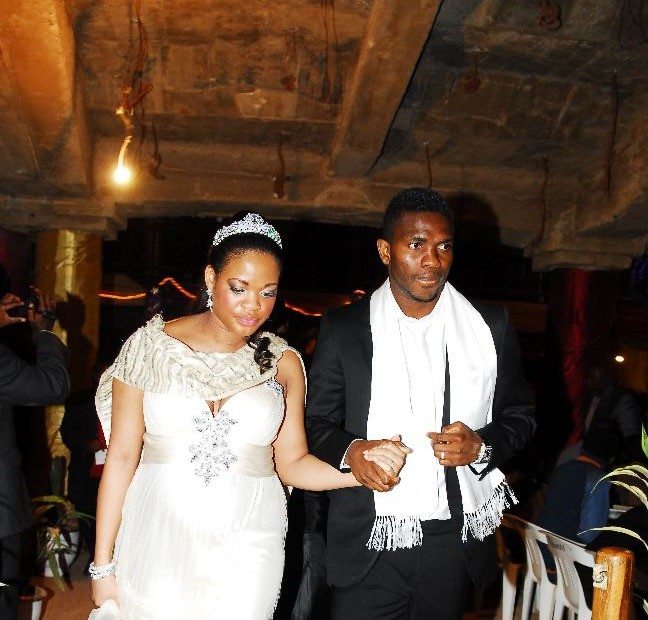 They got married on the midnight of 31st December 2009, in Jos, just a few months after their first meeting. Speculations had it that the couple rushed their marriage because Adaeze was pregnant for the footballer. But Yobo refuted the claims, revealing that they had a rushed wedding because that their people were available at the time and that the period suits his career time.
Yobo and Adaeze are blessed with three children – two handsome sons Joey (born 2010), Jayden Yobo (born 2015), and daughter Lexine Yobo (born 2017).
When and Where Did He Start His Football Career?
Yobo started off his football career in the year 1996. He was just 16 at the time, and the first club he played for was Michellin-Harcourt, a football club in Port Harcourt. In 1997, he left Nigeria and joined the Standard Liége Club and this marked the kick-off of his professional senior football career. He made his first-team debut in the year 2000 and made about 46 appearances.
He joined the Nigeria senior team after his role in Nigeria's run to the 1999 FIFA World Youth Championship quarter-finals. His first match in the team was against Zambia in the 2002 FIFA World Cup qualifier which took place in 2001. His second World Cup appearance was in 2010 during the tournament in South Africa.
Yobo moved to play for Marseille in 2001, then Everton, Fenerbahce, and Norwich. He scored 7 goals overall during his stay in the Super Eagles senior team and is known as a one-time record appearance holder.
His Journey To the Big English Clubs
Yobo's journey to the big clubs in England wasn't a very smooth sail as it was full of loan-contracts. First, he was loaned to Tenerife (a Spanish football club based in Santa Cruz) shortly after his appearance in Marseille. Nine months later, he was loaned back to Marseille.
After his return, the player was again loaned to Everton in 2002. Years after, he was signed to the club on a permanent basis where he became one of the only 7 players in the whole league to play all the games from beginning to end throughout the 2006-2007 season. In 2007, he was named the record appearance holder for international players while in Everton – a title he held until 2012. Apart from that, Yobo also became the first African to captain Everton – a position he grabbed in the absence of Phil Neville during the UEFA Cup match against Larissa of Greece in 2007. He scored his first goal in Everton in 2009 to end a 3-1 victory against West Ham United.
However, Yobo was consistently benched months later possibly due to an own goal during his club's match against Liverpool that ended in 2-0 loss to Liverpool. In spite of his seeming downfall, Yobo – with a determined mindset to make a great change – moved to Fenerbahce, a Turkish club initially on a short contract basis and then on a longer-term. While in his new club, Yobo did outstandingly excellent which led Fenerbahce to crowning him with a plaque of appreciation. He moved to Norwich in 2014 and spent a brief time there before ending his active football career in June the same year.
His elder brother was also a footballer
Joseph's elder brother, Albert Yobo was Nigeria's international footballer who played as a defender. He made his debut for Nigeria against Zambia in a friendly in December 1997, at the age of 18.
He was capped more than 100 times as a Super Eagle's star
Joseph Yobo was a member of the Nigeria National Team (the Super Eagles) from the year 2001 to 2014. During this period, he made 101 FIFA international appearances, and in all, he scored a total of 7 goals. This qualified him as the record appearance holder for the Super Eagles.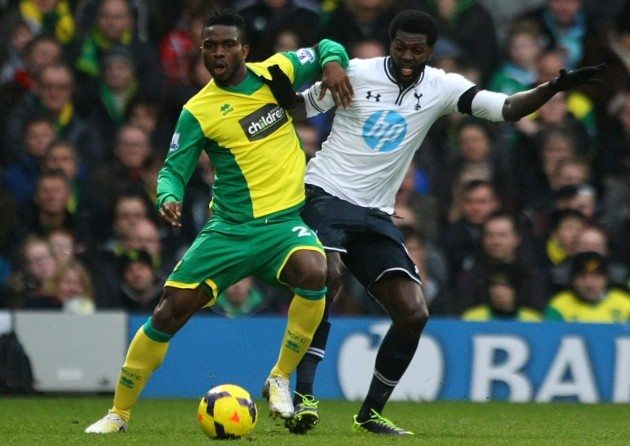 He once sustained a serious injury in the course of his career
Joseph Yobo sustained a hamstring injury in a match against Benin which prevented him from participating in the friendly match with Mexico. He stayed out for about 5 months before he resumed play. It was rumored then that he went to Prophet T.B Joshua for prayers and healing.
He retired after losing a match to France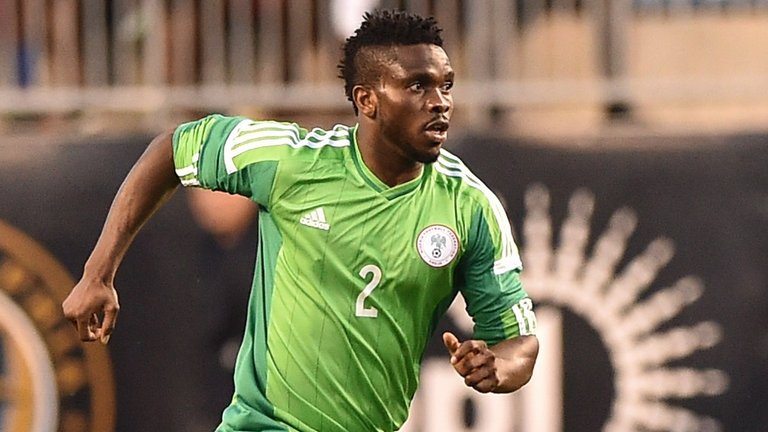 Following Nigeria's loss to France in the round of 16 at the 2014 FIFA World Cup, Joseph Yobo announced his international retirement. 
Joseph Yobo's Net Worth More Than N13 billion/$35 million
Joseph Yobo's net worth is estimated to be more than N13 billion, and that is above 35 million US Dollars. As far back as 2014, he earned a salary of €800 000.
Having chosen a very lucrative career, Yobo is evaluated to be a billionaire. Just like most professional footballers and athletes around the world, he has amassed an impressive amount of money from both his significant paychecks from his former soccer clubs and other business enterprises.
He Has Some Exotic Cars and Houses To His Name
Yobo has a customized Ferrari 458 spider (which cost between $275,000 and
$320,000), Mercedez Benz ML AMG, Audi Q7, Bentley, Continental GT, and Porsche Panamera, S Turbo, Mercedez Benz G63 Wagon, Range Rover Sport.
The former Super Eagles player has a mansion in Lekki, VGC, Abuja, a duplex in London and a nightclub known as Extreme Reloaded which he procured for a whopping N80 million.
What Has He Done For Charity?
In 2007, Yobo set up the Joseph Yobo Charity Foundation, to help underprivileged children in Nigeria. As at 18th July 2007, he had handed out over 300 scholarship awards to students ranging from primary to tertiary level.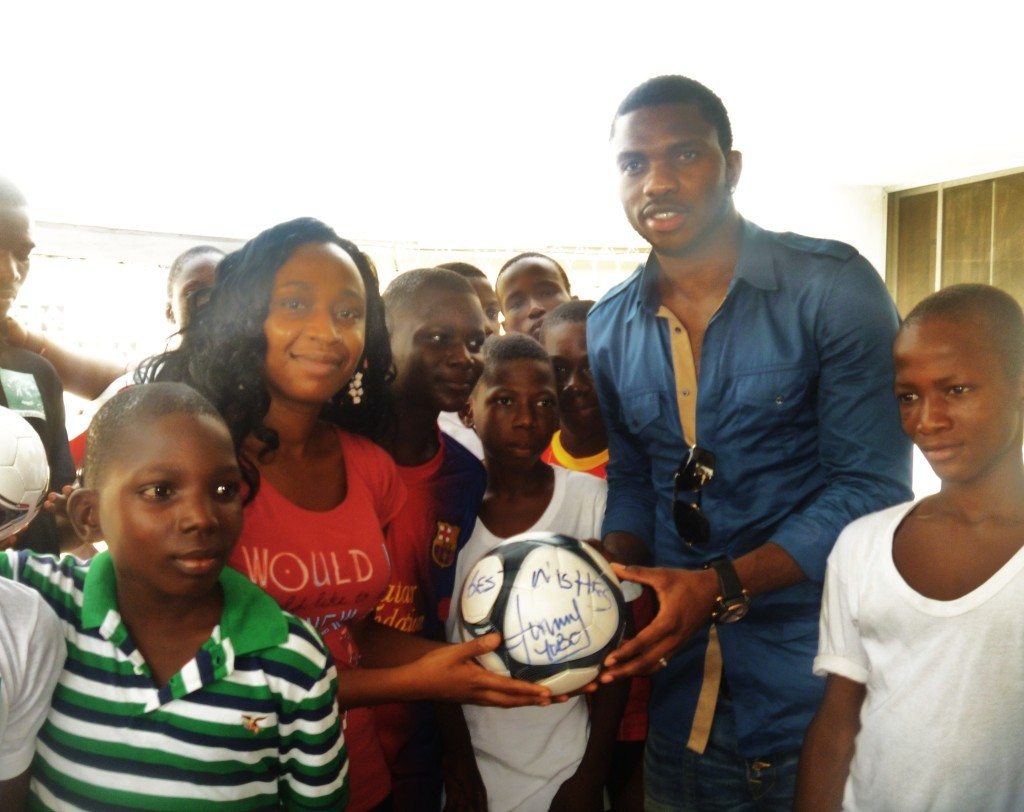 Yobo has also started a football academy in the Ogoni region of Nigeria.
He Is A Traditional Chief
In May 2016, the former Super Eagles defender got a chieftaincy title conferred on him and his wife, Mene Aborlo 1 and Waamene Aborlo 1 of Ogoniland by their King, HRH GNK Gininwa. The title came a day after a testimonial game was played to honor him for his services. The non-competitive match organized by the Rivers State Government marked his exit from active football.
Through his Twitter page, he expressed his appreciation for the chieftaincy title, suggesting that people could now call him Chief Yobo.