Bet9ja is undoubtedly one of the few most used sportsbooks in Africa's most populous country, Nigeria. The online bookmaker offers betting options on various sports, both local and international. The website is under license with the Lagos State Lotteries Board (LSLB) with permission to operate in other parts of Nigeria. It is traded under KC Gaming Networks Limited and is run by shareholders of various nationalities.
On the website, you can place a bet on all the popular sports globally, including football, tennis, basketball, rugby, ice hockey, and handball. It also has a market for live play.
How Popular is Bet9ja in Nigeria?
Bet9ja is Nigeria's most popular gambling site, and it's also one of the easiest to use on both desktop and mobile platforms. KC Gaming is a gaming company based in Kansas City.
According to Alexa, Bet9ja is the second most frequented website in Nigeria, trailing only Jumia, Jiji, Nairabet, and even heavyweights like Facebook, YouTube, and the list goes on. The only platform that has managed to keep its position is Google, which is still number one for the time being.
Every month, the website receives around 57.6 million visitors. That's an incredible amount fueled by the online betting site, Bet9ja, which receives a ton of traffic from genuine people, many of whom are regular local gamblers who visit their favorite betting spot at least every other day.
Click to Visit Bet9ja
How to Open Bet9ja Account
To join the million Nigerian young punters on Bet9ja, you will need to first register on the company's site, and this is quite easy to do.
Bet9ja Registration Process:
Here are a few easy steps to help you quickly register with Bet9ja.
Visit Bet9ja Homepage and locate the register icon on the top right hand of the page.

In the registration form, provide your email address, first and last names, and date of birth.

In the "Promotion Code (optional)" section, enter the unique Bet9ja promo code.

Continue by pressing the green "CONTINUE" button.

Select "Create my account" from the drop-down menu.
You're ready to go! You may now verify your email address and begin betting on bet9ja!
Requirements for Creating Bet9ja Account
There are rules guiding new candidates wishing to open an account with Bet9ja.
You must be up to 18 years Of age to participate.

You'll require a gadget.

You'll need access to the internet.

Your Nigerian phone number must be duly registered

A valid email address

Name of the Person exactly as it appears on your bank statement.

Surname exactly as it appears on your bank statement.

Year of birth

Promotion code (this is optional)
After completing this step, you are now the proud owner of a Bet9ja account. This means you can get started right now by placing bets on one of Nigeria's most reputable betting sites.
How Can I Register with Bet9ja using a Mobile Phone?
To register using your mobile phone, you can either go through the website as directed above or download the Bet9ja app from your phone app store.
To Register via the bet9ja app, here are steps to follow:
Open the website of bet9ja.
Locate the link to download the right app.
Download and install the app.
Launch it and register by filling in all personal details.
How to Verify My Bet9ja Account
The KYC verification process is divided into two sections, the first of which requires you to prove your identity and the second of which requires you to verify your residence. You only need to submit to the bookmaker a scanned copy or a photograph of some of your documents for both verification stages.
To verify your Identity:
As stated above, the first stage of the verification entails confirming your identity; thus, you need to send one of the following papers to the Bet9ja team.
A passport that is valid (Photo Page Only)

Valid Identification Card (Front and Back)

Valid Driver's License with Photocard (Photo, Name, and Signature)

You must supply a scanned copy or a picture of some of your documents that confirm your current 
To verify Your Residence
To verify your residence, you will need to provide a scanned copy or a picture of some of your documents, which prove your current address. These documents may include:
Statement  of Accounts (Issued in the last 3 months)

Bill for Utility Services (Issued in the last 3 months)

Bill for Local Government Taxes (Issued in the current year)

Use a credit/debit card or a pre-paid card to send a letter (Issued in the last 3 months)

A lease agreement (Issued in the last 12 months)

Statement for a mortgage or a house loan

Certificate of insurance for a car, a house, and a cell phone (Issued in the last 12 months)

Acceptance letter from the university or entrance letter (Issued in the last 12 months),

(Issued recently) Catalog Statement

Marriage certificate

 Employment contract or pay stub with visible address (Issued in the last three months).
Note: If you don't verify your BET9JA account, your account will be blocked, and you won't be able to access it.
You can contact the Bet9ja customer support agents if you have any issues related to your account verification.
Bet9ja Contact Details
Email: cs@ mybet9ja.com,
Phones: 01-2796666, 0-15158888, 01-4405145, 08099990939,
You can also contact them on the website's contact page by sending a message.
Benefits of Opening Bet9ja Account for new Users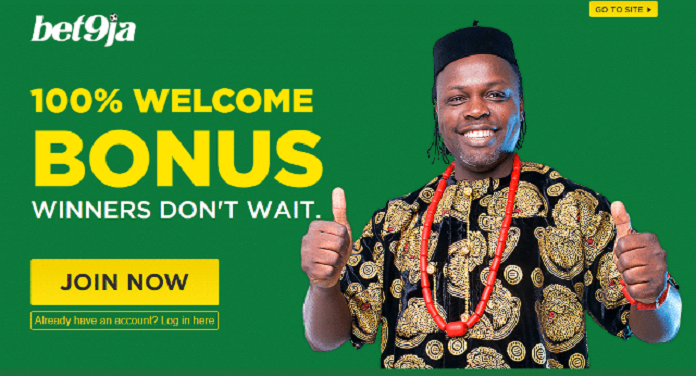 After registering with Bet9ja, new users are eligible for various bonuses. There are numerous promotions and bonuses available. Their Welcome Bonus is among the most generous on the market. 
When you sign up and make your first deposit, you can get a 100% match bonus up to NGN100,000.

To access the bonus, you must meet the wagering conditions, much like most bookies. You must meet certain requirements to be eligible for the incentive; a minimum investment of NGN100 is required.
You will be credited with a bonus of up to N100,000 if you play with your initial deposit amount.
Note: To withdraw your welcome bonus, you must wager it a minimum of 20 times on odds of 3.0 or higher. Furthermore, you must complete the wagering criteria within a 30-day period.
I Want to Login To My Bet9ja Account, How Do I Go About It?
If you are  well registered and have opened an account with Bet9ja, you can easily log in to your account by using the following procedures:
Visit the official Bet9ja website by clicking here.

In the top right corner of the website, click the "Login" button.

Fill in the required fields with your username and password.

Select The "Login" button is located on the left side of the page.

That's all you will do, and you may now begin putting your wagers.
How to Edit My Bet9ja Account Details
To edit your bet9ja Account details, here are steps to follow:
Login to your account using your username and password,

Navigate to the "Account Detail" area, click "Change Profile," 

Follow the on-screen instructions to edit any part of your profile 

Click submit button to submit your newly submitted details
Note: In the case where your personal information or email address is incorrect, please inform the bet9ja Customer Service department if there are any inaccuracies.
How to Reset Bet9ja Account
To begin, you must first register on the Bet9ja website.

Go to the Bet9ja website and look for 'Lоgin' in the upper right corner.

Click 'Fоrgоttеn аsswоrd?' below the lоgin fields.

In the раssword rесоvеry раgе, рrоvidе thе rеquirеd infоrmаtiоn in thе rеquirеd fiеlds. This will forward an email with instructions on resetting your password to you.

Carefully follow the instructions, and a new email will be sent to you.

Use the email to log in and regain access to your user account.
How To Delete Bet9ja Account
A Bet9ja account deletion is not the same as a Bet9ja account reset. You will not be able to play on Bet9ja.com again once your account has been deleted, and your username will no longer be available.
You must contact the Bet9ja customer service department to have your account deleted. They will assist you in totally deleting your account from their system.
If you still wish to remove your Bet9ja account, keep in mind that you won't be able to undo it. You also won't be able to open another account using the same email address you used to create the deleted one. After indicating that you want to delete your account, Bet9ja will not honor any requests to stop the process.
To go ahead with your bet9ja Account deletion, here are steps you should follow:
Log in to your Bet9ja account via their website with your email and password. However, you can open the app if you have a mobile app.
Navigate to the top of the page and tap on "Contact Us" on the right side of the page.
Hit on the Send Us a Message link.
Fill out the deactivation form with pertained details. Send the message and title it Delete my Account.
Send it afterward.
What are the bet9ja Terms and Conditions?
Placing bets without understanding a Bookmaker's terms and conditions is like signing a document you have no knowledge about. As a result, it is critical that you read and comprehend a Bookie's terms and conditions.
To assist you in getting started, we've included some of the most critical conditions to be aware of below:
To register and place bets on bet9ja, you must be at least 18 years old.

When you sign up for a bet9ja account, you agree to all the terms and conditions.

You may only manage one account at a time.

Bet9ja reserves the right to reject, accept, or partially accept a wager.

NGN 100 is the minimum bet.

Each player has a chance to win up to NGN40,000,000.

Customers are responsible for safeguarding their accounts and passwords.