Major-General Johnson Thomas Umunnakwe Aguiyi-Ironsi became the first military president in Nigeria on January 16, 1966, after a coup, and served for 194 days until the July Counter coup on July 29, 1966.
Out of the eight military presidents in Nigeria, also termed the military head of state, Aguiyi Ironsi served as the first. He was 42 years old when his tenure began after the coup that saw the death of the first and only Nigeria's prime minister, Sir Abubakar Tafawa Balewa, among several others. He is mainly remembered for bringing to law the Unification Decree of Nigeria (Decree No. 34), which allowed absolute power to the center other than the regions.
When did Military Rule Start in Nigeria, and How Long Did the First Military President in Nigeria Rule for?
The first military rule in Nigeria started with Major General Aguiyi-Ironsi on January 16, 1966, until July 29, 1966. The Abia State-native was recruited into the Nigeran Army as a young teenage boy in 1942.
He started as a private in the seventh battalion before becoming a company sergeant major and gradually climbed different ranks till he became a major general. He continued his successful military career until he became the General Officer Commanding (GOC) – the highest rank in the army.
He took the position from Major-General (Sir) Christopher Welbley Everard, the then senior British Army Officer, in 1965 to become the first Nigerian to be appointed into that office. Barely a year after his ascension to the office of GOC, an attack by the military was planned and executed on January 15, 1966.
It targeted top government officials and top army officers, including the then Prime Minister of Nigeria, Alhaji Abubakar Tafawa Balewa. The bloodbath, led by Major Kaduna Nzeagwu and Major Emmanuel Ifeajuna, was aimed to annihilate all corrupt leaders and looters, hence, the first military coup.
On the coup day, top political leaders were attacked and killed, some with their families. As a matter of fact, Aguiyi Ironsi was among the few top political leaders to survive the attack. This was so because while the soldiers rampaged his house in search of him, he was nowhere to be found.
Some sources claimed that instead of heading home after Brigadier Zakari Maimalari's party, he went for another. Zakari was killed at his party alongside several other military men. Since Johnson Thomas Umannakwe Aguiyi-Ironsi was the highest-ranking military officer at the time of the coup, he became the military head of state on January 16, 1966.
The tale about how he took control has remained different. While Shehu Shagari claimed that Ironsi shed tears and claimed he had no choice but to grant the army's demand and lead Nigeria, Richard Akinjide said the former Head of State told them to hand over to him in peace, or he'll take it by force.
Aguiyi-Ironsi's Reign as Military Head of State Was Short but Changed the System of Nigeria's Government
The first military president in Nigeria started his leadership on January 16, 1966, 6 years after Nigeria gained independence and after the first president, Nnamdi Azikiwe (in office in 1963), and the first prime minister, Tafawa Balewa (1960).
His leadership came with an entirely new phase in the political phase of Nigeria. He enacted Decree No. 34, which allowed for the unification of Nigeria. With this decree, instead of allowing the federal system of government, the country became unified, with a single power in the center and the creation of an administrative division to be answerable to one supreme authority.
Also, he suspended and amended some constitutions, such as Decree No. 1. This would tamper with some constitutional rights except for freedom of expression and conscience.
How the First Military President in Nigeria was Killed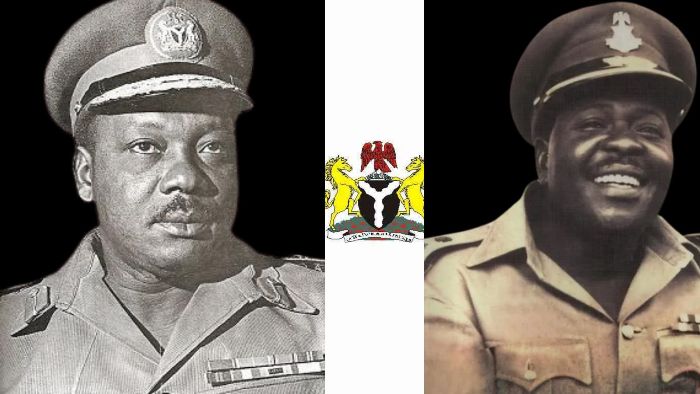 In the wee hours of July 29, 1966, Aguiyi-Ironsi was killed alongside that Lieutenant Colonel Francis Adekule Fajuyi, the first Military Governor of the Western region. The 1924-born Johnson Aguiyi-Ironsi was said to have been in Ibadan to spend the night following an invitation from Fajuyi.
They had learned of the killing spree that took charge of some senior Igbo officers in Abeokuta, and having that in mind, Fajuyi kept guard and realized the house was under attack at about 6 am. Major Theophilus Yakubu Danjuma, who was then 27 years old, boldly told Fajuyi that he was under arrest and intended to get Aguiyi-Ironsi.
The former military president was said to have bid his son farewell and urged him never to seek revenge. The military men that came for Ironsi figured he was not out early, even though the first Military Governor of the Western region claimed he would inform him of the arrest.
They entered the house and reportedly confronted him for refusing to court-martial those who took part in the mutiny earlier. Danjuma was said to have also confronted him about killing "his brothers" from the north and how the young major had to go round trying to calm other ranks.
That being said, the soldiers were said to have tied his hands and neck and dragged him and Fajuyi out of the house. Days came by, and the military leaders were reportedly found dead in a pit after being tortured and shot. His killing led to the taking over of the second military president, Yakubu Gowon, at age 31, and served for almost 9 years.
Why was Aguiyi-Ironsi killed?
Following his take over as the Military Head of State on January 16, 1966, Aguiyi Ironsi drew a lot of mixed reactions. Questions were asked as to why the first military president in Nigeria was not killed in the bloody coup.
Further questions were asked as to why most people that were killed were the northern leaders and not even the Igbo premier in the east, Michael Okpara. Some theories pointed out that it could be ethnic cleansing. Others still feel that it was just a coup and had nothing to do with an Igbo agenda.
Whatever it was, one reason that most outlets provide is that of the declaration of the 34th Decree Consitution. It was said that many military men and Nigerians became aggrieved and wanted power to be divided instead of centered, allowing just a region to have absolute control.
Further reports claimed that he brought an end to the "northernisation policy" of Ahmadu Bello that allowed northerners to be given more priority in terms of jobs. The cancellation was frowned upon by northern elders, who retaliated with a protest that saw to the killings of Igbos in their thousands, per The Africa Report.
It has also been reported that Aguiyi-Ironsi failed to prosecute the culprits of the January 1966 coup even after months in office. Instead, he was allegedly planning to release them. Rather than stop there, he allegedly neglected the families of those killed in the coup. This would also breed another accusation that he masterminded the first coup through Major Nzeogwu and favored people.