Jibola Dabo (born 12th August 1942; Age: 80) is a Nollywood actor, producer, director, TV personality, entrepreneur, and philanthropist. He is reportedly single, however, he has 5 children from different women.
Considering not only how long he has been acting in the Nigerian film industry but also his contribution to its growth, Vanguard media publication described Jibola Dabo as a Nollywood veteran. Jibola, who has been in Nollywood for almost two decades, has written his name on the hearts of his viewers, given his unique way of interpreting roles. Here you'll know everything there is about the actor, including his career journey and family life.
Jibola Dabo's Biography Summary
Full name: Jibola Dabo
Gender: Male
Date of birth: 12th August 1942
Jibola Dabo's Age: 80 years old
Ethnicity: Yoruba
Nationality: Nigerian
Zodiac Sign: Leo
Sexual Orientation: Straight
Religion: Christianity
Marital Status: Single
Jibola Dabo's Children: 5
Jibola Dabo's Parents: Mr. and Mrs. Dabo
Jibola Dabo's Height in Inches: 5 feet 7 inches
Jibola Dabo's Height in Centimetres: 170 cm
Jibola Dabo's Net worth: $1 Million
Famous for: Being an Actor
Jibola Dabo's Instagram: jibola_dabo
Jibola Dabo was Born Into a Poor Family in Lagos State
Jibola was born on the 12th of August 1942 to his parent in Lagos State, the southwestern part of Nigeria. He is currently 80 years old. Jibola Dabo is of Yoruba descent and originally hails from Owo, a small town in Ondo State, Nigeria. The veteran told the tale of how he was born into a poor family and had to struggle for survival.
Also, he once narrated a story of how and when he contemplated suicide by jumping in front of a moving vehicle because of hardship. Indeed, Jibola had a humble beginning and only rose to fame due to his hard work and resilience.
Dabo grew up alongside his siblings in Lagos, where he also received his primary and secondary education. After that, he proceeded to the University of Lagos (UNILAG) and graduated with a bachelor's degree in Fine Arts. Following his graduation from UNILAG, he decided to further his education in the United States of America. He attended Columbia State University, where he graduated with a Master's Degree in Mass Media.
Jibola Dabo Joined Nollywood in 2006
Jibola started acting in his primary school days at the age of 6 when he played the character of Samson in a stage play drama in his school. Subsequently, he also played the role of a chief priest in a dram organized in his town, Owo, Ondo State, which gave him a level of recognition as an uprising actor. He kept on harnessing his acting prowess via any acting opportunity he saw around him until he eventually made it to the Nollywood industry in 2006
Jibola made his official debut in the Nigerian film industry in 2006 and has since acted in more than 200 Nollywood movies. His acting career actually broke out in 2009 after he featured in Dirty Secrets, a film that can be described as Nollywood's most provocative movie. In the movie, he featured alongside Tonto Dikeh and the now deceased Muna Obiekwe.
Speaking about the movie, Jibola expressed that he hates the gay role he was assigned to play with Muna Obiekwe in the movie. According to him, Dirty Secrets is his least favorite movie, even though it bolstered his fame as an actor.
In movies, Jibola Dabo is best known for playing the roles of a chief, king, wealthy man, and popular figure. His white beard has been his signature look for over twenty years. Given his high creativity and skills, he fits well into any role given to him. He is ranked among the topmost and sought-after actors in Nollywood.
List of His Movies and TV Shows
Secret Twin Sisters
The Silent Baron
Queen of the World
Imole
Ihite Kingdom
Bloody Carnival
Mama Africa
High Blood Pressure
Kingdom of Darkness
Broken Mirror
My Game
25th Birthday
Game Changer
Break Away
Beyond Powers
My Fantasy
Mama's Love
Action King
Changing Faces
Convicted
The Secret Asiri
Aku- Save The Girl Child
Awards
Best Actor of the Year at the Zuma Film Festival (ZUFF)
Africa Movie Academy Award, Best Actor in a Leading Role
Africa Magic Viewers Choice Award, Most Prominent Actor in Nigeria
Golden Icon Movie Academy Award, Best Actor in Nigeria
City People Entertainment Awards, Best Actor of the Year
Has Jibola Retired From Acting
A veteran, Jibola has been active in Nollywood for years and has become one of the most recognizable faces onscreen in Nigeria. As a matter of fact, it is notable that the actor has diversified his endeavors into film production and directing, which helped to boost his fame and popularity.
He has also ventured into politics. In 2015, aspired to represent his town, Owo federal constituency at the Federal House of Representative in Abuja. Although he was not successful, he has remained active on the political front.
Who is Jibola Dabo's wife?
From all indications, Jibola Dabo has never been officially married to any woman in his life. He once dated Nollywood actress Binta Ayo Mogaji and the relationship produced a son. Although many thought that the two were once married and later got divorced, the actress has come out publicly to explain that Jibola Dabo was never married to her and that he was only her boyfriend even though they have a child together.
Binta Ayo is currently married to a British Psychotherapist named Dr. Victor Ayodele Oduleye.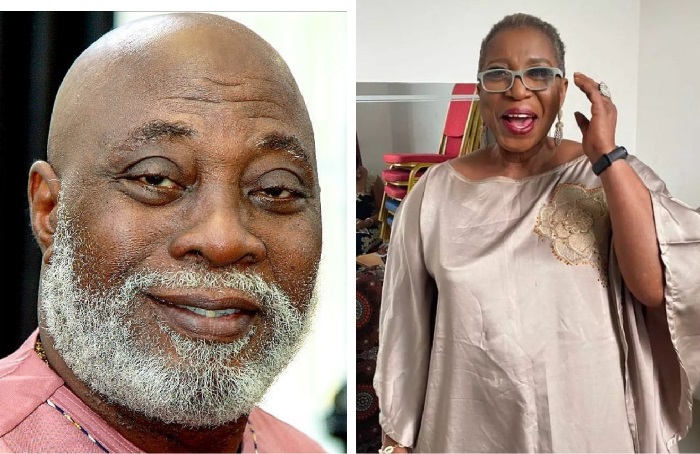 Meanwhile, in an interview he granted with Leadership Nigeria in 2014, actor Jibola Dabo stated that he is an ardent supporter of polygamy. According to the Dirty Secret star, polygamy simply means when a man sees a woman that he loves and cherishes, he marries her with the consent of his already married wife and then brings her home.
Jibola Dabo Reportedly Has Five Children From Different Women
From his relationship with Binta Ayo Mogaji, Jibola has a son known as Ademide Mogaji Dabo. Jibola is also reported to have other four children from different women, but there is no information about them. His children are said to have all grown up and are married with their own children, making the actor a grandfather.
Ademide Mogaji Dabo usually shows off his parents on his social media pages, and a closer look at his Instagram page shows that the young man dedicates posts to his mother more than his father. Ademide has an interest in music, basketball, and other creative activities.