Janemena's husband is Andre Oyeze Plies who became famous because of his long-term relationship and marriage to the influencer and dancer, Janemena. Even though he surrounds himself with fame through his affiliation with Janemena, he has been able to shield himself from the prying eyes of the public. Yet, he has shown himself as a man who supports his wife even when it was claimed that Prince Kpokpogri had sex with her and there were threats to expose videos of the act.
With the controversy surrounding her life with Kpokpogri, there have been questions with respect to what was between the two. Kpokpogri, a politician and socialite allegedly dated Janemena and the information was revealed by Nollywood actress, Tonto Dikeh. There were claims that the relationship led to sex tapes, voice notes, and even termination of pregnancy. To make the case even more controversial, Jane's husband, Plies was already in her life when she purportedly dated Kpokpogri. Well, here's the full story of Janemena's marriage and her life with Kpokpogri amidst other love life details.
What is Janemena's Husband's Full Name?
Janemena's husband's real name is Andres "Andre" Oyeze Plies. His name has captured attention, especially as his wife, Janemena has adopted it on social media and calls herself Mrs. Plies. While Andres mostly keeps details about him under wraps, his wife Janemena does not. She was born Usiwo Orezinena Jane on April 3, 1993. She was born in Delta State and was raised in Lagos State.
Janemena's Relationship and Marriage with Plies 
https://z-p3.www.instagram.com/p/Cp2QCRJqhhO/
Plies and Janemena's relationship started long before Janemena became famous. They have been together since 2010. After dating for about nine years, they got engaged in 2019 after Plies proposed in the Maldives while they were on a vacation. The same year, the couple had their traditional wedding and it remains a mystery if there was a "white wedding".
The couple welcomed their first child, a son, around the end of 2022 but they have chosen to keep details about him private. However, every now and then, Janemena shares some pictures and videos of the child on Instagram. Yet, at the time of this recording, they've not shared photos that reveal his face.
Truth About Janemena and Kpokpogri
In September 2021, Nollywood celebrity, Tonto Dikeh claimed that Janemena had a sexual relationship with Kpokpogri, the same man Tonto dated. Tonto called the dancer an "adulterous twerker" and claimed she had sex tapes of Jane and Kpokpogri. The Nollywood actress also proclaimed that Janemena went as far as getting pregnant for Kpokpogri and aborting it afterward.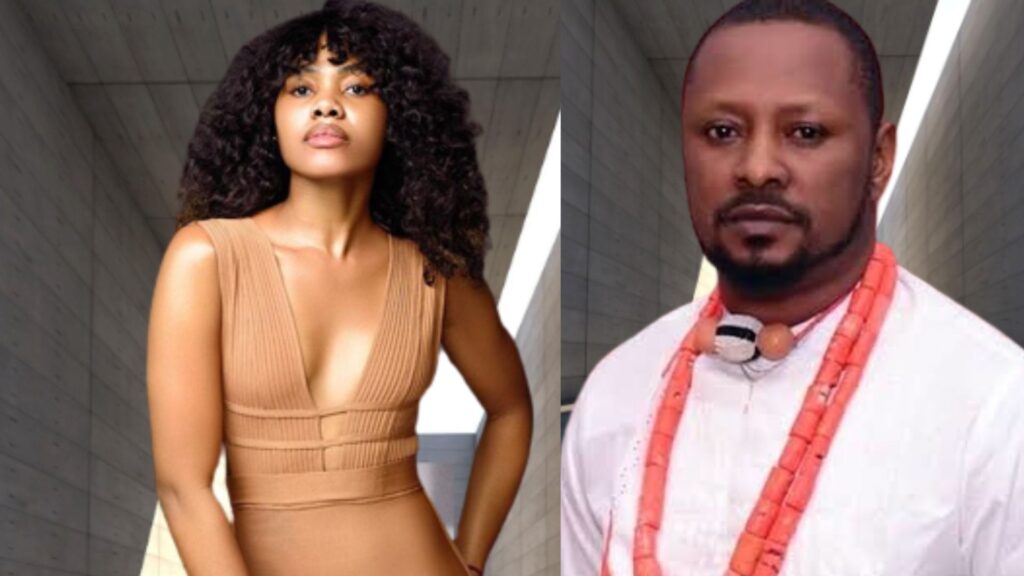 Jane denied that allegation and claimed that the video that was circulated was fake. The dancer also pointed out that the woman in the picture had larger breasts than hers, hence, she was vindicated. The dancer's lawyer, Rockson Igelige, of Felix, Igelige & Associates also attested that the video was fake. Also, Prince Kpokpogri denied the allegation and even apologized to Jane's husband for the rumor.
Well, to make her point clearer amidst other reasons, Janemena sued Tonto for defamation of character. She went ahead to demand a ₦500 million fee for damages. She claimed that the accusation led to her having distress that caused her a pregnancy in its first trimester.
In the heat of the lawsuit, leaked audio surfaced on the internet. In the audio with a voice alleged to be Kpokpogri's, he claimed to have had sexual relations with the dancer. He also claimed that Janemena confirmed that he was better than her husband Plies.
A little afterward, Tonto trolled Janemena for not dragging her to court as promised. Instead, she exposed that Jane was calling and begging for her to save her marriage but was coming out to threaten her with a court injunction.
While the news continued to circulate, Plies reportedly claimed to not care who his wife was with because whatever happened was in the past. This contributed to people suggesting that Jane may have used some kind of black magic on her spouse.
Whatever the public suggested or the controversy that may have surrounded the marriage, the couple seems not to let it get to them since they are still married at the time of this writing.
Janemena's Husband's Instagram Handle
After a thorough check, we found out that Janemena's husband does not have any Instagram handle with the name he is publicly known. Hence, if he is on Instagram, he likely uses a different name. The same goes for other social platforms.
In any case, he is married to a woman who has a significant presence on social media. Her handle on Instagram is @janemena and she has over 4 million followers. On Twitter and Facebook, she also uses Janemena.