Debbie Shokoya (born July 19) is a Nigerian actress, filmmaker, model, TV personality, and entrepreneur who hit the limelight with her role as Fatty Abebelube in the movie Aye Loja. The actress is single and has not been married before.
Debbie Shokoya started acting in 2012 but gained significant fame in 2017. Her exceptional skills in interpreting roles have earned her a good spot in the Nigerian movie industry. The beautiful actress has since continued to win the hearts of her fans with her impressive onscreen personality.
Debbie Shokoya's Bio
Full name: Deborah Ajijolajesu Shokoya
Nickname: Debbie Show
Gender: Female
Date of birth: July 19
Ethnicity: Yoruba
Nationality: Nigerian
Zodiac Sign: Gemini
Sexual Orientation: Straight
Religion: Christian
Marital Status: Single
Debbie Shokoya's Parents: Mr. & Mrs. Shokoya
Debbie Shokoya's Net worth: $200,000
Famous for: Acting
Debbie Shokoya's Instagram: @debbie_shokoya
How Old Is Debbie Shokoya?
Debbie's exact birth year is unknown, but the actress celebrates her birthday every July 19. She was born into a family of ten children, wherein she is in the 8th position. Though originally from Ijebu Remo in Ogun State, Debbie was born and raised in the busy city of Lagos alongside her parents and siblings. Further details about her siblings are not available.
Debbie stated that even though she had a very strict and disciplinarian father, her growing up was fun. She described her mother as a woman of style and dignity who always encouraged her not to let anyone intimidate her. This, she said, has helped her in her career and generally in life.
At the start of her career, Debbie revealed that her family, especially her father was not in support of her choosing acting as a career. But, her mom was the only one that stood by her all through. She said that her mom loves the movie world so much and has remained her number one fan to date.
Debbie Shokoya received her primary and secondary education in Lagos State before moving to Oyo State for higher education. She studied at the Polytechnic Ibadan, Oyo State, and graduated with a bachelor's degree in Public Administration. Debbie usually describes herself as an uncommon person because she likes to be unpredictable.
She Joined Nollywood in 2012
Debbie began showing interest in acting from childhood. Back then, she would go to several video clubs around their place of residence in Lagos to get the latest movies, especially Yoruba ones. With time, she got so addicted to them and started becoming dramatic. Interestingly, she got the opportunity to start going for movie auditions and landed her first role in 2012.
Her announcement into the Nigerian film industry was made in 2012 when she featured in John Olakunle Da'silva's film, Creative Man. She continued getting trained and putting in her effort till she got to the place she is today.
Debbie noted that her biggest influences in the industry are veteran actors Richard Mofe Damijo (RMD), Ibrahim Chatta, Dele Odule, Funke Akindele-Bello, Peju Ogunmola, and Toyin Abraham, whom she said she has special reservations about given the amount of energy she puts into interpreting roles.
Debbi Shokoya Came into the Limelight with the Movie, Ayo Loja
Even though she has been featured in many movies since 2012, Debbie did not get the desired prominence she needed until 2017, when she landed a major role in Ayo Loja. In the movie, she featured Fatty Abebelube, a very sassy, sensitive, and sharp mouth baby of the house.
The movie, which came out very successful, allowed her to share the stage with other talented stars like Ibrahim Chatta, Dele Odunle, Tunde Owokoniran, Peju Ogunmalo, etc. She emerged as the second-best character in the movie, and that was how she got noticed by the public. Since then, Debbie has been on top of her game, striking chords in the heart of her viewers with her excellent acting skills.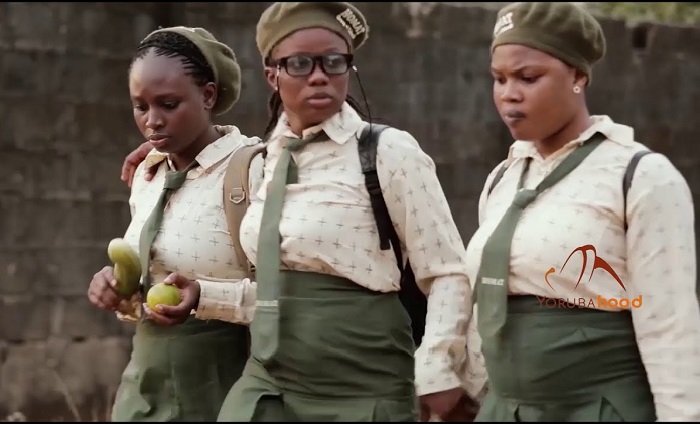 Debbie is also a TV presenter and on-air personality. She has appeared in several TV series such as Tales Of Eve, So Wrong So Wright, Freezing Point, etc. More so, she hosts an entertainment TV show titled "Exciting Moments with Debbie." The program, which is very entertaining and educative, serves as a source of inspiration to the younger generation.
Through her hard work and resilience, Debbie Shokoya has placed her name on the list of sought-after actresses in the Yoruba film industry. According to the actress, she is very comfortable with playing romantic roles in movies but can never go naked for a movie regardless of how mouthwatering the offer is.
Some of her other successful movies include Omo Agunpopo, Aiyeoloja, Ile Opo, Oyenusi, Ibale Mi, Olunwonkoko, Kilo Sele Gangan, Ayelabowo, etc. Furthermore, Debbie has since expanded her efforts into movie production. She is the producer of Kewa, a Yoruba film that featured Regina Chukwu and other talented actors and actresses.
She is also a Businesswoman
Aside from her entertainment career, acting, TV presenting, and others, Debbie Shokoya is a full-time businesswoman. She owns a skincare line dubbed Stay Natural by DBS. When she was asked about the secret behind her good skin, the actress wasted no time crediting it to her brand, and according to her, it is a natural product that makes your skin glow effortlessly.
Debbie Shokoya Might Be in a Relationship Currently
Debbie Shokoya's relationship status reads single, and she has not been married before. However, in December 2021, the actress took to social media to hint at when she would be walking down the aisle with the man of her dreams. She revealed this via a post she made on her Instagram page alongside a photo of herself.
According to the actress, she would settle down with the love of her life in 2022 and build an empire together. Obviously, Debbie is still keeping her man out of the public eye until the time is ripe, and her fans can't wait to hear her make the big announcement.
Meanwhile, in July 2022, the actress was asked in an interview whether she had been taken, and she answered no. She further said that she is in a relationship, but that does not mean she has been taken because, in her opinion, a lady remains single until a man gives her a ring.
On the other hand, Debbie once stated the kind of man she would like to settle down with. According to her, the man must be extraordinarily neat and never repeat any of his inner wears twice. Debbie said she could not put up with a man wearing the same boxers twice.