Nigerian actress Liz Benson is currently 57 years old. She was born on 5th April 1966 in Akwa Ibom State, Nigeria. The actress is an Ibibio woman by the tribe.
Liz Benson is one of the best and longest-established Nollywood actresses ever graced the screen. Regardless, she suddenly disappeared from the film industry, leaving many people, especially her fans wondering what she is up to. In this article, we revealed everything about her age, her state of origin, and why she took a break from acting.
Liz Benson is 57 Years Old and Hails From Akwa Ibom State
Liz Benson was born Elizabeth Benson on 5th April 1966 and is currently 57 years old. Liz was born in her hometown Enitan in Akwa Ibom State, Nigeria. Enitan is a small town in the south southern part of Nigeria and shares common boundaries with Onna, Mkpat Enin, Nsit Ibom, Abak, and Uyo Local Government Areas. Following her state of origin, Liz Benson is of Ibibio ethnicity and holds Nigerian nationality.
At 55, Fans Believe that the Actress Looks Younger than Her Age
We all have heard the saying that age is just a number, and if there is any doubt about that, then Liz Benson is one person to prove that one can still look beautiful and fabulous in one's 50s and beyond. The ageless woman continues to look younger by the day, which makes her fans doubt her age. However, it is more than having a beautiful look but maintaining it.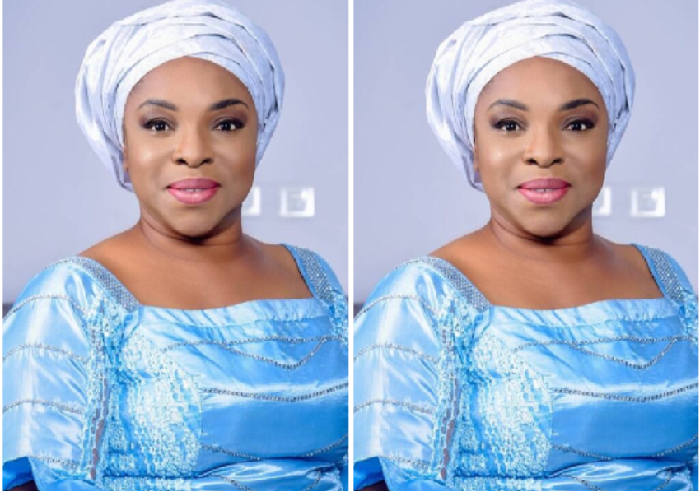 In an interview, Liz Benson answered the question of the secret to her ageless looks, saying: "It is God's grace. I exercise a lot. Without exercise, I probably would have been three times this size. I exercise not because of my weight but to keep fit. I have a trainer and I jog around the estate three times a week very early in the morning. My trainer wakes me up at 6 am."
Liz Benson is one of the Nigerian actresses that looks younger than her age. For a woman born in the 1960s, one would not be wrong to think that life could have started reflecting some of its scars on her looks, but that's not Liz Benson. The actress is simply growing in age but remains stunning.
At What Age Did Liz Benson Start Acting?
If you are a Nigerian movie lover of the 1980s and 90s, you will be familiar with this legendary actress, Liz Benson. Looking at how far Liz Benson has gone in acting and the successful movies she has featured in, it is safe to say that acting flows in her bloodstream. Her legendary status was achieved because she started acting at age 5 in 1971.
Liz had the dream of becoming an actress as a kid. She started by participating in school dramas, performing arts, and stage plays. After completing her primary and secondary education in Lagos and Cross Rivers States, respectively, she moved to the United States of America to pursue her higher education. In the US, she graduated with a bachelor's degree in Dramatic Arts from Sylvania States College.
Upon graduation, Liz returned to her home country Nigeria to pursue a career in acting. At first, she was featured in several TV and radio commercials before she got her first role in the movie Circle of Doom, wherein she played a minor role. Another role she played at the outset of her professional acting career was the role of an immigration officer in an Igbo-language movie.
However, the Akwa Ibom State-born actress gained public recognition in 1993 at 27 after she starred as Mrs. Agnes Johnson in a TV Soap Opera, Fortunes. Yet, she became a global figure in 1994, thanks to her role in the Nollywood blockbuster Glamour Girls. In the movie, she starred alongside Eucharia Anunobi, and her role therein did nothing but bring her to fame and make her an accomplished actress in the industry.
Today, she has written her name in gold and is one of the pioneers of the Nigerian movie industry. She has professionally been in the industry for 30 years and has immensely contributed to its growth. In movies, Liz Benson is well known for interpreting the roles of a royal queen, mother-in-law, housewife, and wicked stepmother.
She Left Acting at the age of 30 and Made her Comeback at age 47
Surprisingly, the screen queen vanished from our screens at the height of her fame as an actress. Usually, fans are not happy when an actor begins to go to a descending point in her career. Hence, they begin to ask why they don't see much of her face on their screens any more.
After many successful years of acting and writing her name in the hearts of millions of Nigerians, Liz Benson called it quits with her acting career to focus on God's work. Precisely in 1996, Liz Benson took a break from the Nigerian movie scene. This was at the very peak of her career.
Regarding why she took the break, it is gathered that she lost her husband and the father of her three children and decided to take time off the screen to concentrate more on her children, who were still very young as of then. After over a decade, in 2013, the screen queen made a stunning comeback with Living Funeral, a movie produced by Orode Ryan Okpu and directed by Udoka Oyeka.
Following Her Comeback, Liz Gave Up on Some Roles
During her break from acting, Liz Benson ultimately gave her life to Christ. In 2006, at 40, she was ordained an evangelist. Liz noted that she was going on evangelism tours under Central Christian Church, Calabar, a church founded by Evangelist Dr. Emma Isong. She also goes to mechanic workshops, parks, and many other places to spread the gospel and win souls for Christ.
Returning to the limelight, many people wondered how she would keep up with her newfound faith and still feature in movies. But the actress turned evangelist made her stance very clear by becoming very choosy as regards the kind of movie roles she accepts, given her current status as an evangelist.
In an interview she granted, Liz stated that she would only accept movie roles she believed to align with her faith. She now focuses only on modest and lesson-filled movies that portray love, humanity, and social awareness.