Zubby Michael is alive and not dead as some of his fans and bloggers presumed. Nothing has happened to the actor, whose full name is Azubuike Michael Egwu. He is active and healthy and goes about his everyday life.
In 2021, Zubby was involved in a ghastly motor accident but he was not harmed. There have been other accident reports but the ace actor has not been injured in any of them and none went close to taking his life. Also, the rumor of his death arose when he posted the advert for a movie that has his name Zubby Michael's Death. Most of his fans concluded that the actor is dead because his name was used in the poster. However, the poster was for a movie and not a real-life incident.
Zubby Michael has Stoked Death Rumors with his Controversial Movie Title
Zubby Michael is not late. Any rumor to the contrary is due to several reasons and one of them is a recent movie project. Zubby Michael is a versatile actor and his jovial nature led him to accept to title a movie after his death. He used his real name for the movie title which is rare to find in the movie industry. This is also one of the reasons why his fans concluded that he was dead when they saw the movie poster.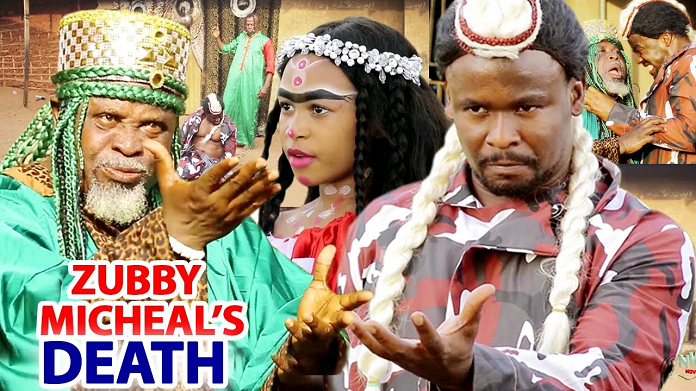 As already mentioned, the movie title is Zubby Michael's Death, and most movie fans took it literally. Many were heartbroken when they saw the poster and told the actor never to use his real name for such titles again. The superstitious ones among them also recalled that a number of other celebrities who used their names for negative titles ended up in that negative situation. However, they prayed for Zubby Michael not to be among these ill-fated ones.
He has also Been Involved in Some Car Crashes
Zubby Michael has also been in a number of accident cases but none has affected him to the extent of taking his life. Bloggers will however always exaggerate the accident news, some even going to the extent of saying he's dead, just to bring more visitors to their blogs. In the end, they will still state that he is not harmed.
Zubby Michael had an accident in 2014. It was reported that the actor, together with his fellow Nollywood stars Jim Iyke and Emma Ehumadu, was involved in a car accident while shooting a movie in Asaba. The report had it that the trio was shooting a robbery scene and were in a vehicle with Jim Iyke as the driver. The car's brakes failed to work and when Jim Iyke tried to stop the car, Emma hit his head. He was rushed to the hospital afterward. Nothing however happened to Zubby.
Again, in 2021, Zubby Michael was reportedly involved in a road accident. He was returning from actress Nuela Njubigbo's birthday party when the said accident happened. However, details of this accident case were not found. Many feared he was dead and rumors of his burial started making their rounds. However, the actor was not harmed. He is still alive and healthy and still features in movies to date.
The Actor Remains Very Much Alive and is Thriving in his Career 
Zubby Michael is still active in making and acting in movies and is not planning on going for any break. Against all rumors of his death and ghastly accidents, he is still alive and healthy, starring in one movie after the other. The actor isn't too fazed by the death rumors and doesn't spent too much energy debunking them. He is focused on his career which dates back several years ago.
Zubby Michael began acting at a young age, and one of his earliest movie appearances came in The Missing Rib. He has continued to star in many more movies. Today he has more than 200 movies to his name and he continues to star in many more. His recent movies are The Wild Flower, Passport, Brotherhood, and Bumper to Bumper, Shanty Town.