Wunmi Toriola (born: 11 July 1988; Age: 35) is an actress, filmmaker, brand influencer, and CEO of WT Signature. Her walk of fame has seen her evolve through popular movies such as Isese Lagba (2009), Ajewunmi (2012), and Queen Lateefah (2021).
In her private life, she is married to a US-based Nigerian and has a son named Zion. The actress, who has mostly featured in Yoruba Language movies, has written, produced, and featured in numerous movies. She has also won an award – Fastest Rising Actress at the City People Awards (2018) and dabbles between her career as an entertainer and running streams of businesses in the fashion world and skincare/hair industries.
Summary of Wunmi Toriola's Bio 
Full name: Olawunmi Toriola
Nickname: Wunmi
Gender: Female
Date of Birth: 11 July 1988
Wunmi Toriola's Age: 35 years old
Ethnicity: Yoruba
Nationality: Nigerian
Zodiac Sign: Cancer
Sexual Orientation: Straight
Religion: Christianity
Marital Status: Married
Wunmi Toriola's Children: Son (Zion)
Siblings: 3 
Wunmi Toriola's Net Worth: $100,000 – $500,000 (estimation)
Famous for: acting, producing, and being the CEO of WT Signature
Wunmi's Instagram: @wumitoriola
Facebook: Wunmi Toriola Page
Education: Lagos State University, University of Ilorin
What is Wunmi Toriola's Age?
Wunmi Toriola is 35 years old. She is a native of Ogun State, Nigeria, from the western region of the country but was born and raised in Lagos.
Coming from a strict and disciplined family of four children and a US-based father, Wunmi did not have the privilege to grow up with her mother, as she died when the actress was very young. However, her grandmother played a very important role in her upbringing and life in general.
Her early education was strictly in Lagos State, Nigeria. She attended secondary school and subsequently went on to Lagos State University for a diploma certificate. Furthermore, she graduated with a Bachelor of Arts degree from the University of Ilorin. Although her dream was to either Lecture or become a Lawyer, she ended up developing a passion for the screen.
She Has Been Acting For 14 Years
Wunmi started her journey as an actress when she joined a Yoruba theatre group, Odunfa Caucus, which was led by Yinka Qadri, Taiwo Hassan, and Sunny Ali, among others.
Wunmi was 21 in 2009 when she featured in the Yoruba film Isese Lagba. Years passed, and the actress's career became even more noticeable as she featured in many movies. Nonetheless, her fame came in 2012 when she featured in Ajewunmi.
Some of her most renowned works are Alakada Reloaded, where she played the role of "Wunmi," and Queen Lateefat, where she interpreted the role of "Queen Lateefat." She has also featured in films alongside A-list actors such as Toyin Abraham, Kemi Lala Akindoju, Odunlade Adekola, Broda Shaggi, and Akeem Adeyemi among others.
Currently, she is known for interpreting her roles so well that, according to her, people judge the roles she plays. The actress has also managed to warm her way into the heart of fans and colleagues alike. According to Wunmi, her career is at its peak now, as she gets up to 4 to 5 movie scripts in a month and the pay is even better.
Wunmi Toriola is also a Producer and Writer
In 2012, about 3 years after she began her professional acting career, Wunmi Toriola started a career as a producer with the release of her debut film, Ajewunmi. More to this, she also explores the movie industry as a scriptwriter famous for Adeda (2021).
At the time of this writing, the Ogun State native is most notable for the production of no fewer than 13 movies.
Wunmi Toriola's Movies
 Onika (2022)
Ghost Worker (2022)
Fun (2022)
Shekesheke (2022)
Oosha Aje (2021)
Ago Alaago (2021)
The Cokers (2021)
Iku Alhaji (2021)
Adeda (as an actress, writer, and producer; 2021)
The Ghost and the Tout Too (2021)
Queen Lateefat (as an actress and producer; 2021)
Jalaruru (2020)
Ofeefe (2019)
Alakada Reloaded (2017)
Wunmi Toriola is a Businesswoman and Owns Skincare, Clothing, and Hair Brands
The actress is a businesswoman who has a series of businesses that include a skincare line and clothing and hair brands. Her skincare business kicked off in 2015 when the actress was in school, and by 2016, she had started selling online. According to her, she is interested in healthy skin and as such, creates organic products and mixes ingredients that will not be detrimental to one's skin in the long run.
As regards her clothing business, the highly acclaimed Nigerian actress attended a fashion school in 2017. This marked the beginning for her in a long journey to a clothing business known as WT Signature.
At present, she owns a fashion store where she creates ready-to-wear outfits and well as starts sewing from scratch for people who have their materials. Apart from day-to-day clothes, the company also produces wedding wears, among others.
Still, under WT Signature, a company where Wunmi maintains a position as the CEO, she sells hair.
Who is Wunmi Toriola's Husband?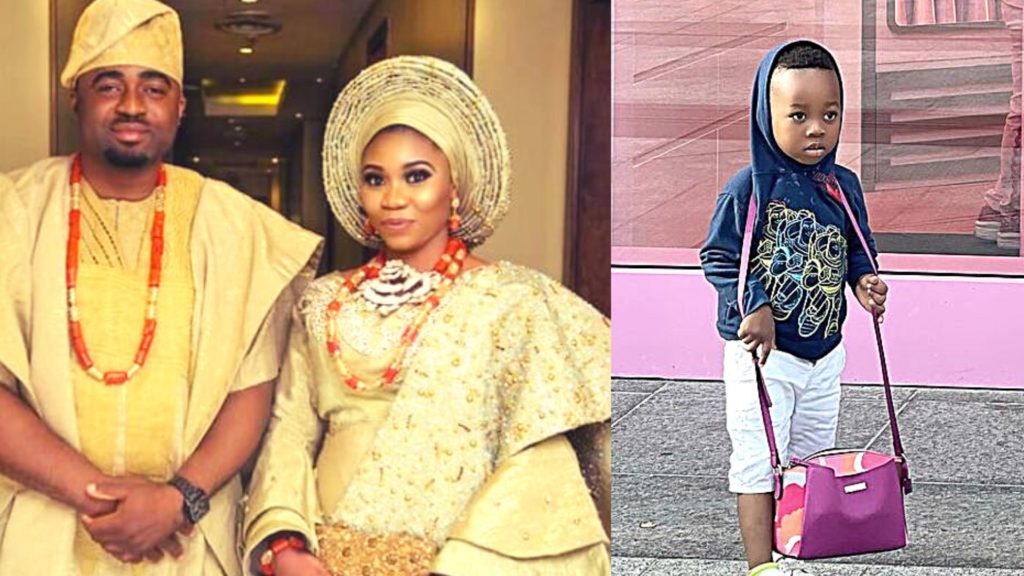 The acclaimed Yoruba actress is married to a US-based Nigerian whose name has been kept private. The couple got married in 2018, and before then, they had kept their relationship out of the media.
Recounting how they met, the actress in an interview opened up that her husband saw her in a movie and chatted with her via Facebook. She has attested to being a strict person, yet, it did not take much convincing for her to agree to go out with him.
Her marriage has produced a child named Zion (born 24 October 2019; Age: 4 ) and has also survived 5 years. In her words, part of what has sustained her marriage is that her husband met her as Wunmi Toriola and not as a celebrity.
Despite the success of the marriage, there were rumors that it crashed sometime after she gave birth to her first child. The news broke when it was noticed that she had deleted her spouse's pictures from Instagram.
However, she later refuted the news of the marriage crash and pointed out that she deleted the images deliberately because anytime her husband was around, people would zoom his pictures and ask her questions. She also claimed that no woman could take her husband as the media had painted.
She Has Been Involved in a Number of Controversies
Wunmi is notable for being a loud voice. This may have led to her being in controversial situations over the course of her entertaining career. One of her major controversies is her being accused of brutalizing her maid, Motunrayo Azeez.
It was revealed that Azeez allegedly drugged the actress' son, and in return, she physically confronted the maid and kicked her out of her house. However, the Queen Latifah actress denied the allegation.
In another controversy, she allegedly accused another actress, Toyin Abraham, of faking an engagement. More to this, her relationship with Toyin crashed when she claimed to have advised Abraham to work things out with her ex-husband, Adeniyi Johnson. In spite of their relationship trailing the wrong path, Wunmi later apologized to Abraham on social media.